If you live in a place that's holiday-obsessed, October is the month where festivities begin to fill the air. Cue decking the halls with boughs of holly, Mariah Carey and Michael Bublé on repeat and nudges from businesses to buy your loved ones presents.

For us here at noissue, it's a little bit different (although we're still fans of Mariah and Michael!) October marks the beginning of beautiful holiday-themed packaging designs, and for good reason.
During this time of year, customers appreciate that their purchases come wrapped and decorated in a way that makes them feel like a present.
People also shop from as early as October for gifts, so brands should be thinking about getting their holiday packaging design organized now in the lead-up to December.

If you're lacking ideas or feeling uninspired, don't worry – we've got you! What better way to kick off the celebrations than spotlighting the holiday designs of our talented Creative Community?
From playful animal designs mixed in with Christmas motifs to a traditional and oh-so-charming mistletoe display, there's some great ideas to try for your own packaging these holidays!

So without further ado, here's six dazzling holiday designs and an introduction to the talented Creatives behind them.
Indico Designs
Illustrator and surface pattern designer Fay, from Indico Designs, is based in Shropshire, England, where she creates fun and whimsical designs inspired by the nature and rural countryside that surrounds her.
Fay enjoys using both digital and traditional elements in her process, often starting with pen or pencil sketches which are then coloured and placed into patterns digitally and can be used on a variety of surfaces and textiles.
We love this intricate design featuring Christmas motifs and birds, and her black and white color choice is perfect for making her design stand out.
Betsy Sedlak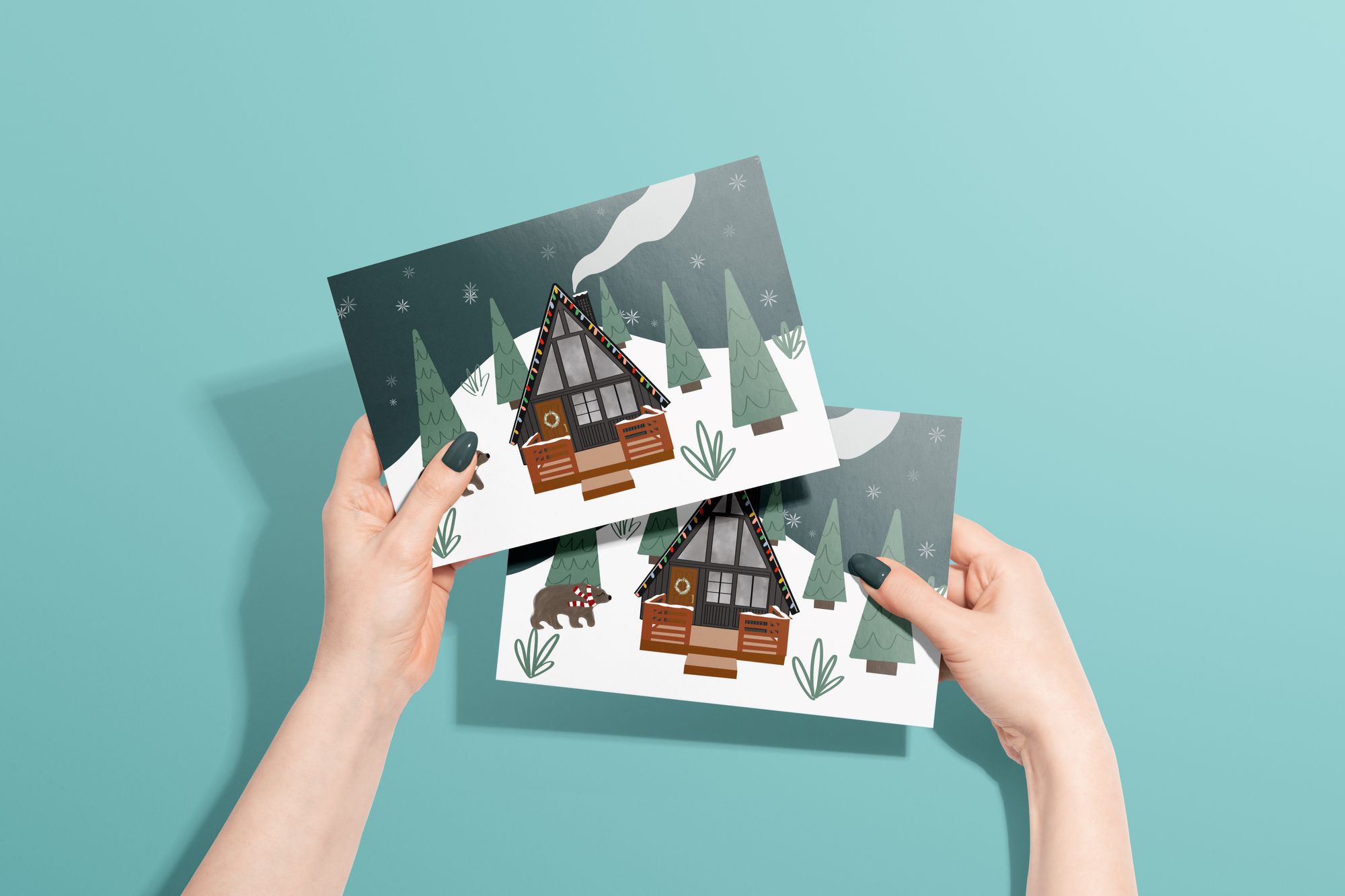 Betsy Sedlak is a painter and graphic designer originally from the San Francisco Bay Area. Betsy started her small business in 2019 after having a lifelong love for sending handwritten notes, so she began designing her own painted cards.
In 2020 her business transformed as she invested her time in learning graphic design, which is now her primary method for creating.
Betsy is fueled by her travels and things found in nature, and her designs are typically filled with florals, landmarks, and places close to her heart. She designed this holiday card in 2020 after staying at the coziest Airbnb A-frame in Lake Tahoe, which inspired her to create this design and her best-selling Tahoe map.
Betsy hopes to continue designing cards, prints, and more for destinations across the country, to help remind people of the joy-filled time they spent there.
Her custom card design features a gorgeous winter cabin illustration that gets us excited for the colder months ahead.

Andy Taylor
A spark, a flame, a fire is owned and run Andy Taylor. Specialising in graphic design and visual communication for micro and small businesses, he provides a range of services including web design, print design, branding and identity.
"The major part of my process when working with small businesses on their custom packaging is to let their brand lead the way. I tend to ask plenty of questions about how they view their brand personality, their products, and how they want to be perceived. Almost like a mini brand building exercise. This helps me get an idea of direction and the overall tone we're aiming for. I don't let any visual trends lead the way and influence the direction of the project. I don't stick to a specific graphic style. If a piece needs to be playful, I'll look at how to express that. But if a client needs a clean, contemporary and serious look, I'll go that way."
This festive mug illustration on custom tissue paper is original and delightful – a great way to take a unique approach to holiday design!
Zoe Wodarz
With over 25 years of experience, Minnesota-based designer Zoe began her career as a studio artist, merchandiser and home decor gift-ware product designer working for companies such as Anthropologie, Midwest CBK and Target.
Over the last few years, Zoe has combined her digital skills and fine arts background into a thriving freelance career working as a surface designer for consumer products and licensing her work to manufacturers for online shops and major retail companies worldwide.
Her custom tissue paper design featuring mistletoe is guaranteed to get her customers feeling the excitement for this time of year.
Studio Noodles
Lisa Jane is just absolutely crazy about scribbling, drawing, sketching, painting and everything else that is considered arty. She got her first sewing machine at the age of 6 and started developing her own film negatives and photographs from a self made dark room at home at 11.
A psychologist turned artist (she actually graduated from one of the top universities in the UK) she is now utilizing her knowledge and understanding of psychology to create works of art.
Her work has been featured on House and Home, The Guardian, My Green Pod,  the famous Print and Pattern, Mollie Makes, has been spotted at LFW and LBW, as well as being featured in the MOYO magazine, to name a few.
She has worked with major global brands as well as freelancing for departments stores and our artwork can be seen on packaging, products, stationery, greeting cards, wall art, footwear, public transport and many, many more.
She also produces her own eco small batch artisan products such as art prints, greeting cards and paper goods that are printed on eco-papers using vegetable inks and plastic-free packaging solutions.
This adorable custom tissue paper design pairs animal illustrations with traditional Christmas motifs for a unique approach to holiday packaging.
Cat Undercover
Corina, also known as Cat Undercover, is an illustrator and graphic designer currently living in Berlin.
She has been working in visual design for about 8 years but has always had a close affinity to illustration and whenever there was a project related to this at work, she would face it with so much joy and happiness.
She then realized that this was what she enjoyed doing most, so during the pandemic, decided to start on a new career path. Corina started a new Instagram account in September where she posts her illustration series, which she hopes will help her understand her favorite illustration style and what path she should take next.
Her inspiration comes most of the time on her morning runs in the park. The nature surrounding her is beautiful and it actually inspired some of her recently designed patterns.
These holiday inspired custom tissue paper designs are an absolute delight that cis versatile enough to work for Christmas or New Years. What better way to show joy than with illustrations of Christmas crackers and Martinis? We'll drink to that!
Wrapping it Up

We hope these holiday designs leave you feeling festive and ready to design your own one-of-a-kind packaging!
We know it's only October, but now's a great time to get your packaging signed, sealed and delivered to you ahead of the mad Christmas rush.
🎁 Design your own holiday packaging now 👇
Custom Tissue Paper
Custom Stickers.
---

🎨 Want to see more of our Creative Community? Or would you like a professional to assist you in designing your packaging? Head to our Community Page to find someone to collaborate with, or check out our Instagram Page for more fresh design ideas.