When you start a business, every little detail must be thought through and packaging is no exception. In this feature, we'll look into family-owned Alabama business Stone Hollow Farmstead's collaboration with creative Kaitlin Rose Slattery to create eye-catching, memorable packaging  that best represents the brand.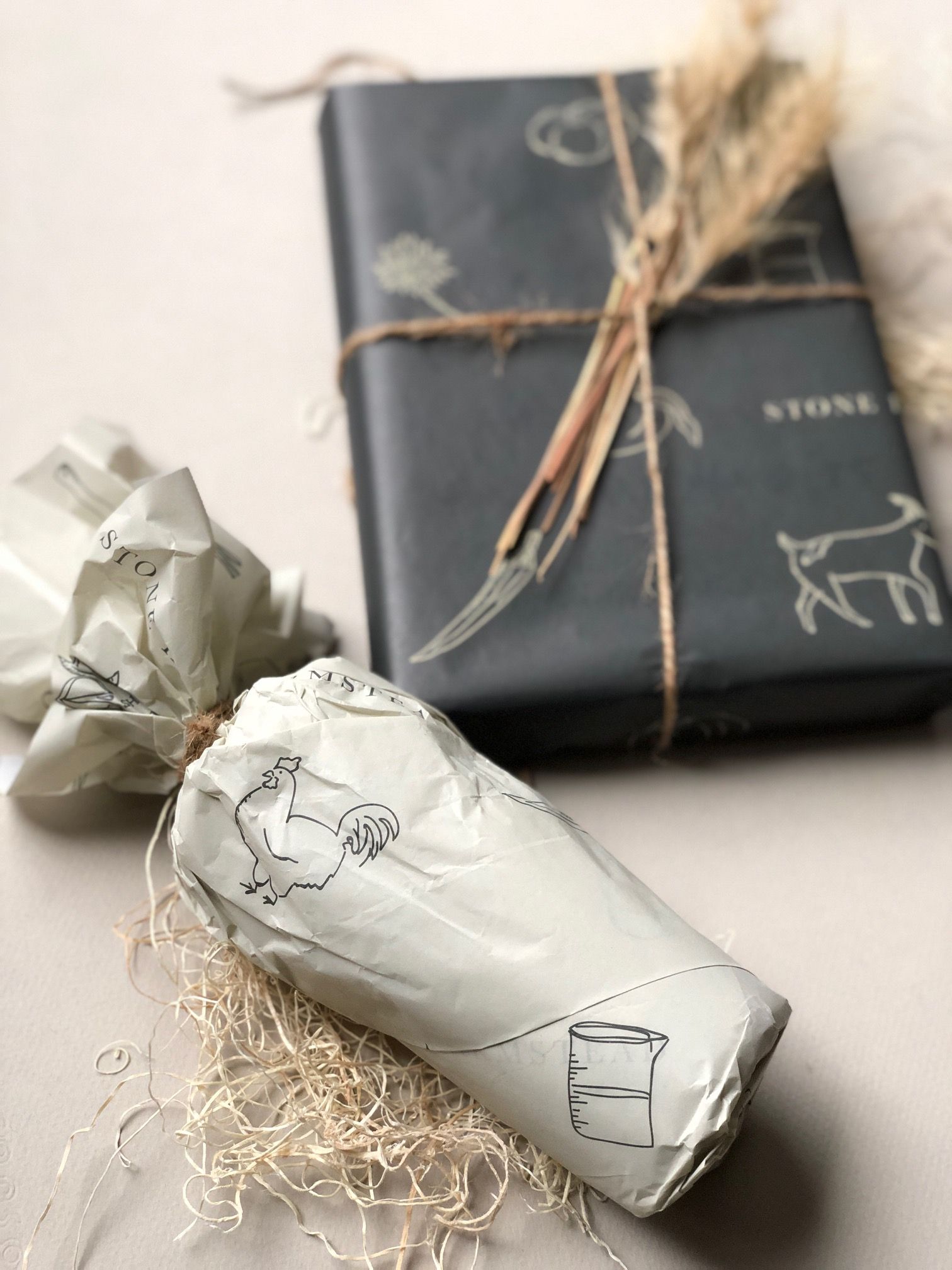 Stone Hollow Farmstead is an 80-acre farm owned and operated by Alexandra Stone and her mother, Deborah. The farm continued to blossom and grow over the years from its start in 1999 until the present with the launch of several complementary businesses. They are a vertically-integrated facility with growers, processors, and distributors. The farmstead produces preserved food-in-jars, goat and cow cheeses as well as fresh-cut flowers and hemp. The farmstead laboratory produces botanical skincare, organic CBD oils, soy wax candles, botanical extracts, essential oils, and hydrosols, amongst others.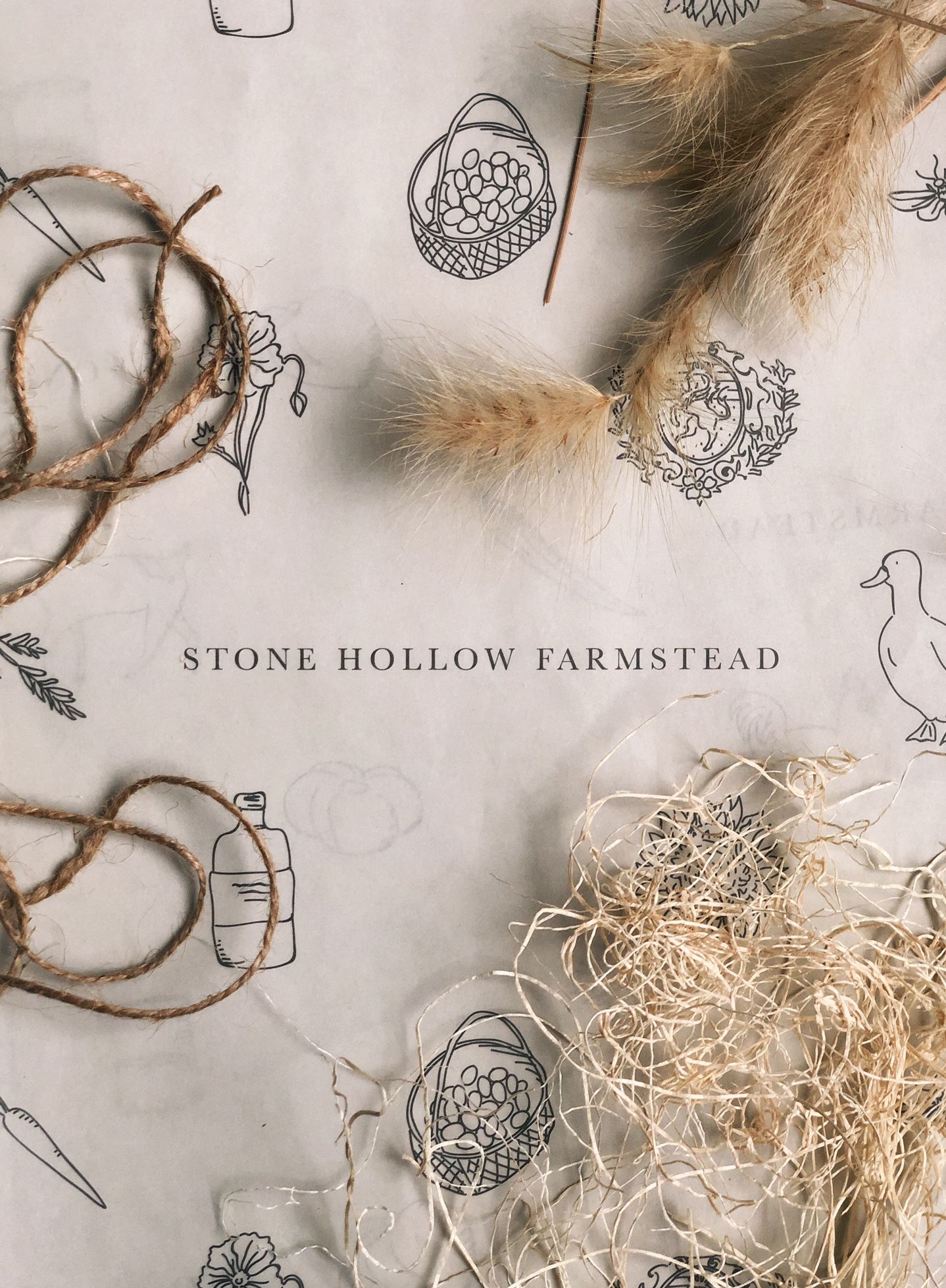 Finding the perfect creative

It was essential that the branding stay true to the roots of Stone Hollow Farmstead. They needed someone who appreciated the story and would help them tell it. It was no surprise that Alexandra asked Kaitlin Rose Slattery, whom she had already worked with on different projects and thought was brilliant, to curate their packaging design! Kaitlin work is very unique and often includes hand-drawing that she turns digital.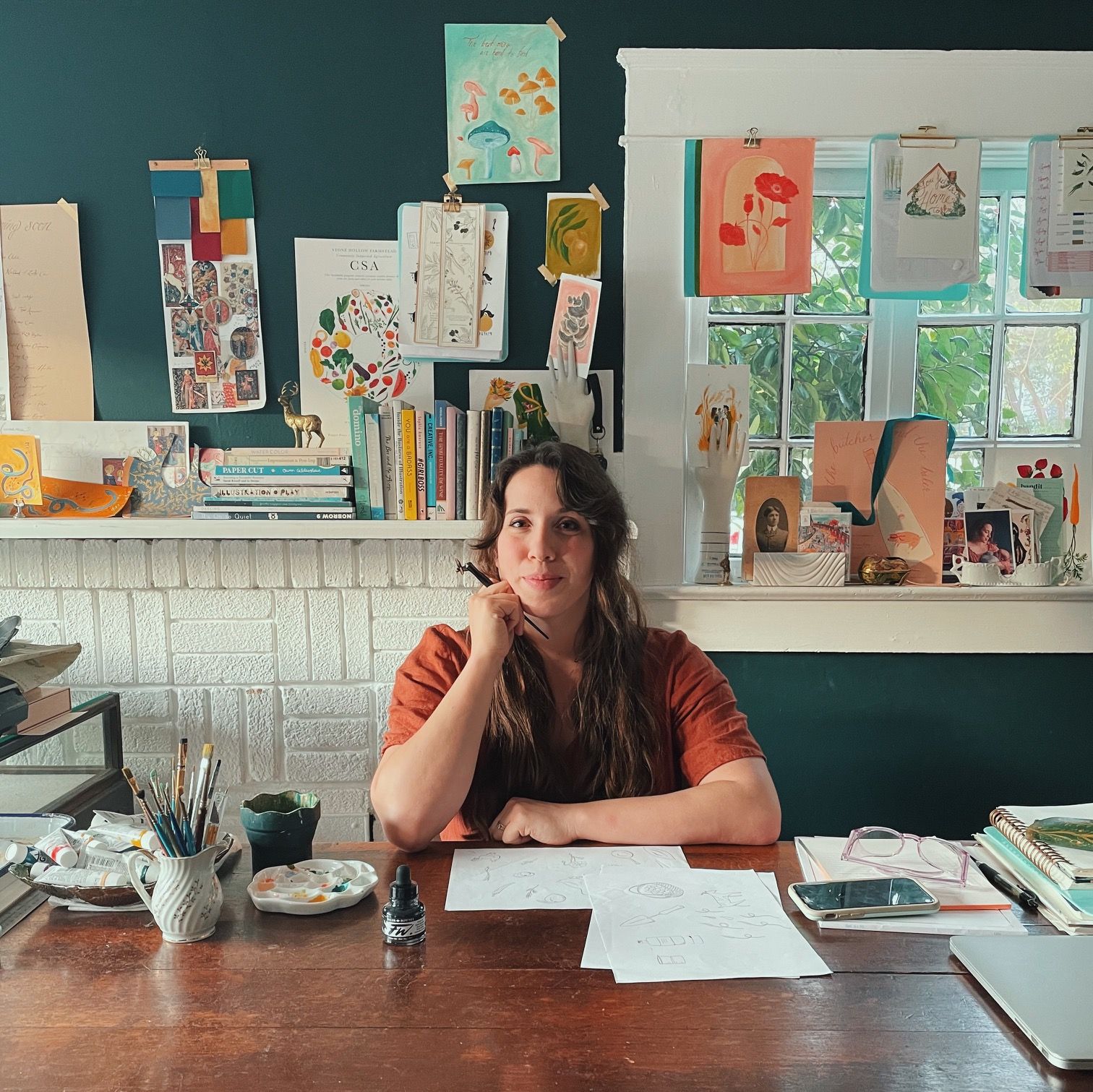 Alexandra says: "If you look at any of Kaitlin's work you will see why I went with her! Not only does her work have a sense of romance about it — she is also a great listener and really thought about our needs. She was perfect for the job!"
Alexandra was amazed at Katilin's ability to churn out new ways to tell the business' story and her openness to pursuing new creative ideas!
The approach: what inspired the design

The design process started with a blank piece of paper. Kaitlin would jot down words she associated with Stone Hollow and then narrowed the list down by circling her top picks. In terms of vision, everything aligned perfectly. The only challenge, perhaps, was to find ways to best represent the business under one umbrella, seeing that Stone Hollow taps into a range of diverse markets. They found tissue paper to be versatile and a clever choice.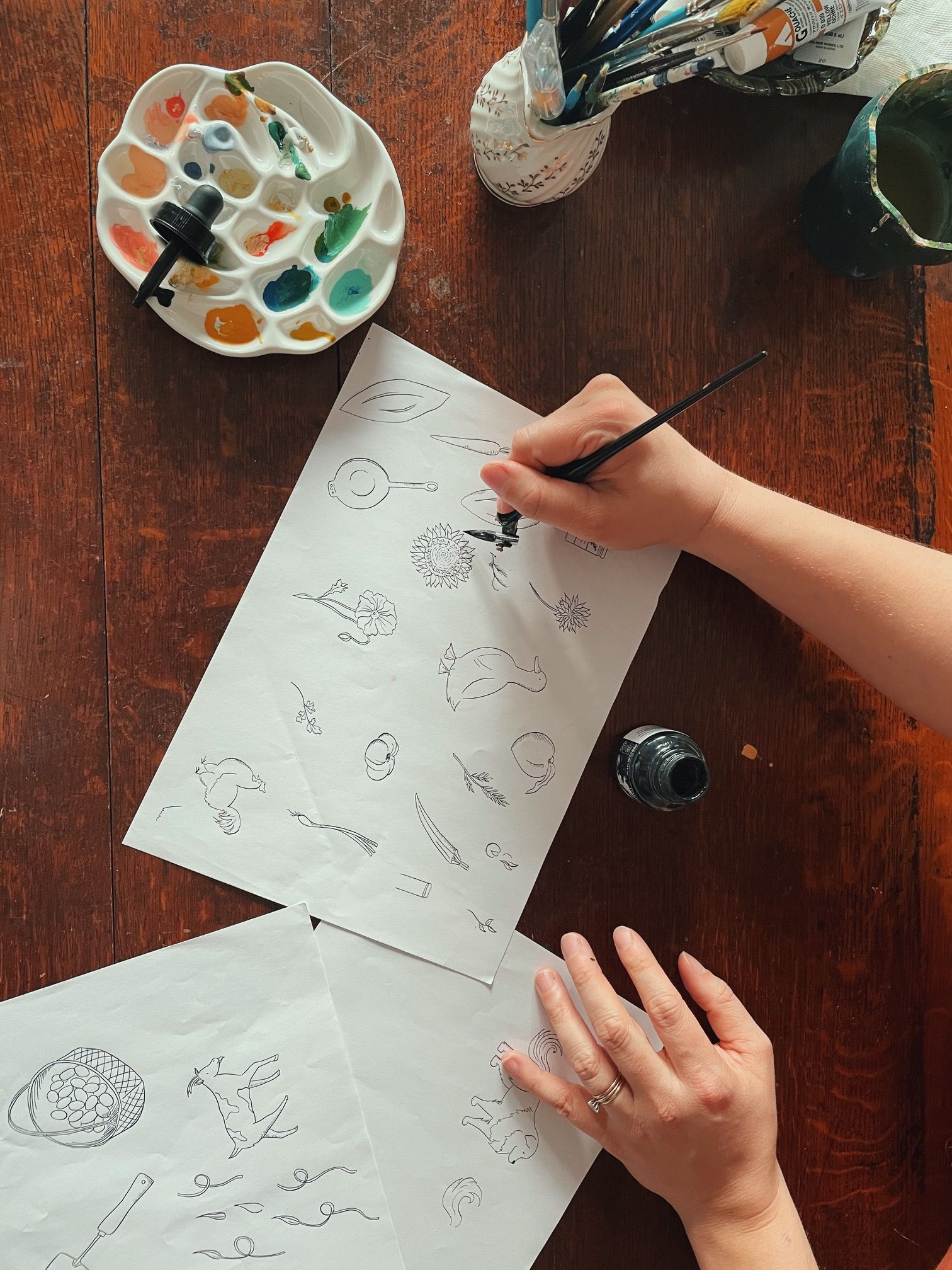 Alexandra and Kaitlin brainstormed design ideas together. Alexandra knew that they wanted their wrapping to feel like a gift itself and to bring a sense of the farm to their customers' experiences. They opted to use elements from the farmstead to highlight on the tissue and Kaitlin was able to turn those into a masterpiece.
In Katlin's words, "one thing that is so incredible about the tissue is that the "canvas" to work with is quite large. Because of this, I chose to draw 20+ individual icons representative of the farm life at Stone Hollow. I featured Gracie the duck (who follows Deborah around everywhere), a curly garlic scape, pretty little jars, an egg basket, dahlias, and much more! By choosing this design the customer has a sweet and dynamic image of the farm they are patroning. I truly love how it turned out."
Alexandra says: "on our tissue, you will find some truly special characters and items — one of our six Great Pyrenees, our rescue Pekin Duck named Gracie that is basically human and has quite a fan base, Stone Hollow's award-winning Drinking Vinegar, Rainbow eggs, as well as many other fun items!" – Alexandra
Kaitlin shares "I think my favorite of all the icons on the tissue to draw was the Great Pyrenees (there are six at Stone Hollow)! It is actually quite a sight as you wander around the farm and happen across these giant beautiful dogs, and you never know who it is at first but after a while you notice each one has a different personality."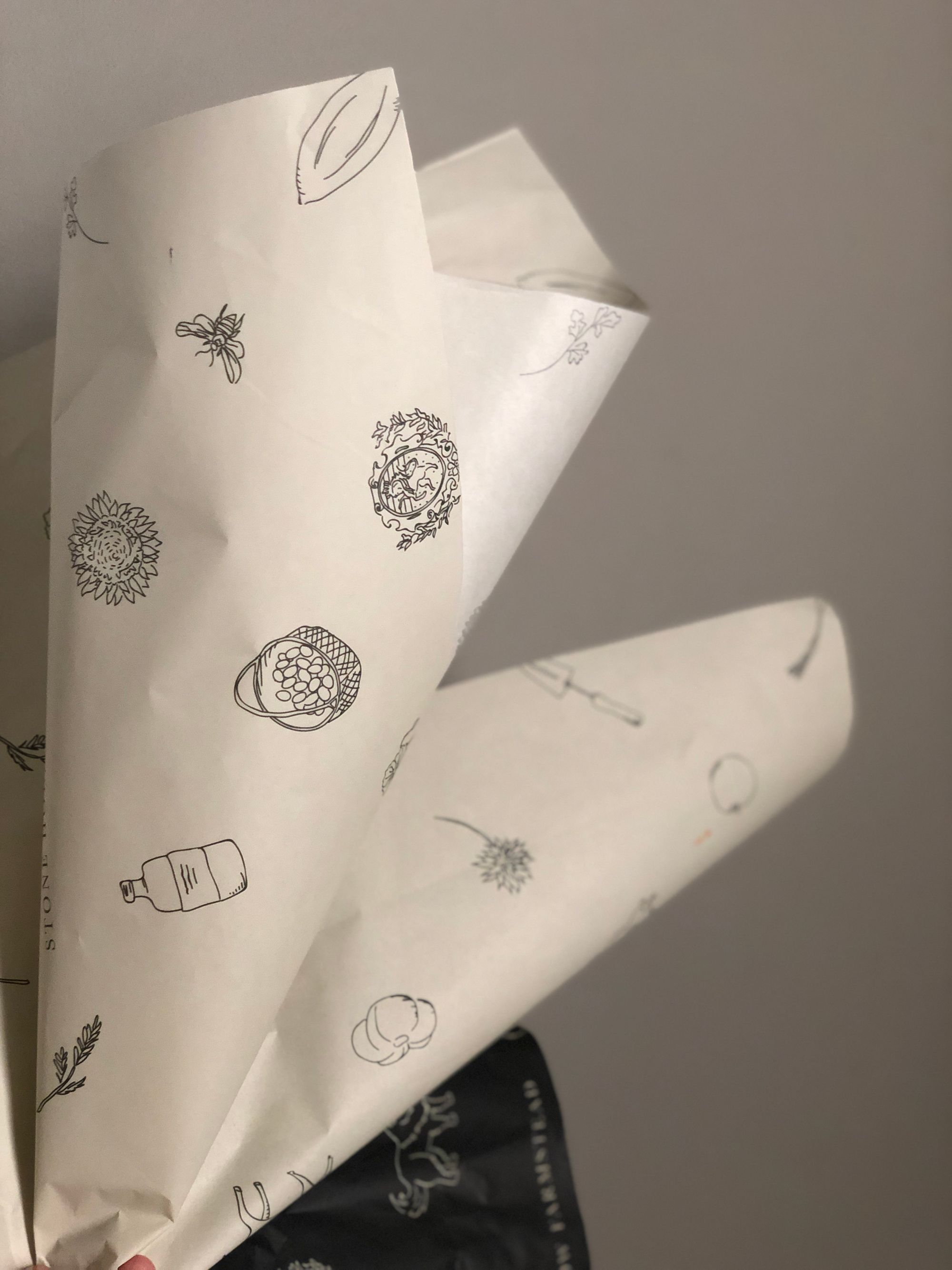 Kaitlin and Alexandra were drawn to noissue for its reputation amongst designers and their clients alike, and loved all the creative ways noissue products were being used by customers.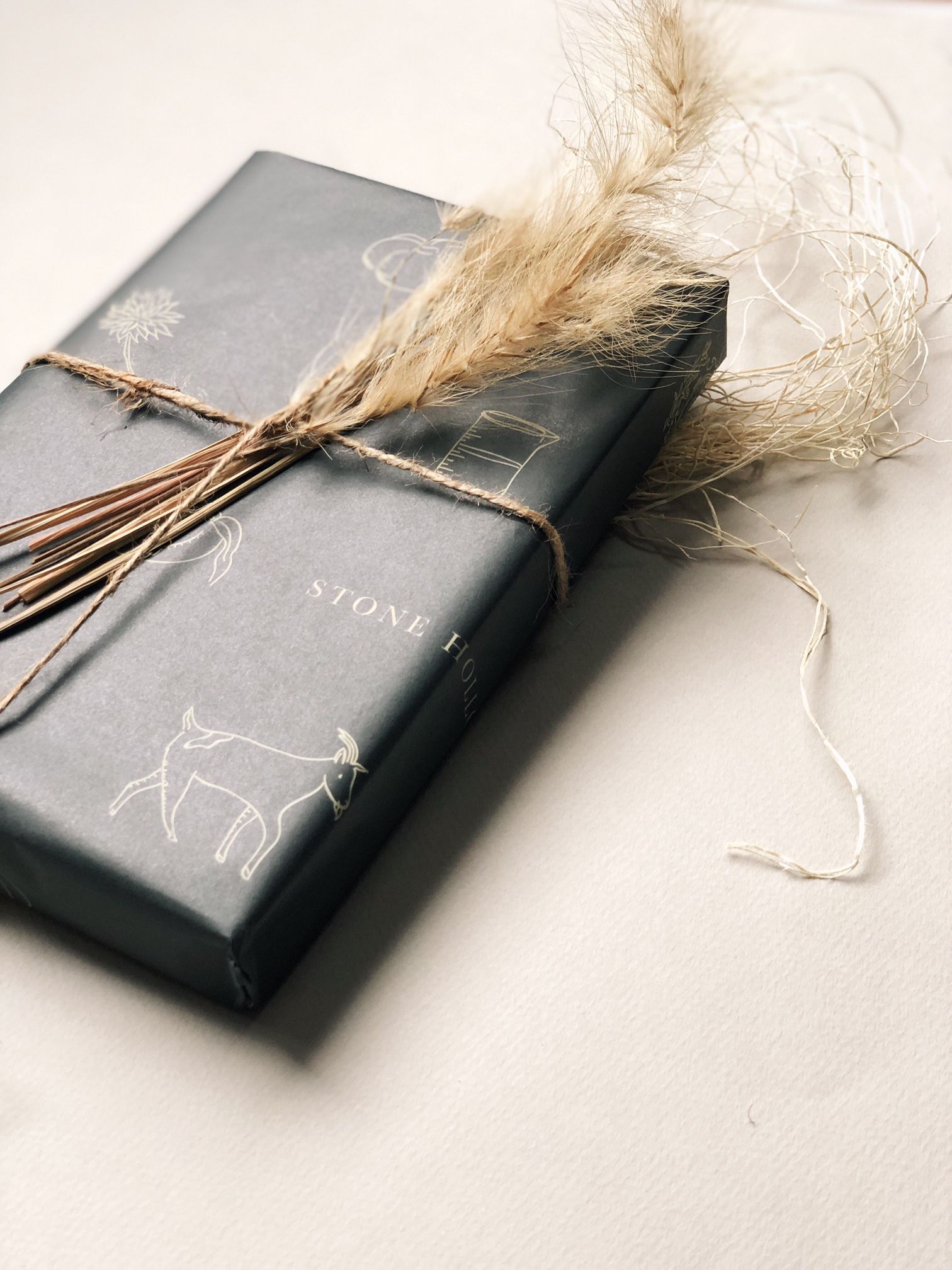 Presently, Stone Hollow Farmstead continues to expand its market and has launched the following complementary businesses: Stone Hollow Creamery, Stone Hollow Hanoverians, Stone Hollow Herbs, Botaniko Skin and NeoTegument medical skin care.
---
Find more of Kaitlin Rose Slattery and Stone Hollow Farmstead here:
Kaitlin Rose Slattery
Creative Profile: https://www.noissue.co/partners/creative-community/kaitlin-rose-slattery
Website: http://www.kaitlinroseslattery.com/
Instagram: @kaitlinroseslattery
Stone Hollow Farmstead
Website: https://www.stonehollowfarmstead.com/
Instagram: @stonehollowfarmstead