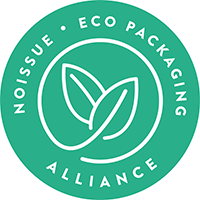 Sometimes we have bad hair days—days when you just want to pull your hair up and tie it with a scrunchie. And as satisfying as that feeling of freedom from stray hairs may be, you can't deny the dreadful experience of pulling hair ties and breaking strands entangled in their elastics.
Nav and Manny know that feeling all too well! They're the founders of Crown + Collar, a suit accessories turned curly hair accessories shop based in Canada. Nav and Manny are the creators of the world's first spiral hair cord scrunchie—a combination of structure and longevity of the spiral hair cord with the design and style of a scrunchie, and are used to help protect people's waves and curls.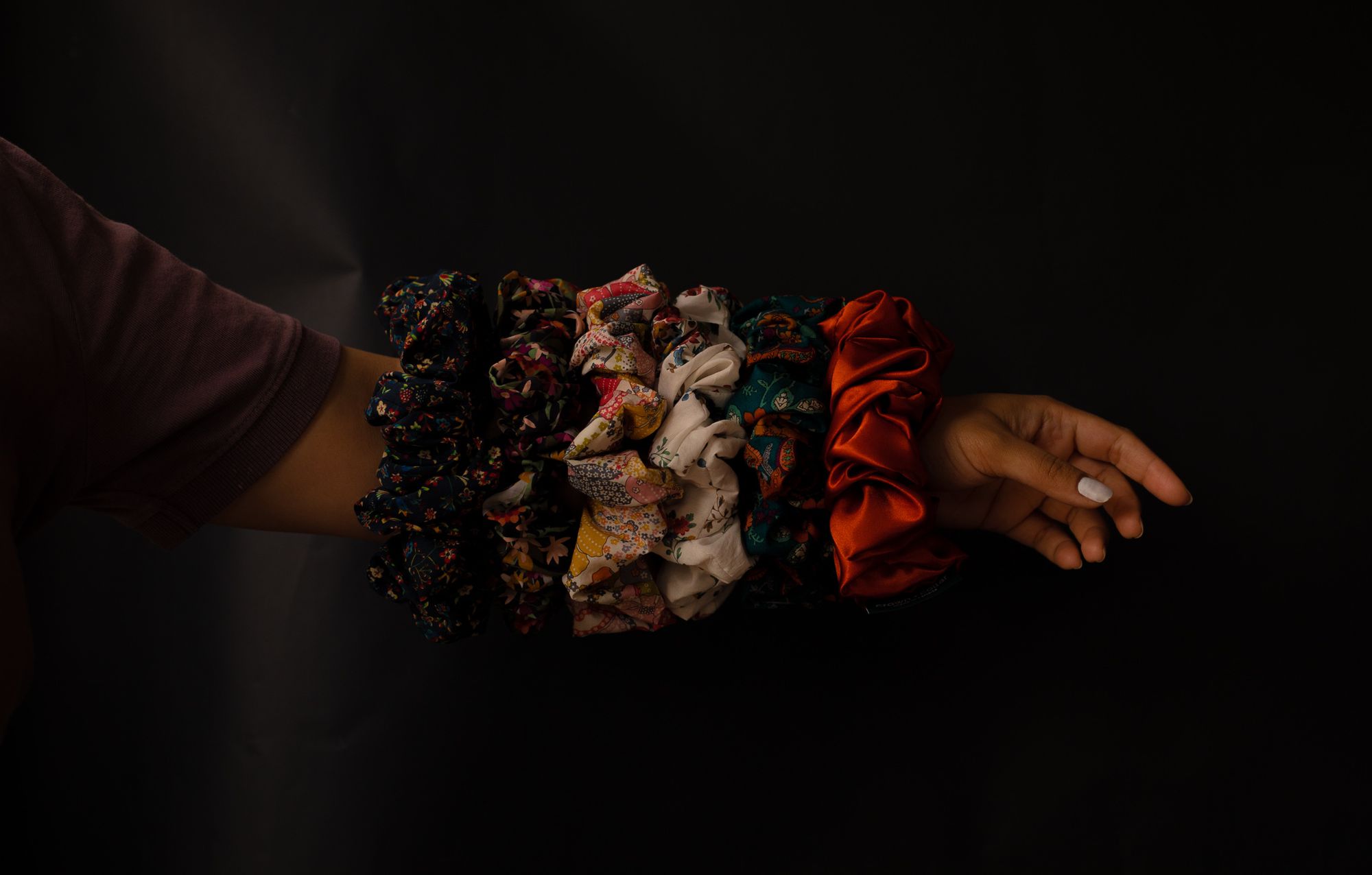 Used to be Nav K Collection back in 2017, the couple actually started the business making suit accessories after Manny ripped his fave pair of pajamas and asked Nav to make them into a pocket square. Once he started wearing it to work, he received many compliments and questions on where others could get their own. That was the time the creative duo realized that there was a market for exclusive suit accessory designs.
The business started expanding and the product line included a variety of pocket squares, neckties, bowties, boutonnieres, and the first-ever fabricated cufflinks. Manny was the inspiration behind all this, but Nav was the boss! She loves experimenting with fabrics and using her hands. She soon left her 9-5 job (with an extra push from Manny, of course) and worked on NKC fulltime.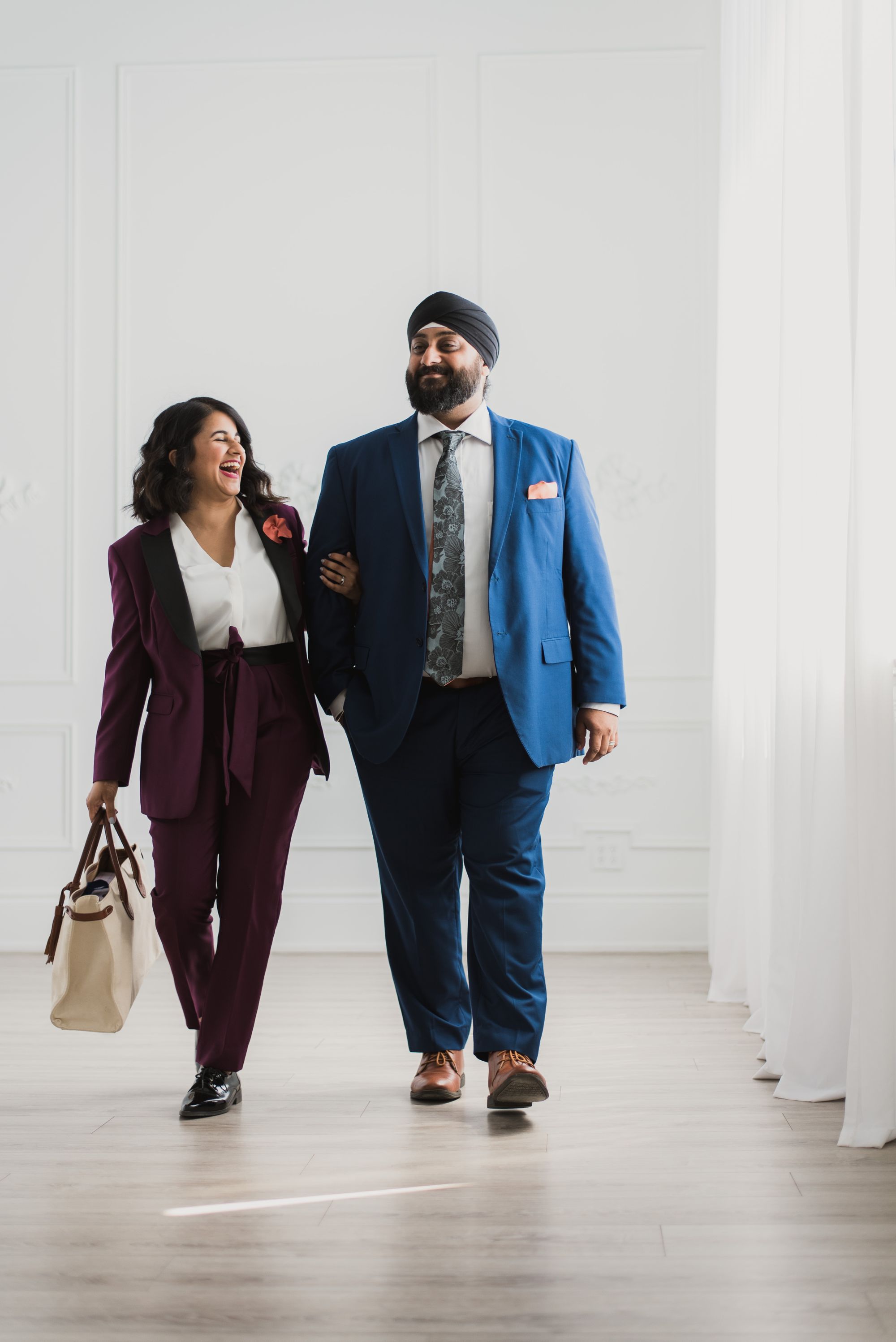 It was when the pandemic hit when NKC became C+C as the couple had to pivot to creating curly hair accessories. With fewer people wearing suits, they repurposed their fabrics into masks first, then in the fall of 2020, started experimenting with scrunchies and that's where they flourished. Though Nav had to go back to a 9-5, their goal will always be to expand Crown + Collar to their fulltime gigs!
C+C's brand mission is to help people with wavy and curly hair protect their natural hair throughout various seasons. In March 2020, Nav started taking care of her wavy hair and focusing on a clean hair journey. She built her own little personal community and realized the main focus was to protect the hair after washing it, which is why they started creating the spiral hair cord scrunchies.
Their vision is to be the community's go-to brand to protect all types of hair! C+C is more than just scrunchies—they have satin-lined toques, satin-lined hoodies (launching very soon!), cotton and satin head wraps, and so much more to come!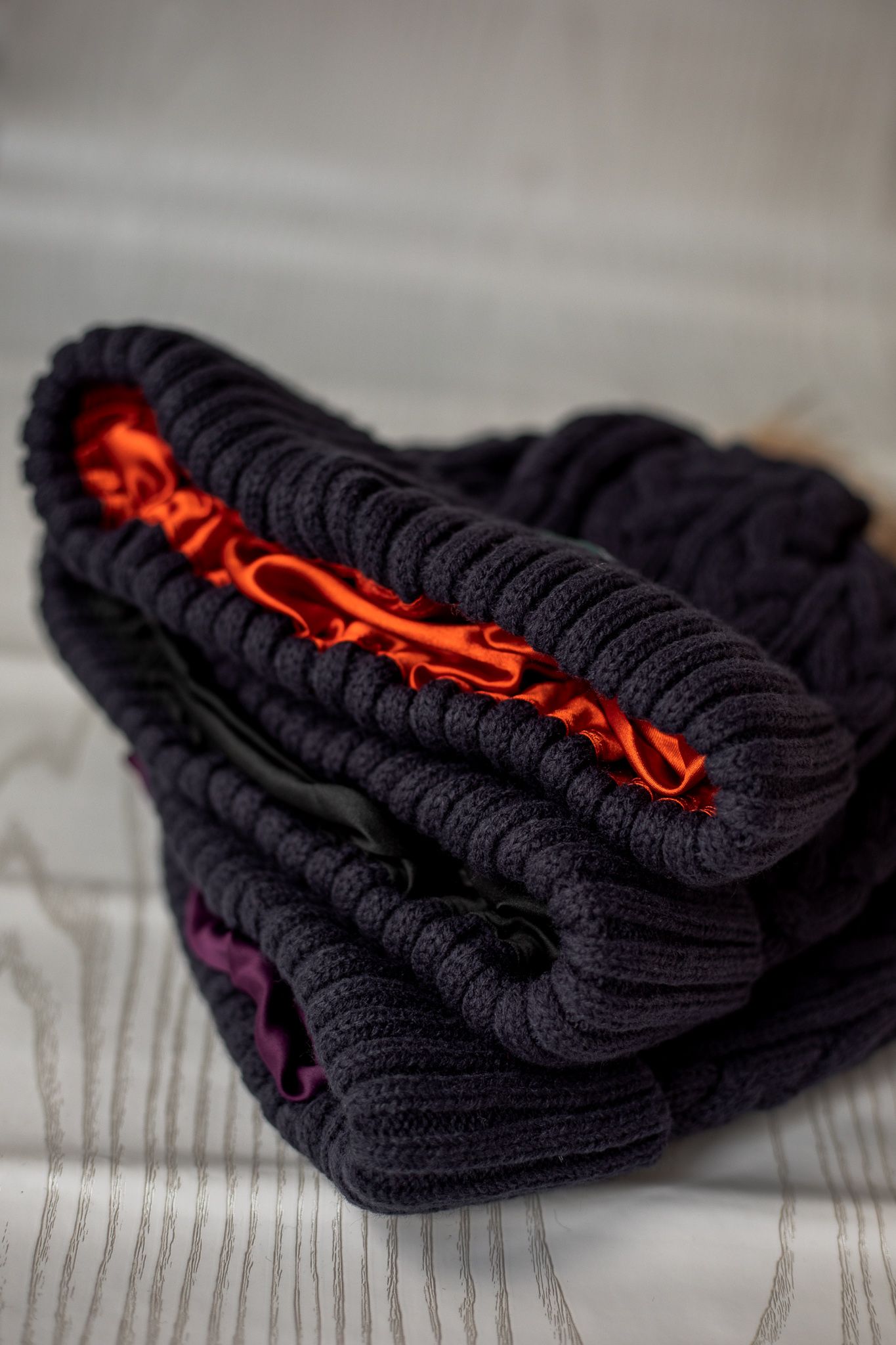 There's no denying the couples efforts when it comes to their business. And there isn't denying their faithfulness when it comes to sustainability, also! Producing different products doesn't always mean excessive waste. C+C only purchases the fabric they need and use every inch of yardage they get. Any leftovers are repurposed into other products, which are one-of-a-kind pieces. Plus, all their packaging supplies are from noissue for a reason. They are a complete e-commerce business.
The C+C founders want to make a positive impact on the environment while maintaining the look of branded packaging, and noissue was the first brand they noticed who offered 100% compostable mailers.
"If we are planning on shipping out 1,000s of packages a year, across the globe, we need to protect the environment we live in. Packaging can look great and still be sustainable, noissue was a nobrainer! Ha, see what I did there?"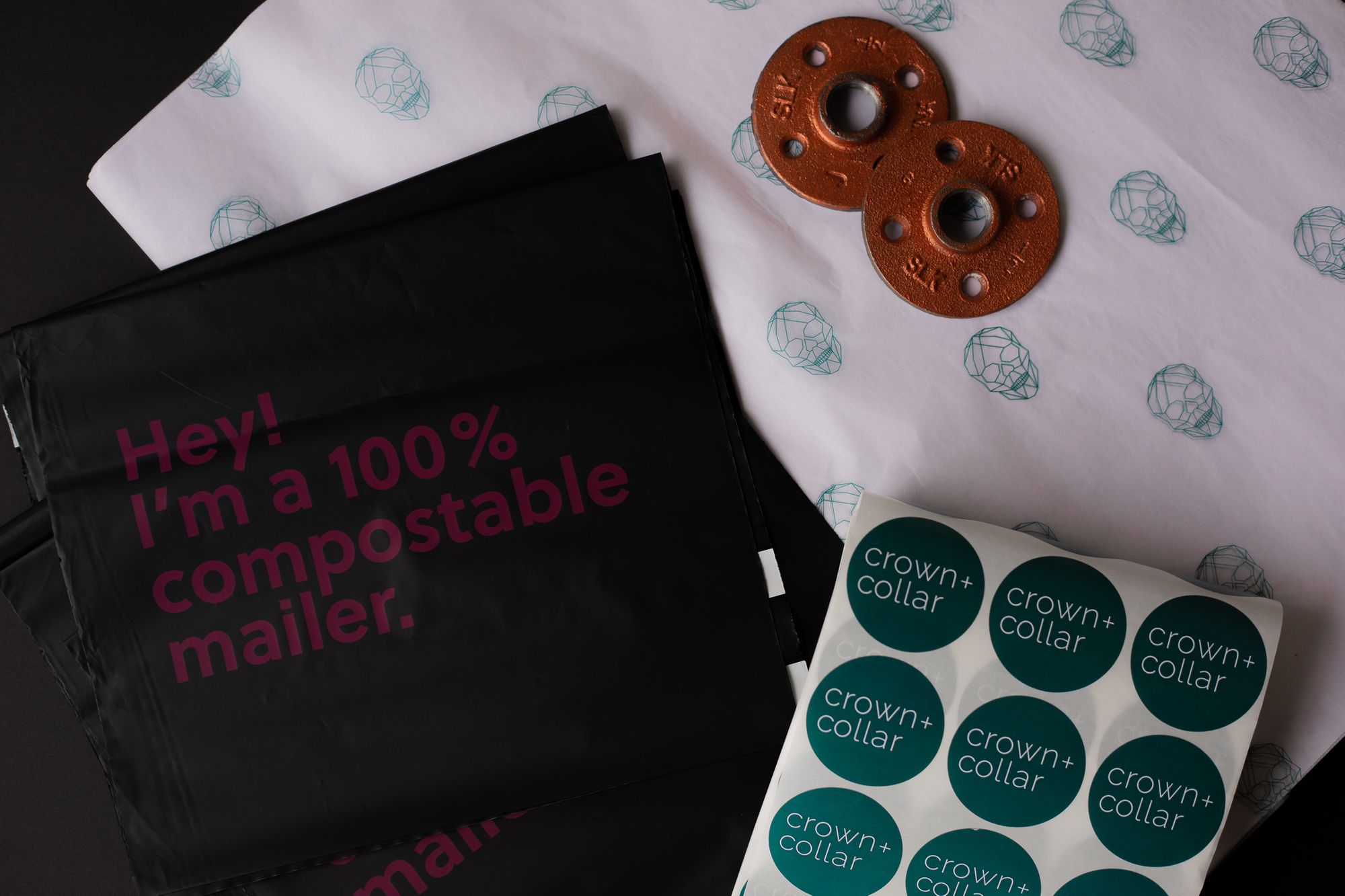 Nav and Manny are also proud members of noissue's Eco-Alliance. They are always designing pieces that just makes sense, that look good and are functional. And they want to show the world that fashion can be sustainable in all aspects—from design to production, and now distribution. That is part of their brand's ecosystem of sustainability, "Being part of the alliance helps to bring our brand full circle when it comes to making a positive impact in fashion and on the environment."
Shifting to Crown + Collar was quite challenging for the couple. Finding the right niche for their products was definitely more difficult than when they were creating suit accessories. They were the only female-owned, BIPOC brand in Canada making custom-designed suit accessories, so breaking through the noise was also clear. When it came to C+C's hair accessories, they had to start from scratch. Nav started building relationships on a personal level to learn more about how to take care of her beautiful wavy hair, while leveraging their custom designing skills and manufacturing to build retail partnerships. That helped a lot in finding and building their new community.
"We speak with everyone one-on-one, human to human. We are genuine in our communication. We show our appreciation, we listen to the community and we make adjustments accordingly. That's how we got to where we are now."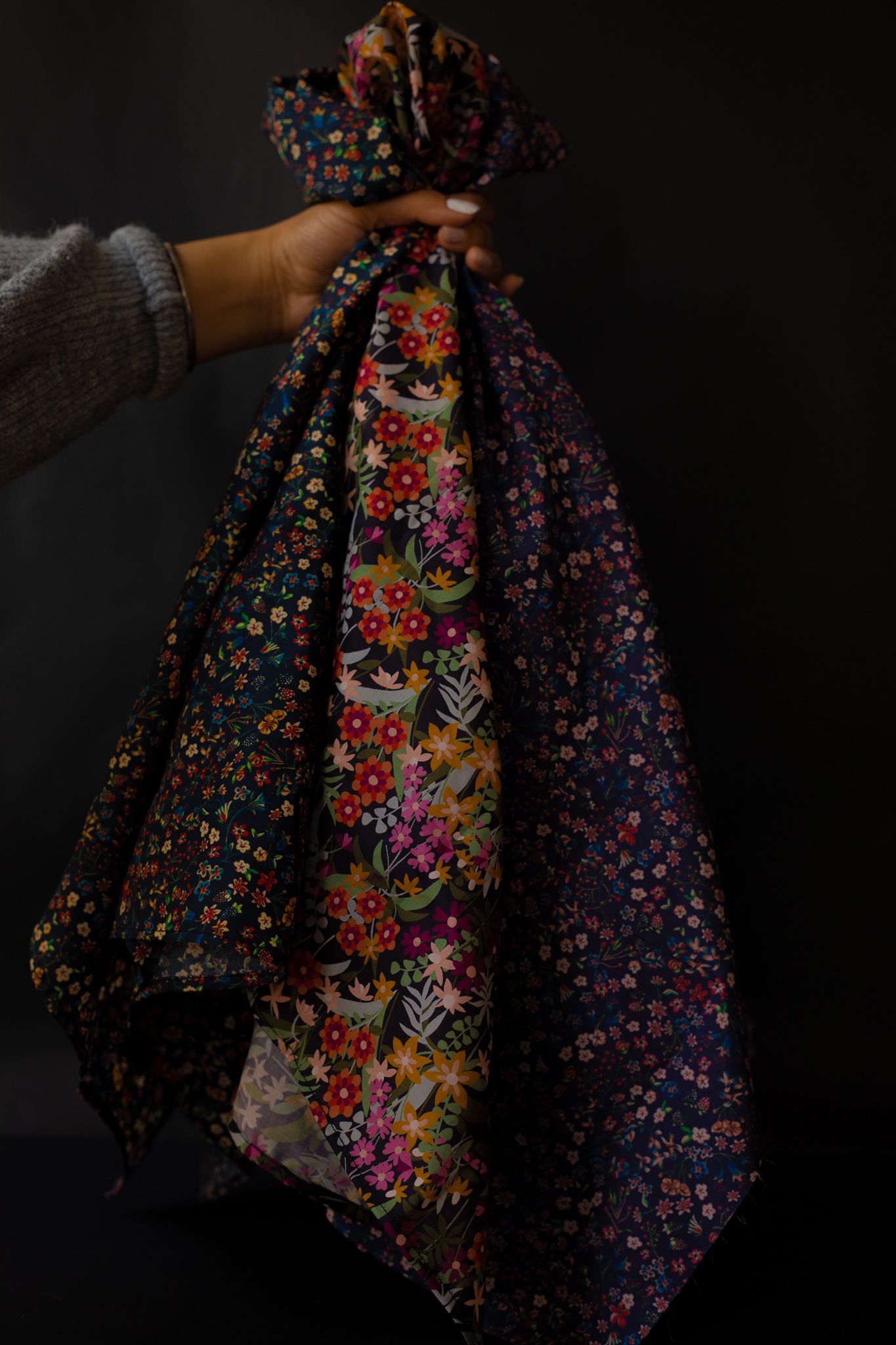 The founders know how it can be a rocky road when starting a business. Their tip for beginners is to find your anchor product or service first and perfect it, keep making it better as you go on. Also to do as much market research as humanly possible and make a solid advertising plan while you grow, not after you've grown. "Everything will come with time. Be genuine, respectful and positive."
If you have curly/wavy hair and want to maintain it's voluptuous beauty, then be sure to check out the spiral hair cord scrunchie! It is a design that Nav is most proud to present. It took her 5 days to figure out how to sew around the spiral cord, perfecting it in a way that it stretches significantly and bounces back when there is fabric around it.
Are your curls needing a breath of fresh hair? Look no further, Crown + Collar is here to save the day!
---
Find more of Crown + Collar here:‌‌‌‌‌
‌‌‌‌‌‌‌‌
Website: crownandcollar.com
‌Instagram: @crownandcollar
Like this story? Tell us yours! Share your brand story and love for your custom packaging and get a chance to be featured on the wrap! If you're a noissue customer and are interested, you can join the Eco-Alliance by clicking here and answering a few questions here.
Questions? Email us at ecoalliance@noissue.co