Custom noissue Packing Tape and Mailer Box by @mariamaranostudio
Nowadays, the paper packing tape and shipping boxes that you use when sending products to customers make a significant difference to your success as a brand. Not only do your packaging and shipping supplies need to be reliable, but they should also be representative of your brand to make a great impression on recipients.
Quality is no longer the only thing that consumers consider when shopping for various products. Instead, they are looking for the 'whole package' (literally) when buying from different brands. So, modern businesses must consider using packaging that also shares their brand's personality to stand out from the crowd!
It's important to use high-quality gummed tape and shipping boxes when you send your products. High-quality packaging delivers a strong and positive first impression to your customers and encourages them to shop with you again in the future. But reliable shipping supplies can still be stylish and supportive – so don't count your brand out on providing customers with a protected, premium unboxing experience!
Using personalized packaging and shipping boxes

To take things one step further and stand out from the competition, consider using personalized shipping boxes and containers. Most American adults agree that packaging influences their buying decisions, and 72% of Americans say that they prefer shopping from brands that offer custom packaging.
In this competitive market, finding ways to impress consumers and expand your customer base is important. Eighty percent of consumers say they prefer purchasing products from companies that personalize the buying and shipping experience.
Using reinforced paper tape and custom shipping boxes and containers sets your brand apart. It makes your packaging more secure, your products more memorable, and encourages consumers to continue shopping with your brand.
So, if you want more returning customers and you're trying to build a strong, loyal customer base, personalized packaging is the way to go. Here are some easy ways to create high-quality personalized shipping boxes and containers.
Use personalized inserts

Inserts are one of the best ways to increase customer retention. Consumers love receiving inserts and reading them when opening their orders. It enhances their unboxing experience, and they're more likely to remember your brand in the future.
Unboxing videos are a growing phenomenon on social media since they are highly shareable. More and more consumers are now watching friends, families, and their favorite content creators' videos to find new brands to buy from, and packaging is a significant part of the unboxing process.
Your inserts can include a variety of different things. You might wish to personalize every insert with a handwritten note bearing the individual customer's name, or include unique artworks and designs.
To save time and money, you can use a typed insert that displays the same message to every customer. Even if you choose this option and don't write each customer's unique name on their inserts, this is still an effective strategy for increasing brand awareness and customer loyalty. Make sure to include your unique brand name and logo on the insert, and use your brand colors.
Personalize your tape

The paper packing tape that you use on your shipping boxes and containers might not seem like the most important thing at first. However, the tape that you use is one of the first things that your customers will notice when they receive their orders from you. So why not make it stand out right from the start and show off your beautiful branding?
Gummed tape is a great option when you're considering personalized tape for your products. You might be asking yourself, what is gummed tape? Gummed tape really binds with the shipping box and becomes an integral part of it. This type of tape is fixed onto the box with water and looks neat, professional, and clean.
Using high-quality tape that is unique and branded will set you apart from your competitors. Whether you want to bring your brand name on the tape or use bright and exciting colors, there are lots of great ways to personalize your shipping tape.
Focus on eco-friendly packaging

Seventy-seven percent of consumers agree that businesses and brands should focus on making their packaging as sustainable as possible. By using eco-friendly shipping boxes and tape, you can reach a wider audience and appeal to those who shop exclusively at sustainable brands.
Making your packaging more sustainable could involve using recycled materials or biodegradable packages that don't end up in landfills. Not only will this save money and enhance your brand's reputation, but it also reduces your carbon footprint. Additionally, making the switch to packaging using better materials will help build your brand as one that's thoughtful and future-forward, which new and returning customers will greatly appreciate.
Choose the right box

Shipping boxes and containers come in a range of shapes and sizes, so you will find the perfect options for your brands. You can choose mailer boxes, shipping boxes, and envelope mailers, depending on the size and shape of your products.
Mailer boxes are made with paperboard or kraft materials and have interlocking wings that secure the contents of the package. Shipping boxes are made with corrugated cardboard and have an open-flap top.
There is also the option of creating your own custom packages that are the perfect size and shape for your products. Choosing compact boxes that fit your products creates a great first impression when your customers are unboxing their orders. It also reduces the risk of your products getting damaged in transit. If you're not sure where to start in choosing the right box for your brand's needs, check out this helpful guide.
Use your brand's colors and prints

Colors and prints are the perfect way to capture your target audience's attention. Using bright colors or funky patterns makes your brand's packaging noticeable and unique.
Choose colors that match your branding to reinforce who you are and what you can offer to your customers. Don't be afraid to use unusual colors and prints for a unique presentation, or add your own personal touch to every box and container you deliver!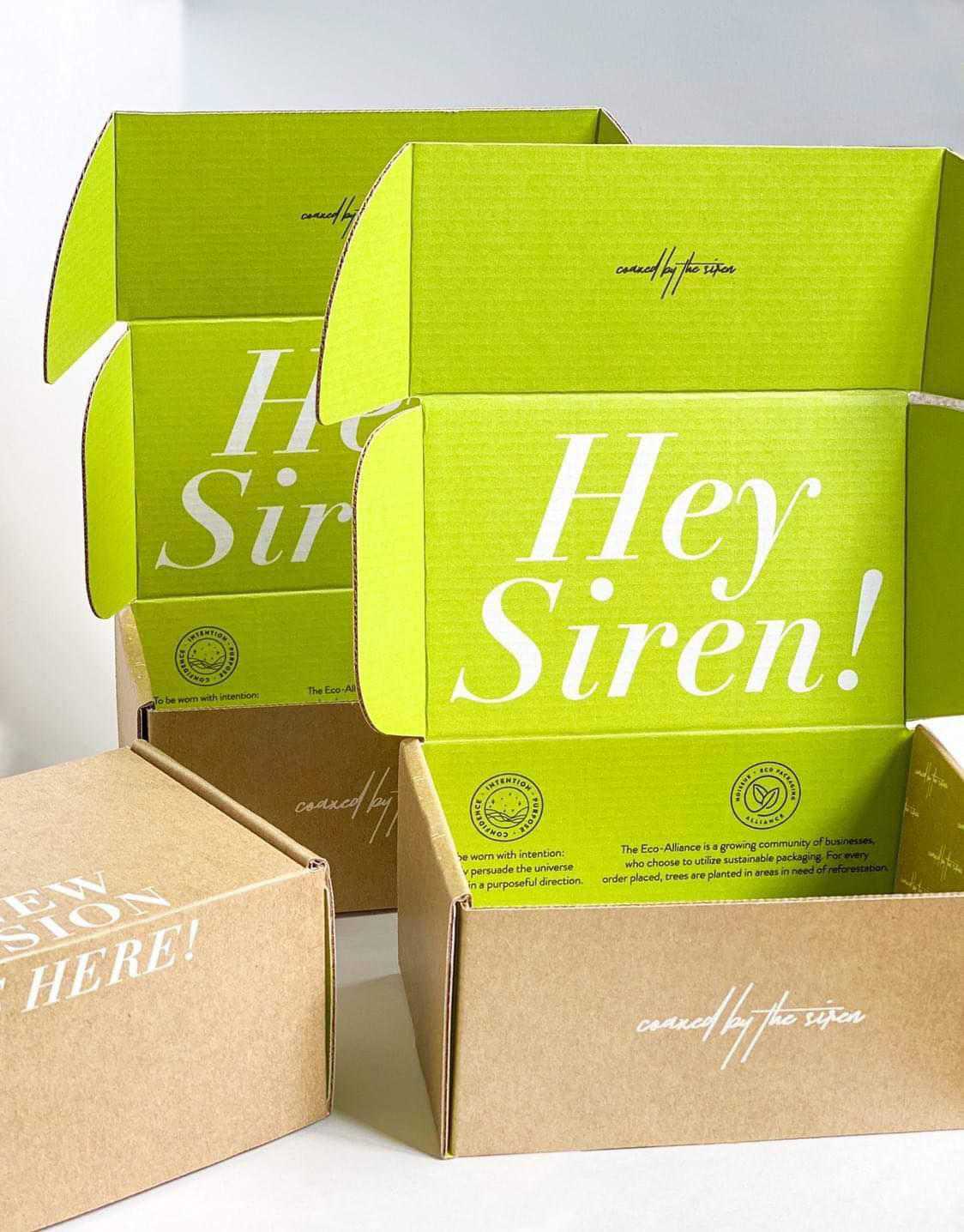 🎁 Wrapping it up

For sustainable and high-quality shipping boxes and containers, check out the custom packaging options we have here at noissue. No need to stick to the status quo of boring or bland packaging –  let your brand lead the pack through supplies made from better materials.
Make your branding shines on your tape, boxes, mailers, and more for customers to enjoy a memorable experience without generating excessive waste! Shop products by category or industry and start designing your dream packaging.