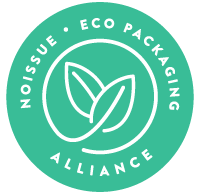 When you're an artist or illustrator living in the countryside, there's just no end to the inspiration you're given! After all, the natural world has long since been muse and inspiration for a countless number of artists for the longest time, and has been so throughout the many stages, movements, and transformations that art has been through. And this will likely continue to remain so into the far future—and with good reason, too! There's truly no kind of beauty like the earth's natural beauty, and that's just one of the many wonders that our one and only planet continuously offers to us.
That's certainly something that Ed Dingli understands down to its core. Based in the countrysides of Portugal, Ed is a full-time freelance illustrator and designer, whose work has appeared in everything from editorials and posters, as well as handfuls of private commissions.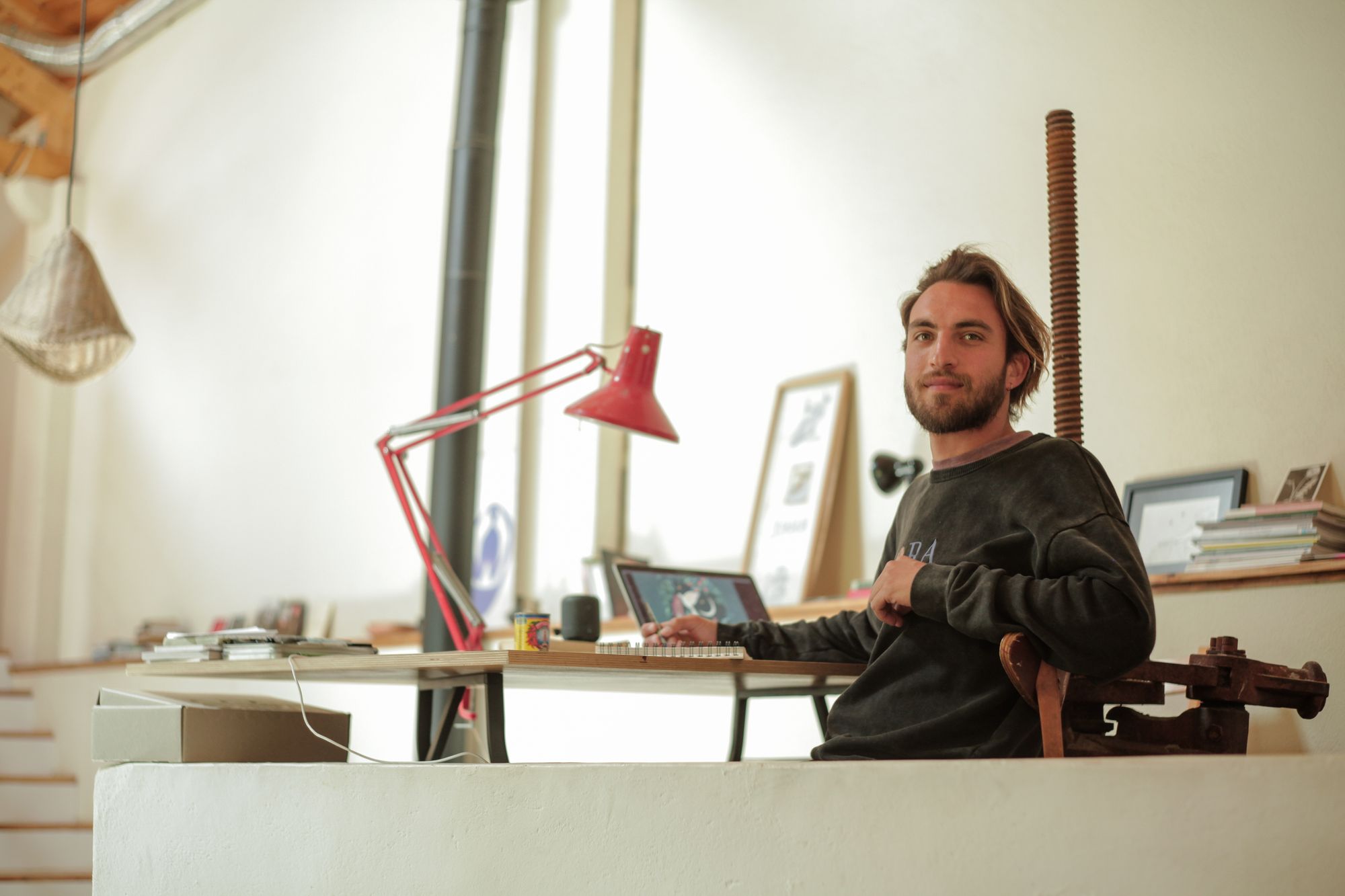 There's an inherently captivating aspect to Ed's illustrations, in the sense that many of them are permeated with a sense of wonder and wanderlust, particularly for nature, as well as a certain vintage kind of charm—and these aren't mere coincidence either! Although he now calls the countrysides of Portugal home, Ed originally hails from the island of Malta, and has since done a fair bit of moving around throughout this career. He spent the best part of his professional career working for a design agency in London, before officially leaving three years ago to fully immerse himself in his creative projects, after some time house-sitting and volunteering for farms and eco-projects. As an artist, this constant change in his surroundings is reflected in the work he creates, and throughout his journeys, he's often created and sold pieces of his own observations, his artistic style always dynamic as he experiments with new forms and techniques in his work.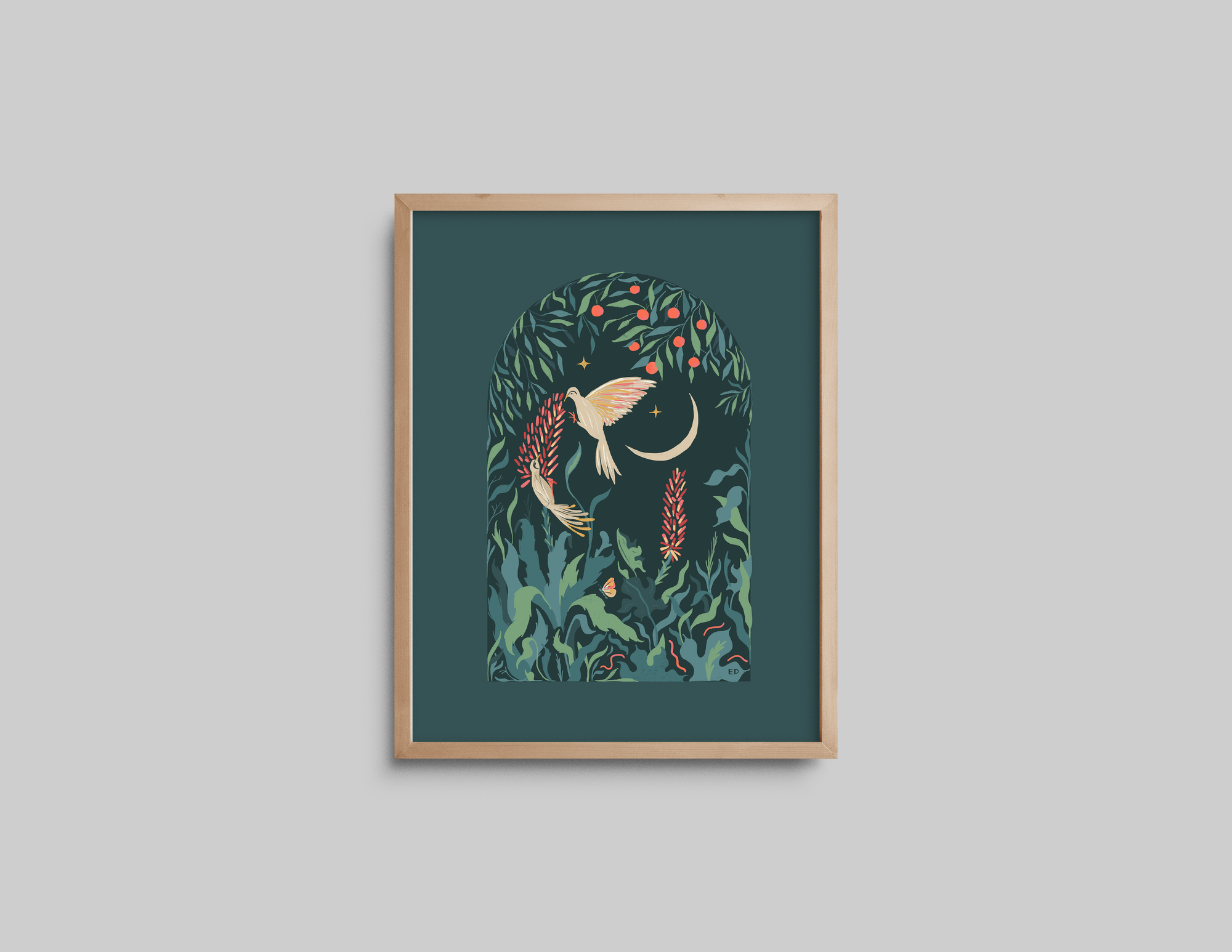 Although he's long been set on his creative path, it was this freedom to roam and be in charge of his own time that inspired Ed to make his own mark as an independent illustrator. Although he thoroughly enjoyed the time he spent working professionally for a design studio, the city simply didn't leave much room for the creative exploration he'd been longing for, and soon enough, it was obvious to him that he'd needed to take that risk. Eventually, he traded in the city life for the countryside, housesitting for others while fully developing and delving into his art! Of course, it still is a work in progress, but in the time since, he's been able to further develop his identity as an illustrator, and commission works for a handful of clients.
That said, in setting up his own practice, Ed's foremost mission is to use visuals to inspire, empower, bring joy, and spread hope with his work, and his vision is to continue to do all that, while living in harmony with nature!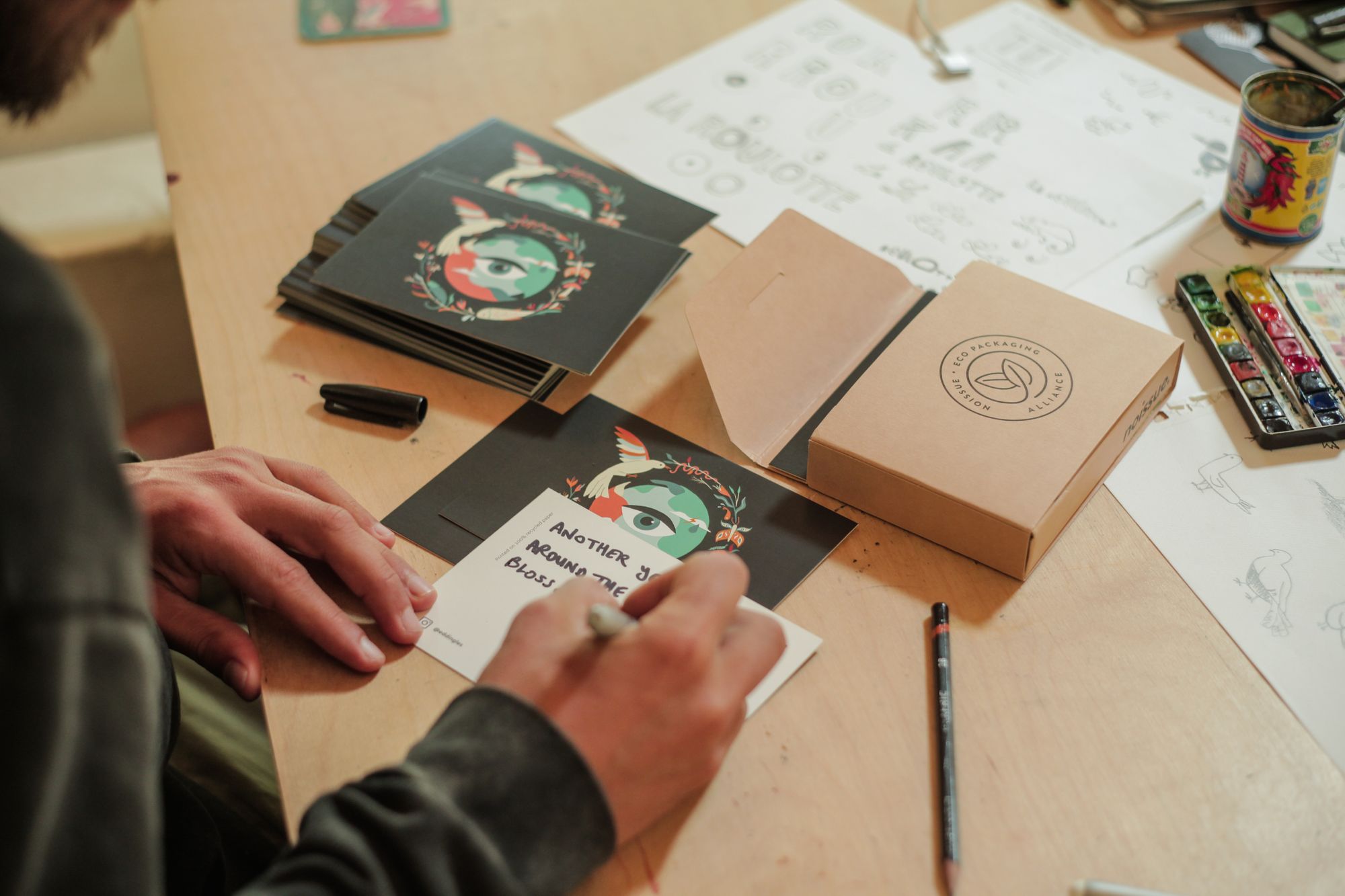 This commitment to nature is something that Ed definitely takes seriously, and as he shares, sustainability is something that lies at the very core of his work. Living in an undeniably oversaturated, consumerist world, it was important to Ed to be part of the solution, and to only contribute things of value that cause no harm and leave as little waste as possible on earth. He's also mindful about the companies he partners with, and primarily works with organizations that share his same ethical and sustainable values.
And with that, when it came to sourcing packaging that also upheld those very same values, Ed was happy to have come across noissue! As he shares, prior to finding noissue's sustainable packaging, he'd never previously given much thought to how his prints were sent out, but he'd long been looking for an upgrade to his customers' unpacking experiences. He's now happy to share that he's since been able to do just that with the help of his customized and sustainable Cards and Stamp from noissue!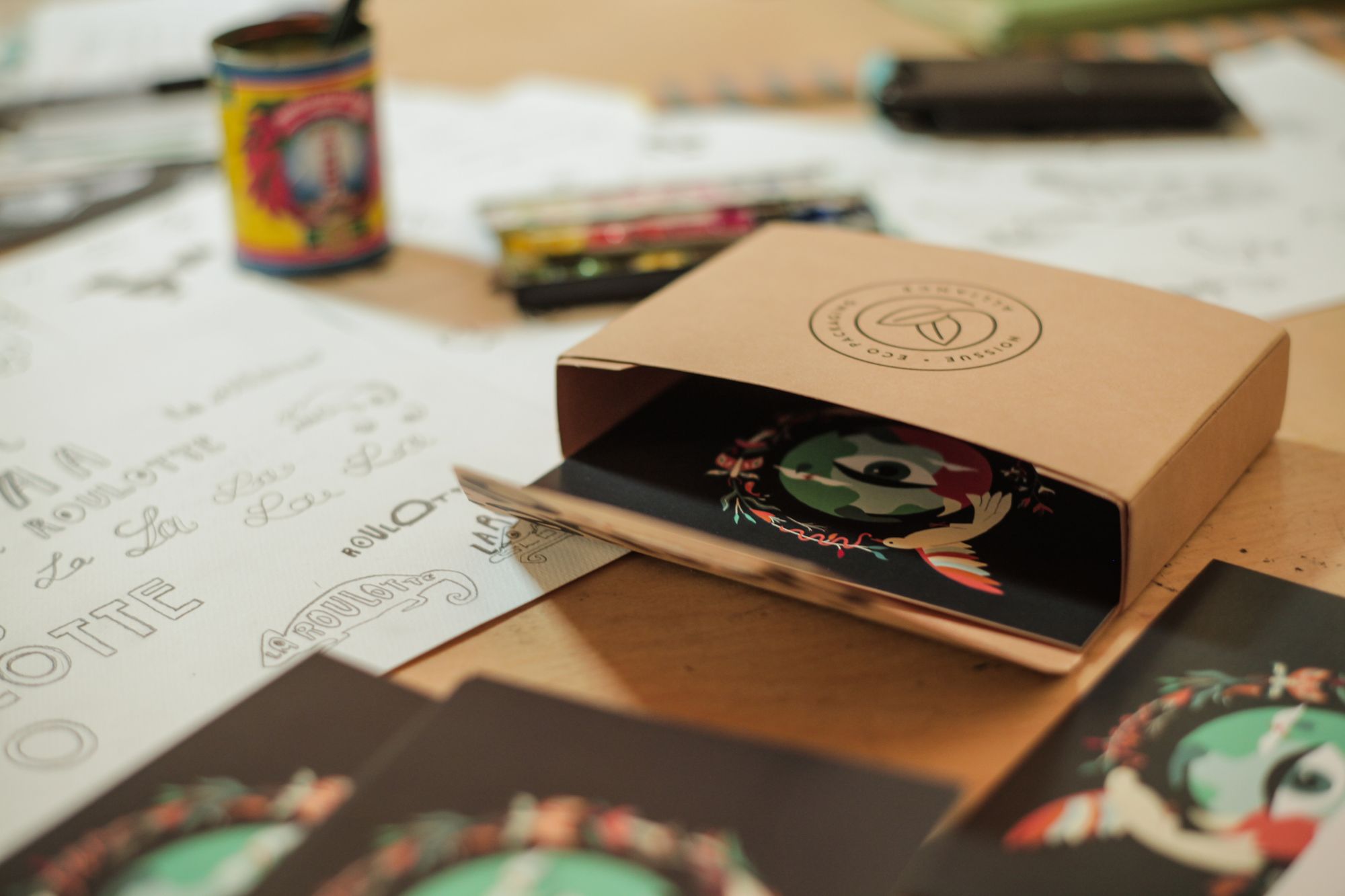 Prior to that, Ed had mostly stayed away from using any kind of personalized packaging for his prints, as he'd been adamant about contributing as little waste as possible. But he's since been ecstatic about his new noissue packaging and joining the Eco-Alliance, where his mission could be taken even further by contributing to environmental conservation efforts with his every order!
In addition to using sustainable packaging and joining the noissue Eco-Alliance, Ed also implements his sustainable values within his own day-to-day practice, too. This particularly means reusing old envelopes and cards as backing for his prints, as well as keeping and reusing old packaging materials from other companies as much as possible! Living in the countryside has also opened up a world of possibilities for sustainable living, such as being able to cycle to most places instead of using transport—something he also personally enjoys!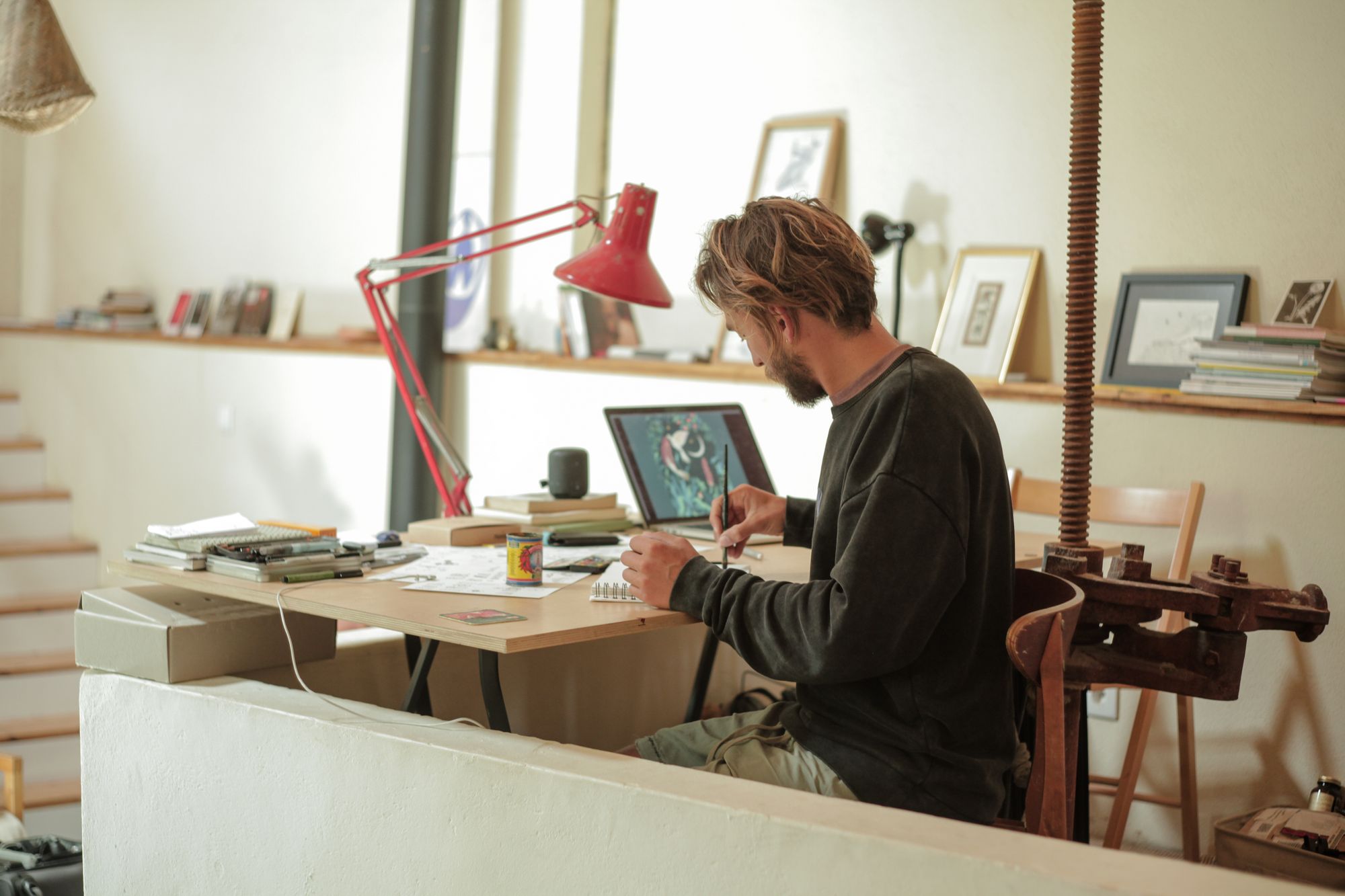 As an illustrator, Ed isn't too concerned with being too "different" from the rest, and he'd much rather be part of the right community instead! And as he shares, this particular community is one that strives to create work with meaningful impact, and that works for a better future for the planet.
"[A community] that strives for a better planet and produces work with meaning. I'm also more interested in the impact that my visuals can have, rather than solely using them as a selling tool."
Of course, making such a significant change in his career was no easy feat, and when he first took the plunge and quit his traditional job, it took months before he started getting new work. However, with time, hard work, patience, and perseverance, he's since been able to build a steady client base, which he's grateful for! However, he's also still in the process of finding that right balance that allows for his personal creative exploration, so he's definitely taking it all a day at a time, doing commissions while also experimenting and having fun!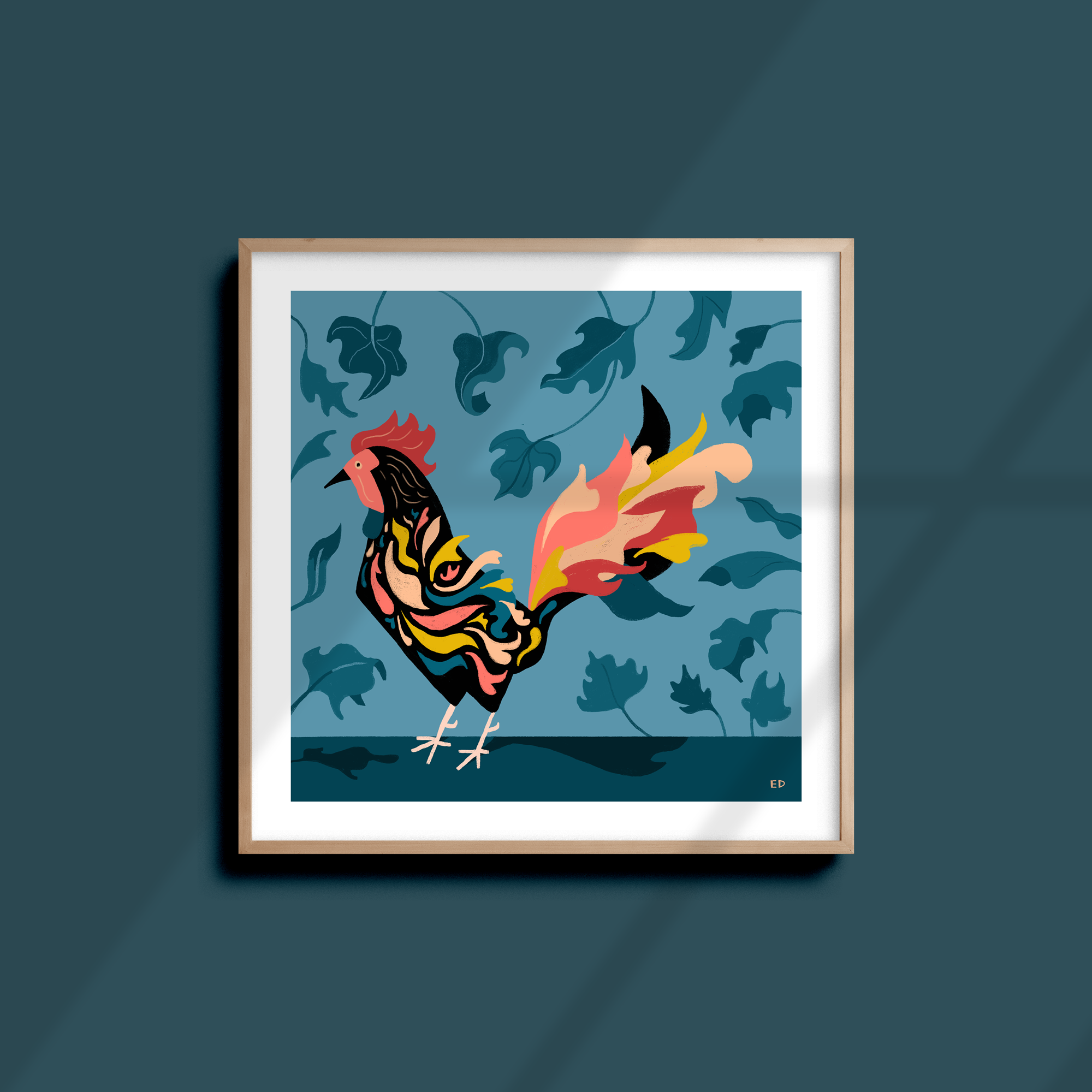 Ed's journey definitely brought with it several lessons, and for other creatives hoping to start their own business, his foremost piece of advice is that there are simply no shortcuts. This was something he'd learned on his own, and he now recognizes that building your own brand isn't something to be done overnight—it's a continuous process that takes time, so it's essential to keep working and give your best to every piece you produce!
Besides that, he also emphasizes on using and developing your own unique voice as an artist—your own "style" will eventually come through on its own! He also reiterates the importance of saying no to some projects to allow yourself personal time and creative freedom, and finally, to take time to reflect and look back on your work every now and then. Being a freelance artist can sometimes mean jumping from one project to another, but it's equally important to look back on your work critically and analytically, and plot how to move forward as an artist.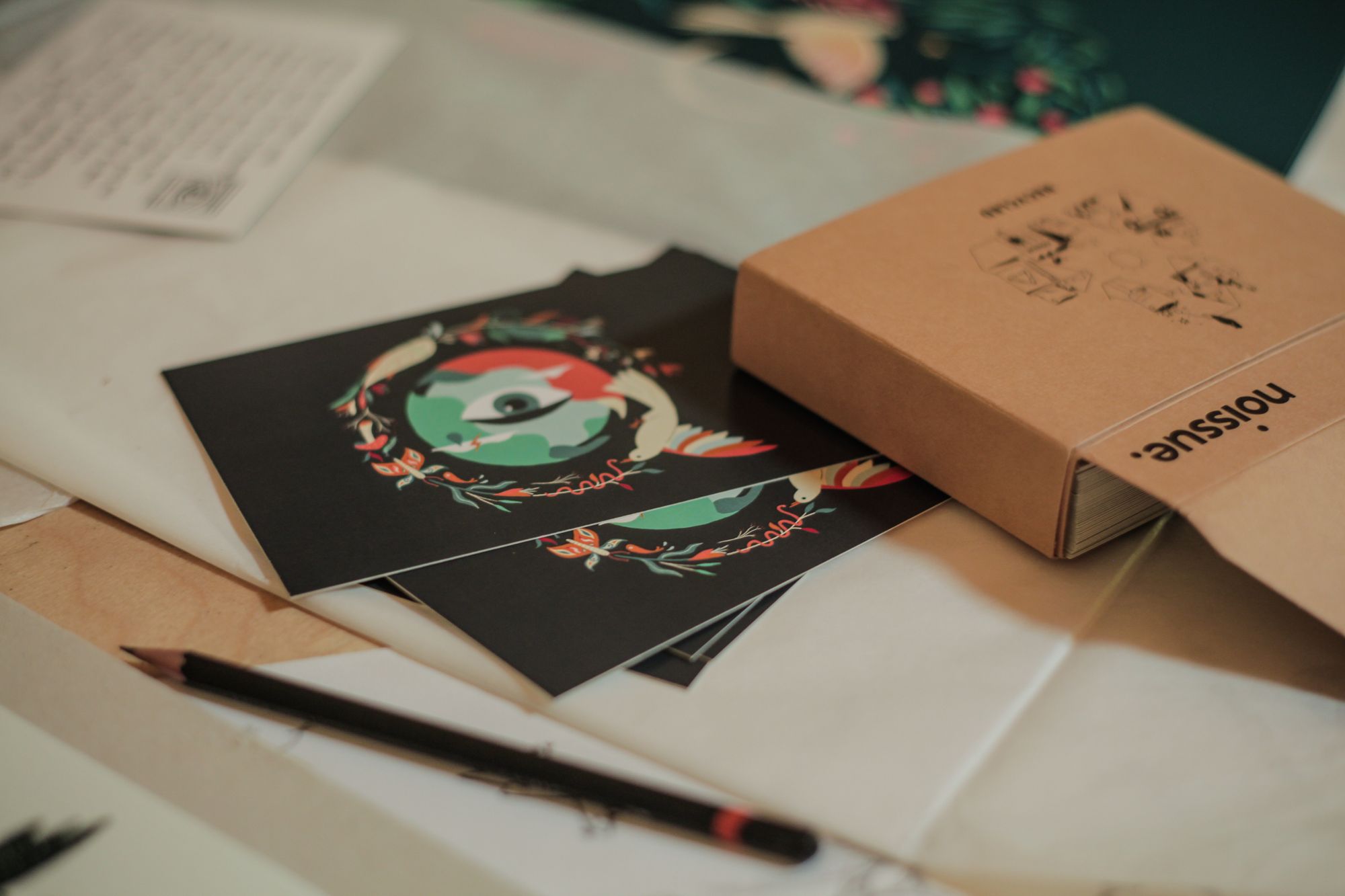 Looking through Ed's many works, whether for other companies or for his own creative exercise, it can be difficult to single one out above the rest. But for Ed, a piece that holds special significance is one called 'Mother & Child', which was created in response to a migrant crisis. Hailing from Malta, this news story struck a personal chord with Ed, so he'd harnessed that emotion and went to work to turn it into something productive. The result was the 'Mother & Child' print, which he sold to raise funds for a local charity working to help displaced refugees.
Illustrations that celebrate the beauty of the planet we call home—that's definitely something we'll never get tired of. And with his ongoing commitment to sustainability and community, the planet's definitely a better place with Ed in it!
---
Find more of Ed Dingli here:‌‌‌‌‌
‌‌‌‌‌‌‌‌
Website: eddingli.com
‌Instagram: @eddingles
Like this story? Tell us yours! Share your brand story and love for your custom packaging and get a chance to be featured on the wrap! If you're a noissue customer and are interested, you can join the Eco-Alliance by clicking here and answering a few questions here.
Questions? Email us at ecoalliance@noissue.co