Image by @itsfunnyhowww

In the past few years, rigid mailers proved to be the go-to shipping package for sending essential papers, pictures, works of art, and flat products in general. Whatever is being shipped, it won't be bent, crushed, or damaged in any other way, thanks to photo mailers.
They're generally manufactured from laminated fibreboard and serve a great purpose in preventing folds, crease bends, and damage, while they also greatly decrease shipping costs due to their compact size and practically zero weight.
Here's what makes rigid mailers so great, and how they can benefit your business!
The Main Features of Rigid Mailers

The term 'rigid' is used to describe the surface of the mailer, which doesn't bend as easily as common materials such as plastic or paper and is also immune to most types of shipping damage from bruises or bumps with other packages.
A rigid envelope is most often manufactured from either paperboard or fibreboard. They come with a very convenient tamper-evident opening that doesn't require a knife or anything sharp to open. Each piece, while sturdy, remains lightweight and practically adds nothing to shipping costs.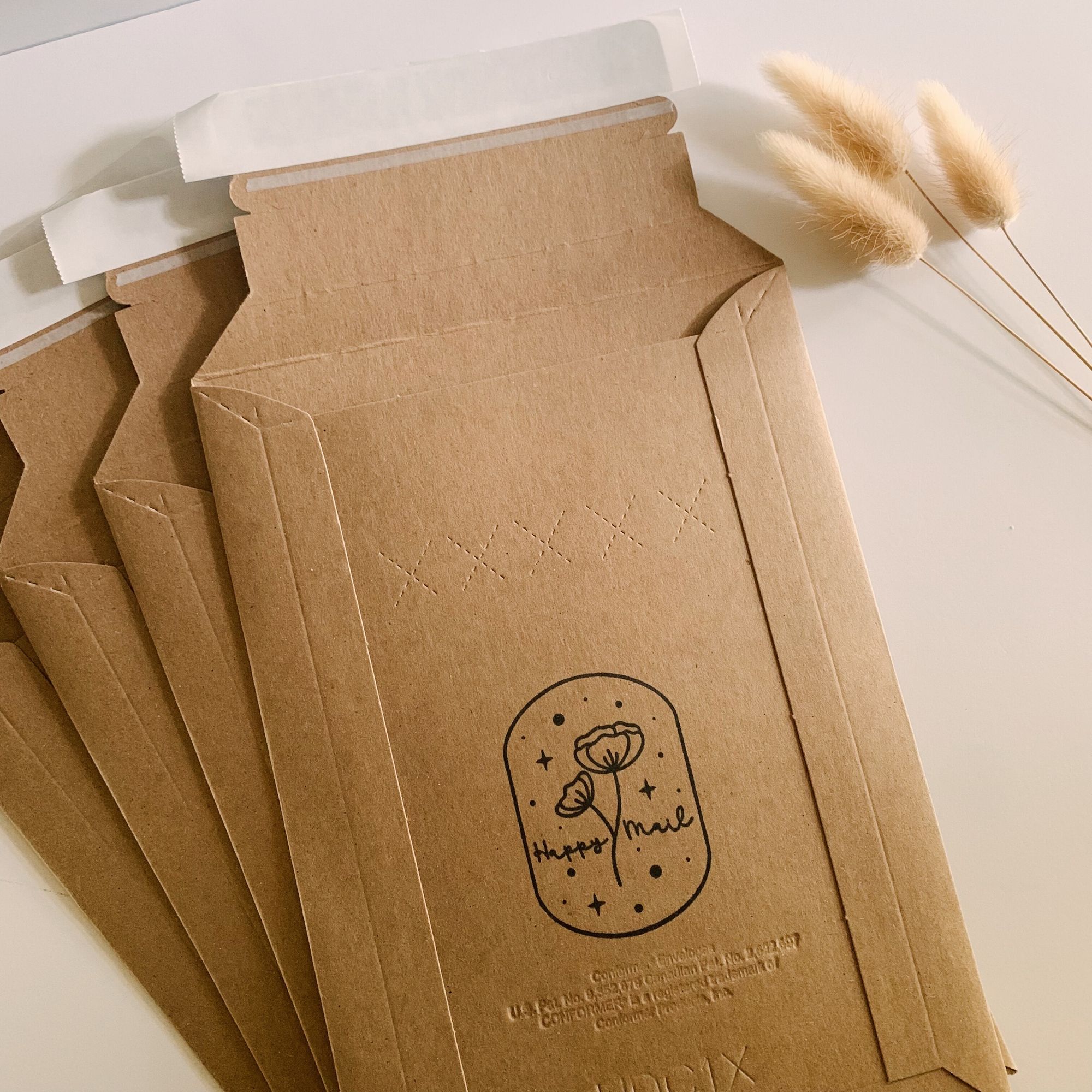 Not to mention, if you wish to level up your business's sustainability, there are recyclable flat mailers made from 100 % recycled chipboard. Of course, the mailers can also be reused repeatedly.
What Does 'GSM' Mean, When Talking About Mailers?

When talking about rigid mailers or envelopes, a very common term used to describe the thickness and weight of the mailer is GSM. It means gram per square meter. GSM is used to measure the weight and thickness of many paper types.

As an example, common printing paper would have a GSM of roughly 80, while rigid mailers could have anywhere between 300 and 400.
What Does 'PT' Stand for With Rigid Mailers?

The thickness is also sometimes measured in points. One point is one thousand of an inch. For example, the thickness most commonly ranges from 18 pt to 30 pt. Of course, this varies slightly per state and country.
This isn't a criterion that would usually change your mind. Generally, the higher the number, the less likely the mailer is to crease or fold, while the lower the number, the lighter the mailer will be.
What Are The Main Advantages of Rigid Mailers?

According to Speedcommerce, roughly 10 percent of all packages are damaged at one point or another. One of the most common reasons for packaging damage is having too much empty space within the envelope or box.
Withstanding Shipping Damage

With flat mailers, you don't have to worry about that since the products will be tightly pressed by the sides of the mailer, preventing them from moving. Since the sides are pressing on the product, this also eliminates the great need for cushioning in most cases.
The tightly pressed sides eliminate the chances of folding, tearing, and bending. And in the case when you are shipping documents, that also greatly diminishes the chances of creasing.
Eco-Friendly

A rigid envelope can be made from recycled chipboard and be 100 % recyclable. They're is a great way of telling your customers that you care about the environment, just as they do, while doing your part to prevent new waste from entering our global landfills.
The Adhesive Tabs Self-seal

The self-seal adhesive tab on the packaging doesn't damage the products inside in any way. Moreover, it protects them from dust, moisture, and insects.
In What Case Would You Prefer to Use a Bubble Mailer?

Bubble mailers are usually not as rigid as flat rigid mailers; however, they're water resistant and can greatly minimize weather and environmental damage. These can also made from recycled materials, include reusable features, and ultimately be recycled where soft plastics are accepted.
These utilize exactly the same enclosing adhesive tape as flat mailers, making them very comfortable for shipping. The only downside that these have compared to regular mailers would be the slightly higher cost.
Padded mailers can provide of both worlds, if they fit your brand's needs. They're a combination of rigid mailers and bubble mailers, which means that there's a rigid encasement on the inside, and bubble padding on the outside. That prevents the package from bending, while the sides of the envelope pressure the shipment to stay in one place even harder, surrounded by safety bubbles.
Wrapping Things Up

Rigid mailers have been doing wonders for both small and big businesses. Shipping costs have greatly decreased since boxes were replaced with rigid and poly mailers in cases where that's the suitable packaging option.
If you're still not utilizing rigid mailers in your business, you're most certainly missing out on both sustainability and cost-effectiveness. If you don't know where to start, noissue's rigid, heavy-duty mailers are the way to go!