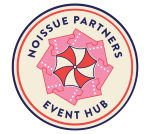 First Blush Weddings is a boutique floral and event planning company with a sustainable approach to creating lush and whimsical flower arrangements for weddings and social functions based in Connecticut.
Welcome to the noissue Events Hub! Tell us more about yourself, your business, and the services you provide.
My name is Emma Kate MacHugh and I am an artist specializing in floral and event designs. I have been working in hospitality for over 20 years. I've worked on the line in a catering kitchen, scheduled entertainment and children's functions for a country club, managed sporting events, and been involved in every aspect of designing a social event. At First Blush, I have found my heart's purpose in designing flowers for weddings. I believe design is the truest way to express a couple's personality and flowers are the most beautiful medium.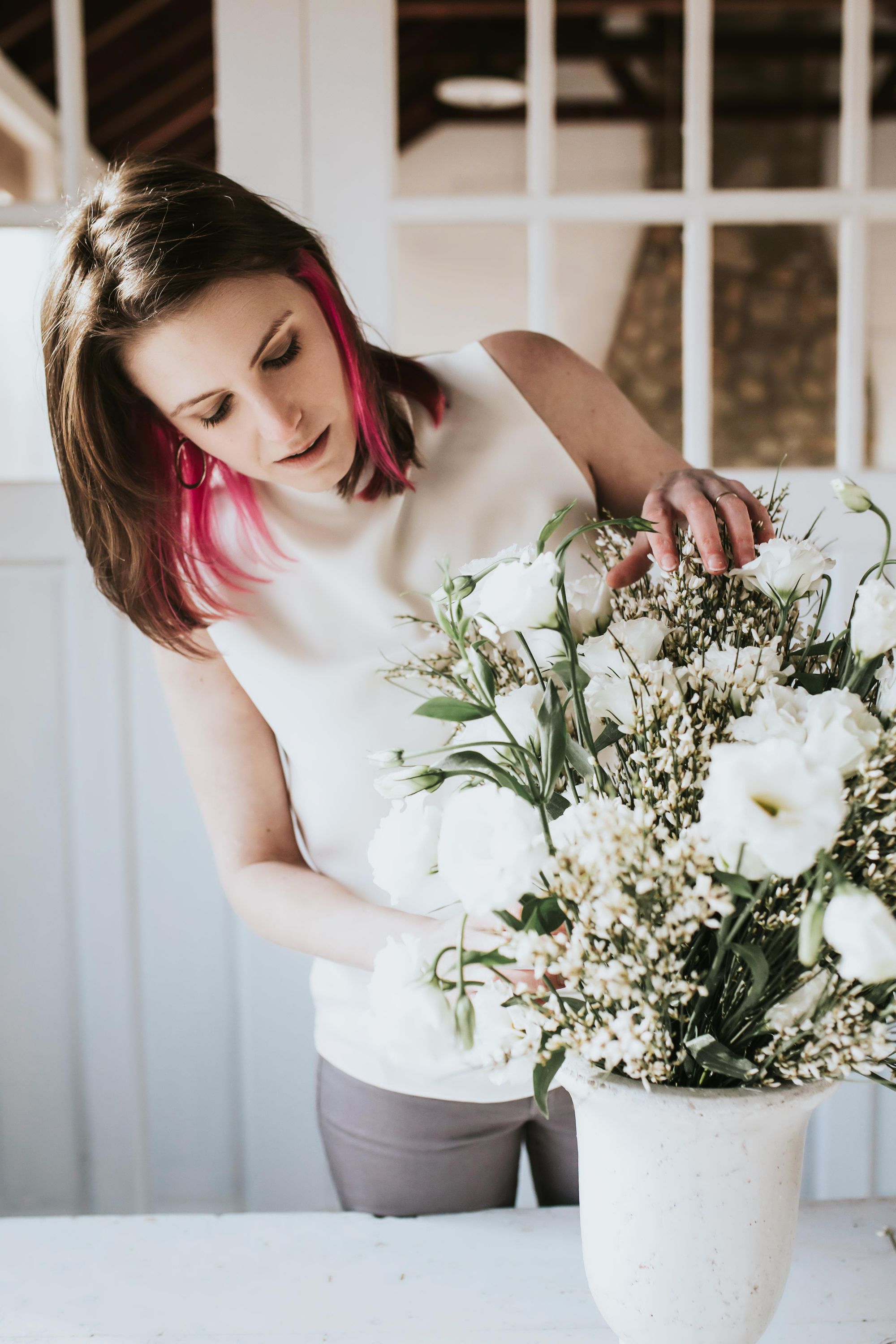 You were introduced to the Japanese art of floral arranging, ikebana, during your time in Japan. Can you tell us more about the story behind this and why the practice resonated with you?
I taught and lived in the northern part of Japan near Sendai and part of the program asked us to get involved with the community. In addition to learning ikebana, I studied calligraphy, and joined a local dancing troupe with some of the other English teachers in the area. For my ikebana lessons, I was brought up into the nearby mountains to a small house where I joined a group of women who met for 1 to 2 hours once a week to study the Ryu-Sei Ha school of ikebana with an older Master. They graciously allowed me into their class and let me learn with them. For a while I only knew the Japanese name for many of our common flowers! When I started working at a flower shop in Miami, I had to relearn everything in English.
Ikebana at its heart is about moving slow and considering each small detail to create something beautiful. We would sometimes be given only four flowers to work with and an hour to focus on how every tiny change in angle changed the atmosphere of the piece. I try and carry that patience with me into my business.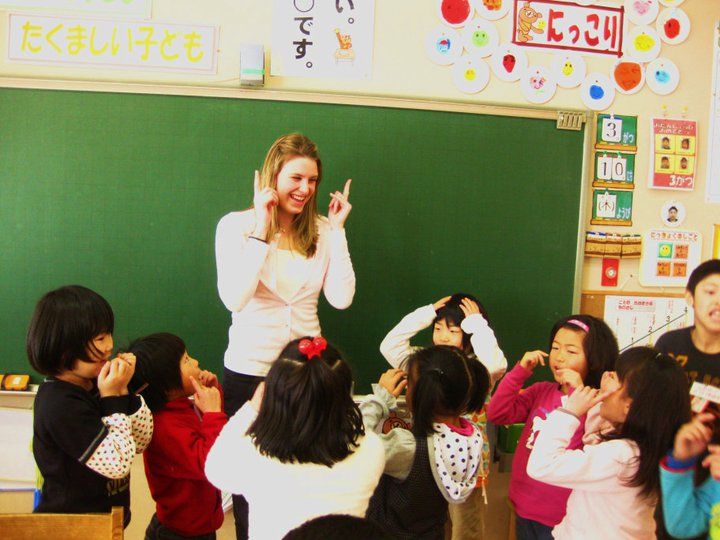 How do you apply the art of ikebana to floral design for events?
A lot of what I apply from ikebana comes from the ability to be focused and in-the-moment on creating. I consider every aspect of the couple, from what they've explicitly asked of me to their individual personalities when designing their wedding flowers – especially their personal flowers (bridal bouquets and boutonnieres.)
First Blush Weddings integrates earth-friendly practices in your designs. What are the guiding principles you follow to support sustainability?
All leftover organic materials (stems, leaves, buds) are composted and used in a local garden
Eliminate floral foam for our larger arrangements by creating reusable structures using chicken wire and water tubes
We always source locally first. What flowers cannot be obtained locally are purchased directly from farms, cut to order, and overnighted to our location
By ordering directly from farms for each event, we minimize electricity usage. Bypassing the standard supply chain traditional florists participate avoids hundreds of hours of refrigeration and the associated energy use.
We source many of our vessels, especially for vintage and eclectic weddings, from Goodwill and other thrift stores. We then donate them back once the event is over or keep them in our inventory for future weddings.
Talk to us about your sustainability journey. What motivated you to make your practices more sustainable? How challenging is it to always source locally? How do customers respond to you being a sustainable business?
One of our guiding principles is reducing our waste. I worked in a flower shop in Miami where I saw so much being thrown out. Garbage bag after garbage bag left each day to be brought to a landfill. It always broke my heart to put organic materials into a plastic bag to go sit in a dump. When I began looking into starting my own company, I knew I wanted to try and do something with all the leftover product that wasn't making it way in front of the client.
We compost all of our organic materials with a family farm— I've eaten vegetables grown from the compost we helped to create! We also try and source our flowers from our amazing local flower growers before ordering from wholesalers who ship from all over the country. We are part of the Connecticut Flower Collective, which has done an incredible job over the past few years connecting farmers with florists.
Clients definitely appreciate that we work to be more eco-friendly. For many of our couples, their wedding is their first experience with a large social function and they can be overwhelmed by the amount of supplies that goes into one, five-hour party. Knowing we have a plan for the flowers they can't take home with them is one less thing for them to worry over.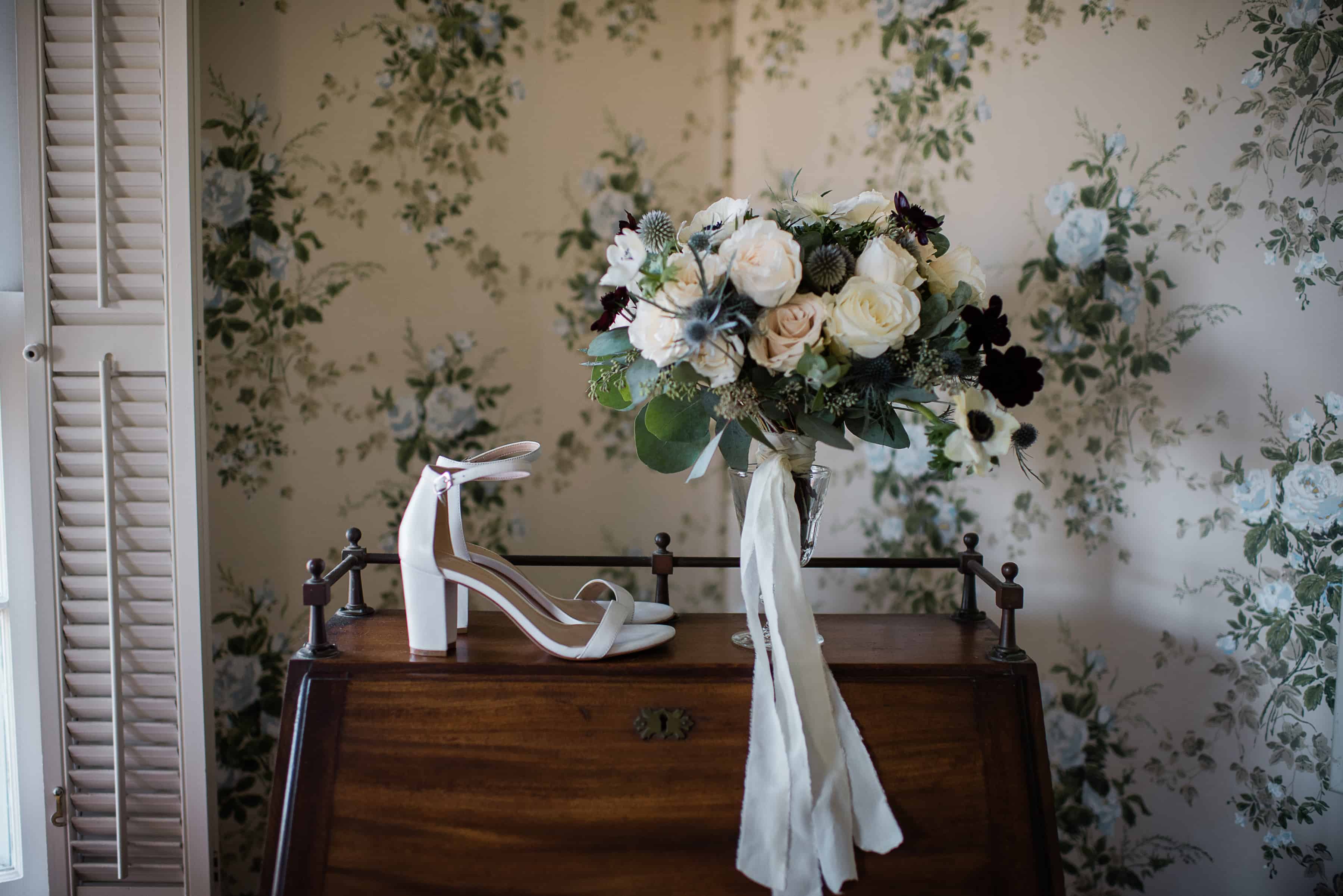 How did you learn about noissue and why did you opt to use noissue products for First Blush?
As we grow as a company, our branding needs have grown as well. When I began to look into customized stickers and paper products, I really wanted to work with a sustainable company who cared as much as we do about reducing our waste while still creating a beautiful product. I spent a lot of time on the internet trying to find someone whose mission matched ours and was delighted when I discovered noissue.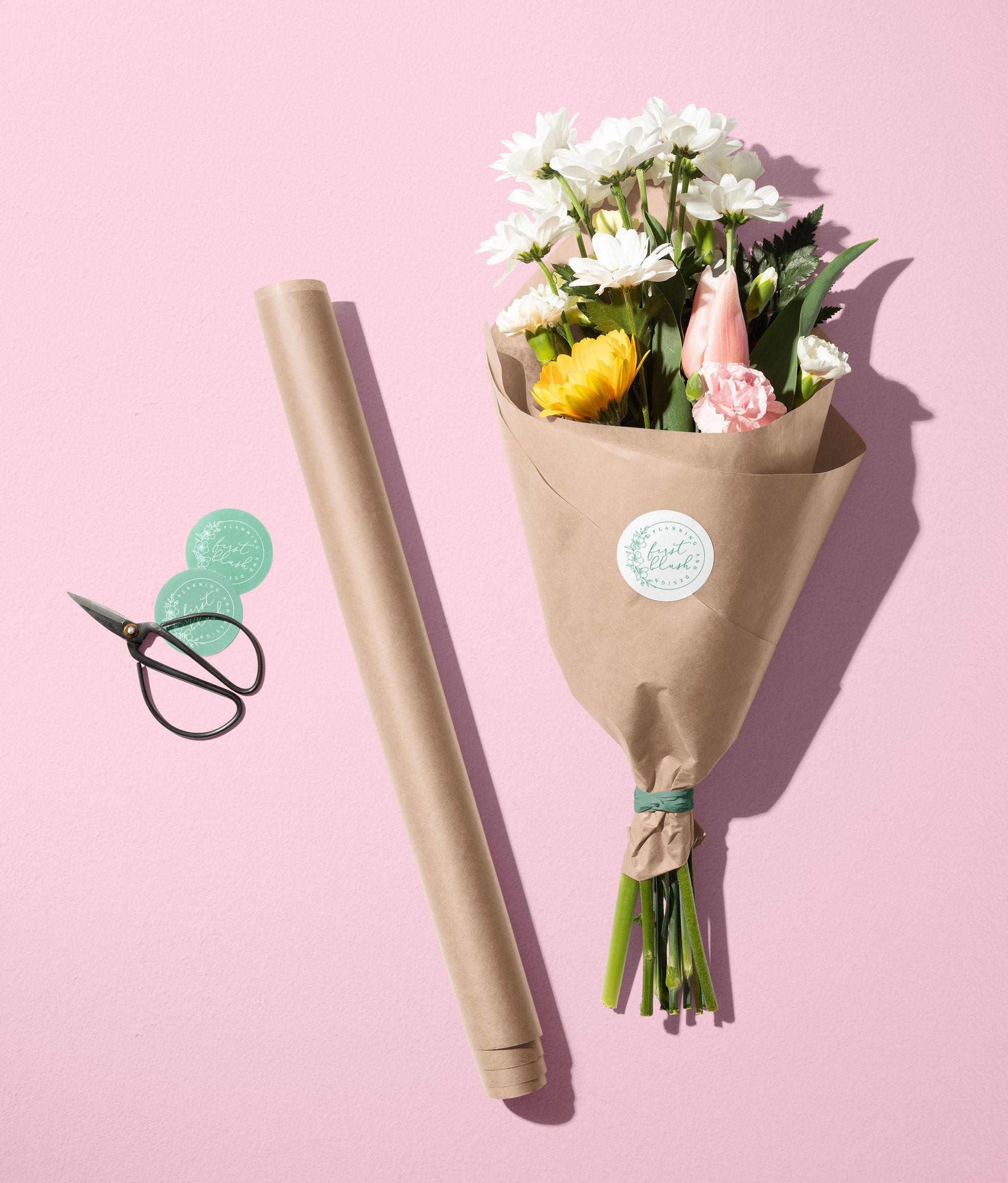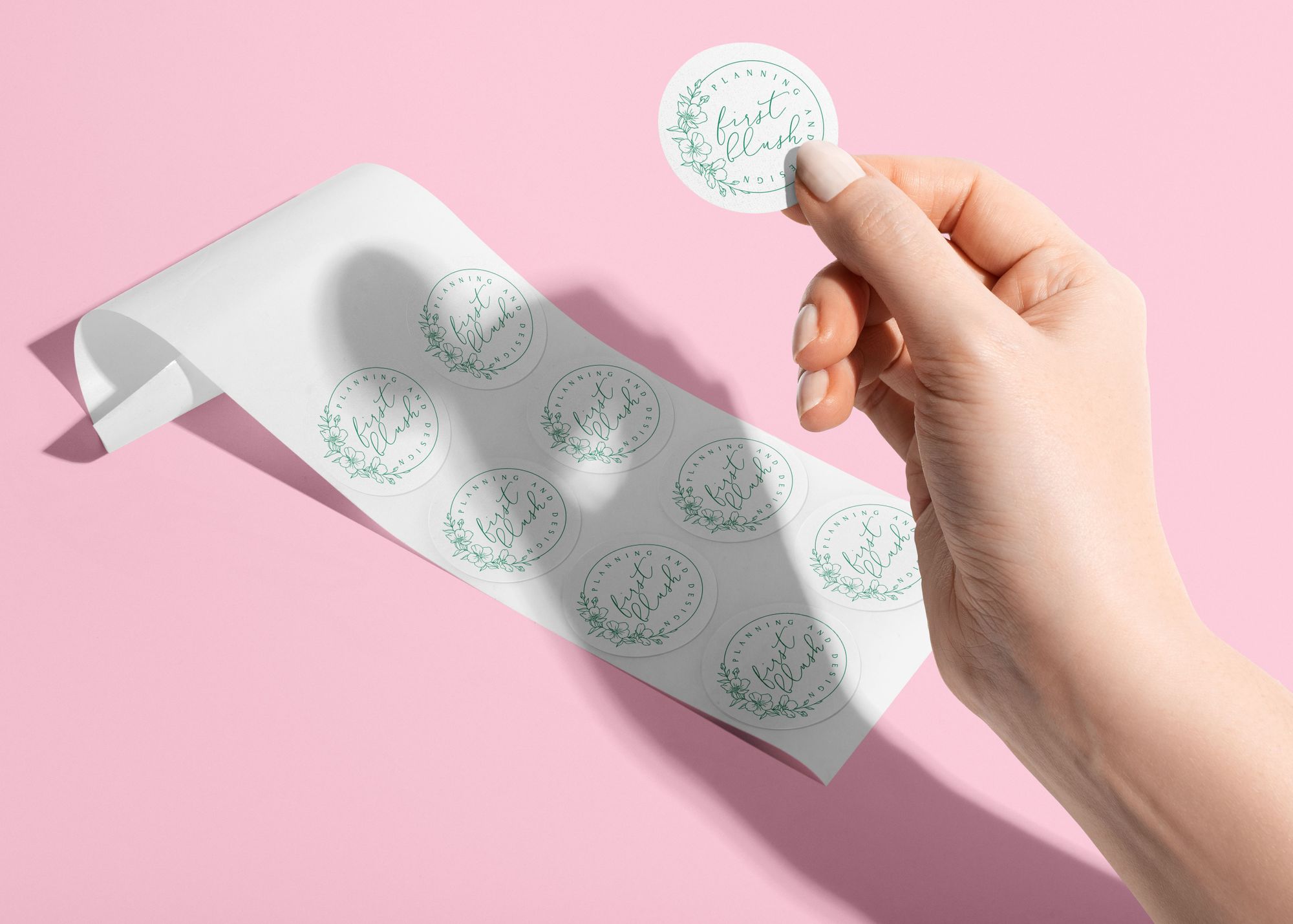 Where do you personally find inspiration for your floral designs? Do you have a signature style or do you like to change things up depending on who you're working with?
I find my client's love stories to be the most inspiring piece for our designs. Their love is what brings us together, after all, and everyone has an amazing story to tell and a unique life they're leading. We ultimately let the client's vision lead the way, though I believe we attract a certain kind of couple who resonates with our look. They tend towards garden-style with big, open blossoms and natural movement. We have a lush and romantic approach to our floral designs and that speaks to so many people.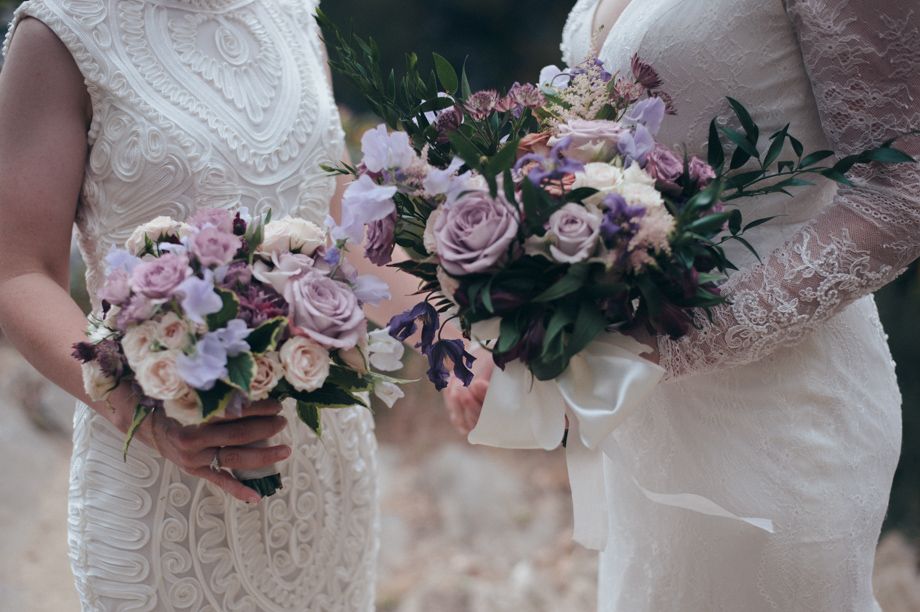 Fun Fact Question: What do you miss most about Japan and why?
The food! We do a lot of cooking at my house and some traditional Japanese dishes still make their way to my table even a decade after leaving Japan. I have a recipe for kara-age, Japanese fried chicken, that was given to me by the school's educator/chef that we still make to this day.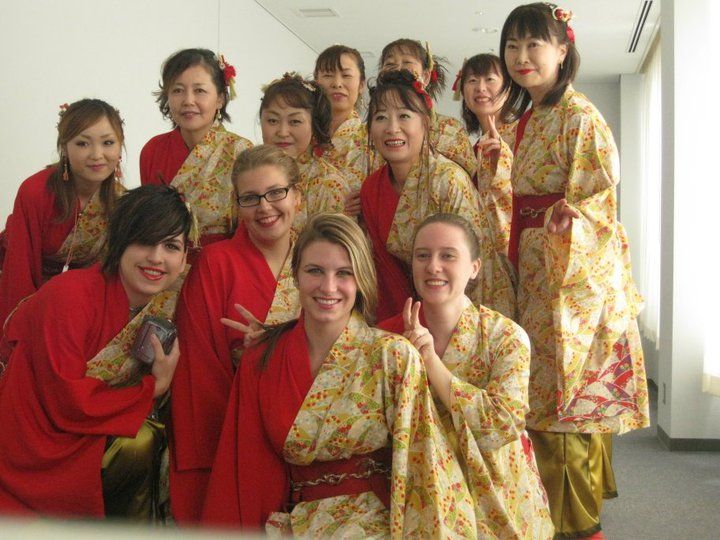 View more of Emma's floral designs on her website.