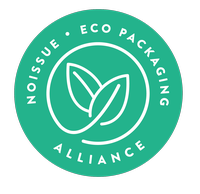 Familiar with Wes Anderson's Moonrise Kingdom? Our featured brand today looks like a set straight out from that movie, and it's totally worth a visit!
Situated in Germantown, New York, this beautiful structure with a sunshine yellow exterior is not just any regular laundromat. It's a community space that promotes sustainability! Climate change and trying to solve it can be too much, but they wanted to spread awareness. Using their space, they created simple ways to educate their community about it and help everyone avoid becoming "a bunch of mean jerks" to the planet.
"The Germantown Laundromat is both a 24/7 Laundromat and Sustainability Shop in Germantown, New York. This space was created to work with our community in exploring what it means to live a cleaner life. We show how to be eco-responsible not only in how our space was renovated, but in the products and services we offer, and the collaborative work we do within our community."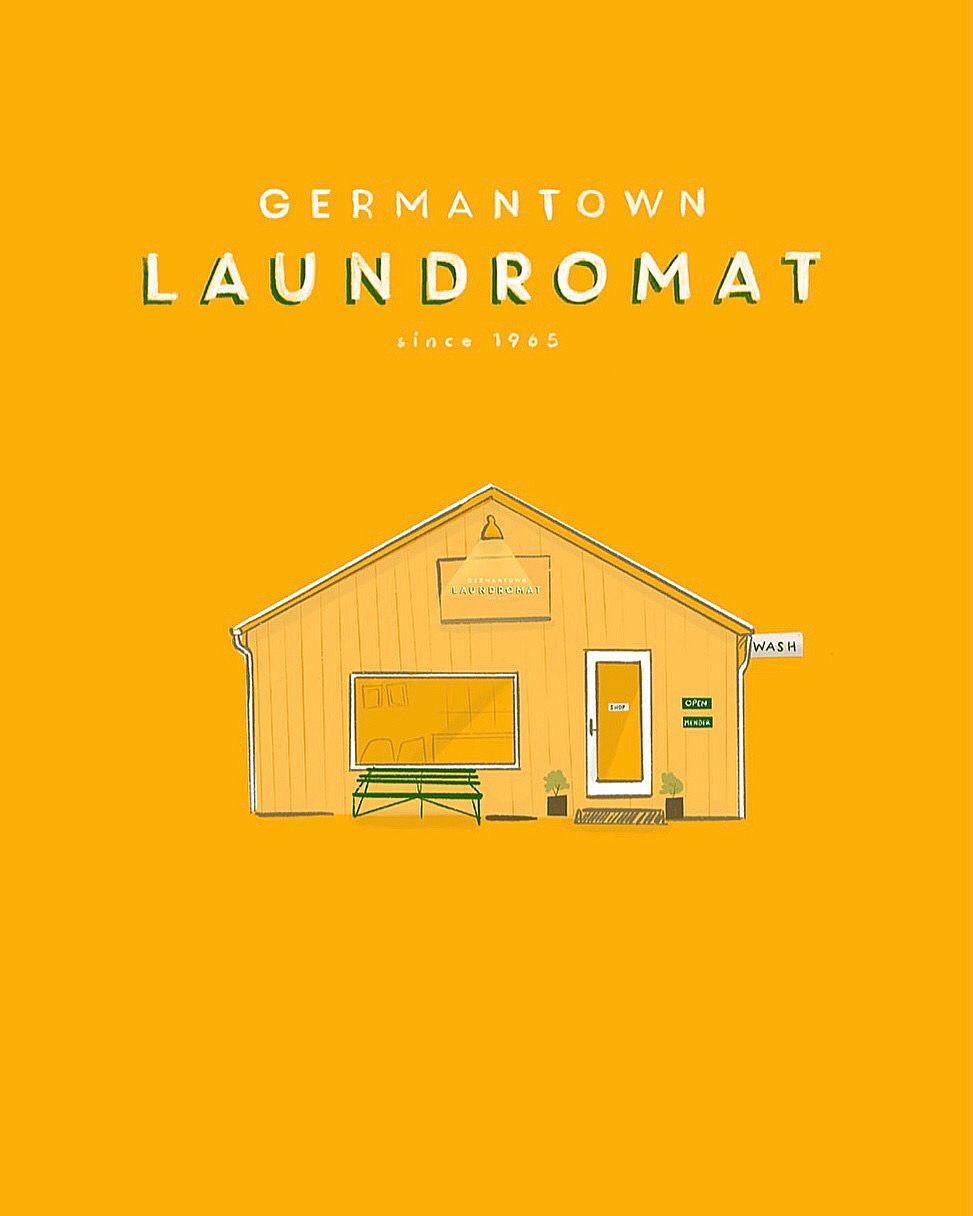 While many people are aware that we are going through climate change, there's a misconception that trying to solve it requires a big life change. This discourages many to take a step toward sustainability.
"The issue of climate change can often feel overwhelming, so we wanted to bring hope and possibility to this important issue in a digestible way. We transformed a space that was already familiar to our community and hope that in addition to doing laundry, people who visit our space begin to learn about and become inspired to make behavioral changes to help tackle the environmental crisis. Small, everyday choices that we can all do."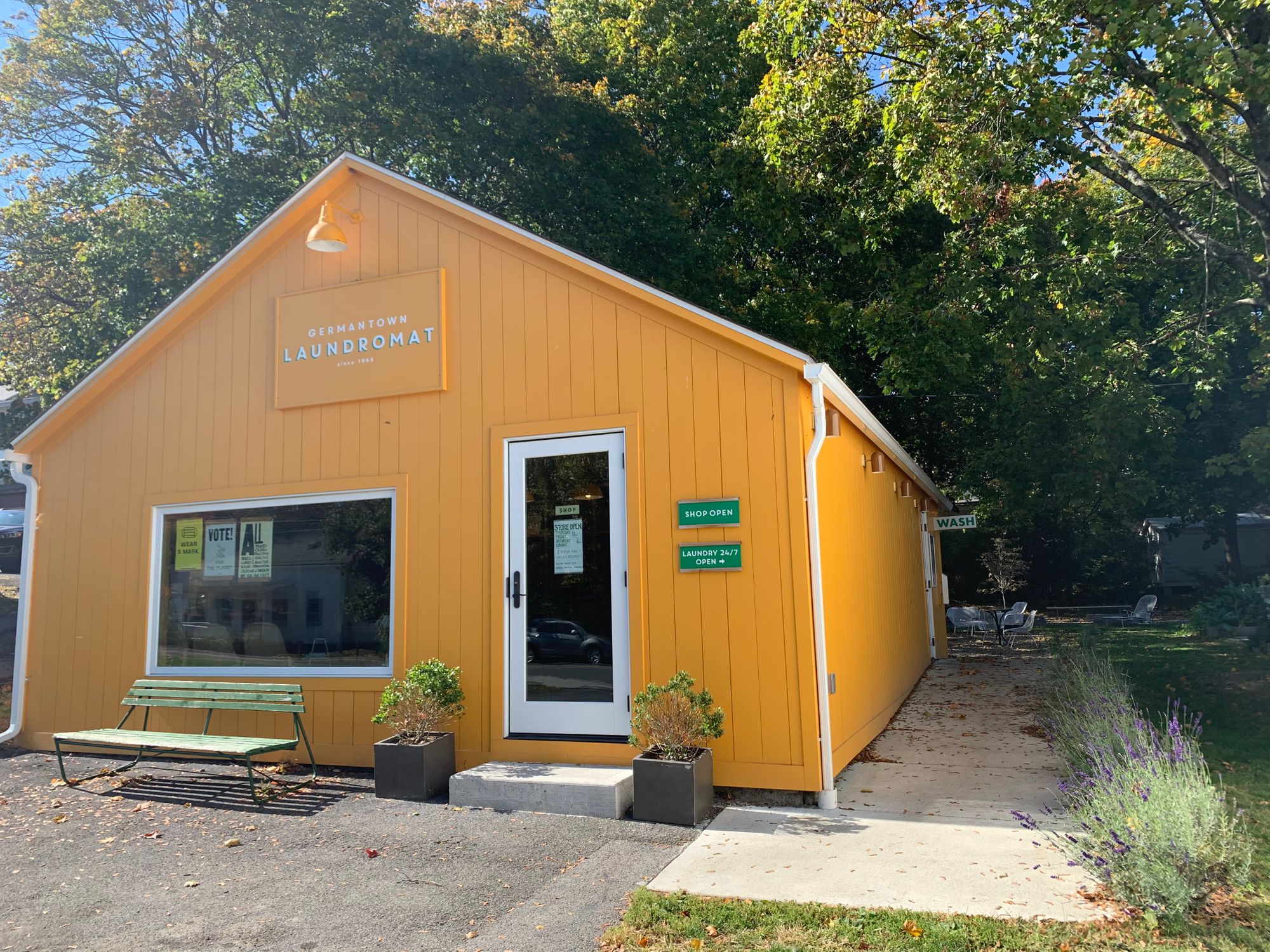 "Our focus for the new year will be on Environmental Justice. We have taken the Intersectional Environmentalism Pledge and will now begin reworking our value statement, product selection, educational platform, and community involvement through this lens. We will prioritize the underserved members of our community that is most affected by climate change. Additionally, we are a part of the newly formed Germantown Climate Smart Communities Task Force, joining forces with our town's governing bodies to help with community education and implementing sustainability goals. We are so excited about the change that is possible when you work together!"
It's difficult to make changes when you've been used to something your whole life. Making a change may feel like it requires a lot of effort and hard work. Sometimes, this may be because you don't have a full grasp of the problem. As beautiful as it looks, the community hasn't always been accepting of the Germantown Laundromat. This is a challenge that they continue to face.
"Change can be hard to cope with and is unwanted at times, especially in a smaller community. Our idea for renovating and reenvisioning the existing laundromat has not always been well received. We are no longer just a laundromat and some of the space is now used for our larger sustainability vision. The community members who use our laundromat versus those who shop in our sustainability shop do not often overlap and that is one of the areas we continue to work on; Finding common ground and making sustainable choices accessible to everyone in our community.
An additional challenge we continue to face is with our well water supply and the impact it has on the functioning of our laundry machines. We have spent countless hours and resources troubleshooting, repairing, and communicating with customers when problems arise. We anticipate that with Climate Change, our water access will continue to be an even bigger issue. We hope to bring these concerns to the town board and begin to work on a much larger town-wide plan for water access with the changing climate.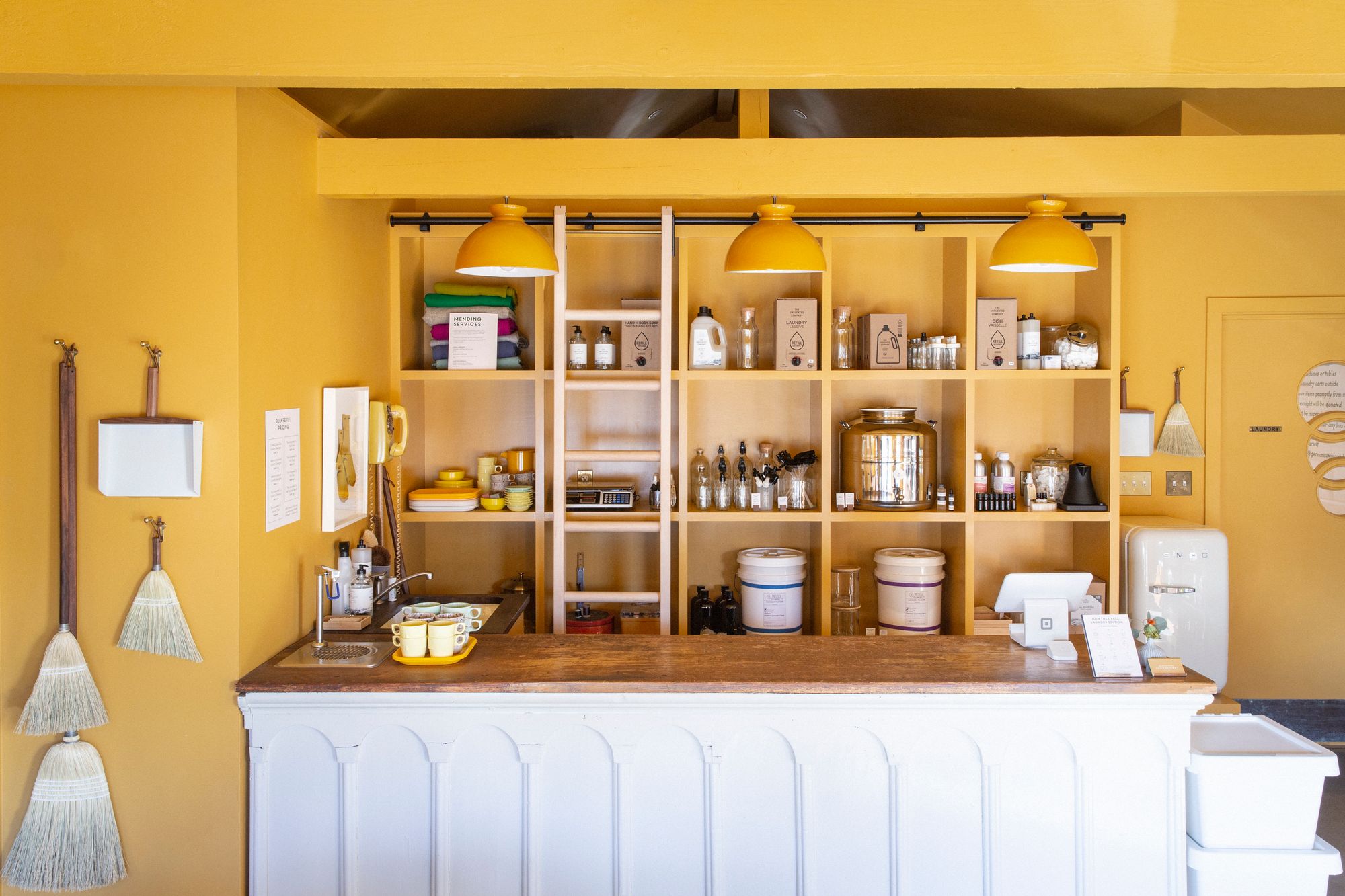 Seeing the impact of climate change can be discouraging, and sometimes, it feels like you have to do so much to help stop it. But taking steps, no matter how small or big they are, can positively affect it.
"Environmental challenges are so big, we often feel helpless. It can be overwhelming to know where to start and what will help make a difference. The intention with the Germantown Laundromat is to help lessen this feeling of 'it's too daunting, I can't make a difference as one person' through our product & service offerings, our educational platform, and showing the positive impact that comes from the actions (big and small) that we take. Luckily, more and more people are starting to understand the importance of being stewards of this beautiful planet. So even if the impact of the work isn't immediately apparent, it's still extremely important to do whatever we can in our own communities. We try our best to be the change we want to see in the world."
Praise the roots of the plant—what grounds it and allows it to grow—not only the flower. Know that without quiet, unseen work happening in the dark, nothing would open in the light. Thrive and be grateful you can. Keep moving. - Maggie Smith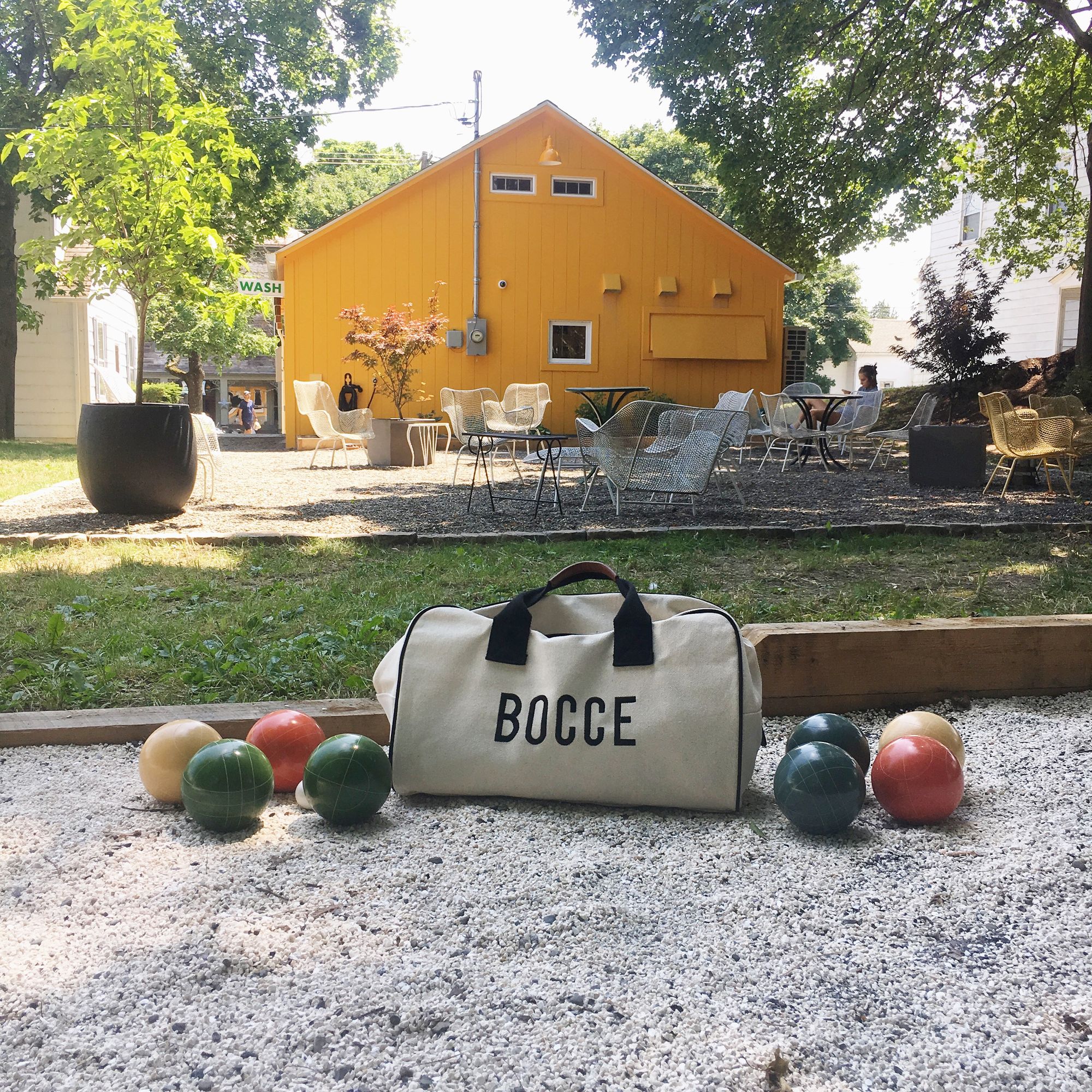 Wanting to save the planet from permanent damage brought by climate change, they have been strong advocates of sustainability.
"Caring for the planet in a just and equitable way is the cornerstone of our business. For us, it is the most important challenge we will face during our lifetime. We do everything we can with the platform we have been given with our business to raise awareness about the importance of taking care of the planet while we still can. We hope that we can help people to understand their consumption habits and begin to make better decisions for their bodies and planet. It's all about understanding the full effect one small action can have.
For example, if I start using a non-toxic detergent as opposed to a chemical-based one, how will it affect my life? It might seem more expensive off the bat, but looking closer, it's concentrated, needing only less per wash. It's gentler on my clothes, therefore, extending their life and my need to replace them. It's gentler on my washing machine, requiring less maintenance and extending the machine's life. It's safer for my skin when I wear the clothes washed with it, and it is better for the environment when that wastewater leaves the machines. So what is the real cost and impact? Small choices make all the difference in creating a more sustainable lifestyle. This is something we're committed to practicing in our business and sharing with our community."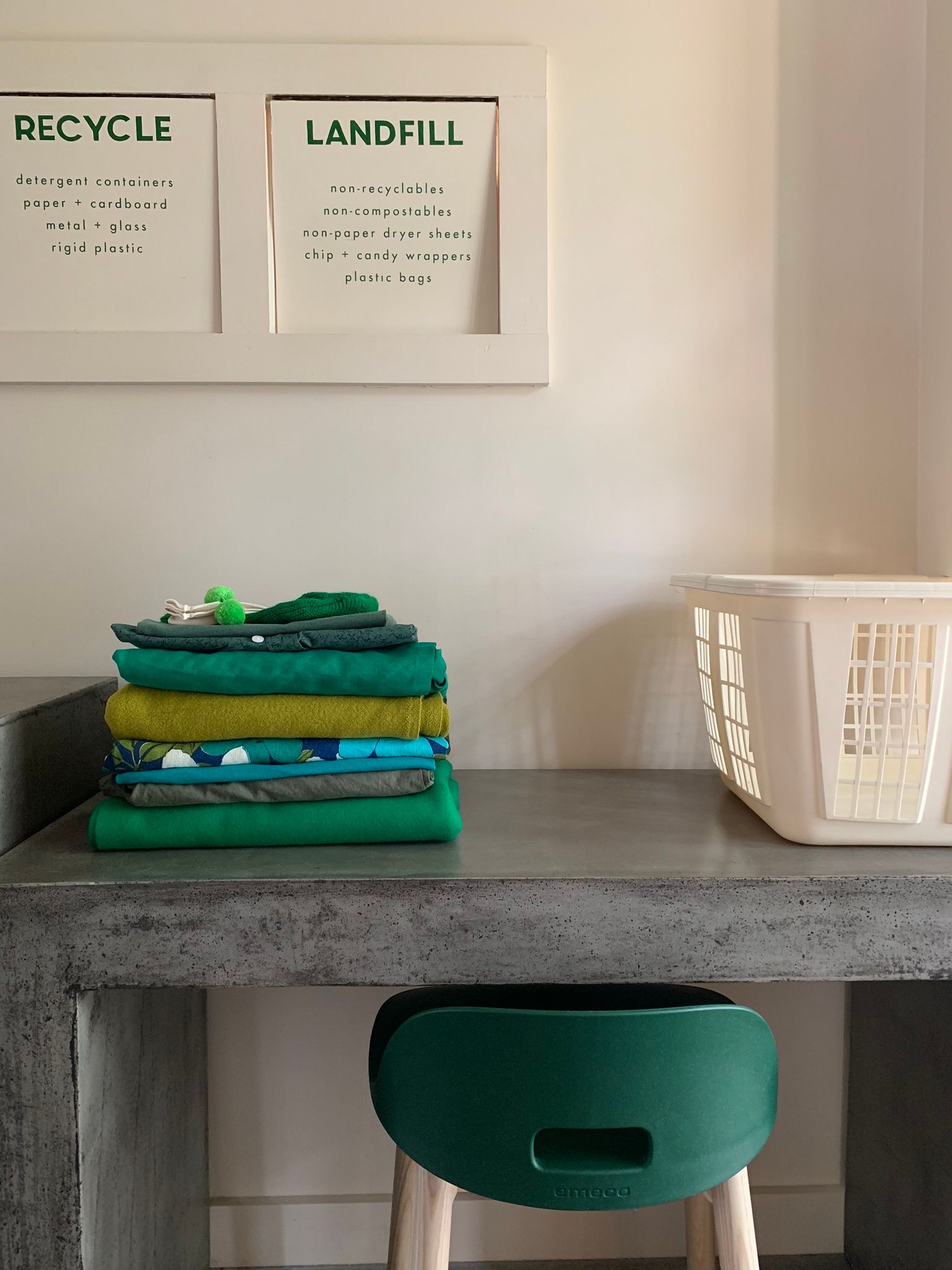 Because they promote sustainability so vigorously, the made sure that the whole building doesn't harm the environment.
"We renovated the 1965 Laundromat to have as small an impact on the earth as possible by using all LED lighting, pulling energy from wind + solar, sourcing recycled furniture, using reusable hand towels in the bathroom and a water saving toilet, offering compost and recycling receptacles, collecting + recycling cigarette butts, providing toxic free and plastic free detergent, and offering a clothing donation program. One of the more impactful changes we have made to lower our footprint was to install high-efficiency laundry machines. The washers weigh clothes prior to filling with water so no water is wasted and they spin at high speeds to lessen dryer time, therefore saving energy."
The place doesn't only offer sustainable laundry services. They also provide eco-friendly products, making clean living easier for anyone.
"Our Sustainability Shop offers bulk laundry detergent, soaps, and cleaners — decreasing single-use container waste while saving money. In addition to bulk offerings, the shop provides everyday products that take care of our bodies and planet — everything from bamboo toothbrushes, period underwear, and dryer balls. We partner with businesses that are taking part in a more circular economy and take seriously how they source their materials, what their product is made of, how it is packaged, and what happens to it at the end of life/use. Additionally, we offer mending + repair services to help keep items out of the landfill. We recently launched an online store and everything we send out is packaged in 100% recycled materials. Our custom eco-friendly tissue paper + stickers asking the recipient to reuse or recycle shipping materials again are both from noissue!
To communicate to our customers, the steps we've taken include having signage throughout our space, outlining all details on our website, sharing through our social media outlets, and including tips in our Climate Class newsletters that reaches over 1000 readers."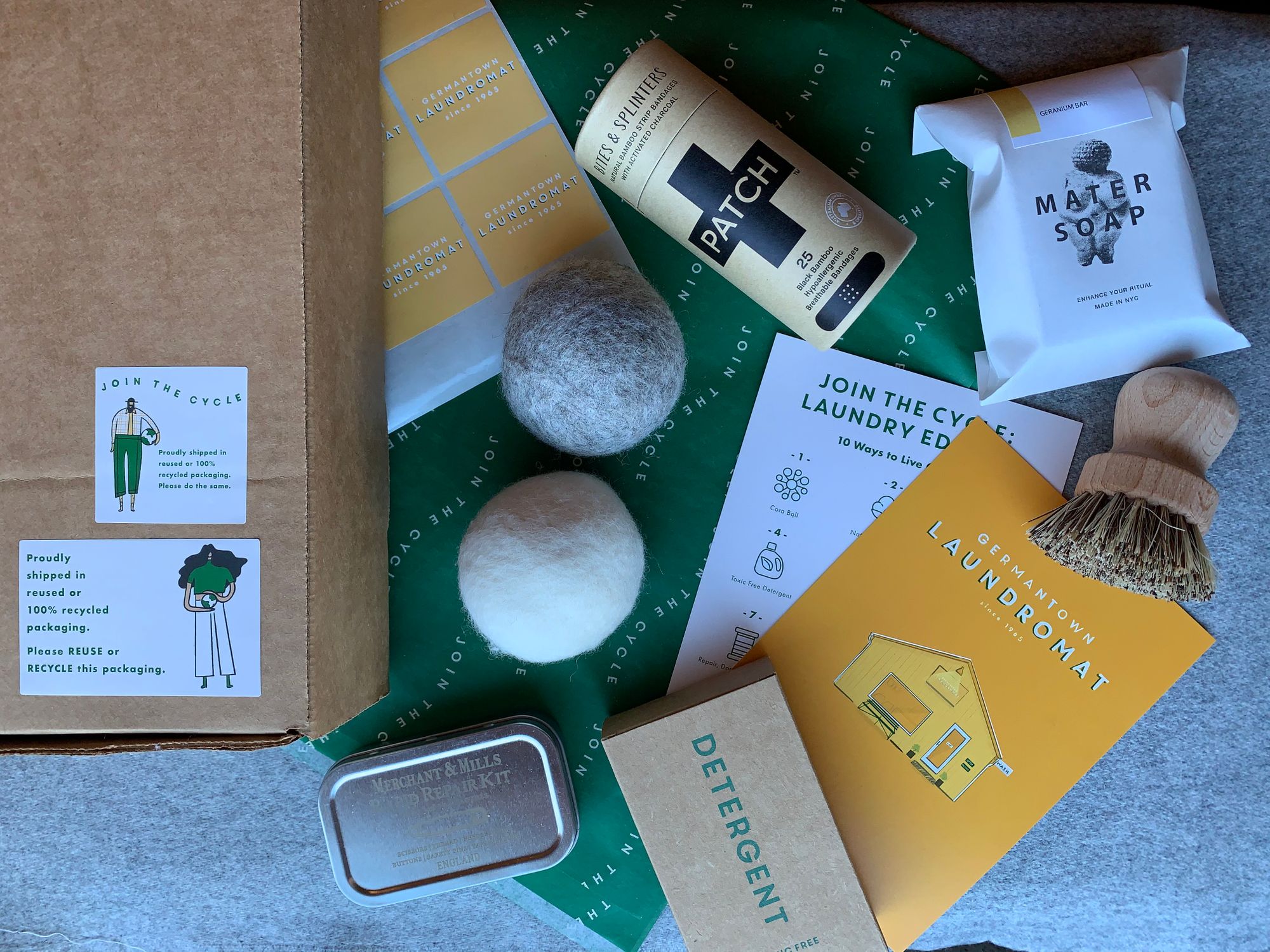 They have chosen customizable, eco-friendly packaging to strengthen their call for a sustainable life. It keeps them true to their message while promoting brand recognition.
"We wanted our packaging to be eco-friendly, colorful, but also help continue to spread the message of reduce, reuse, recycle. We worked with noissue to create a custom tissue paper and sticker that asks the customer to reuse or recycle the packaging materials. We decided to use noissue because the website was so well done, easy to use, and our values were aligned."
Germantown Laundromat fun fact:
"If I were given one superpower that can help better the situation of the planet, I want it to be making sustainable lifestyle choices cheaper than ones that harm the planet. So that as an artist/brand/business I can use it to make sustainable products + services accessible to everyone."
---
Find more of Germantown Laundromat here:
Website: www.germantownlaundromat.com
Instagram: @germantownlaundromat
Facebook: /GermantownLaundromat
Like this story? Tell us yours! Share your brand story and love for your custom packaging and get a chance to be featured on the wrap! If you're a noissue customer and are interested, you can join the Eco Packaging Alliance by clicking here and emailing us your story at ecoalliance@noissue.co!