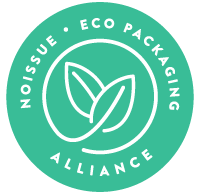 Flowers and bouquets will always be in season, holiday or not. There's just something calming and dreamy about flowers in any living space, whether it's a fresh bunch or a preserved arrangement! And that's something that Clare, the owner and founder behind the florist brand Gypsy Carmen, can certainly agree with.
Based on the scenic southern coast of New South Wales in Australia, beautiful and artfully arranged flowers are the centerpiece of Clare's business. Along with her team of floral artists, Gypsy Carmen is a luxe retail space offering fresh curated bouquets, as well as unique homeware pieces. Artistry and circularity are two central pillars in the brand, which is why to wrap her arrangements, Clare uses her own custom-designed (and totally compostable!) noissue Tissue!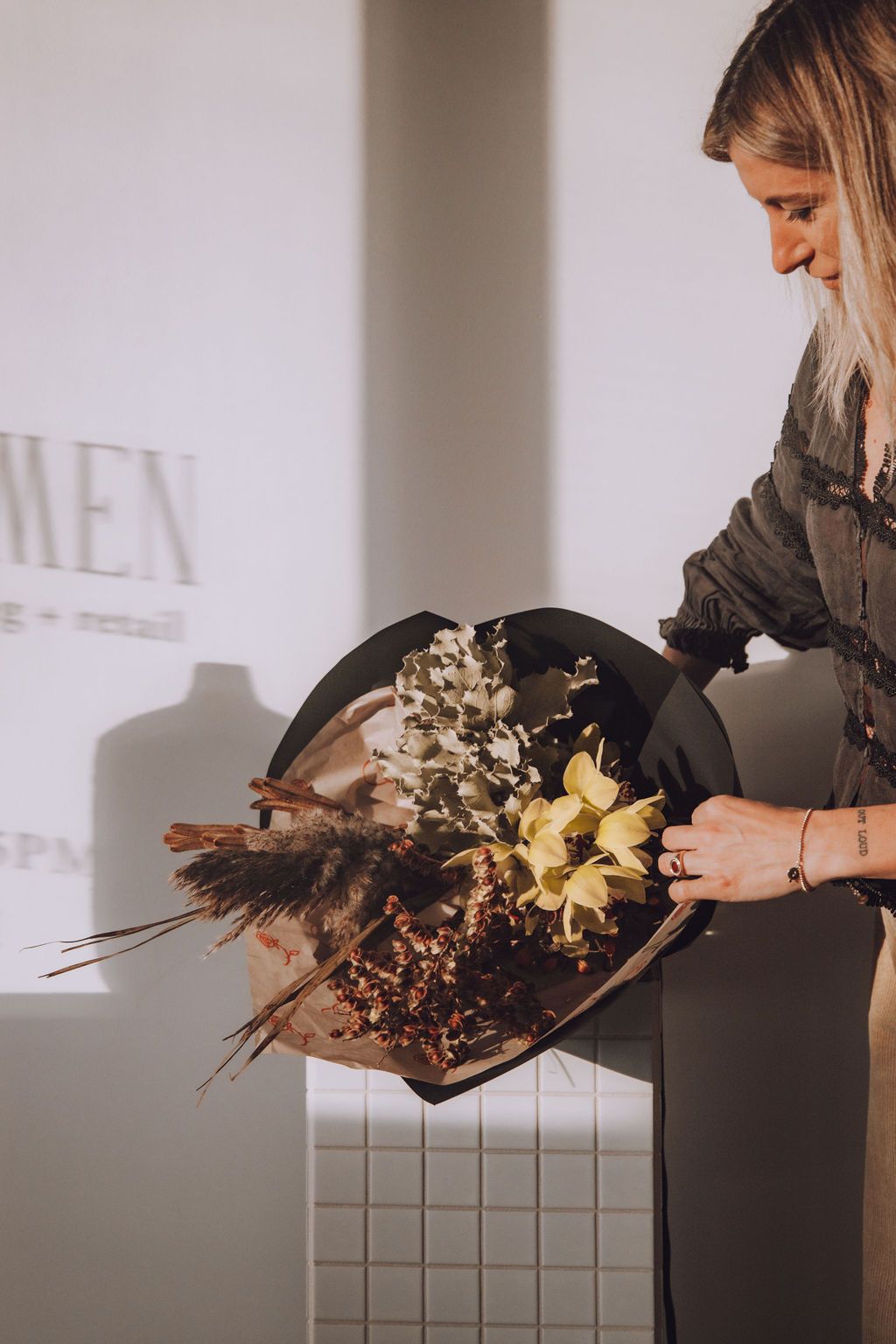 Wedding seasons are peak times for Clare and Gypsy Carmen. No surprise there—one look at any of the brand's arrangements, and romance and elegance immediately come to mind. Besides their catering services, the team also love to teach the art of floristry through their group workshops!
Like with any good story, Gypsy Carmen all started with a homecoming. After leaving her job in the city, Clare returned to the coast she grew up in, and felt inspired to offer her hometown the same allure and beauty she found in the flowers she'd built her career around. Flowers became an essential part of Clare's life, and that's precisely what she hopes to impart to the people of her native town. There were no other florists in the area, and though there were challenges, Clare was determined.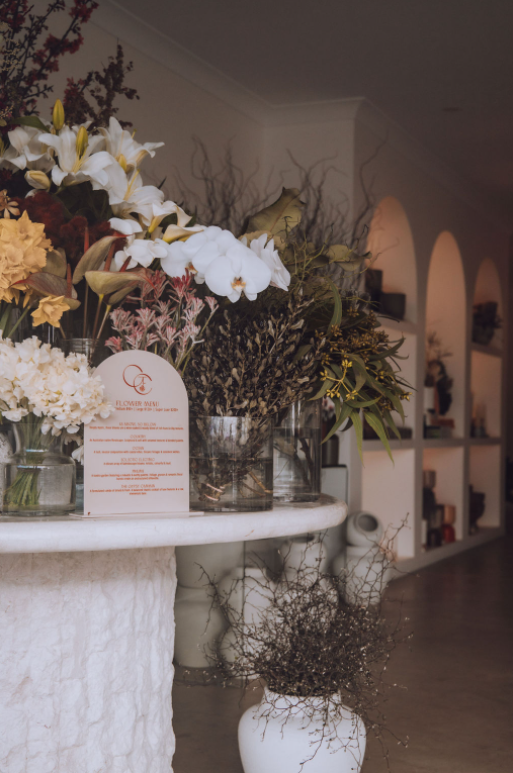 To this day, her mission remains the same: to intentionally create art out of nature! The brand believes in quality over quantity, providing down-to-earth customer service, as well as dedication to the environment.
The environment in particular plays an influential role in Clare and her team's process, and they continuously reduce, reuse, and recycle wherever they can. Sustainability is ingrained in the team's work process; it's part and parcel of everything they do.
"We strive to reduce, reuse and recycle what we can. For us, being sustainable is a way of thinking that echo's into everything we do at work."
It's a practice that's far from perfect, but one that's always in progress. After all, being circular and sustainable isn't just a one-time mission—it's a holistic and continuous ethos, and that's something that Clare and her team understand.
"We aren't perfect and still have a long way to go but it's building momentum and will always be at the forefront of our ethos."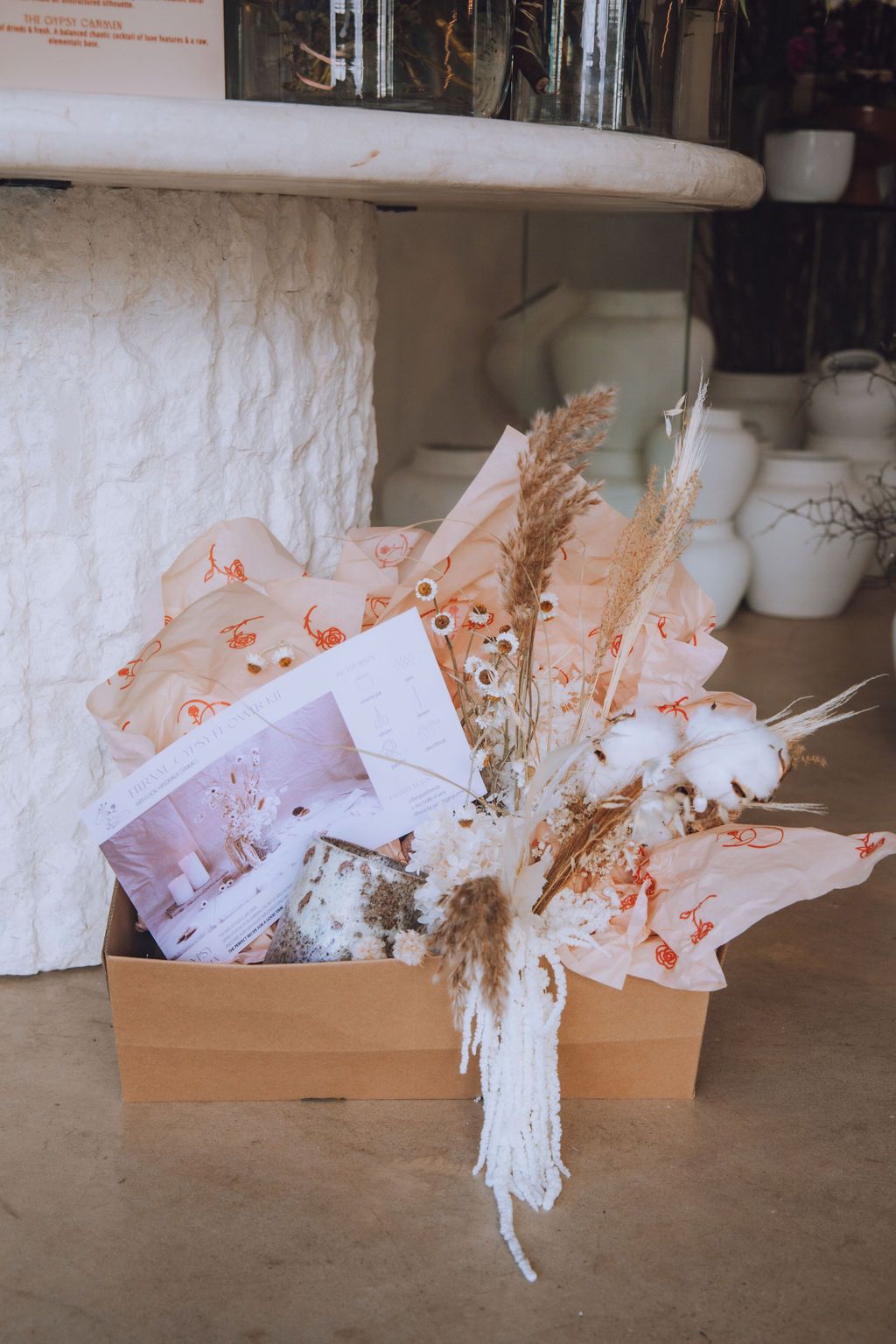 And when she decided to start her own brand, Clare knew she would do better. The florist industry had already used so much unnecessary plastic and cellophane, and Clare was determined not to follow in the same path. Circular, environmentally-friendly wrapping then became a necessity, which she was happy to find with noissue! Her noissue Tissue made a perfect wrapping for her florals, which she'd also customized to fit the brand's chic, elegant aesthetic.
Along with her circular packaging, Clare's also joined the Eco-Alliance community at noissue, where her every order contributes to climate action projects around the globe! Joining the Eco-Alliance was an easy decision for Clare to further her environmentalism, as well as to cement her sustainability commitment to her customers. Having her Tissue paper completely customizable was an additional bonus, what with the floristry industry being chiefly driven by design and aesthetic.
"For us, [the Eco-Alliance] shows our customers that we are progressive and our intentions are morally based (not just economic). Floristry is based on aesthetics so to be able to wrap our blooms in the most gorgeous papers is absolutely perfect for us."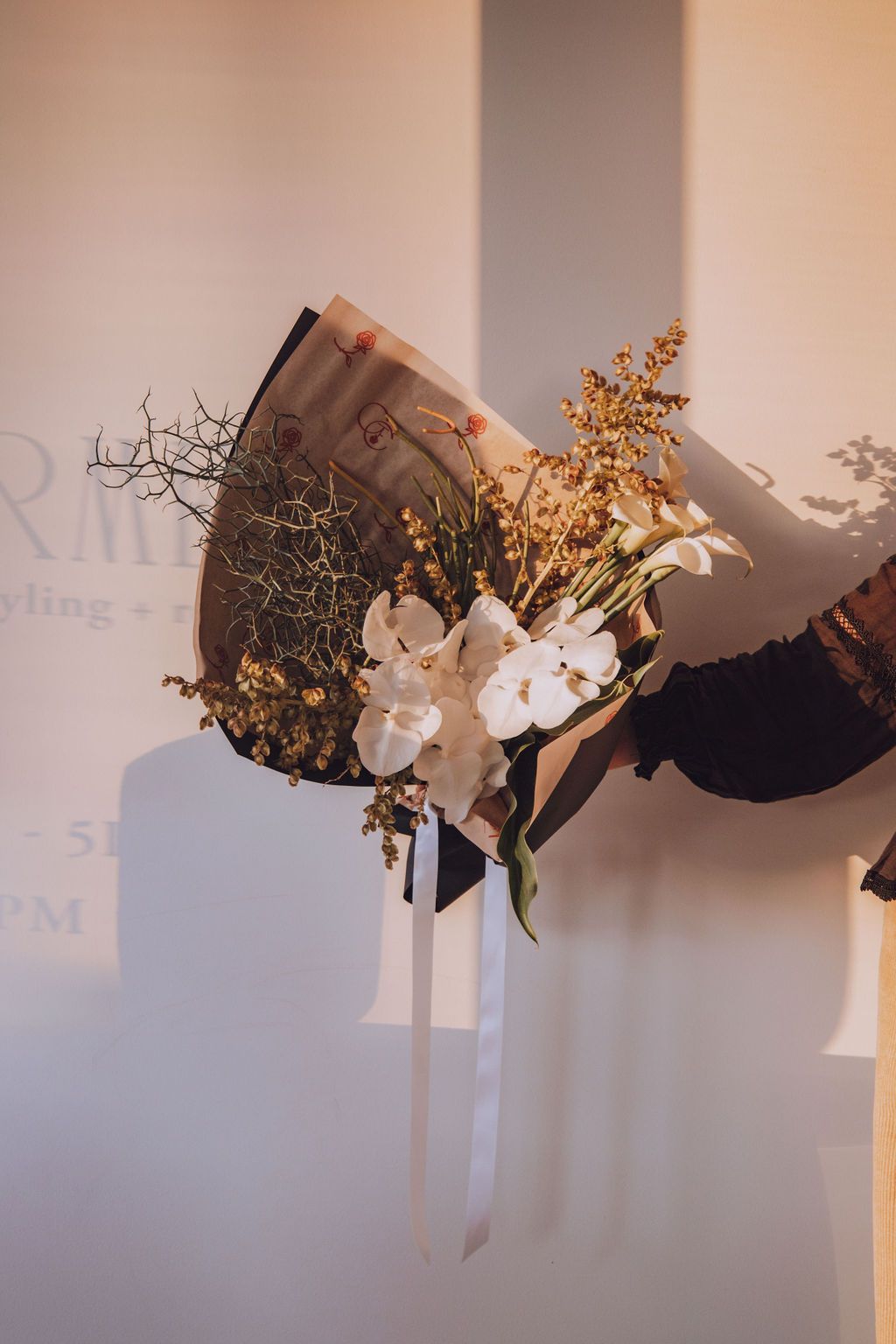 Having worked in floristry for years, Clare understands the industry inside and out, and especially how much waste it generates. She made the conscious decision to go the eco-positive direction, which included not offering toxic imported roses at the studio, and opting for local and seasonal blooms wherever possible. The risk paid off—customers were fully supportive of the decision! And although it's impacted their design process, it ultimately felt great to no longer worry about harmful chemicals that would contribute to their carbon footprint. The same went for their giftware collection: everything is locally and Australian made!
Looking through Gypsy Carmen's catalog, their particular aesthetic stands out: graceful and beautiful, earthy and modern all at once. But what also sets them apart is that the team are dedicated to their craft; every flower design is made with careful consideration and interesting ingredients.
The journey certainly hasn't been without its difficulties, and Clare faces a new challenge every week! But one thing that's helped her cope is pausing to take a breather every now and then, and to just stop and smell the roses—literally!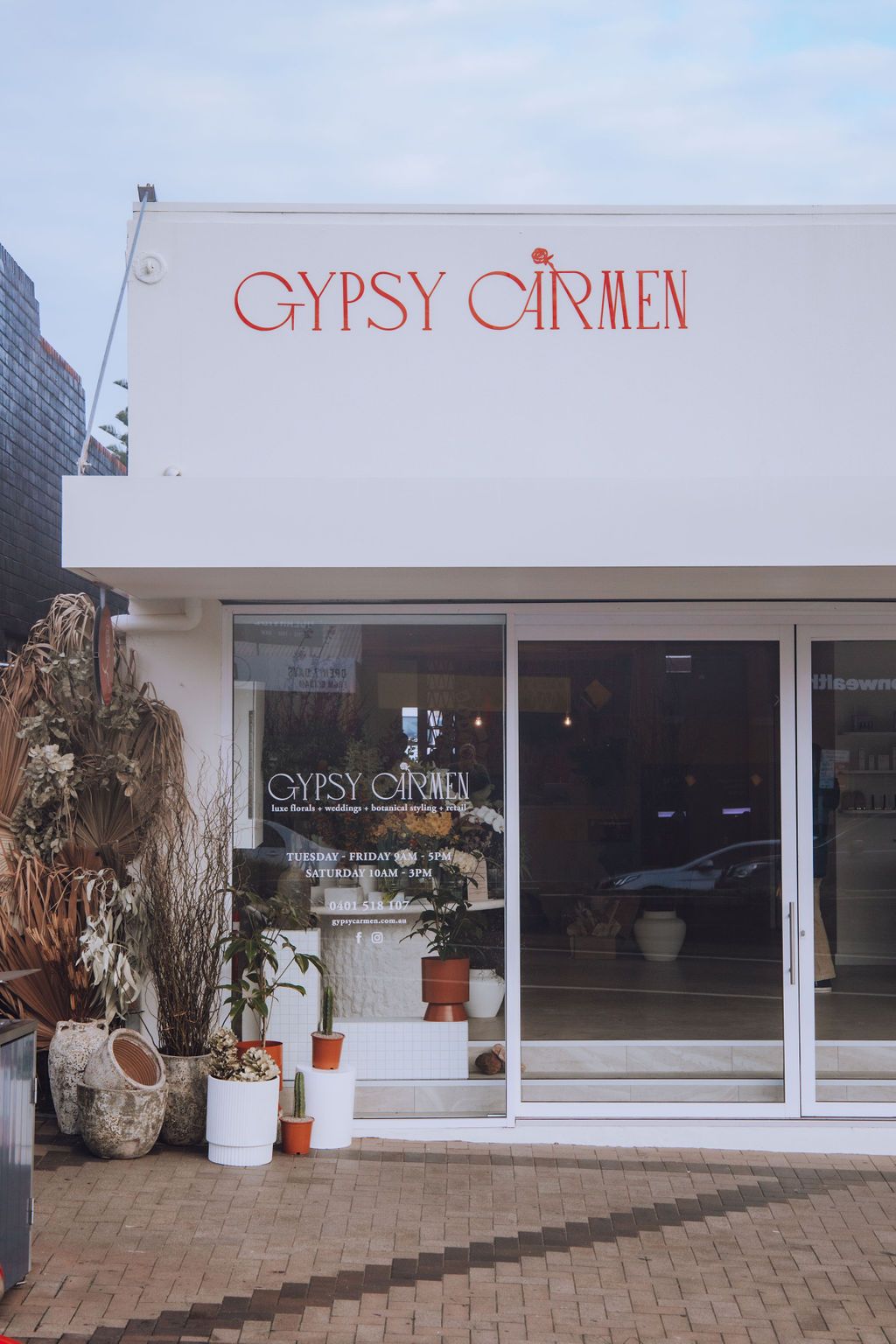 For those who hope of building their own businesses, Clare's biggest advice is to get as much training in your area as you can. Stay inspired and in the know with constant research, and commit to finding your own creative voice.
As for Clare and her team, their favorite projects are always the weddings. Each one is uniquely special, and being able to play a role in such a momentous occasion is always rewarding. She's always proud after each event!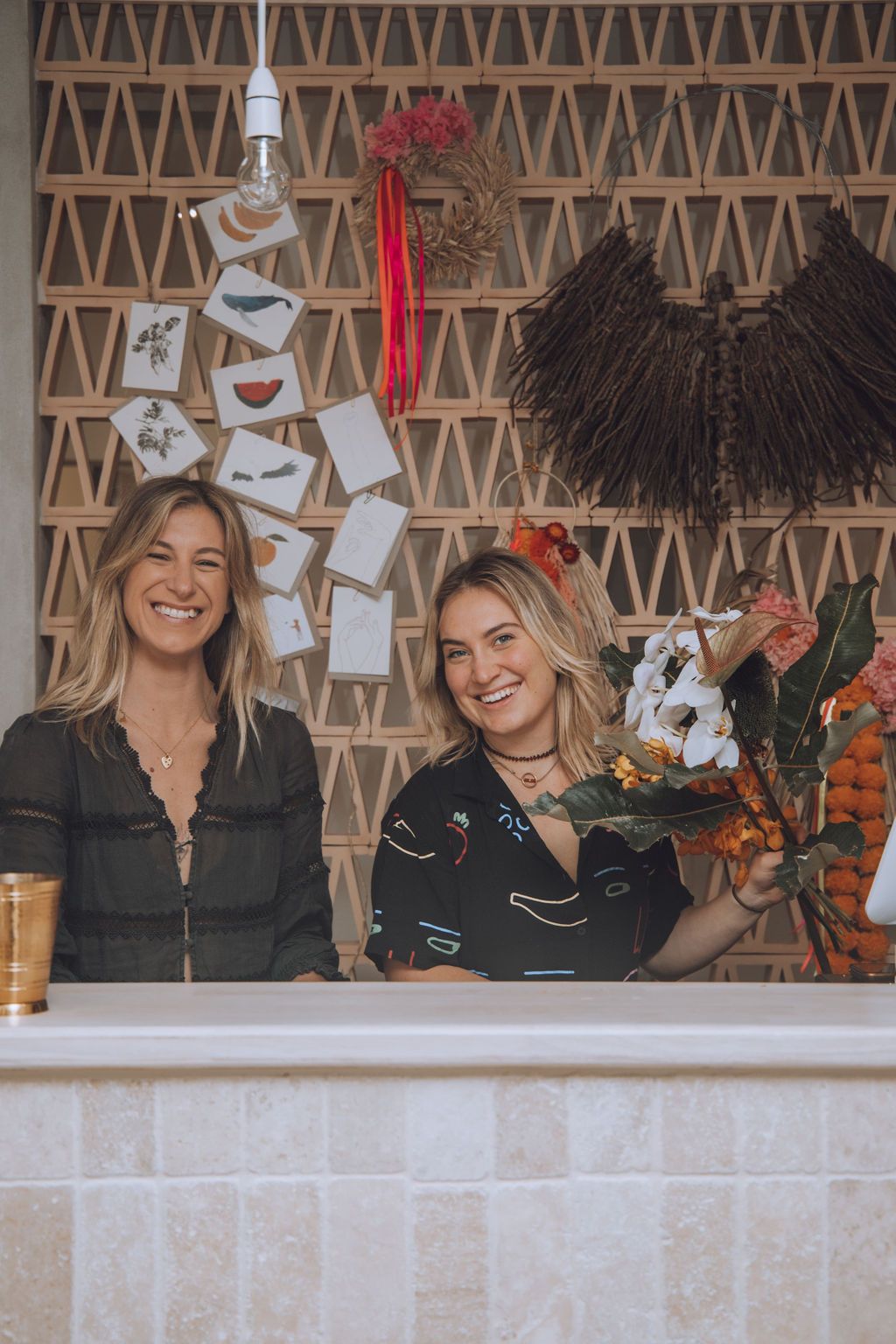 Making beautiful art from nature and giving back to it at the same time? Gypsy Carmen is definitely a business that'll always be blooming!
---
Find more of Gypsy Carmen here:‌‌‌‌‌‌
‌‌‌‌‌‌‌‌‌‌
‌Website:‌ gypsycarmen.com.au‌
‌Instagram: @gypsy.carmen
If you enjoyed this read, we bet you'll like this feature too: ‌
Natalie Born: The Artist and Designer Whose Creations Help You Feel Less Alone‌
‌‌
‌Want to share your story? We'd love to hear it! Join the Eco-Alliance here and share your deets with us here to get a chance to be featured on The Wrap!
Questions? Email us at ecoalliance@noissue.co