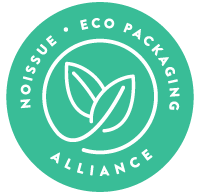 To say the least, the past few years have been a complete rollercoaster of emotions for many of us across the globe. Ever since the pandemic took hold of the globe, our lives have all but been turned upside down and inside out, and we've all been left to navigate an entirely new world that none of us were prepared for. And in the midst of all this, one thing that's been helpful in keeping many of us anchored and grounded to reality has been the art that artists and illustrators from across the globe have been putting out. Ever since much of the world closed down, art from creators across the globe has been one of the most helpful ways we have to navigate all the complex emotions we've had over the past few years.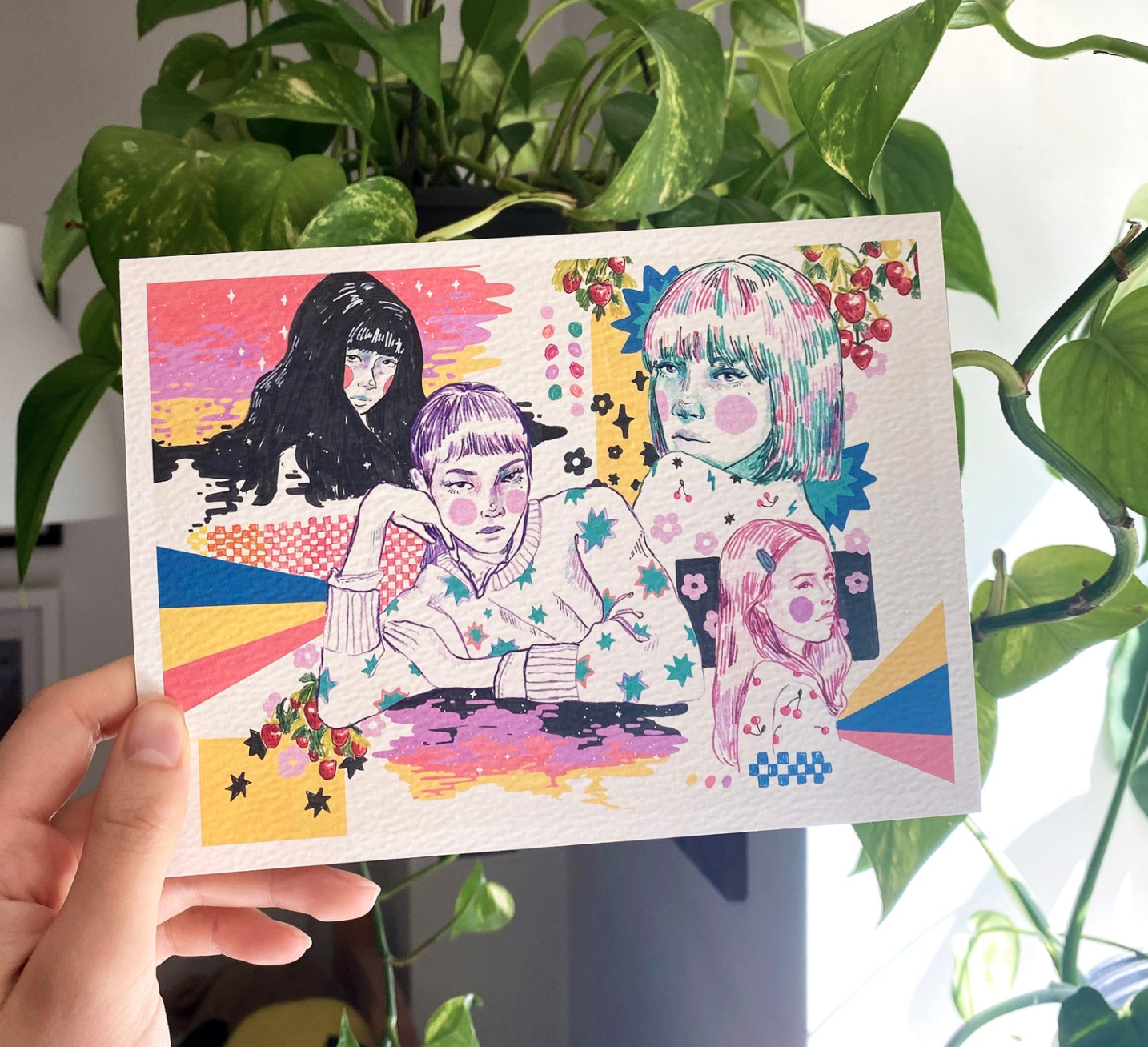 That said, navigating complex and complicated emotions through art is probably something Jillian, the artist behind Happy Sad Studio, is probably inherently familiar with. Based in Boston, USA, Jillian is a 24-year-old graphic designer and illustrator who primarily shares her illustration work in her sketchbooks to her online community. And indeed, if you happened to scroll past her work on Instagram, you'd probably immediately be taken by her singularly whimsical art style. Filled with vivid colors and feminine characters, Jillian makes use of several mediums to create pieces that are almost reminiscent of wall murals—but with a distinct style that's just innately hers.
And that particular recognizable identity as an artist is also something that's instinctively personal to Jillian. As a first-generation Chinese-American, Jillian is passionate about creating her own mark as a visual artist—and she does this by celebrating femininity, identity, and self-expression in her work through vivid colors and textures, and playful elements! She spends a large portion of her time creating on her sketchbook, but on the occasion she's away, you'd be guaranteed to find her spending time just adoring her dogs, or chowing down on a bowl of ramen!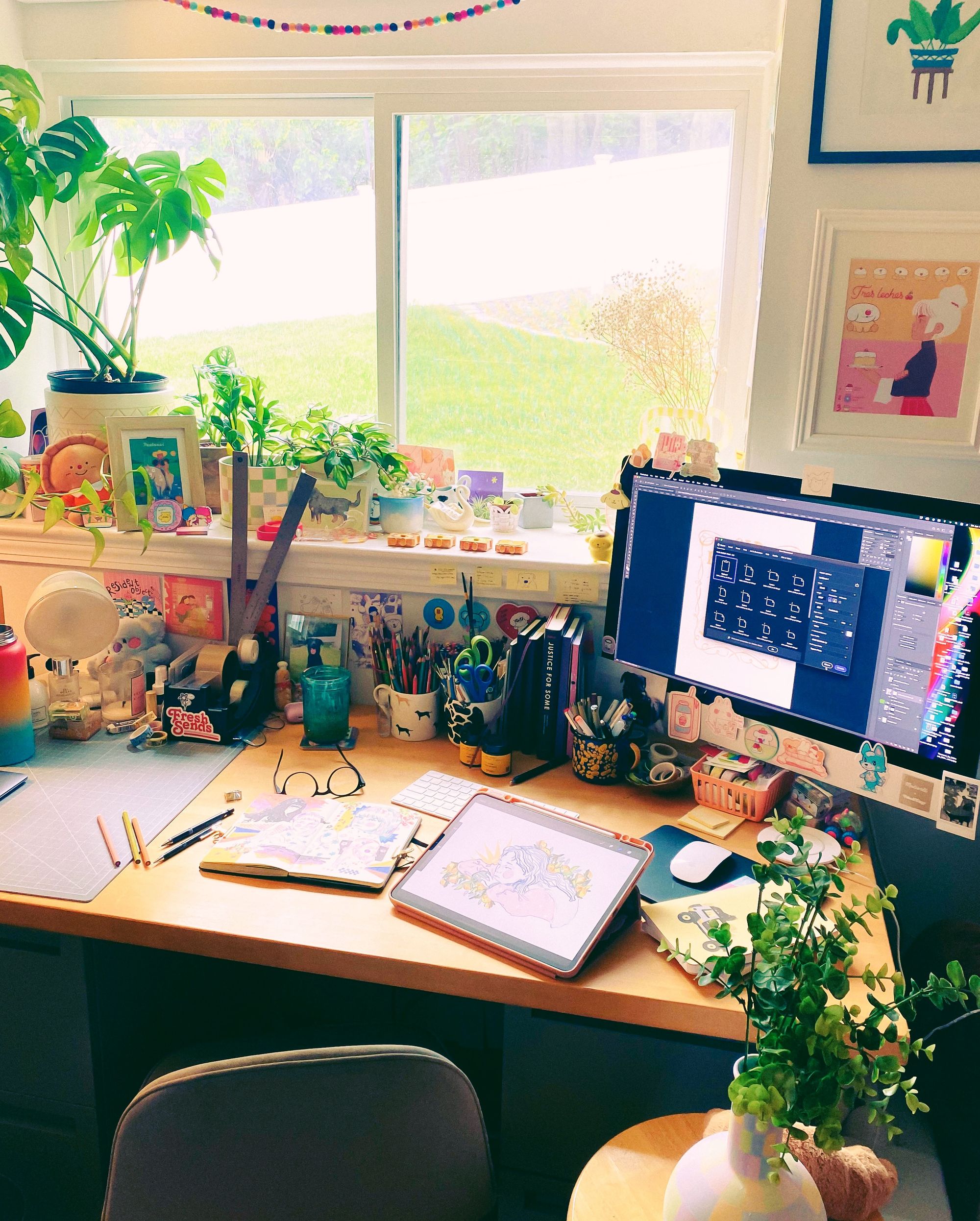 As an artist, Jillian was always passionate about sharing her work with others in as many ways as she could, and as soon as her business started to grow a wider audience, opening up an online store was definitely a no-brainer! Since opening up her Etsy shop, Jillian's been able to give her audience a more direct way of engaging with her art, and she couldn't be happier about it! Jillian loves that she's been able to share such a personal part of herself with people all around the world.
That said, in opening her own small business as an artist, Jillian's mission is a simple one: to inspire other young artists around the globe who still feel unsure of their own identities as artists to keep creating, experimenting, and exploring in as many different styles as possible! The beauty of art, after all, comes from the fact that it has no set rules, and will always have room for innovation. In the future, as her business continues to grow, her vision is to create a community of creatives who aren't afraid to adopt several different styles in their work and further expand their growth as artists! As she explains, the name 'Happy Sad Studio' was taken from her own personal struggles in the early stages of being an artist. And with her brand, she hopes to encapsulate every part of the creative process: the good, the bad, and everything in between that comes with developing yourself and finding your passion!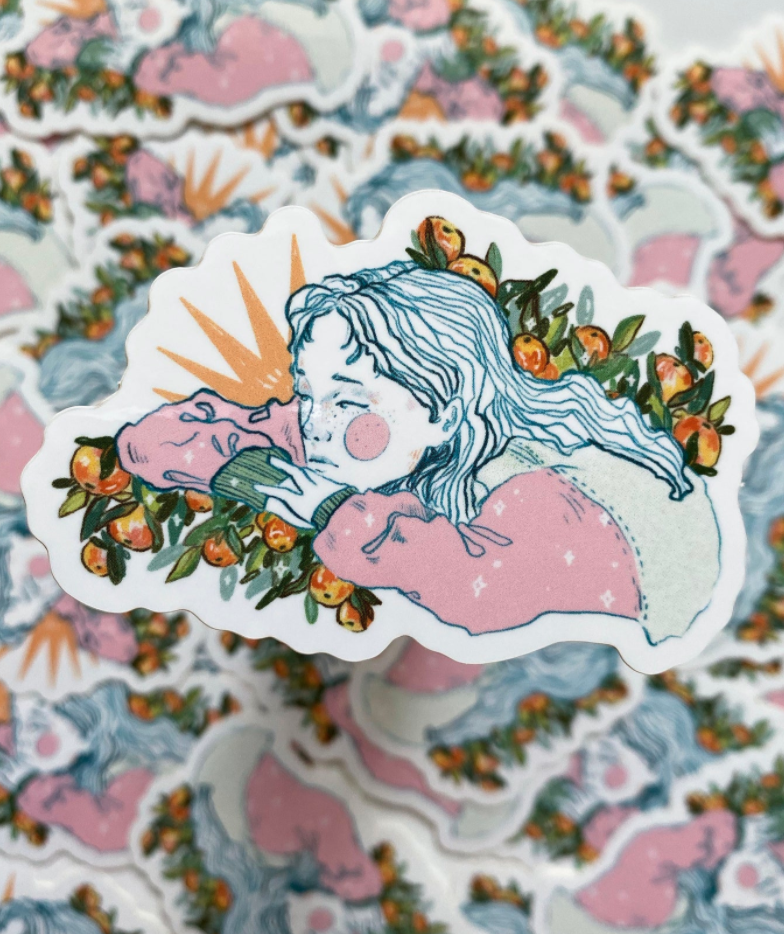 With all that, Jillian also recognizes that her decision to turn her art into a business also comes with new responsibilities, too—particularly, her responsibility to do her part to protect the planet. As she explains, as the economy of small businesses steadily continues to grow, it becomes everyone's responsibility to keep our waste and environmental impact as small as possible.
"As more and more people are turning to small businesses, it becomes our responsibility to keep any and all waste to an absolute minimum, especially when I am producing at such a small scale."
And for Jillian, one way she's been incorporating sustainability within her own brand is by consistently reusing packing items from other businesses, especially those that aren't easily recycled or discarded, or reusing sticker paper as packing tape. One of her goals is to lead a low-waste lifestyle, and as she shares, it's the little actions like these that altogether help her reach that goal!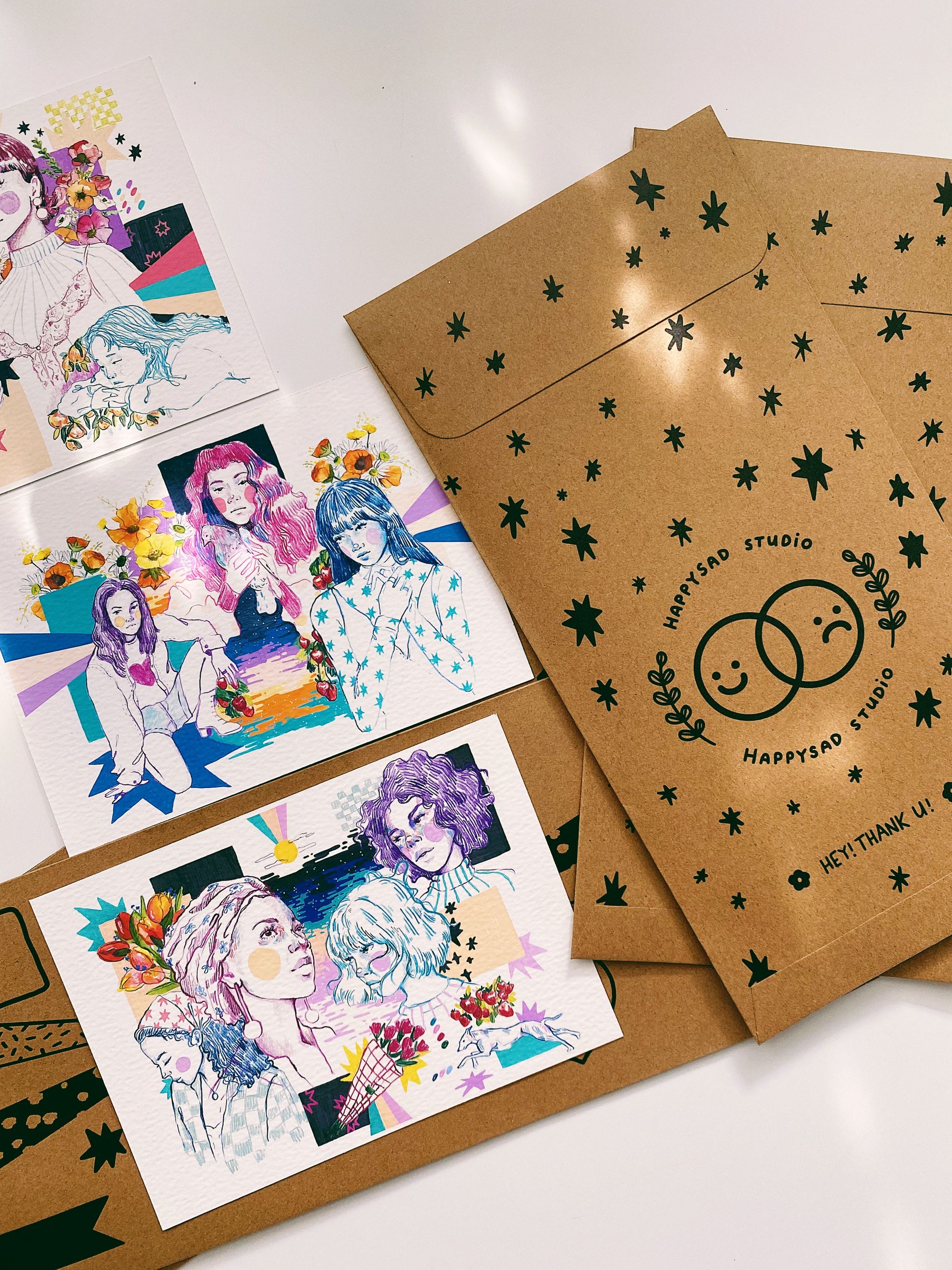 "It's a combination of all of these little things that help me as a person and business get closer to achieving the goal of low-waste living."
And besides that, another significant way that she's been able to be a step closer to that goal is by making that switch towards using more sustainable materials in her packaging without compromising on adding her own creative touch, which she was able to do with noissue! In particular, as she shares, when she realized that her initial mailers had a shiny finish on all sides, she immediately went on the lookout for a more sustainable alternative, which was when she came across noissue. When she found out about the sustainable Kraft Mailers that were also entirely customizable, she knew she'd found the right partner!
"In addition to being completely compostable and recyclable, the option to customize the kraft mailer was a huge plus. It makes me so much more comfortable packing and shipping orders knowing that the packing material will not go to waste!"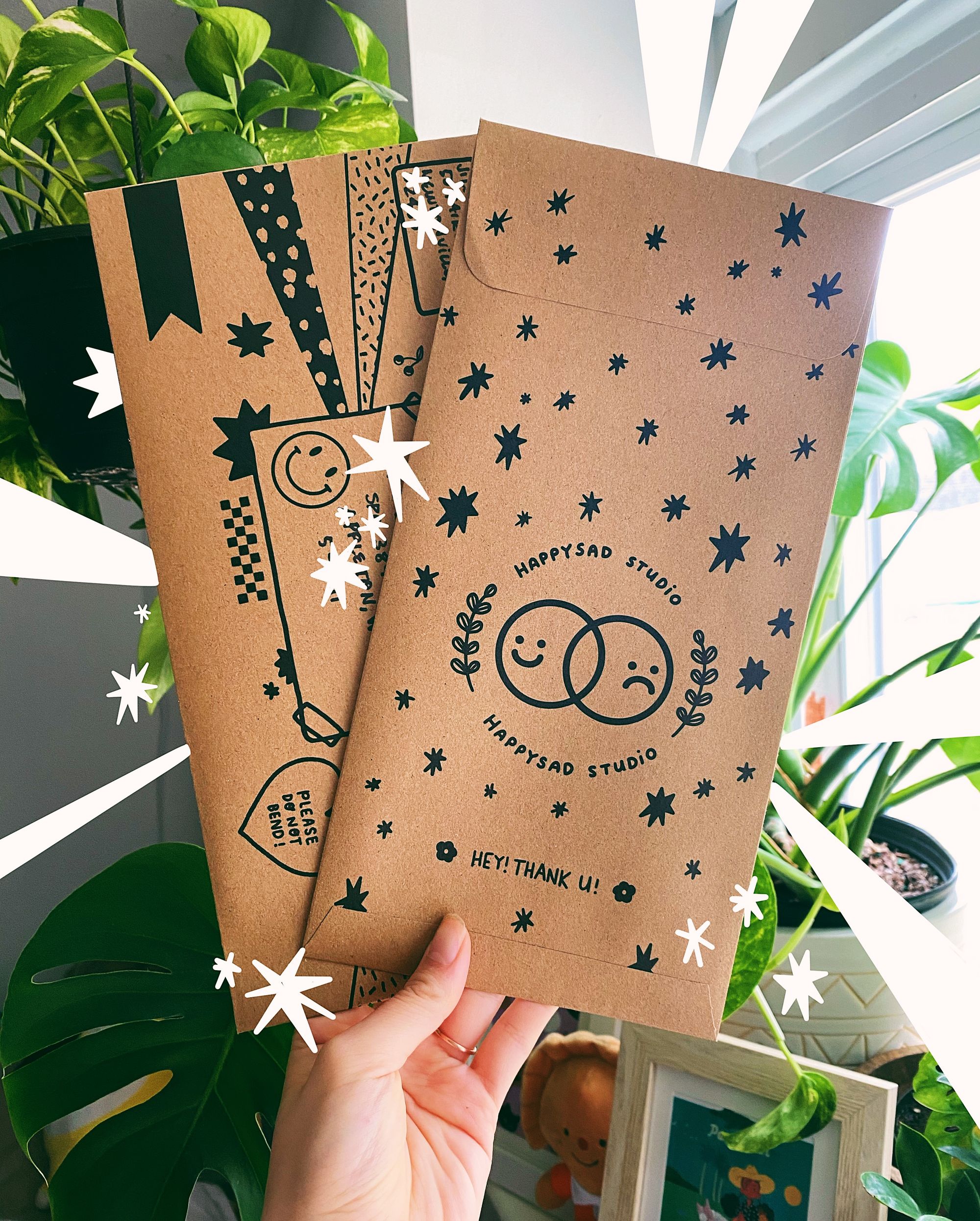 In addition to her new sustainable Mailers, Jillian was also happy to be part of the noissue Eco-Alliance community, where not only is she able to help contribute to reforestation, she's also able to share her environmental efforts with a larger community, too. Of course, she recognizes that there is still a lot of work to be done, but also that every step matters—and we definitely couldn't agree more!
Jillian makes sure to take as many steps as possible in her journey towards sustainability and low-waste living, and aside from all her current efforts, she consistently reuses plastic sleeves, and handwrites all her notes and thank-you cards on old recycled artworks, to reduce the use of energy and printer ink.
As an artist, there's no doubt that Jillian's art has its own distinctiveness brought on by her years of practice, but another thing that sets her brand apart in the industry is her very willingness to showcase multiple sides of her creative persona in order to make her art more accessible to anyone, no matter their style preference! While her Instagram account sticks to a certain side of her creativity, her online store gives her the opportunity to branch out more and create art outside of her established "aesthetic", which also definitely keeps her inspired as an artist!
The creative journey definitely isn't an easy one, and Jillian is certainly no exception. Although she's made it a key point as a creative to not adhere to a certain specific aesthetic, it's also something that's caused creative tension for her as well, which is still something she's struggling to accept. It's always been a goal of hers to be comfortable with different art styles, which is what she also encourages in other artists, and she constantly reminds herself that she doesn't need to fit into one niche forever. It's certainly okay to keep growing and changing, which is all part of the process! And although it hasn't always been the easiest in terms of sales, it's always rewarding in the end.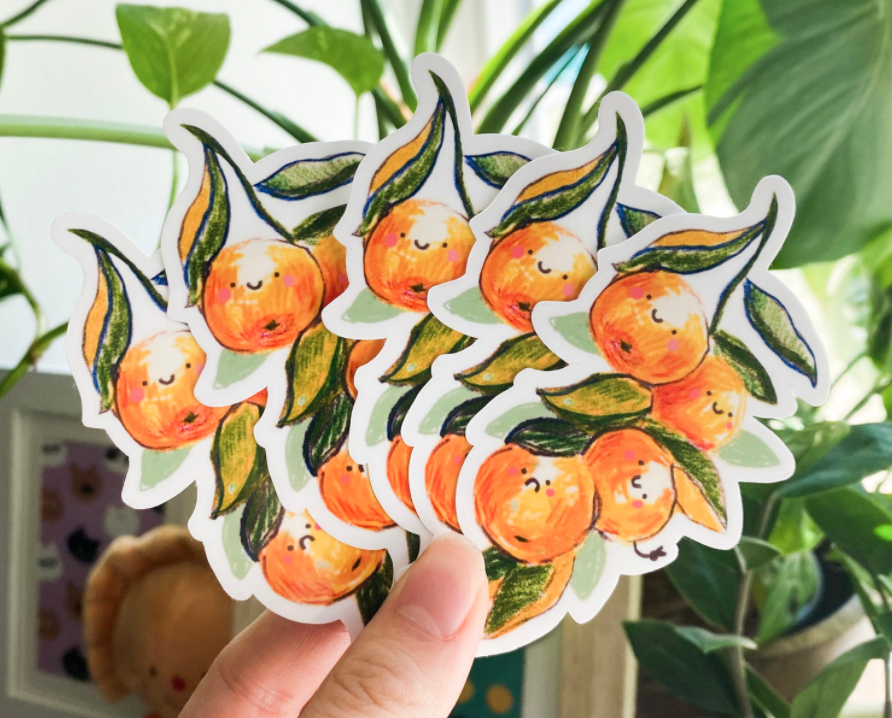 And for other creatives who also hope to start their own brands and businesses, her advice is to just go for it! There's truly nothing to lose, and it's a growing experience from the very first day, and as long as you're passionate about your work, others will soon follow, too.
As an artist, few things bring more fulfillment than seeing people who consistently appreciate your work. And for Jillian, one of the most rewarding parts of the business is definitely her repeat customers! Just seeing a familiar name brings her such joy and gratitude, and she always makes sure to correspond with them to convey just that!
Happy, sad, and everything in between—that's just what Jillian encapsulates and interprets in her art. But with her heart for community and dedication to sustainability, Happy Sad Studio is definitely something we're totally ecstatic about!
---
Find more of Happy Sad Studio here:‌‌‌‌‌
‌‌‌‌‌‌‌‌
Website: happysadstudio.etsy.com
‌Instagram: @jillo.beans
Like this story? Tell us yours! Share your brand story and love for your custom packaging and get a chance to be featured on the wrap! If you're a noissue customer and are interested, you can join the Eco-Alliance by clicking here and answering a few questions here.
Questions? Email us at ecoalliance@noissue.co