Sustainability doesn't correspond only to going green and conserving resources; it's deeper than that! Sustainability is about supporting the ecological balance and caring for the global community's welfare.
Now that may sound too complex to pursue when it comes to business, but with the help of purposeful brands, it's never impossible!
Take a look at For Others, for example.
"For Others is a responsibly-sourced clothing label on a mission to make it easier to impact your local community in style," Co-Founder Brandon Blum states.
The brand offers a collection of fashion items like hoodies and shirts, sweatpants, and accessories and donates a portion of every item sold back into the community the items were purchased or delivered. Simple yet impactful!
100% self-funded, For Others is on a mission to make it easier to impact local communities in style, wherever that may be in the US or Canada. And as 2023 is fast approaching, they plan to begin fundraising to get to the next level of the business.
As a brand that cares for others, Brandon shares how they want to inspire people to make purchase decisions that positively influence their local community and environment, "To us, real impact begins at the local level."
And with the vision of launching purpose-driven collections, which correspond to a cause such as food insecurity, public education, climate change, affordable housing, animal rights, and so much more; the dream is something everyone can get behind.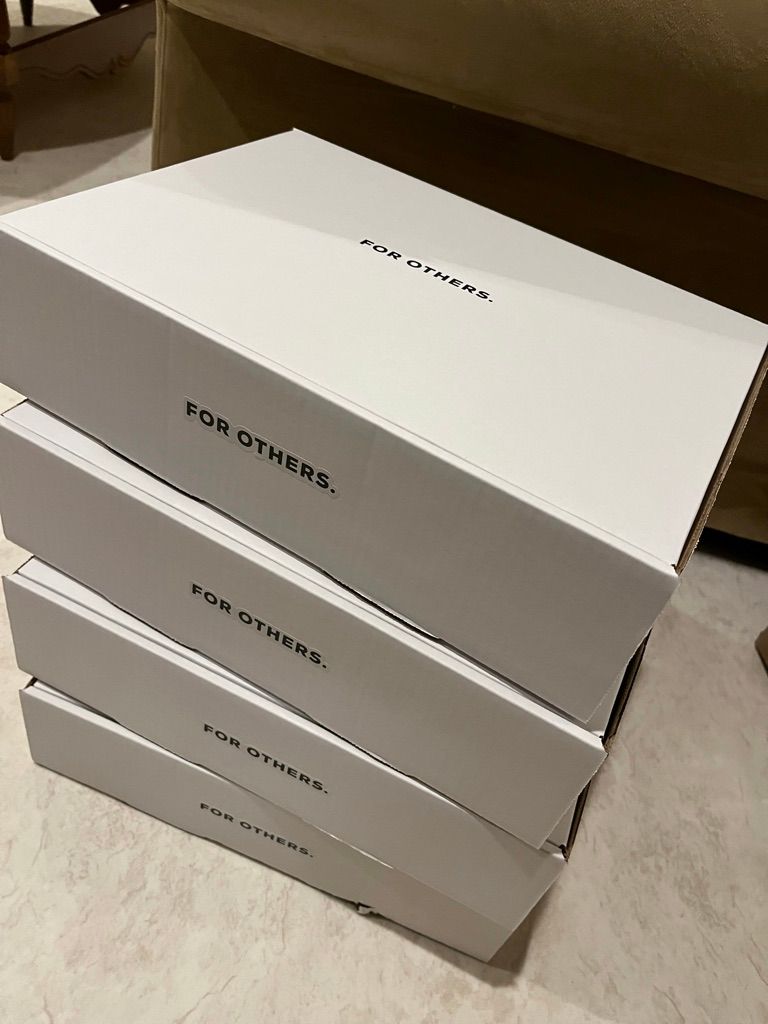 Considering themselves a responsibly-sourced clothing label, For Others believes in making quality products that last multiple wears, and prioritizes working with production partners who share similar intentions to reduce their carbon footprint. With that said, they opt for local manufacturers. Their Elementary Collection, for example, is cut and sewn in Los Angeles, which lessens travel time for shipments to their warehouse, as compared to if they were coming from overseas.
But finding sustainable solutions isn't limited to just their products, but their packaging, as well!
"[...]we want our customers to know right when our package arrives at their front door that we are a responsibly-sourced brand. It comes down to our mission at large, representing a force for good in an industry not traditionally known for their philanthropy and sustainable initiatives."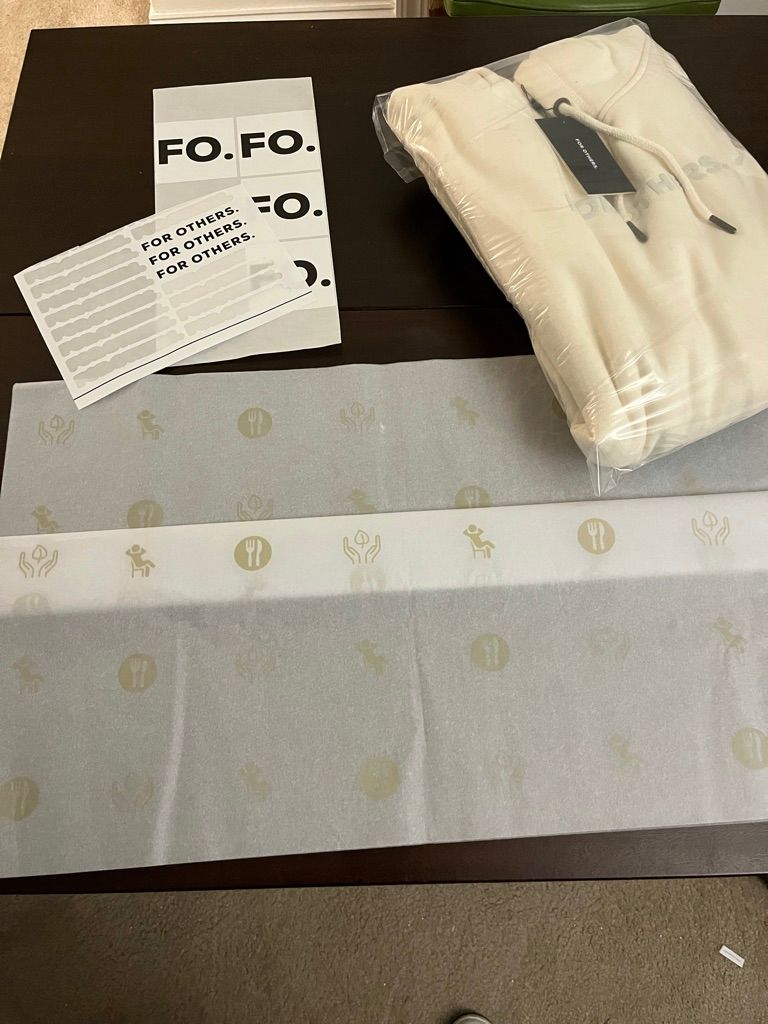 It makes perfect sense to extend the sustainable aspect of the brand from production to packaging! The latter, they make possible with noissue.
For Others' custom branded Paper Stickers, Tissue Paper, and Mailers are made with FSC-Certified materials. They're stylish, on-brand, and compostabl; a nod to the brand's participation in noissue's The Eco-Alliance Community.
"To us, [The Eco-Alliance] badge certifies that our business is doing what we can to reduce our carbon footprint and align ourselves with a certain way of thinking about our role in the planet's well-being."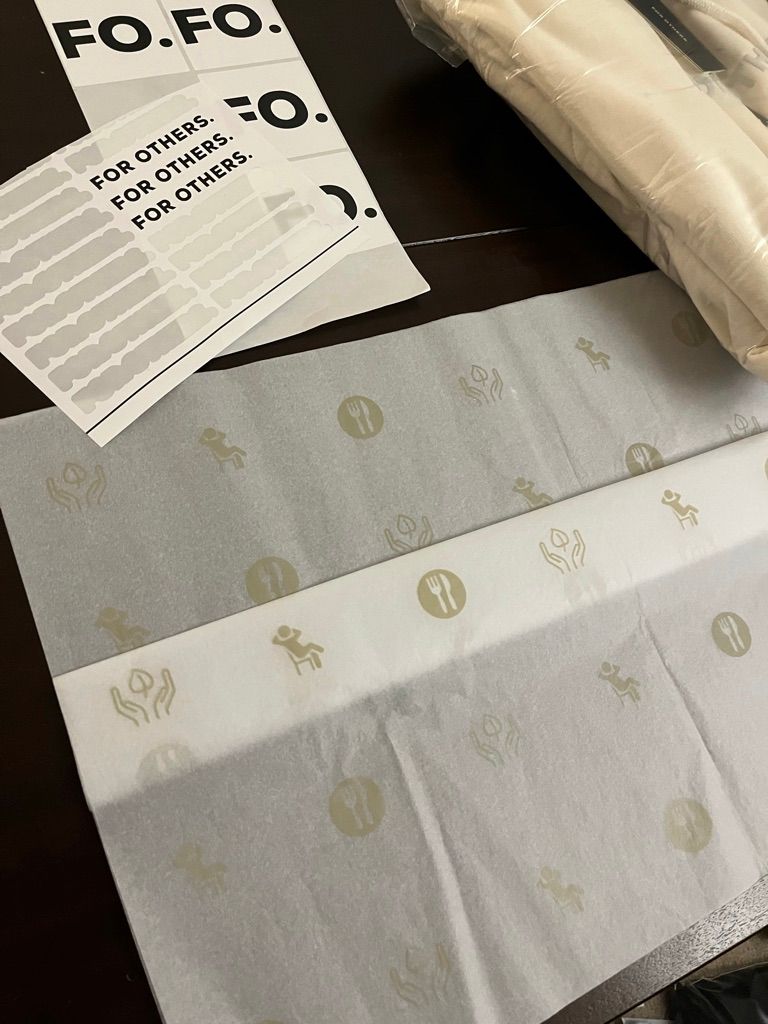 The team's commitment to donating to their customers' local communities is something you don't see everywhere. No other clothing brand is donating at local levels like For Others. And this makes them a business to truly look out for!
Recently, Brandon even took part in a local delivery in NYC - watch the video here.
Sustainability in fashion? Possible. And For Others is a brand that shows just that in its products, packaging, delivery, and overall ethos.
See more of For Others on their website and Instagram!
Got time on your hands? Check out noissue's range of custom, sustainable packaging, and marketing materials.
Packaging for retail, restaurant, and the in-betweens, noissue is ready to support you in jumpstarting—or continuing—your sustainable packaging journey and help you give your customers the best time when unboxing.