noissue custom gummed tape by @framesofbutter_tw
Packaging might seem like a minor part of your business, but it is one of the most important aspects to consider! It's the first thing customers see when they order products from your brand or search the shelves in a store.
Your packaging influences every customer's first impression of your brand, whether you're using kraft boxes with gummed tape, poly mailers, or clamshell packages.
If you're a relatively new product-based business, time spent creating the perfect packaging is equivalent to time spent refining your brand to be its best. Even if you're a well-established business, it's always good to re-evaluate your current packaging options and determine where improvements can be made.
With that in mind, explore this article to discover the ways something as simple as custom reinforced tape can enhance your brand.
Choosing Suitable Packaging for Heavy Deliveries
Packaging serves several key functions, one of which is to make your products look aesthetically pleasing. It also has a protective function, keeping your products safe, secure, and tamper-free during transit. When shipping items directly to your customers' doors, you need to consider the most optimal packaging options for your unique products.
This is particularly important if you ship heavy products, as they can present a greater challenge to a safe journey. Boxes are weakest at their joins, offering a chance for heavy products to split the cardboard or even slip through in transit.
Sturdy boxes with reinforced paper tape add an extra layer of protection and security to your packaging, bringing peace of mind to both you and the customer receiving said order.
The Best Types of Packaging Tape for Shipping Heavy Products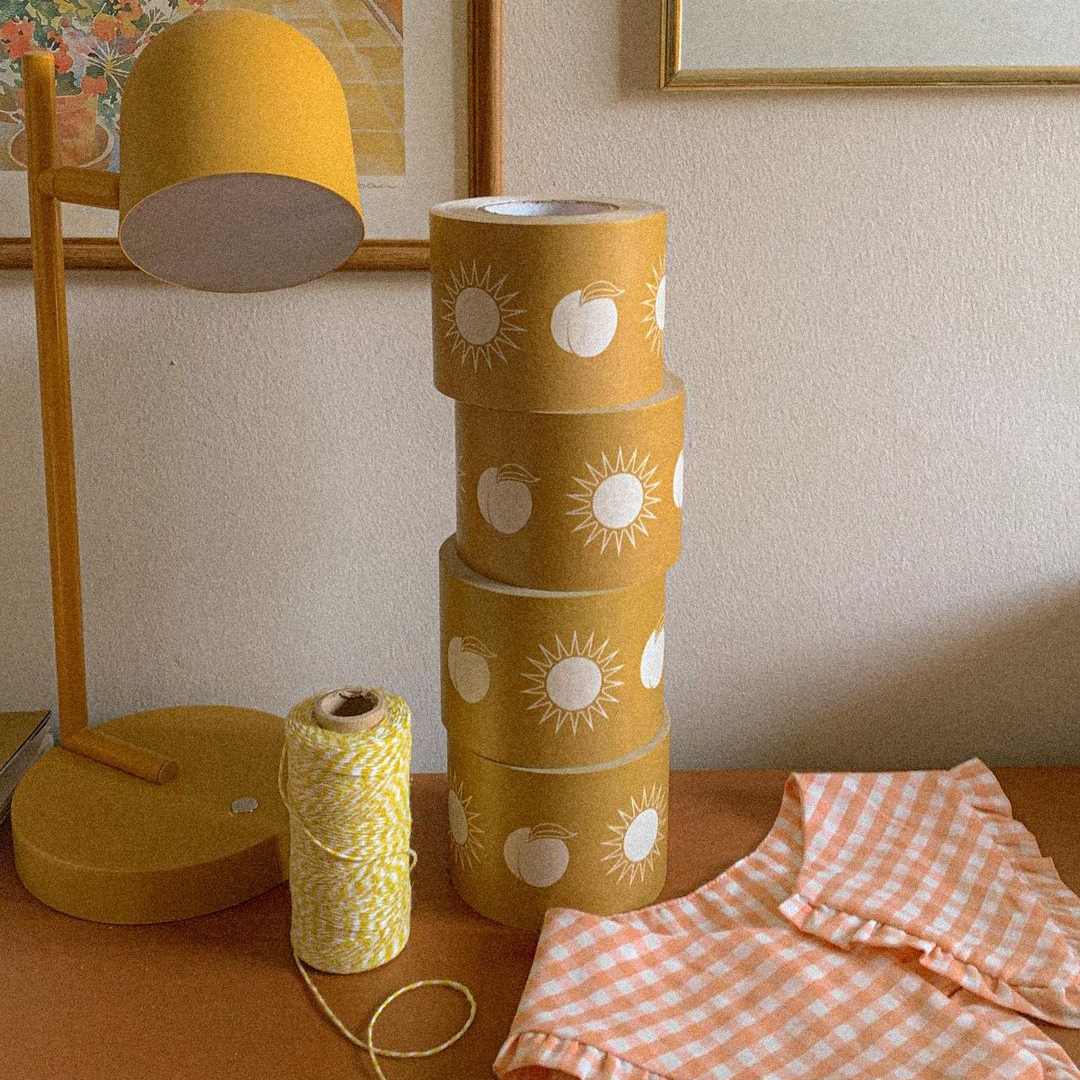 The tape you use for your packaging is just as essential as the packaging itself. It reinforces your boxes and mailers to ensure they don't break or tear during shipping.
That's where gummed tape becomes a major asset. But what is gummed tape?
It is a popular type of tape used by many brands to reinforce their packaging, negating the weaker parts of a standard cardboard box. This is just one of several types of tape to consider when processing and delivering orders to customers.
Some of the best types of tape to use when shipping heavy or bulky products include:
Gummed tape (paper or water-activated tape). With a strip of natural glue adhesive that becomes sticky when it gets wet, this tape enables you to safely seal your packages without the need for a toxic adhesive. It is also the most sustainable option on the list.
Carton-sealing tape. Purpose-made for sealing boxes or cartons, this is the type of tape you would most often see sealing moving boxes. While effective, it tends to be cheap and non-sustainable.
Cold temperature tape. This tape is the best option when you're shipping products in cold and wet weather conditions. Unlike many other types of packaging tape, it does not become ineffective when wet.
Customized tape. Designed to catch the eye at first glance, this is the perfect option when you're trying to build brand awareness. You can add your unique brand logo, colors, and designs to ensure your package stands out above the rest.
Reinforced kraft tape. This is a strong and specialized type of tape that will add sturdiness and structure to your packages, ensuring your products remain in place during transit.
Functions of Packaging Tape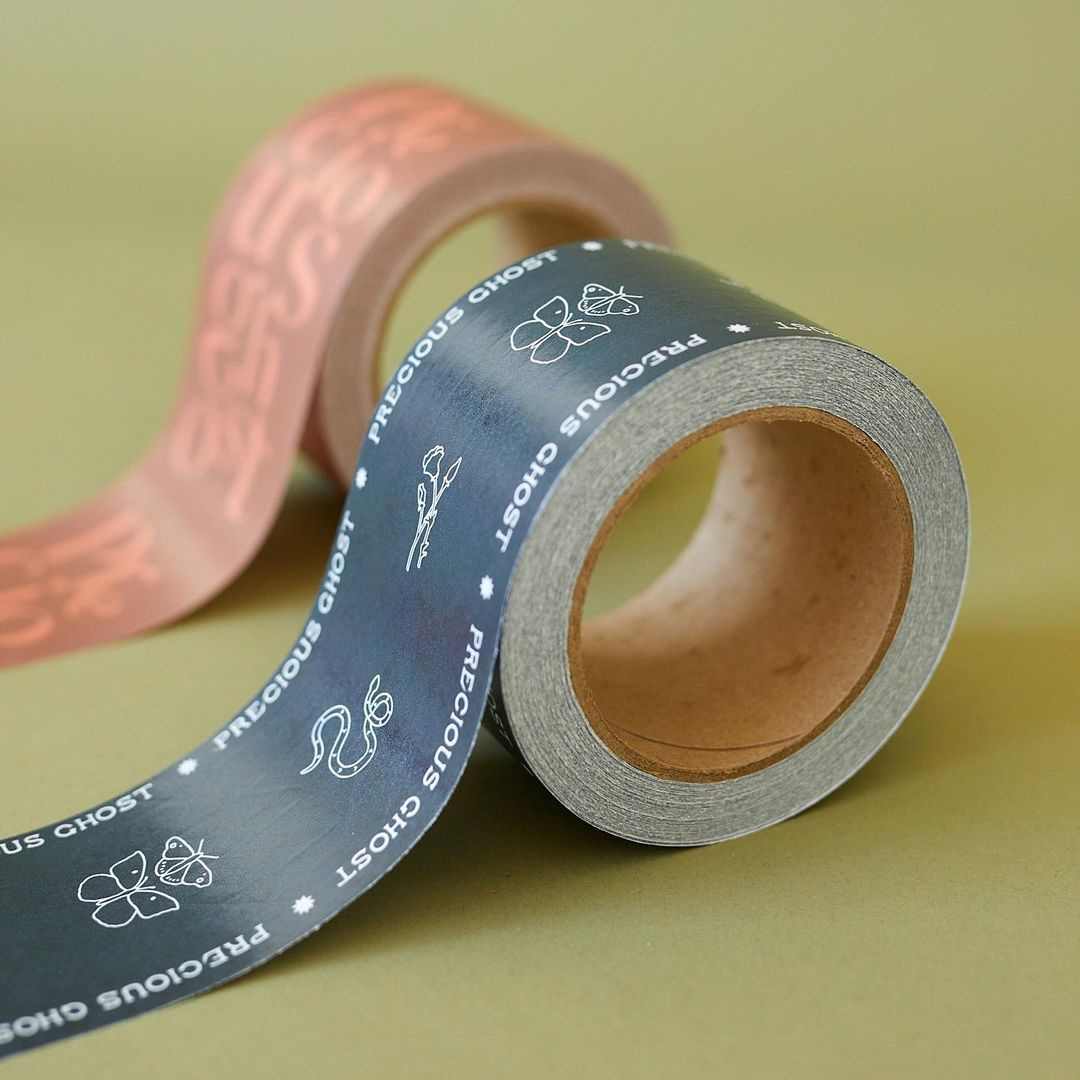 Choosing a custom reinforced packaging tape offers various benefits, such as:
Enhanced aesthetics and professionalism.
Increased functionality.
Better protection for heavy and fragile items.
Extra security and tamper-free design.
Increased brand awareness.
A better and more enjoyable customer unboxing experience.
Customizing your choice of sturdy tape promises your customer an enhanced unboxing experience from the moment they see your package.
With unboxing videos continuing their popularity streak, and the importance of word-of-mouth marketing, even this small aspect of their experience with your brand can promise returns.
How to Choose the Best Packaging Tape to Ship Heavy Packages
There are many things to consider when choosing the most suitable tape for your packages. Some key aspects to consider include the weight of your package or packages, custom designs, and the length and width of your parcels.
Identify the Weight of your Package
Choosing tape that isn't strong enough to keep your packages sealed could lead to broken items and unhappy customers. Not only can this damage a business' reputation, but it can also cost a lot of money from processing returns and exchanges, and potentially prompt customer complaints.
Your packaging tape needs to be able to support the total weight of your packages, adding reinforcement to a shipping box's weakest points. This includes the items and protective padding inside the package (i.e., bubble wrap, Styrofoam, packaging peanuts), and the box or mailer itself.
Action Point: Research your own inventory. Establish a maximum amount of weight you will ship in a given package and use these points to decide on the level of reinforcement you want from your custom tape.
Consider Custom Designs
Customizing your tape to align more closely with your brand is an added step, but one worth the effort. You can easily print your unique brand logo and colors onto your packing tape, providing an additional way to boost your brand awareness. To do this, take the time to source a supplier that offers custom reinforced tape specifically formulated for shipping heavier items.
You can also customize your tape with the words 'fragile' or 'do not bend' - rendered in a brand-conscious way - if you are shipping heavy items that can be easily broken.
Depending on the supplier you choose, you may be able to reach out to their creative team for help, or you may need to source a designer independently.
Determine the Length and Width of Packages
Your tape needs to comfortably span the length and width of your packages to offer the best reinforcement. Using tape that fits properly onto your boxes and mailers will also make your packages professional and aesthetically pleasing.
Beyond that, knowing the amount of tape you are likely to use per package will help to estimate how much tape you need to order.
Action point: Either using existing data or your projections, estimate how many orders you ship in a given week. Now, using the amount of tape you would require per package, calculate how much tape you would go through per week.
From there, decide on a timeframe for your tape order. Are you ordering enouguh for a month? Half a year? The full year? Having a small surplus on hand is helpful for spikes in activity, but over-ordering can be harmful, so it's a good idea to use these estimates as a basis for your order volume.
That's a Wrap!
For more information on top-quality reinforced kraft tape, paper tape, and more, check out the range of products from noissue. Discover how our high-quality, sustainable packaging solutions can best support your business!