noissue compostable custom tissue paper by @lovelyscripture

Creating custom wrapping paper for your business' products helps you to stand out in an often-competitive marketplace.

Maybe a customer receives an order wrapped in paper that perfectly complements the product. Perhaps you've wrapped the product in tissue paper that displays your business' logo or a custom-created pattern. Either way, you've gotten the customer's attention and reinforced your brand's connection with them.
That experience can ultimately help turn that person into a repeat customer.
Now, if you think custom wrapping paper is only available to mega-retailers, think again. These days, even a small business can learn how to make custom wrapping paper featuring your favorite photos or graphics.
In fact, it's easier than you think.
The benefits of custom wrapping paper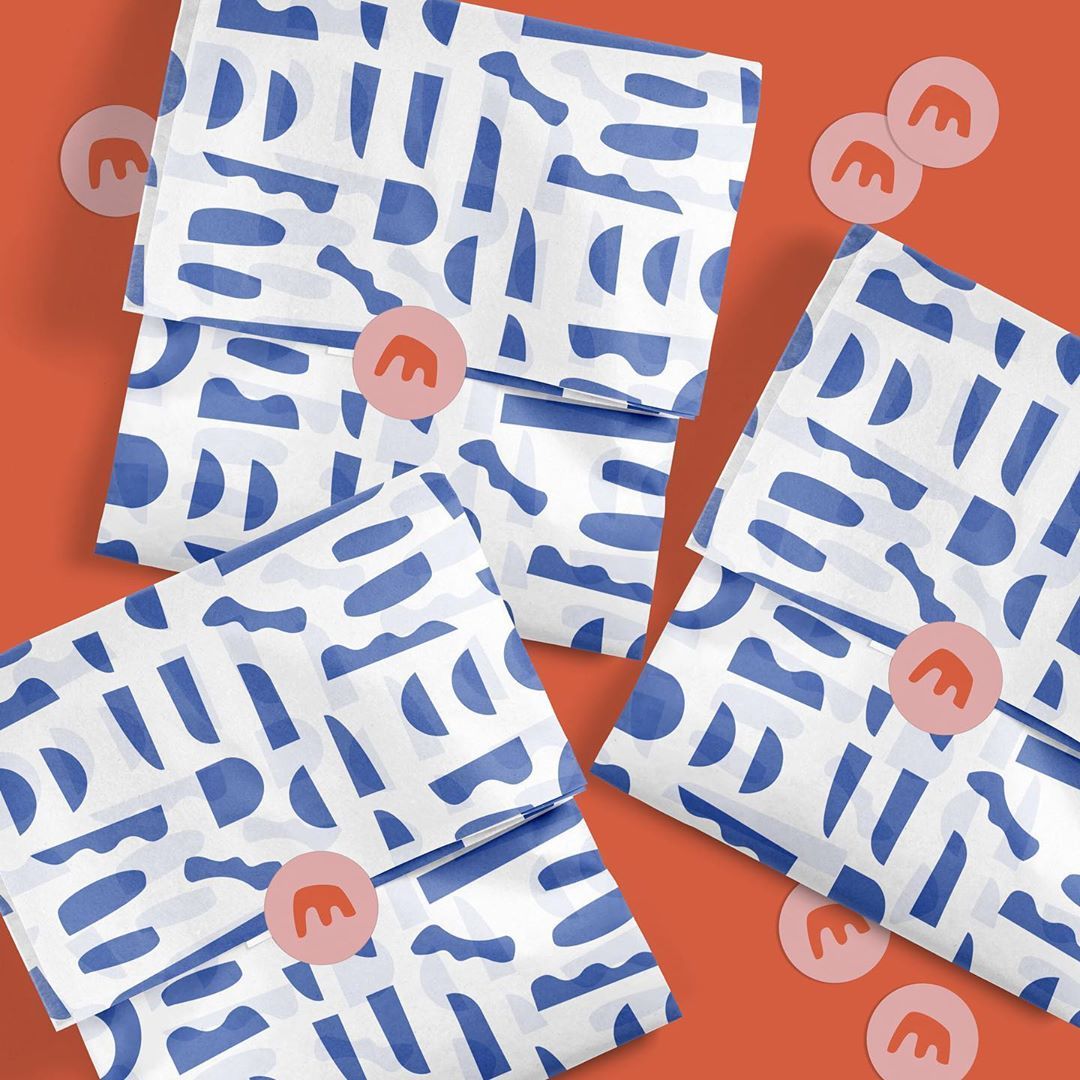 Custom printed wrapping paper is, hands down, an amazing marketing tool. By wrapping your customers' products in distinctively designed paper, you're delivering your store's marketing message while thinking outside the box.
Here are three exciting ways that custom wrapping paper can help your store to shine in a crowded marketplace.
1. It brings your brand's personality to life


You're always looking for ways to build your business' brand. Maybe you're a brick-and-mortar retailer who regularly creates brand-boosting product displays.

Perhaps you're an ecommerce business owner who weaves your brand colors and graphics throughout your online shopping platform.
In both cases, you've infused your business' brand into every aspect of your operations. And, you're always looking for new ways to communicate your story to current and potential customers.
Custom wrapping paper is an innovative way to accomplish that. Think of it this way: Your product represents your store and your brand. When a customer purchases the product, wrapping it in paper that syncs with your company's story and aesthetic is a great way to up-level their experience.
For example, let's say you sell rainforest-sourced specialty coffees. What better way to reinforce your brand than to wrap your products in rainforest-themed wrapping paper? Or, maybe you're a gourmet chocolatier. Nestling your products in luscious-looking chocolate-ty wrapping paper will create an instant brand connection.
2. It creates an exciting unboxing experience


There's nothing quite like opening a special gift. There's a sense of anticipation as you pull open the wrapping paper and tissue, and uncover a present that came from someone close to you. When the wrappings are an integral part of the gift, you're even more excited.
With custom wrapping paper, you can invite your customers to feel that same way. Depending on the design, your packaging can make them laugh or it might get them feel a bit sentimental. Either way, you've given them a one-of-a-kind unboxing experience that they'll remember for years.
3. It inspires customers to share it on social media


Social media networks have become favorite "check in" platforms for consumers. Whether users chat with family and friends, visit common interest pages, or build online communities, platforms like Instagram, Facebook, and Twitter see millions of visitors every day.
Many businesses also have social media pages, as that's a great way to publicize events and promotions while staying in touch with customers. For their part, customers love to share positive experiences about the businesses they patronize.
Crafting Witch, packages and ships orders using custom tissue paper and tape. Her thoughtful and creative packaging regularly catches the attention of her customers, who share photos of her products on social media.
How to design your custom wrapping and tissue paper

1. Get inspired

The first thing to do is to define the theme or message you want your wrapping paper to convey. To start, you can find photos and graphics that accurately reflect your brand.
Browse similar wrapping paper products within your industry. Although you can't copy these designs, you can use them to gain insights about your competitors' offerings. Note the components that quickly grab your attention along with those that fade into the background.
Pro tip: Turn to Pinterest for inspiration. Here at noissue, we've compiled some custom tissue paper inspiration in this Pinterest board. Have a look! You just might find design inspiration for your custom wrapping paper.
2. Formulate your creative idea

Now that your creative juices are flowing, visualize your custom wrapping paper design. Naturally, you'll incorporate your company logo. Beyond that, decide if you'll use custom illustrations and other elements.
The right text is also important. Good copy complements your graphics and helps to convey your message.
Important note: When it comes to text, less is definitely more. Avoid cluttering your custom wrapping paper with text that distracts from the overall effect. Take a look at this lovely tissue paper by Maja Tomljanovic, which incorporates the words "thank you" into the design.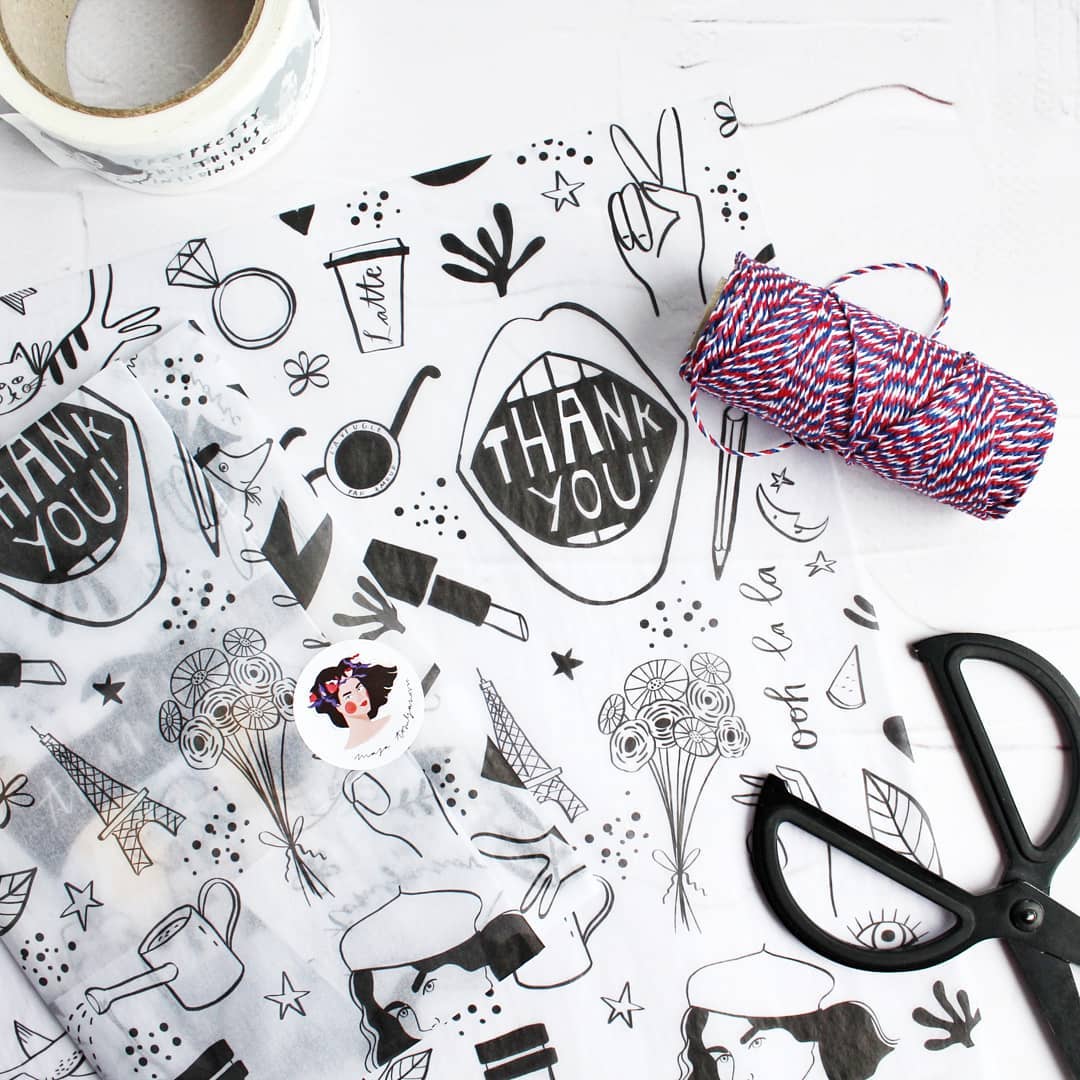 Bringing your design to life

You can design your own custom wrapping paper using commercial design software such as Adobe Illustrator. After completing your design, send the artwork to your vendor. Or, if you're using a self-service platform like noissue, you can simply upload it to our website, and we'll do the rest.
Here's how:
1. Upload your logo

noissue accepts JPG, PNG, PDF, SVG and EPS files.
2. Choose a template
On noissue's beginner friendly platform, you can choose from several templates that showcase your business' logo in a slightly different pattern.
3. Tweak and preview your design

Resize and/or rotate the logo until it looks just right. Remember, your logo represents your brand, so don't compromise on this important step. And don't forget to preview it to make sure it looks exactly right.
Printing your custom wrapping paper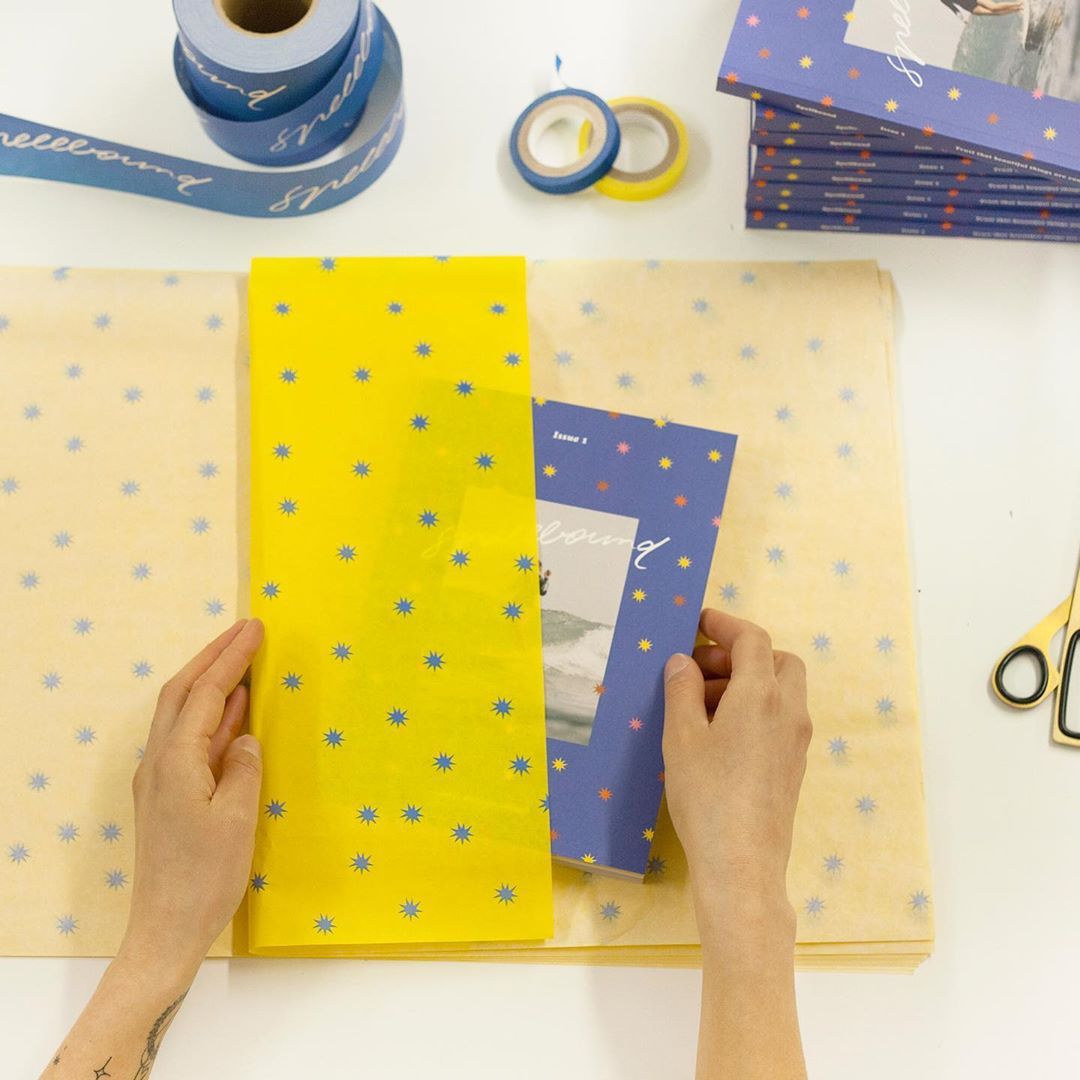 Bring your custom wrapping paper design to life by having it printed by a custom wrapping paper company. Before placing the order, ensure that the design meets your brand parameters. Verify that the paper size, paper color, and paper quantity are correct.
Confirm the order logistics

Before finalizing your custom wrapping paper order, confirm the final project cost so you and your vendor are on the same page. Ensure that the work order doesn't contain extra charges.
In addition, confirm the project turnaround time before you submit the order. If you need the wrapping paper delivered by a certain date, state that information up front. The printing company will give your order a specific production slot, and it isn't fair to expect them to change that timeframe because you didn't communicate your delivery deadline.
To give you a better idea of what the process looks like, here's how ordering custom tissue paper works here at noissue:
Select your paper size. Standard-size paper is 50cm x 75cm, while small-size paper is 38cm x 50cm.
Select your paper color (white paper is free).
Enter your quantities. The minimum order quantity is 250, and the maximum order quantity is 5000. You'll enjoy impressive savings by ordering larger quantities.
Once your order is placed, you can expect a three-week design-to-delivery production time frame.
Selecting the right solutions provider is key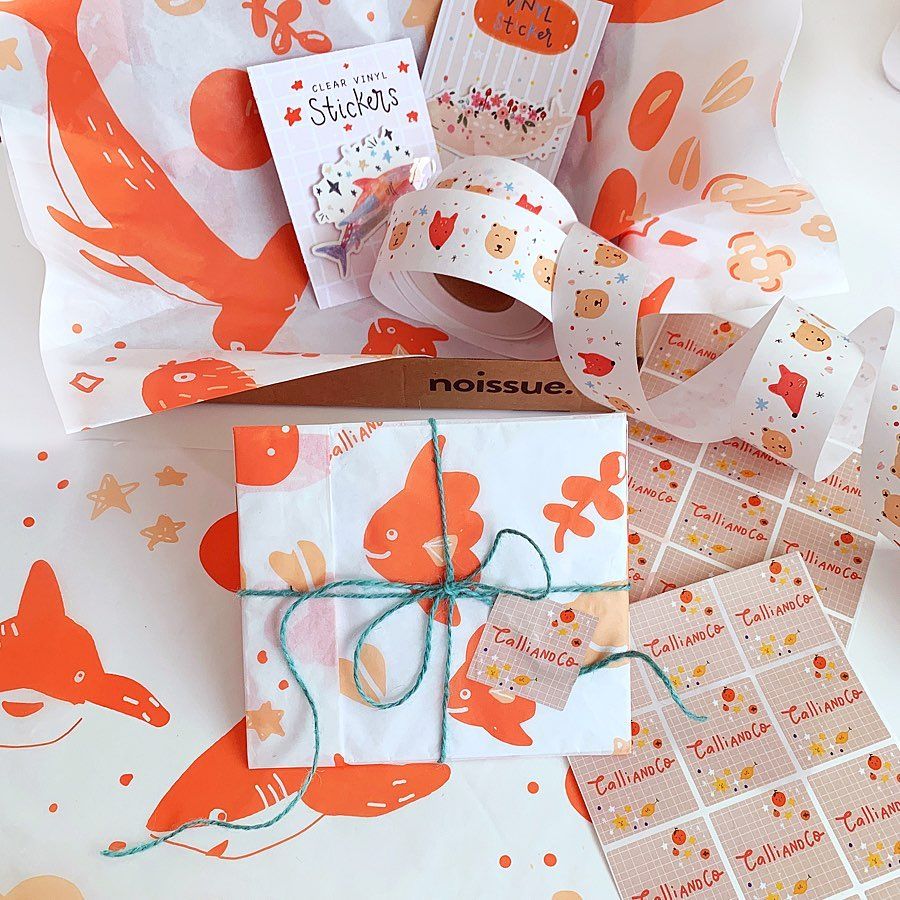 Choosing the right solution provider is key to producing custom wrapping paper that pops. That's why it's important to select a company that has a good track record of creating the exact type of products you want.
And see to it that the wrapping paper price is affordable. If you find an exceptional design, but the materials and production costs will exhaust your entire marketing budget, take a deep breath and reconsider. With numerous providers on the market, you'll find one that meshes with your bottom line.
Finally, select a solutions provider that's responsive to your questions and concerns. If your contact is never available and won't return your phone calls or texts, they don't deserve your business.

With a little due diligence, you'll find a custom wrapping paper solutions provider that's thrilled to become your partner in business growth.
---

Ready to get started in designing custom wrapping paper? Order noissue's custom, compostable tissue paper here!