noissue Recycled Custom Kraft Mailer Box by @clementinefields

The beauty and cosmetics industries are rapidly growing. Every year, beauty brands generate over $100 billion in revenue worldwide, and cosmetic retailers accrue over $17 billion in online sales! Additionally, hundreds of new makeup and skincare brands are created each year, making it much harder for each company to stand out above the crowd.
One of the best ways to create a unique spin on a cosmetic brand is to use custom packaging. Creating eye-catching and memorable packages will keep your brand at the forefront of consumers' minds, helping to build stronger brand awareness.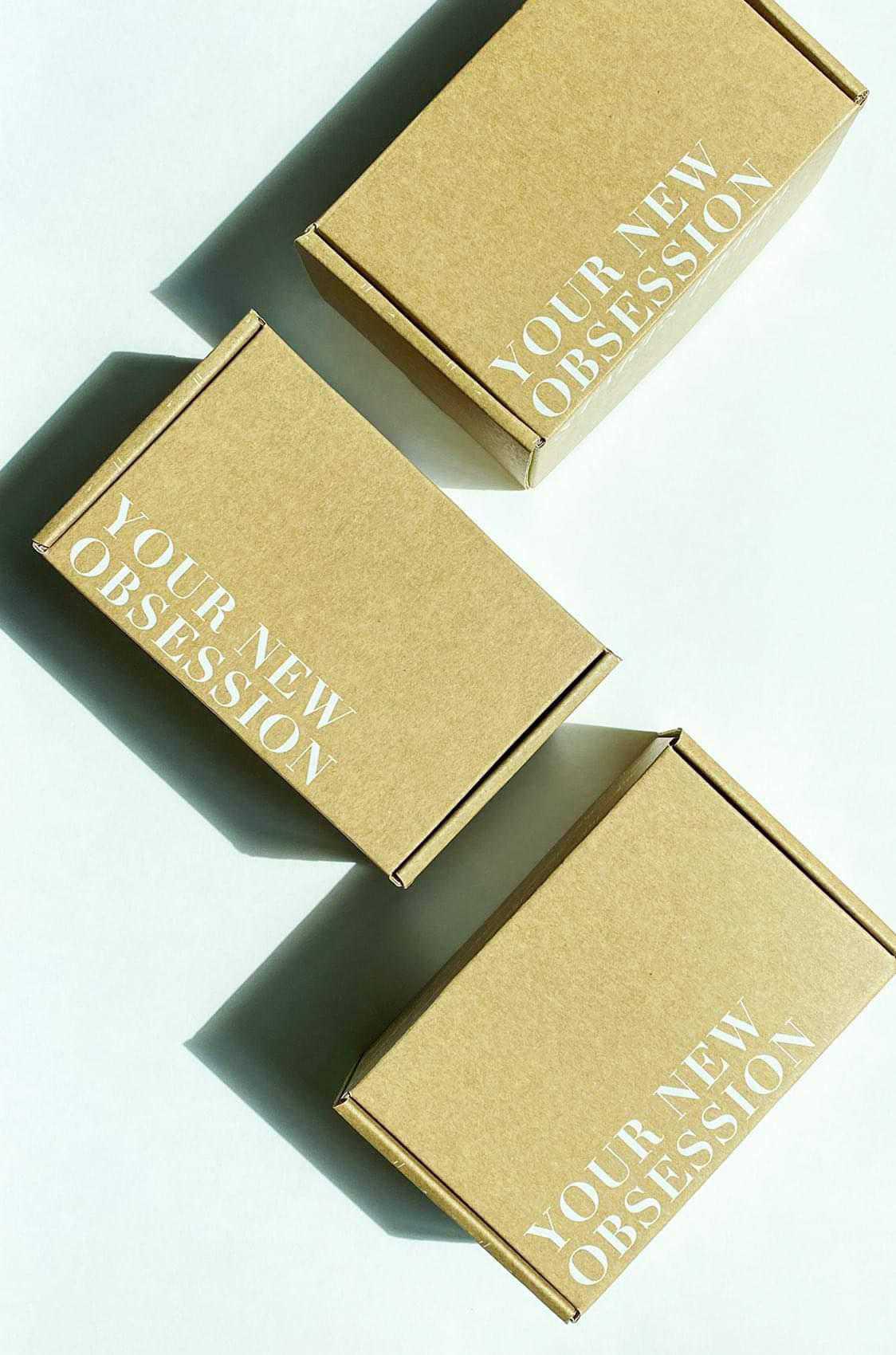 Whether you focus specifically on makeup, skincare, or cosmetics, you should use customized boxes to ship products to your customers. Doing so will create a lasting impression that leaves them wanting more from your brand in the future.
Impressed and satisfied customers are also more likely to recommend your brand to their beauty and cosmetics-loving friends and family. Word-of-mouth marketing can help almost any business attract more customers without spending extra money on paid ads.
How to Design Amazing Custom Boxes for Your Cosmetics Brand

There's no one-size-fits-all when it comes to creating the perfect packaging for your brand. You will need to carefully consider which brand packaging will be best suited for your products. However, every brand should take a few essential steps when creating customized or personalized shipping boxes.
Define Your Target Customer

Defining your ideal customer or buyer persona is central to your brand marketing strategy. Once you know the precise audience you are trying to target, you can cater your products to the right people.
Consider whose attention you want your packaging to catch. Would your target customers enjoy bright and vibrant packaging, or would they prefer a more luxurious feel?
Take your brand identity and values into account too. For example, if your brand focuses on sustainability, you might want to use 100% recycled boxes when shipping products to your customers.
If your brand offers luxury products that are more expensive, you might want your packaging to reflect this. Remember that the packaging is just as important as your products when building brand awareness and creating a great customer experience.
Consider Logo Placement

Including your logo on your customized boxes is a great way to reinforce your branding and strengthen your brand identity. Every time a customer receives a package, they will be exposed to your brand logo. The more they can associate your brand with the products, the more likely they will be to remember your company above your competitors.
Avoid making your logo too large or too flashy. Instead, it should be attention-grabbing without being overpowering. Your logo should be subtle but noticeable enough to authentically strengthen brand awareness.
Choose the Packaging Type

There are multiple packaging options to choose from. For cosmetics products, you'll most likely have three layers of packaging – the outer shipping box, the inner individual product packaging, and the packaging that contains or holds the products.
As a brand, you consider every layer of packaging and ensure they are cohesive and well-branded if you want to impress your customers. Usually, the outer and inner packaging consists of a branded kraft box or recycled cardboard box.
Popular individual product packaging options include pumps, tubes, droppers, jars, and compacts. Knowing the type of products you sell and the message you want to send will help you choose the right range of product packaging.
Think practically while also trying to create something unique. For example, if you want to sell a luxury foundation, you might want to use glass bottle packaging to create a luxurious yet practical feel. But if you aim to create unique custom packaging, consider using an unusual shape or adding an attractive label to the glass. This will set your brand apart from the competition and help attract your target customers.
Figure Out Your Dimensions

Cosmetics products vary in size, shape, and weight. When designing packaging, you will need to keep this in mind. Producing packaging that fits your products perfectly reduces wasted space, materials, and can minimize costs. It also keeps your products safe by preventing them from moving inside the packaging during delivery.
Depending on the product size and fragility, you might want to use a customized kraft box or poly mailer. For products that can easily break or smash, custom-sized and padded packaging can help prevent them from getting damaged.
Customer satisfaction will increase when you take extra care to produce personalized shipping boxes that protect your products from damage. You will also deal with fewer customer complaints, reducing the demand on your customer support team.
That's a Wrap!

Following these steps are a great starting point to design the perfect customized shipping boxes and product packaging for your cosmetics brands. Start creating the perfect custom-designed boxes for your cosmetics brand!
Whether you're looking for artistic mailer boxes or unbranded kraft boxes to personalize with stickers and labels, we've got you covered on sustainable packaging and shipping supplies. Let your branding shine on custom packaging made from better materials that are recycled, recyclable, reusable, or compostable!

Check out more recycled boxes here, or browse products by your industry.