When a new customer makes an order from your online store, it presents you with the opportunity to make a strong first impression. It's your chance to display your professionalism and quality and potentially gain new long-term customers!
Knowing how to make custom poly mailers is the perfect way to impress your customers. Yes, the quality of your products is a vital component of creating a reputable business and gaining a loyal customer base, but your packaging quality and design are just as important to the modern-day consumer.
Setting Your Brand Apart From the Competition Using Custom Poly Mailers

Custom-printed poly mailers set your brand apart from others in your industry. Consumers are more likely to remember your business and your products if your packaging is eye-catching and unique.
Sixty-two percent of consumers agree that they're more likely to repurchase a luxury item if it comes in premium packaging. Even if you don't sell luxury products, you still need to provide a great unboxing experience for your customers since 72% of the American population's purchasing decisions are influenced by packaging alone.
There are a number of ways to make your poly mailers unique and personalized. One of the best ways to do so is by using custom poly mailers with a logo. Including your brand logo and colors on every package that you send will reinforce your branding to every customer who receives one of your products.
Whether they're new or existing customers, you can capture and maintain their attention from the moment their package is delivered to their doors. Your custom-printed poly mailers are the perfect way to increase your brand awareness in an authentic and cost-effective way.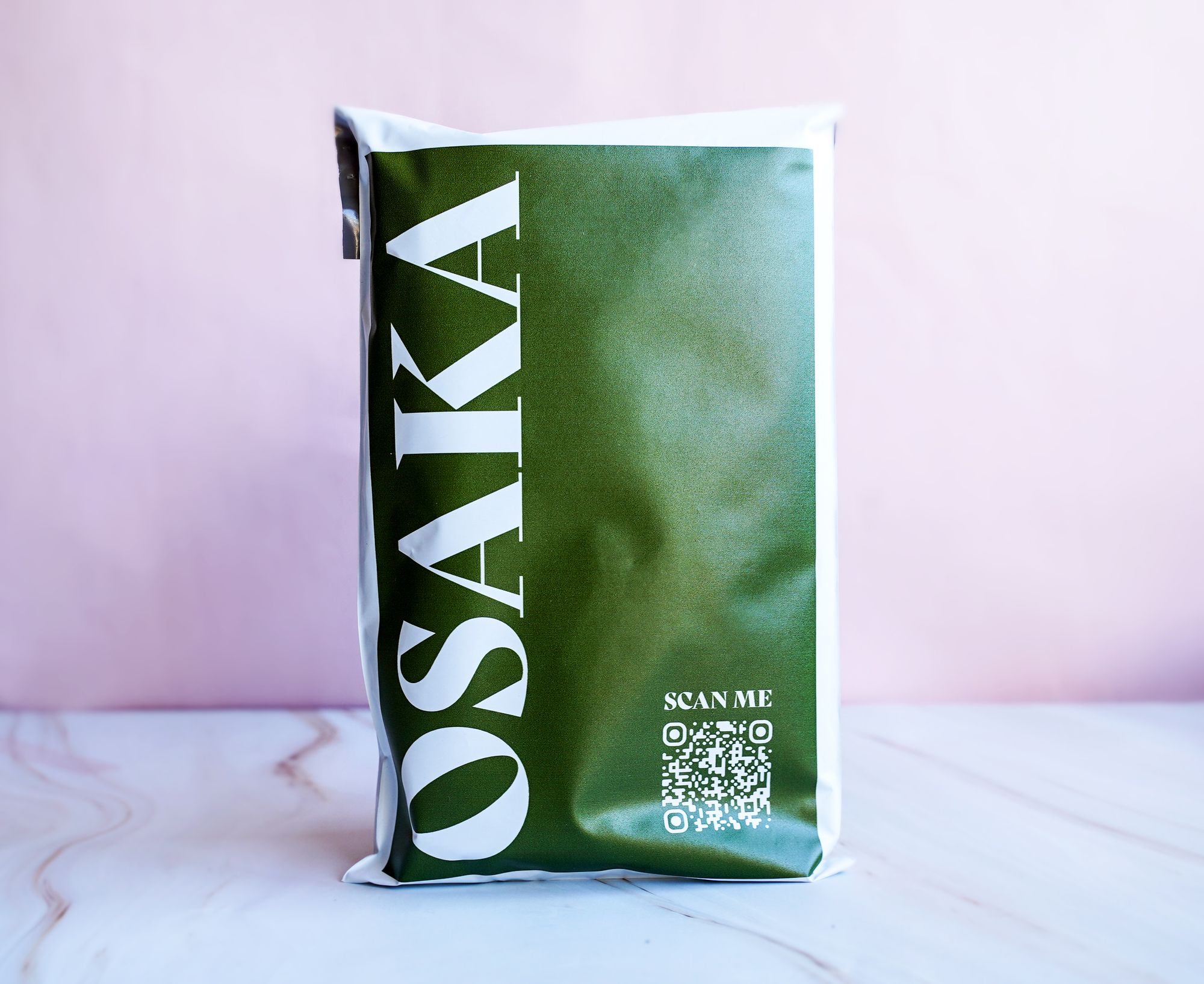 How to Make Custom Poly Mailers

You might be wondering how to print on poly mailers and make them as unique as possible. Below, we're going to cover the key steps to follow when you want to include your logo and branding on your packaging to create a strong first impression!
Determine the Dimensions

One of the first things you need to figure out are the dimensions of your products. When you know how large, wide, and tall your various products are, you can choose and create custom poly mailers that fit them perfectly.
The idea is to have your poly mailers large enough to snuggly fit the items inside without stretching the material too much. When you find the perfect sweet spot, your product will stay nice and secure inside the poly mailer without getting damaged or broken during the delivery process.
Identify the Main Background Color

When you're first learning how to make custom poly mailers, it's easy to get carried away with the possible colors and designs. However, you want to stick to your brand's personality as much as possible. That way, your customers will be able to easily recognize your brand's packaging when it arrives at their doorsteps.
Sticking to the simpler colors will convey luxury and sophistication, while choosing bold combinations or patterns can leave a lasting impression. Utilizing your brand's colors and complementary colors can make your poly mailers stand out among the sea of traditional packaging!
Consider Adding Graphics

You might wish to add graphics to your custom-printed poly mailers. Doing so can capture your audience's attention and enhance the unboxing experience.
Make sure you don't go over the top with different graphics, as this can make your poly mailers look messy and cluttered. Stick to one or two graphic designs that look cohesive when placed next to one another on your packaging. You can repeat the same design across the whole poly mailer to result in a repeating pattern.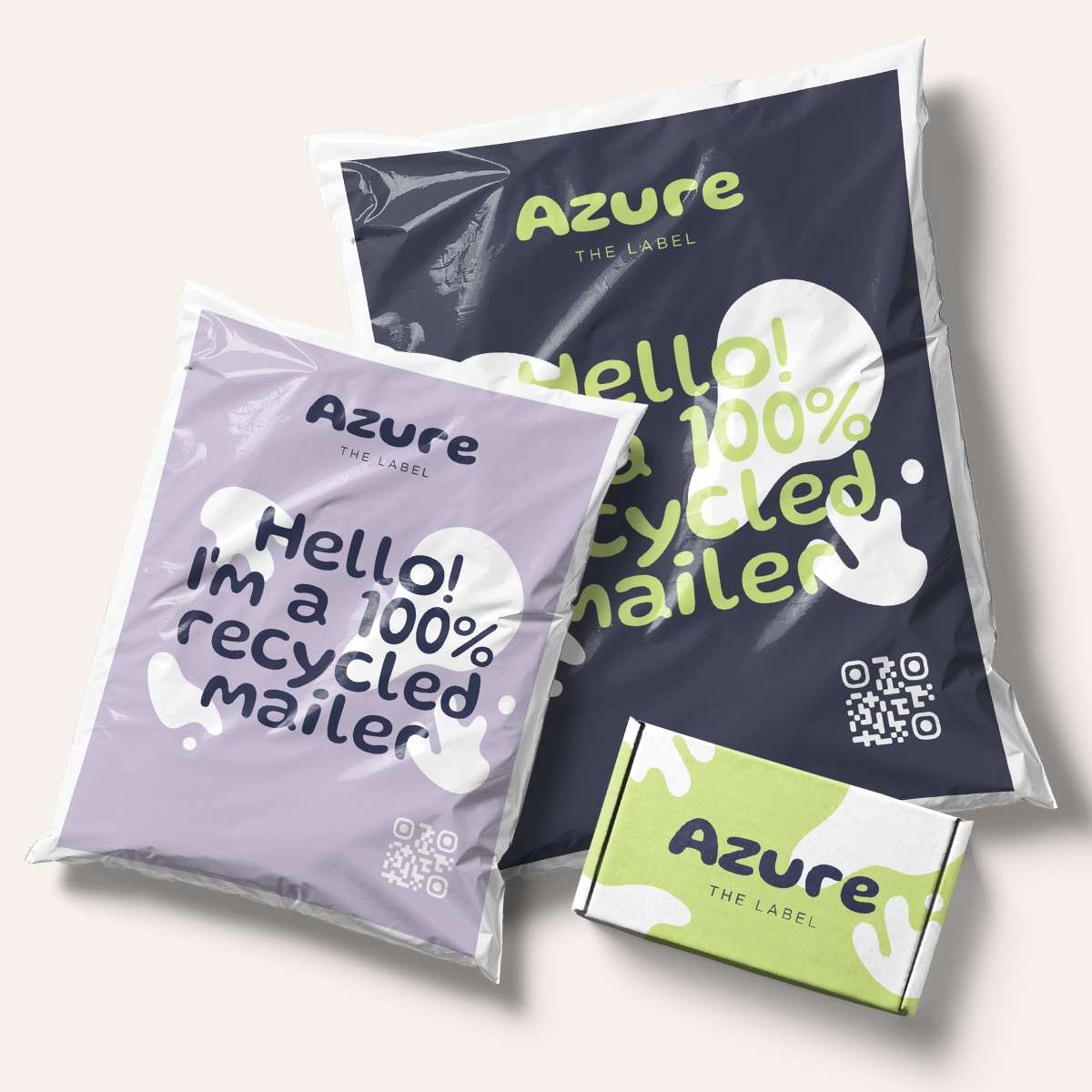 Add Your Logo and Brand Name

It's important to add your logo and brand name to every poly mailer that you send to increase your brand awareness and brand identity.
When a customer receives your custom poly mailers with a logo, they'll immediately take note of your branding. This increases the likelihood of them recognizing your brand when they come across your products in the future.
Consider Any Additional Text

Custom poly mailers are the perfect opportunity to reinforce your brand message. If there's a specific phrase or slogan you want to reiterate to your audience, you can print the words on all of your poly mailers.
Sharing sustainability information, such as packaging recycling instructions or including a scannable QR code, can differentiate your brand from the crowd. noissue's Eco Alliance badge, for example, can be printed on customized poly mailers for customers to scan and learn more when the receive their packages.
Consider the font, color, and size of the wording to ensure it looks smart and aesthetically pleasing.
Select the Quantity

Once the design is complete, the next step is to order the right quantity of custom-printed poly mailers. Although it can be difficult to predict the exact number you need and therefore the exact number of poly mailers that you will need, you can make a rough estimate. It's also a good idea to keep plenty of custom poly mailers to use as sales increase during the holiday season.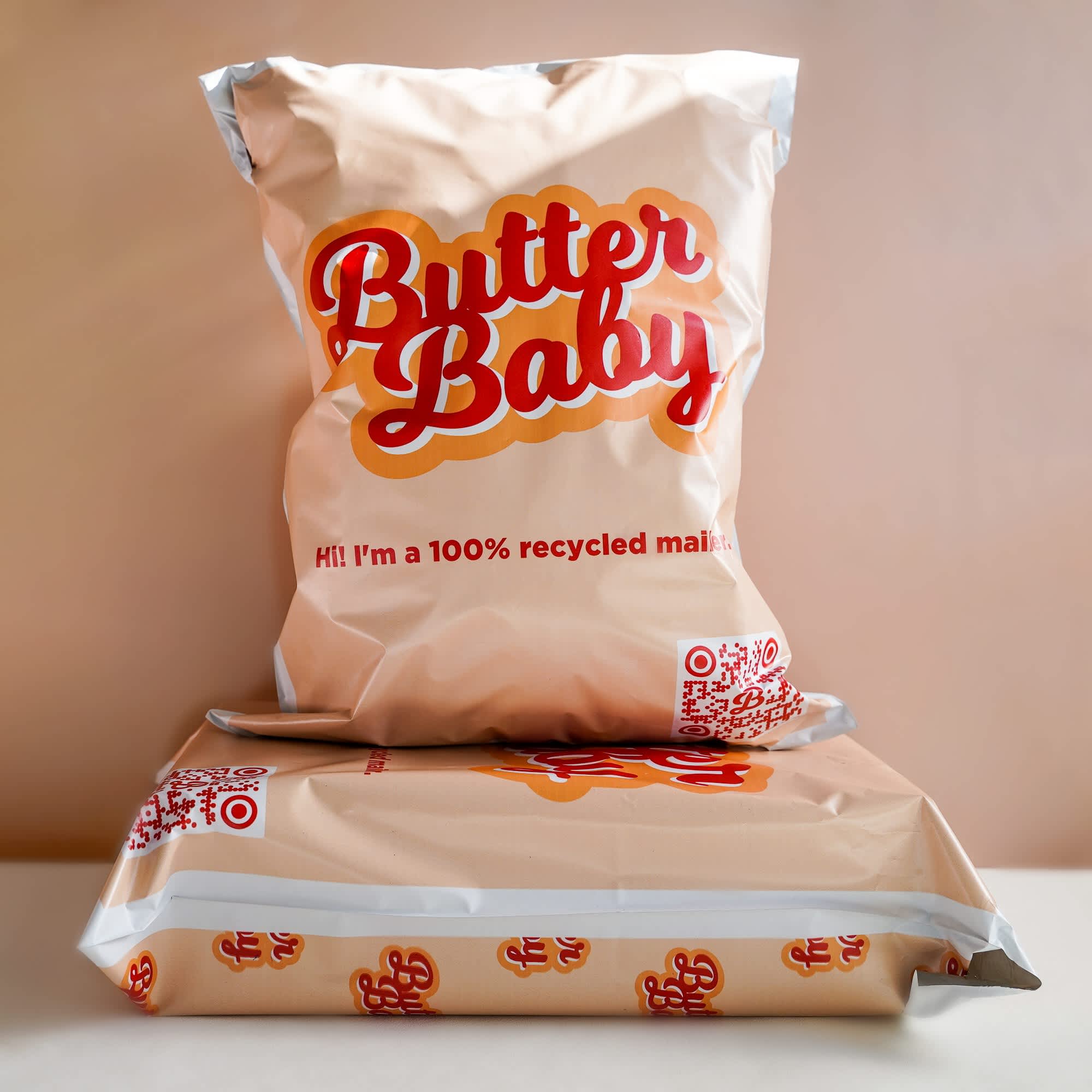 Consider Eco-Friendly Poly Mailers

While poly mailers are an ideal and cost-effective packaging solution, ones made from virgin plastics can leave a massive impact on the environment. Consumers also prefer packaging made from eco-friendlier materials.
Recycled poly mailers are the perfect choice for businesses wanting to make sustainability on-brand. Since they're made from materials that were previously used, they avoid generating more virgin plastic waste. They're also recyclable where soft plastics are accepted, further giving materials a prolonged life.
noissue's Recyclable Custom Poly Mailers are created from recycled materials. Your design is printed in eco-friendly inks that biodegrade during recycling, so none of your packaging ends up in landfills. Using these sustainable mailers, stylized with your beautiful branding, will impress customers and make being eco-friendly much easier!
🎁 Wrapping It Up

Save your poly mailer design so you can print more in the future if necessary. Once you have learned how to print on poly mailers, the process will be much easier and quicker when it comes to creating more custom poly mailers.
Personalizing more sustainable poly mailers will help build your brand as sustainable and trustworthy. Customers will be eager to make repeat purchases from you, knowing that they can enjoy an exciting, branded, and earth-friendly experience with your brand!
Check out our custom poly mailers and order high-quality shipping supplies for your business! Browse more recycled, recyclable, compostable, and reusable packaging products by category or industry.