Custom noissue Recycled Hangtags by @handmadebyquinnie
The definition of small but mighty, the QR code has become commonplace in our everyday lives. How many QR codes have you encountered when out and about? 🤳
Nowadays, QR codes are the go-to method of quickly and safely providing information. Due to the pandemic, many businesses, from restaurants and cafes to small and medium enterprises, rely on QR codes to keep in touch with customers. QR code capabilities, such as displaying a takeout menu or operating hours right onto one's mobile screen, help businesses connect with and reach new customers despite restrictions on in-person experiences.
You might be wondering, how can I implement this technology in my brand's packaging? Here, we'll be breaking it all down for you to become a QR code connoisseur and give your custom-printed retail packaging an interactive edge!
What custom packaging products can I use with my QR code?
For custom packaging that goes above and beyond the ordinary unboxing experience, consider adding your newly minted QR code to materials like stickers, cards, hang tags, and more!
A QR code sticker can be placed anywhere on custom retail boxes or included inside of goodies, like totes and drawstring bags, to draw attention to your brand's bestsellers and new items.
For events and special occasions, QR code cards can direct customers to a digital guestbook, album, or a DJ song request form (this one's a crowd-pleaser!)
Educate customers on the disposal or reuse of circular packaging materials by having your brand's QR code on product packagings, like custom boxes and mailers, lead to a microsite with sustainability information.
All of this is to say: the sky's the limit in how many ways you can use your custom QR code packaging!
Below, we'll be showing you the ropes of using a QR code on your branded packaging and helping you understand the fundamentals:
What is a QR code?
What can QR codes do?
What is a microsite?
How do I make my brand's microsite and QR code?
What custom packaging products can I use with my QR code?
How do I get my QR code ready for printing onto custom packaging?
First, let's define what a QR code can do for your small business (spoiler: a lot!)
What is a QR code?

QR is short for "quick response" code. It's essentially a barcode that can be read by mobile devices, like your mobile phone or tablet. More information is stored within a QR code vs. a typical bar code due to its more dynamic shape. When scanning a QR code with your phone's camera, the information stored within the code gets displayed on your screen, making it an easy solution for businesses to share information with customers.
What can QR codes do?
Rather than just merely decorating the outside of a package or storefront, QR codes serve as swift shortcuts to important information or limited-time campaigns for customers to access. Rather than typing in a lengthy URL or going through a multi-page process, customers can quickly scan a QR code to enter a giveaway, view a takeout menu, learn more about your brand's story, place a repeat product order, and more. QR codes can do all of this by directing to your brand's microsite.
What is a microsite?

A microsite is where your QR code will direct traffic and display information you want customers to interact with. Your brand's microsite will have its own URL and live outside of your website, so no alterations to the latter will be needed. A microsite can be based around a specific campaign, like a limited-time promotional offer or menu item, or prompt users to browse your brand's bestsellers and reorder products.
Whatever the case may be, leading customers to your microsite via a QR code on packaging extends the pleasant feelings associated with the initial unboxing experience. The technical combo of a QR code and microsite is key in keeping customers coming back for more. And when your product packaging displays an easy-to-scan QR code and a resourceful microsite? Prepare for an increase in sales and loyal customers, too!
How do I make my brand's QR code and microsite?

To make a QR code to go onto packaging and direct to a microsite, look no further than noissue's very own online design platform and Tapkit!
Tapkit is the dynamic QR platform to build dynamic QR codes and microsites perfect for social, packaging and QR campaigns. With Tapkit and noissue, your brand can create smart packaging with QR campaigns that enrich and add value to the product experience.
Creating your brand's QR code and microsite on Tapkit is simple! First thing's first, you'll want to make your brand's dynamic QR code.
On the Tapkit Dashboard, hit Create QR Code. You'll be taken to the online QR Code editor, and there, you can assign your QR code's destination to be your website or any destination URL. Later on, you can update the destination to be the URL of your microsite.
Since your Tapkit QR code is dynamic, you can edit and make changes to your QR code's assigned URL at any point in time!
Customize your QR code to compose of different shapes, densities, colors, and even display your logo in the middle. To help get everything just right, a live preview of your QR code continuously updates on the right-hand side of your screen while you edit.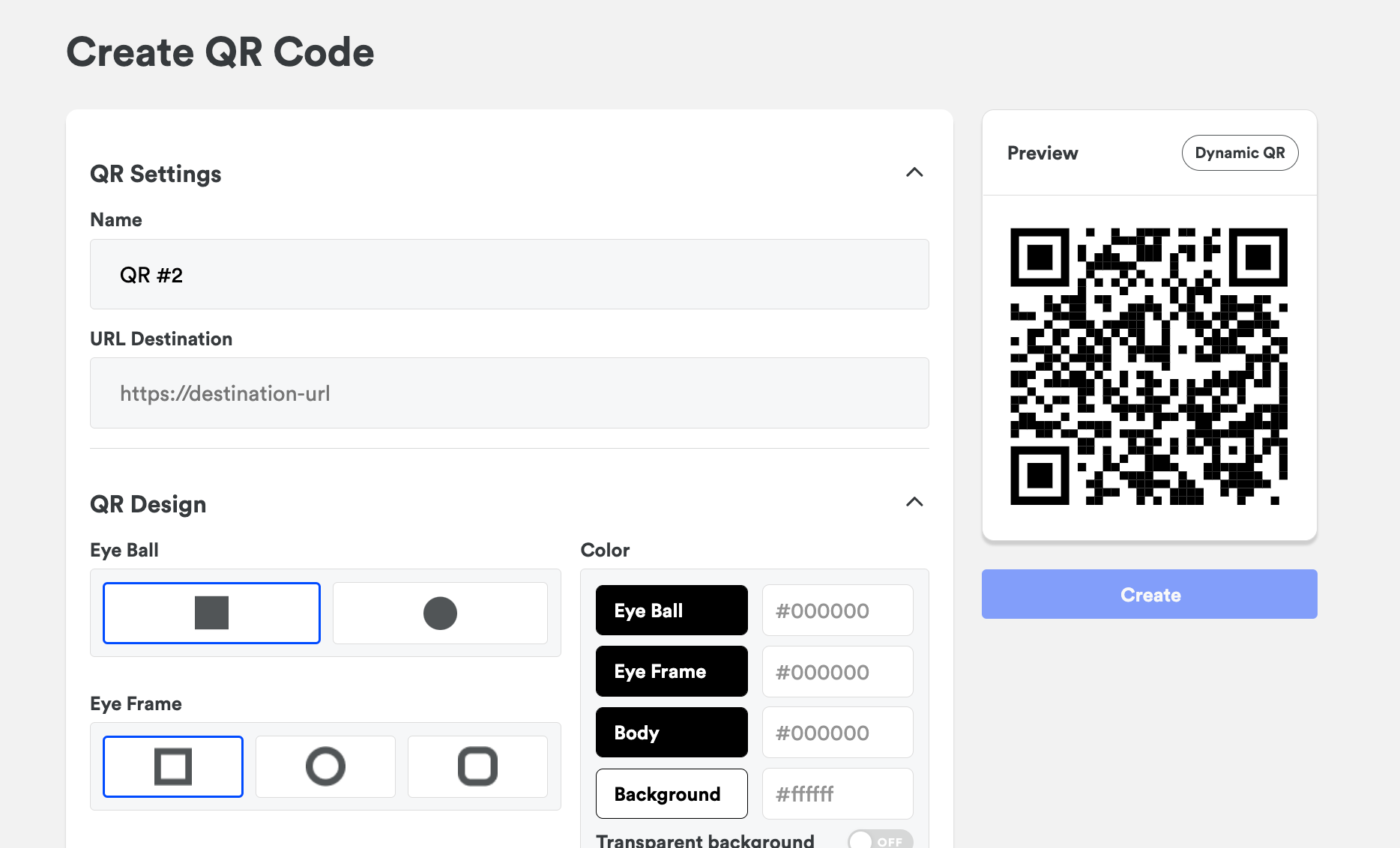 Then, when everything looks picture-perfect, press Create – and voila, magic is made. No need to pinch yourself; you're not dreaming. You've just created your brand's microsite and QR code!
After publishing your dynamic QR code, you can move on to the next step: making a microsite with Tapkit.
Back on your Tapkit Dashboard, click on Create Microsite.
Start with an editable template for your Microsite or Tappable Stories, or browse through ready-made Designer Templates! Within the microsite editor, you'll be able to customize your microsite to your desires.
Here are some examples of what you can do with your brand's microsite:
Make reordering a product even more effortless for your customers by having your microsite direct customers to a repurchasing funnel.
Show customers what's new to your product catalog and include an image slideshow.
Add links to your brand's social media, like an Instagram page, a YouTube video, your desktop website, and more.
Direct customers to a form to sign up for your brand's newsletter.
The list goes on and on!
Once you're happy with how everything looks, it's time to bring your microsite to life. Hit Publish and give it a custom URL – and just like that, your microsite is now live and ready to be your dynamic QR code's destination!
How do I get my dynamic QR code ready for printing onto custom packaging?

Getting your QR code print perfect for your custom packaging is made easier with noissue's online design editor. Our talented Design Team is also available to lend a helping hand at any point in the process!
The noissue Design Team can also help get your QR code all set with your custom design. In preparation for adding your QR code to your packaging, be sure to refer to the following checklists:
For your noissue Custom Design, check that you're using the acceptable file formats and sizes.
For your Tapkit dynamic QR code:
Use the square QR code option for your QR code.
We suggest using squares or dots for the body of your QR code.
When saving your QR code, save it as an SVG. SVG is the best file type for our Design Team to make any adjustments for printing.
Your QR code must follow the ideal measurements listed below to be properly displayed on your packaging. Feel free to check in with our Design Team if you have any questions or are unsure about your QR code size, and they'll make sure your QR meets the requirements for perfect printing.
Once you have your QR code ready, you're good to get it printed onto custom packaging for your small business! Remember that you can always assign your brand's microsite as your dynamic QR code's destination later on, at any time. Before printing happens, you'll receive a final design proof of your custom QR code packaging to review and approve for production.
Give yourself a round of applause – your branded QR code packaging is about to knock your customer's socks off!
🎁 Wrapping it up

Custom packaging for small businesses got cooler with the small-yet-mighty QR code. Pack an unbeatable, branded punch by incorporating a QR code and creating your brand's microsite! Give your packaging a modern refresh through QR code packaging to impress customers long after the first unboxing of your products. Stand out from the crowd with packaging that does more than just look pretty (it can do both!)
Don't wait on elevating your brand with custom packaging that sports your QR code. Start designing your custom-printed QR Code packaging for retail and eCommerce with noissue and Tapkit!