@bikinisovereverything QR Code and Microsite powered by @tapkit on Custom noissue Recycled Hangtags.
Drive traffic to your microsite where you can engage your customers with tappable stories, reorder products, or sign up for your brand's newsletter. Custom packaging for small businesses just got even cooler with an innovative, digital touch! Check out this in-depth guide to learn how to design a QR code for your business and direct traffic to your microsite.
It's no secret that QR codes are here to stay – and they're the future for budding brands!
Due to the pandemic, QR codes have become a modern-day staple for many businesses to connect with customers in a contactless way. QR-enabled actions have made the contact-free retail experience more enjoyable and engaging than IRL. However, for a brand's QR code campaign to be successful, it'll need a place to direct traffic. 📲
Before you go off to the races in creating a QR code, your brand must first have its microsite. And microsites don't have to be as complicated as they might sound! Let's dig into the definition of a microsite below.
What is a microsite?

As a contactless communication method, QR codes need a digital destination to send traffic – and that's where microsites come in! Microsites are mobile-first, making them the ideal destination to send customers to after they scan a QR code on a brand's packaging. And their real value lies in being infinitely and effortlessly customizable.
Microsites serve many purposes as a one-stop-shop, elevating the brand experience long after receiving an order. Businesses popularly use microsites to share information or provide additional interactive options with customers.
What's the difference between a microsite vs. a website?

A microsite is a landing experience that stands alone from your brand's main website. Microsites have a separate URL optimized for mobile devices, allowing it the capacity to host features that make it more flexible than a regular website – no need for a developer or complicated edits.
Microsites are much lighter than the traditional web page, so they load faster while containing all the vital information a brand wants to convey to customers. While websites can be long, multipage experiences, microsites allow you to simplify things down to specially target a particular goal, like having customers join your brand's VIP program or participate in a satisfaction survey.
What do microsites look like?

Microsites can take the form of:
Customer surveys to collect data on your brand's unboxing experience
Linked social media directories to follow your brand journey online
Video and photo galleries that showcase your best-selling products
Repurchasing options for customers to reorder their favorite products
Newsletter sign-up forms to receive the latest updates from your brand or blog
Promotional pages for timed campaigns, giveaways, and special offers
A link site to easily help customers navigate to multiple places
And so much more!
Since microsites can hold more information than a typical bar code, your microsite can be one or a combination of these ideas. Think about what areas of the customer experience your brand could benefit from.
Do you want your customers to be able to share their packaging on social media readily? A QR code that directs to a limited-time microsite for your unique social media campaign can do the trick! Or, would you like to know what customers think of your brand's products? Have your QR code on your packaging send them to a review form to fill out with ease. Customers can further stay engaged and entertained through tappable stories and quizzes hosted on a microsite, too!
Building your brand's microsite and corresponding QR code with dynamic QR platform Tapkit opens up a world of interactive possibilities on your custom retail packaging. So really, the sky's the limit for what you include in your microsite!
Get started by first creating your dynamic QR code on Tapkit. Personalize it to your liking and have it link to your website or any URL destination. Ensure that your dynamic QR code works, and then you can come back and easily update the QR code destination to your brand's microsite at any time.
How do I create a microsite?
To create your brand's microsite, head to Tapkit's microsite editor. If you have Tapkit Premium, you can browse pre-made Designer Templates to personalize. Or, build your own custom microsite with the beginner-friendly editing tool.
You can include things like buttons for social media handles, a brand story description, link out to YouTube videos, and direct to your bestselling products page on your website – let your creativity run wild here!

See more in-depth details on creating a microsite here. Once you have a design that you're happy with, hit Publish. That's it!
Will my microsite need a lot of maintenance?

Unlike an entire desktop website, microsites need little to no maintenance after being published. You don't need to be a wiz web developer to create and maintain a beautiful microsite! Edit your microsite by easily dragging and dropping features on Tapkit's custom builder. But it's a good habit to check your microsites for links and features. And if you need to make changes to your microsite at any point, Tapkit's microsite builder makes editing swift and easy.
Use your QR code to link to your desired destination, and if you don't have a microsite set up yet, don't sweat it – you can always update your dynamic QR code to direct to your microsite even after your custom packaging is printed.
If I make changes to my microsite, will I need to update my QR code?

If a QR code is dynamic, you won't need to edit the actual code itself. Since your Tapkit QR code is dynamic by default, you're all set there! If you ever need to change the destination that your QR code directs to, you only have to swap the assigned URL with a new one. Keep in mind, your microsite is editable on Tapkit and can host multiple links, so it's best to make any changes there instead.
What's the difference between a static QR code vs. dynamic QR code?

It's important to take a look at what type of QR code is best for your brand's campaign. Notably, there's a key difference between what makes a QR code static or dynamic.
A static QR code is one that cannot be edited once it's created – meaning that when it's assigned a microsite, the microsite must remain unchanged for the QR code to work.
For the most flexibility, you'll want your brand's microsite to be used in tandem with a dynamic QR code. Dynamic QR codes alleviate any potential issues you might encounter with the content of your microsite, such as a broken link or replacing a limited-time campaign.
On Tapkit, every QR code is dynamic so brands can seamlessly update a dynamic QR code's destination as well as the content on a microsite at any point in time – even after going to print. Having a dynamic QR code is best for providing your brand's campaign added adaptability to address seasonal events, offer special promotions, run giveaways, and much more. With this flexibility, you can change your destination URL or update your QR code microsite alongside your business goals.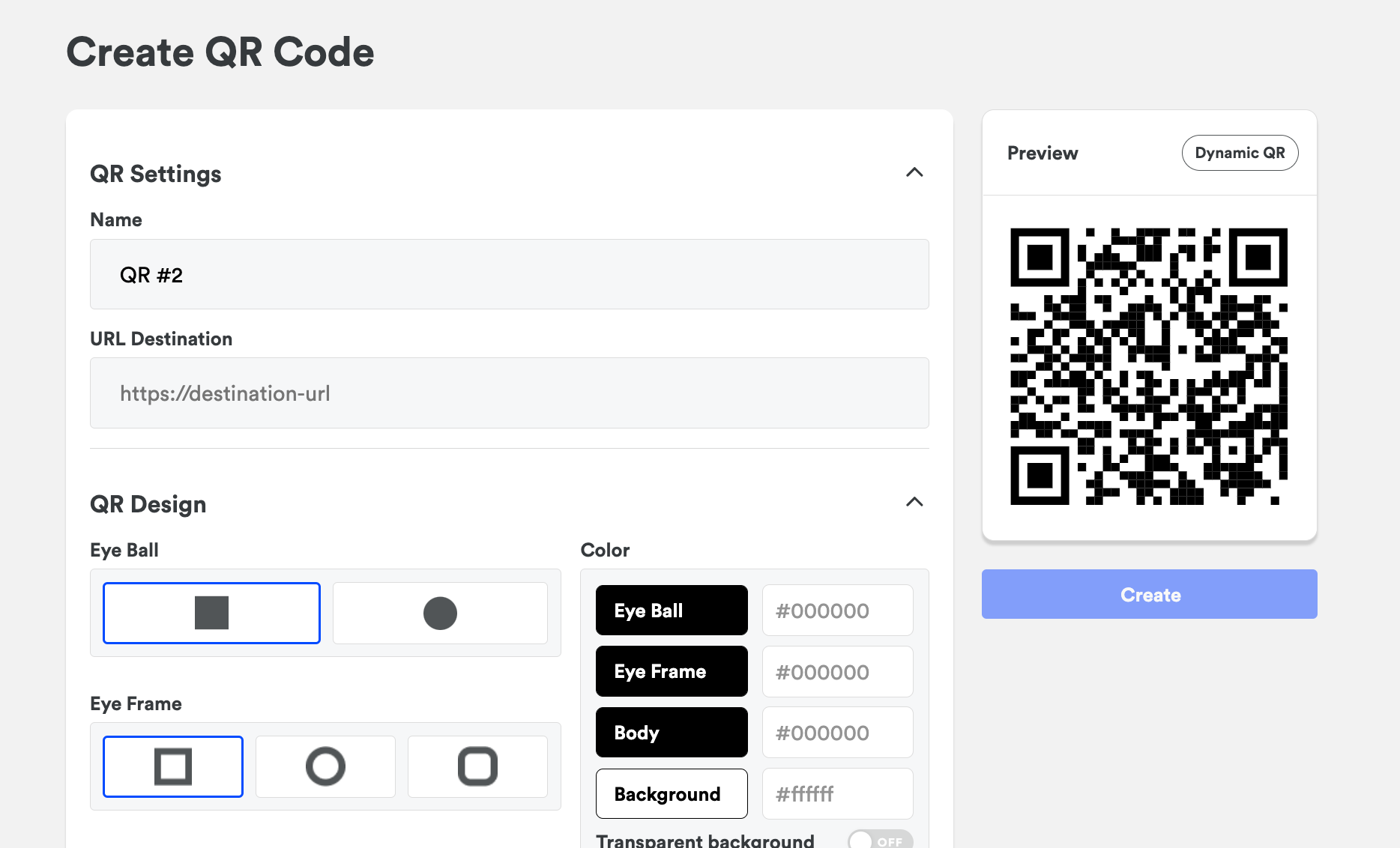 Now that you know what kind of QR code works best for your needs, nothing can stop you from increasing your brand's sales and customer satisfaction through your microsite!
🎁 Wrapping it up

That's a wrap on everything you need to know about mastering the art of the microsite!
If you're a growing business or entrepreneur, consider creating a QR code campaign to take your branded packaging to the next level. Make a splash on customers and reach new eyes with packaging that's not just pretty but interesting and interactive to boot. Having a microsite where customers can learn more about your brand will also lead to excitingly restocking carts!

Get started and create a microsite for your brand on Tapkit! Include your dynamic QR code on noissue custom Boxes, Hang Tags, and Stickers. A dynamic, branded packaging set will leave customers impressed for days!