Think of a brand, any brand – what comes to mind first? Chances are, if it's not their logo that pops into your brain, it's the rest of the brand's visuals, especially the colours and fonts.
From Instagram's pink gradient to Ben & Jerry's chunky slab serif, the colours and fonts used by your favorite brands are what make their identities recognizable, meaningful, and appealing.
But iconic identities aren't reserved for the biggest brands. They're achievable for any business, including yours, with the right colours and fonts in hand.
So, how do you go about choosing them for your brand, and how do you translate these colors and fonts into your packaging? Here's our ultimate guide 👇
❗ 3 Reasons Why Choosing the Right Colors and Fonts is Important

1. They increase your brand recognition

A signature colour can increase brand recognition by 80%. Think Tiffany & Co blue, Coca Cola red, Starbucks green, Cadbury purple – each of these brands have iconic, signature colours that help us easily spot them as we're walking down the street shopping and stopping for a drink or a snack.  
In fact, 94% of the world's population recognize Coke's red and white logo, so these colours really do have the power when it comes to brand recognition.
And fonts do the exact same.
2. They communicate your message

These iconic colours and fonts aren't just there for the sake of it either, they're chosen for a reason. That reason is to communicate a message and visualise the brand's vision. Both colours and fonts have inherent meanings associated with them that communicate a certain feeling and message (learn more in our color psychology guide here.)
For example, the color red portrays power, excitement, energy and passion. It also scientifically stimulates the appetite and can trigger impulse buys, which is why brands like McDonald's, Coca Cola and other food and beverage businesses use it in their identities.
And meaning is just as clear in fonts, too. Laura Worthington explains that "Type is a visual voice. Without reading, it imparts its message." This means that regardless of the actual words used, a font can convey meaning.
The Ben & Jerry's fonts, for example, were created to communicate the "joyful and whimsical" essence of the brand, which you can sense across their products and promotional material, no matter what's being said.

3. They attract your ideal customers

Your brand identity may communicate a message, but you need people to share that message with first! Thankfully, choosing the right colours and fonts is a great way to attract your ideal customers.
When approximately 80% of what we assimilate through the senses is visual, it makes sense as a brand to use your visual identity to your advantage.
People make a subconscious judgment about a product within 90 seconds of initial viewing and between 62% and 90% of that assessment is based on color alone, so it's important to get that first impression right.
I'm much more likely to be attracted to a brand that stands out, appeals to my values, fits in with my style, and is something that I would want in my house or on my person, than I am one that doesn't suit me at all.
So when you know your audience, understand what aesthetics they're attracted to, and can appeal to that visually with your fonts and colours, you'll capture their attention in no time.
ConvertKit and Flodesk both make email marketing software, but their visual identities are completely different. The colours and fonts they use each appeal to a different audience that are attracted to that particular style.

Your visual identity can use the same principles and strategies to identify and appeal to your ideal customers with the colours and fonts that they're attracted to.
🌈 How to Engage Your Audience With Color

But once you've got your ideal audience's attention, how do you keep it? Well, tests indicate that a black and white image may sustain interest for less than two-thirds a second, whereas a colored image may hold the attention for two seconds or more.
It's also proven that typography can improve readability and keep people reading. So when we know that we don't have long to engage our audience, colour and type are powerful ways to do so.
ConvertKit, who we mentioned above, use colour in their social media content to highlight words, emphasize phrases, embellish imagery, and create hierarchy, interest, and balance throughout each post. This keeps things interesting and encourages their audience to click through and engage.
🎨 Colour meanings

Colour psychology is the study of how colour impacts human behaviour. Each colour has particular meanings and connotations attached to it and some elicit certain behaviours from you when you see them.
When you see red, you will associate different feelings, emotions, values and brands with it than you will with blue, for example. And as mentioned earlier, red can make you hungry and impulsive, while blue might encourage a different response.
Here is a quick rundown of the basic meanings of each colour.
Red – passion, attention, anger, power, love
Orange – joy, creativity, importance, success, determination
Yellow – happiness, intellect, energy, optimism, danger
Green – nature, growth, finance, freshness, stability
Blue – security, communication, technology, loyalty, wisdom
Purple – royalty, power, luxury, ambition, magic
Pink – femininity, compassion, love, caring, youthful
Brown – earthy, retro, reliability, comfort, endurance
White – purity, balance, peace, precision, minimalism
Grey – neutrality, patience, intelligence, maturity, melancholy
Black – sophistication, elegance, power, edginess, mystery.
When choosing your brand colours, it's important to do this intentionally, by first determining the message you want to convey and the feelings or behaviours you want to evoke, which you can then translate into a colour palette that reflects them.
🔠 Font meanings

Max Phillips rightly explains that "Type is what meaning looks like."
Just like colours, fonts have inherent connotations too.
Serif fonts are seen as more traditional, sophisticated, reliable, and formal. They're stable, respectable, and timeless.
Sans serif fonts are modern, clean, humanist, geometric, and universal. These are simple, sensible, straightforward, easy to read, and neutral.
Script fonts feel elegant, classic, formal, sophisticated, and stylish. They're high fashion, glamorous, exquisite, clean, and luxurious.
Handwritten fonts communicate things as organic, personal, creative and expressive.
Slab serif fonts are bold, contemporary, trendy, friendly, and solid.
Rounded or bubble fonts are jovial, sociable, fun, welcoming, and exciting.
Vintage fonts can feel old-school, retro, solemn, magical, and remarkable.
✏️ How to Choose Your Colours and Fonts

1. Brand strategy

The first step to choosing your brand colours and fonts is creating a strategy that will help you choose them. This means outlining your mission, vision and values, creating your brand voice, and knowing your audience. Once you're clear on who you are, what your keywords are and who your audience is, you'll be ready to choose the colours and fonts that will best represent you and speak the most to your audience.
2. Inspiration

A good way to start translating your brand strategy into visuals is to find inspiration to guide your decisions. You can begin to gather example colour palettes, typography suites, and other visual elements that represent the direction that your brand is going to go in.
3. Mood board

Once you have key words that outline the personality, message, and emotions that you need your brand to communicate, you can create a mood board that reflects these. Using the inspiration you found, this mood board should feature 5–15 images that inform the overall vision and direction of your visual identity, including colours and fonts.
4. Select your colours and fonts

When you're happy with your brand mood board and feel confident that it accurately communicates the things you want your brand to say, you're ready to choose your colours and fonts. Aiming to select a colour palette of 3 to 5 colours, and a suite of 1 to 2 fonts will give you a flexible identity while still limiting things enough to keep them consistent, clear, and memorable.
🔍 Where to find colour palettes

🔍 Where to find fonts

📢 Where you can use your colours and fonts

When you've selected your colours and fonts, you can apply them across your entire brand. Some of the places in particular that you can use your design elements are:
1. Your Packaging

If you're an ecommerce business, your packaging is the first physical experience your customer has with your brand. To make a great first impression and boost brand recognition and loyalty, consider using your brand colors and fonts on your packaging. You could customize a box, tissue paper, tape, a sticker, a card or all of the above – the options are endless!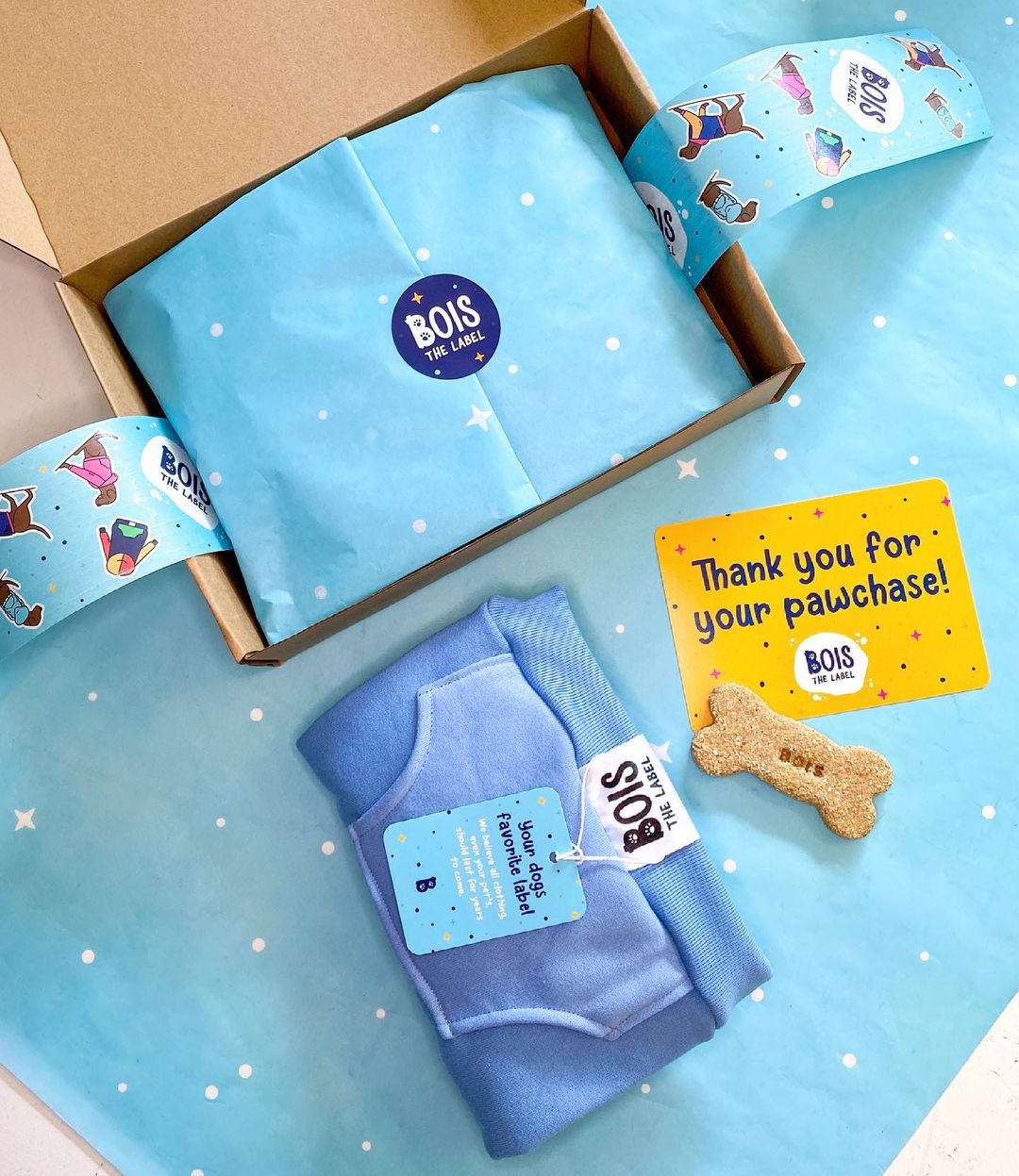 2. Your Social media

Social media is the perfect place to apply your brand's colours and fonts, because there are so many different ways to use them and create a cohesive, creative, consistent visual identity.
3. Your Website

Your website is the home of your brand, and provides so many opportunities to use your fonts and colours in creative ways.
4. Your Products

Your products are the hero of your brand, so make them seem that way! Use your colours and fonts to identify your products as yours, set them apart from others, and even distinguish product lines or categories within your own brand.  
5. Printed Promo

Some promotion still happens in person, believe it or not! Whether you're handing out flyers, popping up signage, posting ads, or giving people your business card, it's all got to be on brand! So grab your colours and fonts, give your designs a consistent look and feel, and get printing!

🎁 Wrapping It Up

When it comes to your brand identity, consistency is key. So choose your colours and fonts wisely, then stick to them. Create brand guidelines that list what they are and how to use them, and share them with anyone who will be using your colours and fonts in their work.
By creating a consistent brand identity with clear colours and fonts that appeal to your audience, communicate your brand's voice and values to them, and keep them engaged, your brand will become a cult favorite before you know it!