noissue Custom Compostable Food Wrapping Paper by @foodologiebakedgoods
Be it Christmas, Halloween, or Thanksgiving – a delicious box of cookies can make every holiday memorable for your loved ones. However, for bakers and confectioners, the challenge lies in getting the baked goods to their intended recipients fresh and in one piece.
In this article, we'll explore how to package and ship cookies safely along with some best practices and the available shipping services offered by major carriers.
Let's get started!
How to pack cookies to avoid breakage

To ensure that your cookies or other baked goods reach their destination safely, you must pack them carefully. Follow the 7-step process outlined below to get your baked products to your customers in the best possible condition.
Step 1: Gather the necessary packing materials

To pack and ship cookies that will arrive fresh and in optimum condition, you will need the following:
Cellophane
Cardboard boxes
Pouches
Bubble wrap
Tissue paper
Cushioning materials (newspaper, packing peanuts, etc.)
Tape
Stickers and labels
Step 2: Cool and wrap the cookies

Bake your cookies as close to the time of shipping as possible. This will ensure that the baked goods remain fresh when they reach the recipient. However, you'll need to cool them before packing.
Shipping cookies that haven't been cooled to room temperature will only make them soggy. This can alter their texture, or worse — cause them to get spoiled.
Once the cookies have cooled, wrap each of them in cellophane or plastic wrap. You could even use noissue's Custom Food Wrapping Paper for the same. Made from FSC-certified paper and printed in water-based food-safe inks, it's 100% compostable.
The paper will preserve your cookies in pristine condition while also giving you the opportunity to express your brand identity in your packaging.
If you are using cellophane or plastic wrap, be sure to seal them with a heat sealer.
Step 3: Choose the correct container for your cookies

Choose an airtight container to keep your cookies as fresh as possible and protect them from crumbling. You can choose from a metal cookie tin, a cookie bag, or a cookie box.
Metal tins are preferable because they are airtight and will protect your cookies from being smashed by external forces. A cookie bag is also adequate, but you must make sure to push out as much air as possible to preserve the freshness of your treats.
The noissue Custom Stand Up Pouch is perfect for this. Made with a specialty film that prevents moisture from entering the pouch, it will preserve the flavor and aroma of each cookie and prevent them from mixing with other cookies in the same shipping box.
Alternatively, you could use noissue's Custom Shipping/Mailer Boxes for the same purpose. These are made from FSC-certified materials and are completely home compostable or curbside recyclable. Plus, they can be printed in your brand colors and designs to give your customers the ultimate unboxing experience.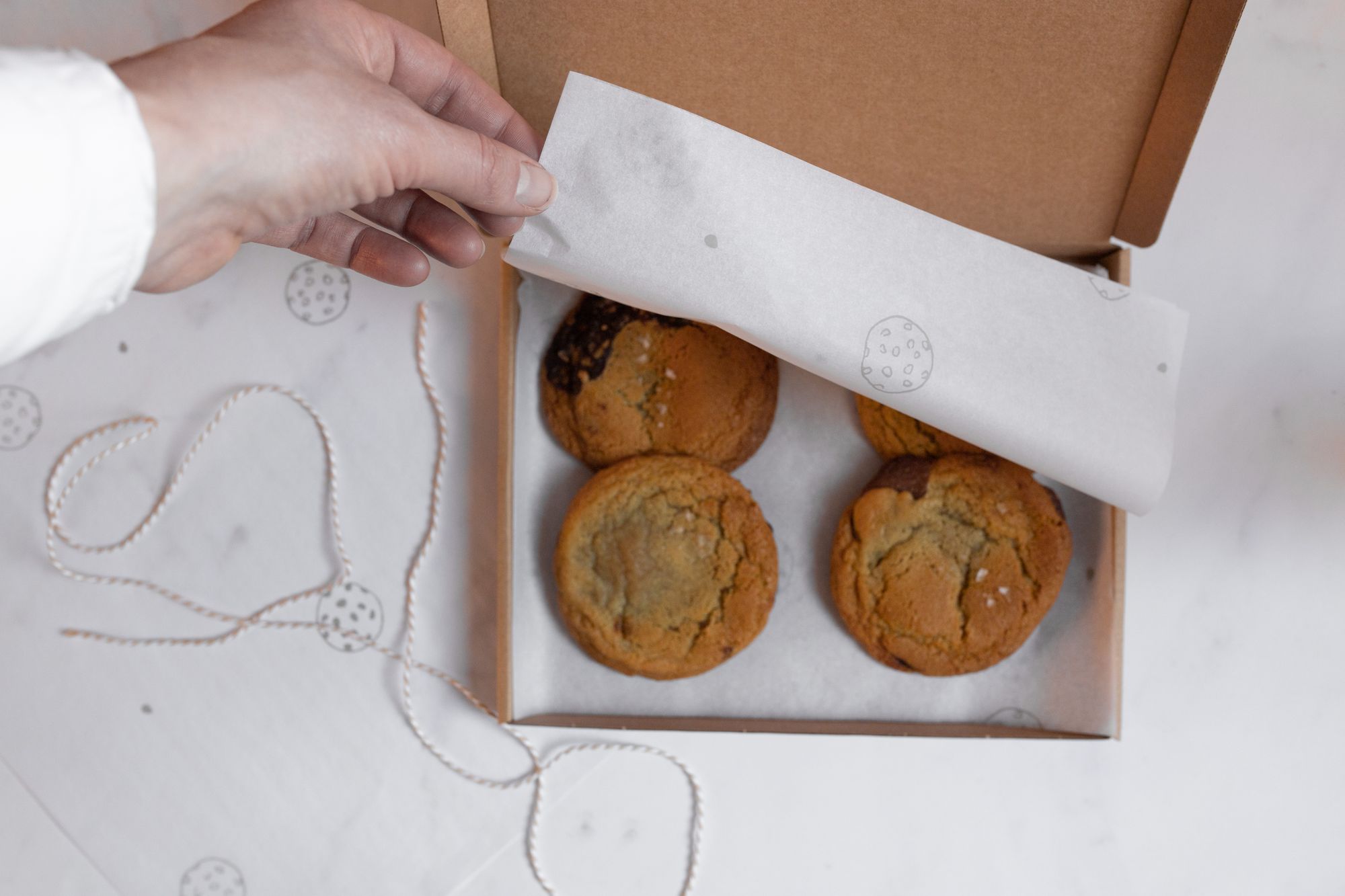 Step 4: Line each container with food-safe tissue paper

Before placing your cookies in their boxes, line them with food-grade parchment paper, wax paper, or biodegradable bubble wrap first. The paper should be at the bottom, sides, and top of the container. If you are packing multiple cookies in the same container, place a sheet of paper between each cookie. Then seal the container.
You should also consider labeling each cookie container. You could use it to mention the ingredients used and will be particularly helpful for customers with food allergies.
Step 5: Place the cookie containers in a food-safe box

Get a heavy-duty cardboard box that is big enough to hold all your cookie containers and still provide room for cushioning. The shipping box you select must also be food safe. You don't want to use a box that has chemicals that can contaminate the items during shipment.
Make sure you stack your cookie containers the right way when placing them inside this sturdy box. Consider the size and weight of each container, and place heavier containers at the bottom and smaller ones at the top.
Note that you should ideally avoid reusing boxes for packing baked goods. Always get new boxes for each shipment because these boxes weaken with each reuse. A compromised box can spoil a perishable item like cookies.
Step 6: Add padding

Fill in the empty spaces left in the shipping box. The goal is to prevent movement that can cause the cookies to break or crumble. Use cushioning materials like crinkle paper, eco-friendly packing peanuts, biodegradable bubble wrap, air-popped popcorn, or newspaper to fill in the bare spots in your box.
The shipping container must be placed in the center of the cardboard shipping box to ensure equal padding. After filling up the box, give it a gentle shake to see if there is any movement. Add extra padding in the event the cookies start to wiggle.
Step 7: Seal and label the box

Next, you need to seal and secure your shipping box with heavy-duty shipping tape. The noissue Custom Water-Activated Tape is perfect for this. It comes in different sizes and you can customize it with your brand colors and symbols.
After taping your shipping box, label it as "FRAGILE" or "PERISHABLE" to ensure it is handled with care. You can also add the "This Way Up" label to guide the shipping company's staff and ensure the box doesn't get flipped about.
noissue Custom Stickers are particularly well-suited for this. Not only are they 100% compostable and recyclable, but also come in a range of shapes and colors.
After delivering your package to the shipping company, it is prudent to let the recipient know that the cookies are in transit. Cookies can get spoiled quickly and the treats will be wasted if they sit unopened for days. You can also provide a tracking number to the customer.
How to ship cookies safely

Before you start packing and shipping your cookies, keep the following rules in mind:
Don't pack different cookie types in the same box: You should avoid packing crisp and moist cookies together. The moisture from the latter can seep in and affect the texture of the crisp cookies.
Don't overstuff or under-pack your shipping box: Adding too many cookie containers in your shipping box can break the cookies. At the same time, underpacking the box will leave a lot of space and cause the containers to move around too much which may also lead to breakage. The optimal approach is to place just the right amount of cookies in a box that leaves enough space for cushioning material between each cookie and the walls of the box.
Shipping cookies with leading carriers
To get your cookies to your customers in the most optimal condition, you need expedited shipping. Fortunately, all the major shipping companies including FedEx, USPS, and UPS offer express shipping options.
Ship your cookie packages using overnight or 1-day shipping options to get your products to customers fresh and early. Below are the best shipping services for mailing cookies offered by the three major carriers:
Shipping cookies through USPS

USPS has no restrictions on the shipment of baked foods and its Priority Mail option is the cheapest way to ship cookies. Shipping with USPS Priority Mail can cost you between $15 to $15 per package.
Here are the most optimal USPS shipping services for shipping cookies:
USPS Priority Mail
USPS Priority Mail Express
USPS First Class
Shipping cookies through FedEx

FedEx requires that perishable foods like baked goods should be packaged to remain fresh for a minimum transit time of 12 hours greater than the scheduled arrival time of the item.
The carrier discourages the use of FedEx 2Day or FedEx Express Saver for shipping perishable foods like cookies.
Here are the most optimal FedEx shipping services for shipping cookies:
FedEx Priority Overnight
FedEx First Overnight
FedEx Standard Overnight
FedEx 1Day Freight
Shipping cookies through UPS

The cheapest service for shipping cookies through this carrier is UPS Simple Rate. The service is only available via UPS.com and it is limited to a max weight of 50lbs. It lets you ship small packages across the United States at a flat rate.
Here are the most optimal UPS shipping services for shipping cookies:
UPS Express Critical
UPS Next Day Air
Best practices for mailing cookies and other baked goods

Below are some more tips that will increase the chances of your cookies getting to your customers safely and in the best condition:
Only ship sturdy cookies

Some cookies stand a much better chance of withstanding the rigors of transit than others. Dense and chewy cookies or those that are hard and crunchy carry a lower risk of breaking during transportation.
Examples include bar cookies (like brownies and blondies), sugar cookies, shortbread, biscotti, gingerbread cookies, Linzers, and oatmeal cookies.
Be careful about mailing thin, crispy baked goods or delicate cookies that have fillings, toppings, or decorations (like sprinkles or nonpareils). These kinds of cookies don't hold up well in transit, and ingredients like buttercream or chocolate chips could easily melt in warm temperatures and create a mess.
Consider freezing your cookies

You can choose to freeze your cookies if you want to preserve their exact taste. Refrigeration protects a cookie from external elements, but you can only use this approach with cookies that have firm toppings.
If you are sending frozen goodies, be sure to check with your shipping company about the requirements for such a shipment.
Use eco-friendly packaging

Many cookie brands are adopting eco-friendly packaging to align with a customer base that is becoming ever more eco-conscious. You can also start embracing eco-values in your company by adopting sustainable packaging for all your baked goods. All the noissue packaging solutions mentioned above are made from sustainable, eco-friendly materials.
Opt for overnight shipping

Speed is key in ensuring your baked goods get to the customer with the desired taste and texture intact. Overnight shipping will help to ensure the cookies get to your buyers quickly.
Use shipping insurance

When shipping fragile products like baked goods, it's important to take steps to protect your shipment. Insurance protects you in the event your cookies get spoiled, lost, or mishandled during transportation.
🎁 Wrapping it up

The tips mentioned above are sure to come in handy for people having a bakery or confectionery business as well as for individuals who are simply interested in shipping homemade cookies to their loved ones. Here's all you need to properly pack and ship cookies that will get to their destination without getting spoiled or damaged in transit.
And before you go, don't forget to check out our complete range of sustainable packaging solutions for cafes and bakeries!