If you've ever pieced together a puzzle, you'll know that a lot of time and effort is spent crafting it to reach the finished product. So what if the puzzle you were working on was in fact designed to be a keepsake that you can proudly have on display, long after you've placed the final piece?
JIGGY creates puzzles featuring unique art from emerging female artists, with a percentage of each puzzle sale going back to the artist. As part of its unboxing experience, it also includes the tools to stick the puzzle together and frame your masterpiece once you've finished putting it together.
JIGGY was founded by Kaylin Marcotte in late 2019 after she dove deep into the world of puzzling as a form of meditation. She found that the puzzles available on the market were outdated, so set out to create puzzles that were beautiful and modern and could double as a work of art.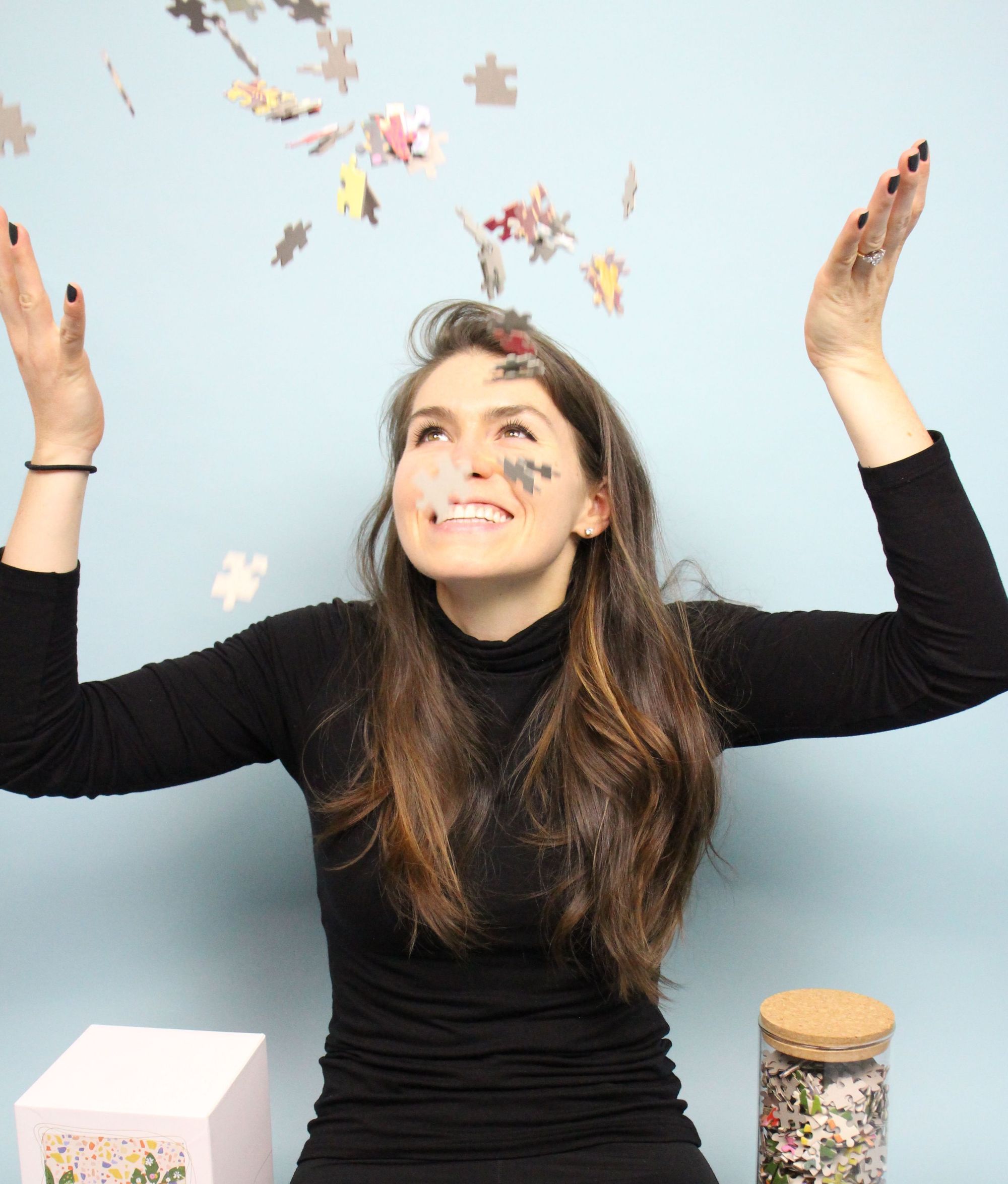 The brand's puzzles also act as a vehicle for social good. For each collection, JIGGY works with six emerging female-identifying artists from around the world to create a unique work of art based on a theme for each season.
"Our goal is to reconnect people with both mindfulness and art," Kaylin says. "We're building a community centered on social impact and holistic health, all the while supporting and amplifying emerging female creatives around the world. We aim to inspire others to unplug and experience art in a whole new way, one piece at a time."
As well as this, all of the materials the puzzles are made from and the components they come with are sustainably sourced and reusable. Kaylin says the glass containers the puzzle comes in are often reused by customers to store stationery, food or other decorative items around the house.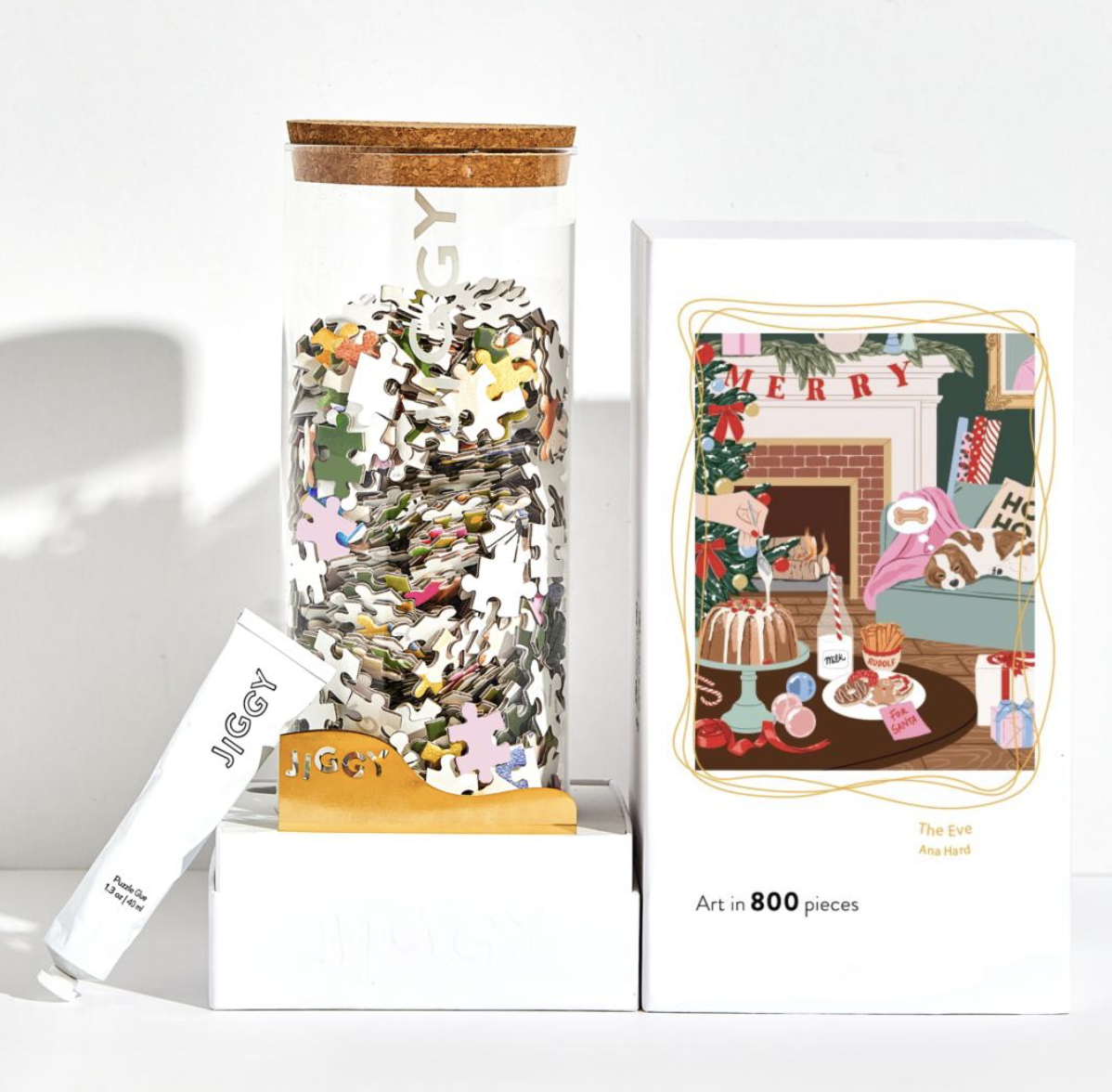 The inspiration behind noissue and JIGGY's holiday partnership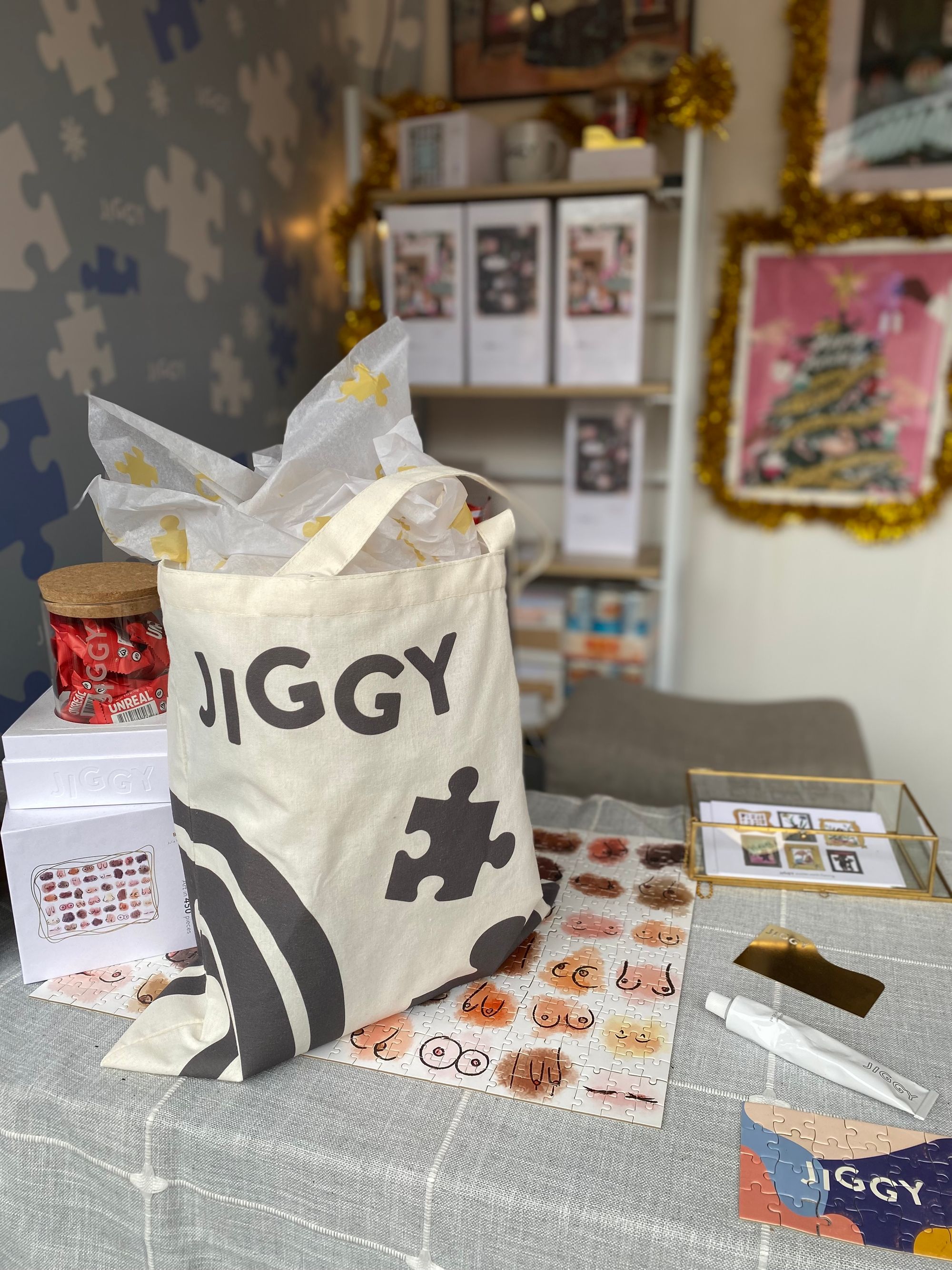 JIGGY and noissue have come together as part of a brand partnership to create custom tote bags and custom tissue paper for the holiday markets in New York. JIGGY's creativity as a brand, their sustainability efforts and their diverse community of designers means the business is incredibly aligned to what noissue is doing in the packaging space, with both companies sharing key values.  
All of noissue's packaging products are made from circular materials and are either compostable, reusable or recyclable. As a company, noissue is working towards being fully carbon neutral as a business by 2022 and we've already started by offsetting the carbon of all our shipping.
Much like JIGGY, noissue's focus on fostering community means they've built a community of like-minded designers and creatives who are bringing brands to life through the Creative Community and sustainably-minded businesses who can be better together through the Eco-Alliance.
Seeing as JIGGY is an ecommerce business, Kaylin says the holiday markets will be one of the first times customers have bought the brand's puzzles in person rather than online. This makes it all the more special that their shopping experience will be enhanced through custom packaging.
"We are so excited to partner with noissue because we love that sustainability is also a huge part of your mission. Like us, you also use carbon offset shipping and many of your products are reusable," she says. "Now, they get to walk away with another reusable item that will always remind them of their time at the Holiday Market!"
The low-down on JIGGY's custom holiday tissue and tote bags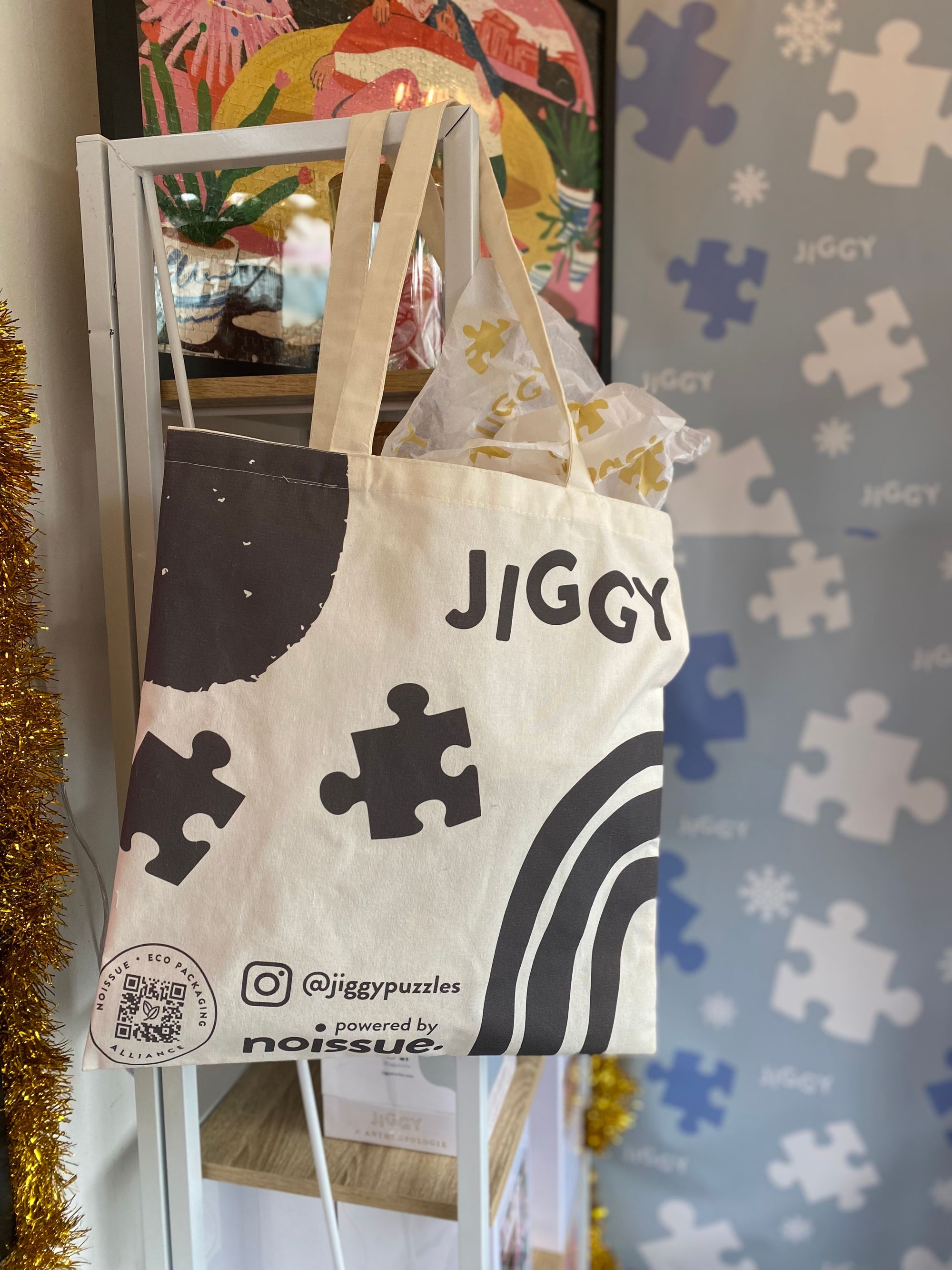 When it comes to noissue's packaging, there's no need to worry about its creation or end-of-life impacting negatively on the environment.
noissue custom tote bags are made from 100% Global Textile Standard Certified Organic Cotton and printed with water-based ink. This is less impactful than growing regular cotton as it is grown without the use of pesticide and created from seeds that haven't been genetically modified.
Not using harmful chemicals not only benefits the environment, but also the health of workers who pick the cotton and the communities who live surrounding the fields.
They are also 100% reusable, which means JIGGY's customers can use them to run errands, shop for groceries and much more!
noissue custom tissue paper is printed with soy-based inks on Forest Stewardship Council certified paper and is acid, sulfur, and lignin-free. The FSC certification guarantees that the paper used comes from responsibly managed forest that meet the environmental, social and economic standards of the organization.
noissue's tissue can be reused as wrapping or decorative paper by JIGGY's customers, or it can be recycled or composted after use.
Where to find the noissue x JIGGY collaboration

The UrbanSpace Holiday Market is held in Union Square in New York City, and is open now until 24 December. Each year, more than one million visitors attend its various locations.
If you're interested in attending and getting your hands on noissue x JIGGY's products, you can find directions to the event on the UrbanSpace Holiday Market website. JIGGY has also partnered with other brands to offer a gift with purchase of each of its puzzles.  
Those brands are Milkbar, Four Sigmatic, Poppi, Emmy's Organics, Bougie Bakes, and Rise Brewing Co. All of the businesses are also taking part in a JIGGY giveaway raffle,  where one lucky winner will receive goodies from all of the brands. This will be announced at the end of the market in late December.
To learn more about JIGGY, visit their website and Instagram.