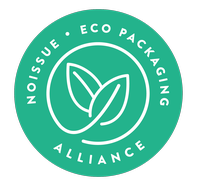 Candles play such an essential role in our society. Made out of wax and wicker, lighting one up instantly taps into your consciousness, creating an incredible link to your past, culture, religion.
Candles have a special way of conveying different messages - may that be of faith, joy, sorrow, and even love. Because of this, we've established that a candle can symbolize so many different things. They've been an integral part of us in both celebration and grief, and will always serve as a sign of hope in the darkest hour.
For Ann Ibasco, candles became her getaway during the second lockdown in the UK. Unleashing her creativity, she started Kandilá Candle & co. and incorporated scents based on her home country, the Philippines:
"My name is Ann Purple Ibasco, originally from Quezon City, Philippines where I was born and raised. I moved to the UK at a young age with my parents, I studied, graduated and now work in the tourism hospitality industry in Surrey, England. I have my parents to thank for as I was raised to be proud of the Philippines and our culture. This is where my brand name comes in 'Kandilá Candle & co.' The name Kandilá  originates from the Tagalog dialect of the Philippines which also translates to the word 'Candle'.
We are based in Surrey, England (UK) and our journey to candlemaking began as a quarantine hobby in November 2020 when the UK fell into its second lockdown, whilst on furlough. Like many others, the lockdown inspired me to unleash my creativity and explore and curate signature scents based on where I grew up, Philippines, the land I and many others call home."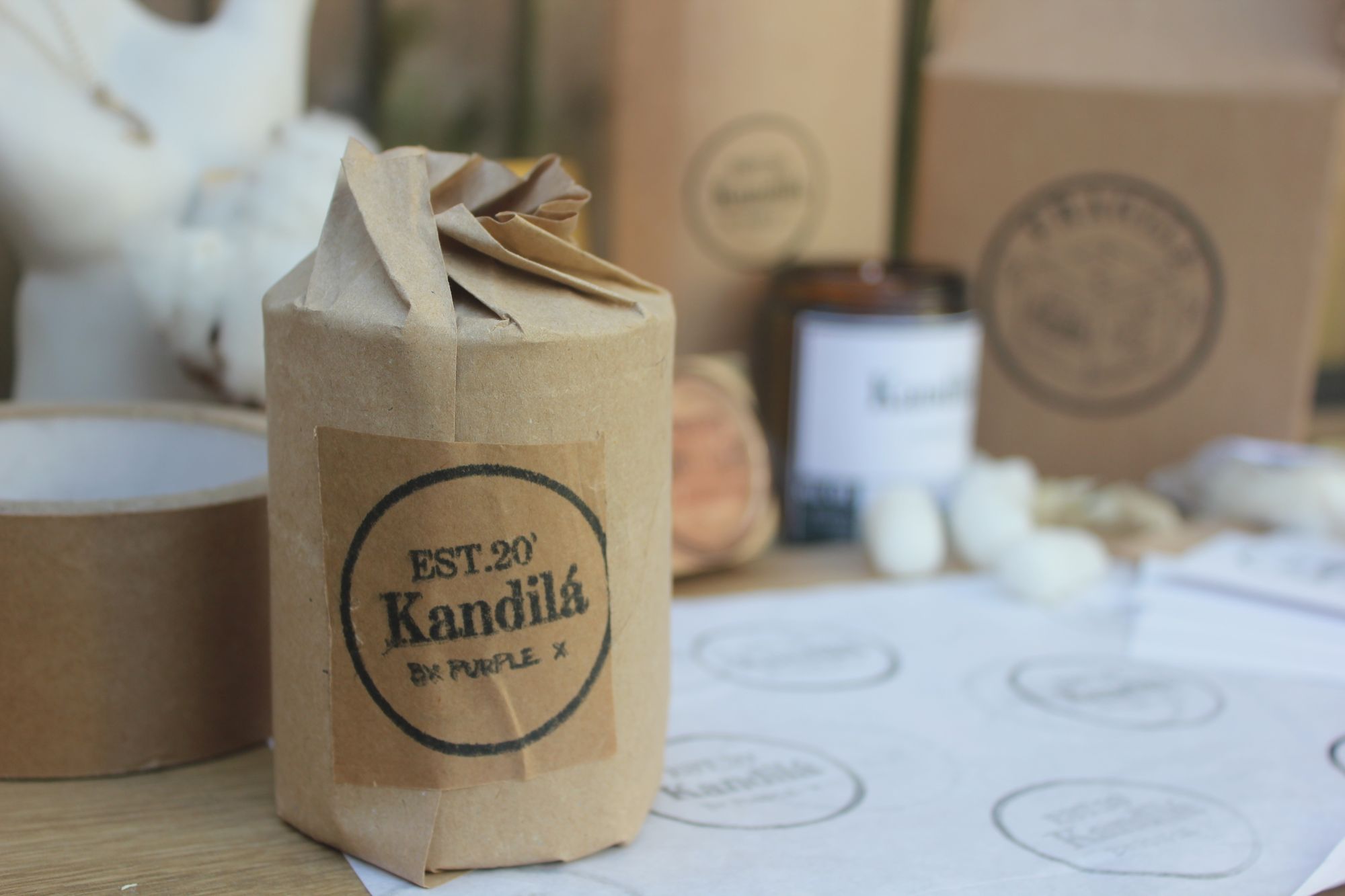 A business' name is often the first element of a brand that customers will encounter. It helps you easily identify and differentiate you from others. Ann put a lot of thought in deciding their brand's name.
"Our brand name means special to us, it means endless possibilities which we as a business strive to follow. In addition, Kandilá co. sounds like 'Kandilá ko' which translates to 'my candle', making it very personal. As cheesy as it is, we go by the saying of 'when you love what you do, everything else follows' and I'm convinced that's one of the key foundations when starting a business or with anything really. I wanted Kandilá Candle & co. to be resonated with culture, to showcase people the rich culture of the Philippines one Kandilá at a time, but also to bring back snapshots of sentimental memories through the scents from the Philippines."
Their business wasn't a stranger to challenges, but Ana is a strong believer that these shouldn't stop you no matter how difficult it may get.
"Running into challenges is completely normal for any business, we know how expensive it is to run a business and cost will always be a challenge for a small business, but, I believe it shouldn't hinder you from becoming creative. This enabled us to think outside the box and be creative how we use our customised stamp in 5 different ways. It's cost effective and it has shaped our branding to what it is today. Probably said it already, but I will always talk about it. I can't express how much we love the noissue stamp :) This is also featured on our website at www.kandilacandleandco.co.uk or visit us on our instagram page."
Going through challenges, Ann has learned to cope and if you're someone who's planning to start your own business, here's her advice:
"Be optimistic and persevere through thick and thin. Starting up a business whether it's online or offline takes a lot of effort, time and finance. Remember to remain grounded and do what it takes to stand out and persevere with what your beliefs and visions are. As cheesy as it is you can achieve anything. There are always new businesses being created everyday, and that shouldnt discourage you from starting your own."
When asked about where she gets her inspiration, she shares, "To keep it simple, my inspiration comes from food, I love all sorts of food, especially Filipino food. I always think about 'how can I make my candles smell exactly like cake? Or even Pandesal?' (the croissant of the Philippines). But with all honesty, I want our candles to bring back some sort of nostalgia, one sniff and it'll hit you back to memory lane."
Quick Q&A!
What makes your product different from others in the market?
"We differentiate our products by our branding and our packaging. Both I believe are crucial to have. We use shredded paper, recycled paper fillers, the ones you'll find in your amazon packages to protect our candles. I never worried about competition because I enjoy the creative part of it. You just have to make or find ways to differentiate yourself from other sellers, there are 800,000+ sellers selling candles on Etsy alone and with a good heart, we look at it like we're the first ones to sell them! :) I believe one of the ways to differentiate your business is to have a consistent branding, especially on social media. We're currently working on another exciting project that will elevate our branding on a whole new level, we're going to be investing on our business cards *seeded paper business cards*"
What's your favorite item in your collection and why?
"My favourite scent from our first collection is 'Sampaguita'. It is the national flower of the Philippines. The smell just lingers! And also because I love it's mythology story behind it, it's better than your typical Romeo and Juliet."
What's your best customer story?
"My best customer story is when we delivered an order by hand. A friend ordered a few products from Kandilá which was set to be sent off first the same day, however, due to the tier system caused by Covid19, our regular post office had limited services and was closed. We knew that our products had to get to our customer before Christmas and it could have but not 100% sure. So myself and my partner decided to deliver our products ourselves and surprise our customer and friend on the same day. The round trip journey was  2.30 hours but well worth it."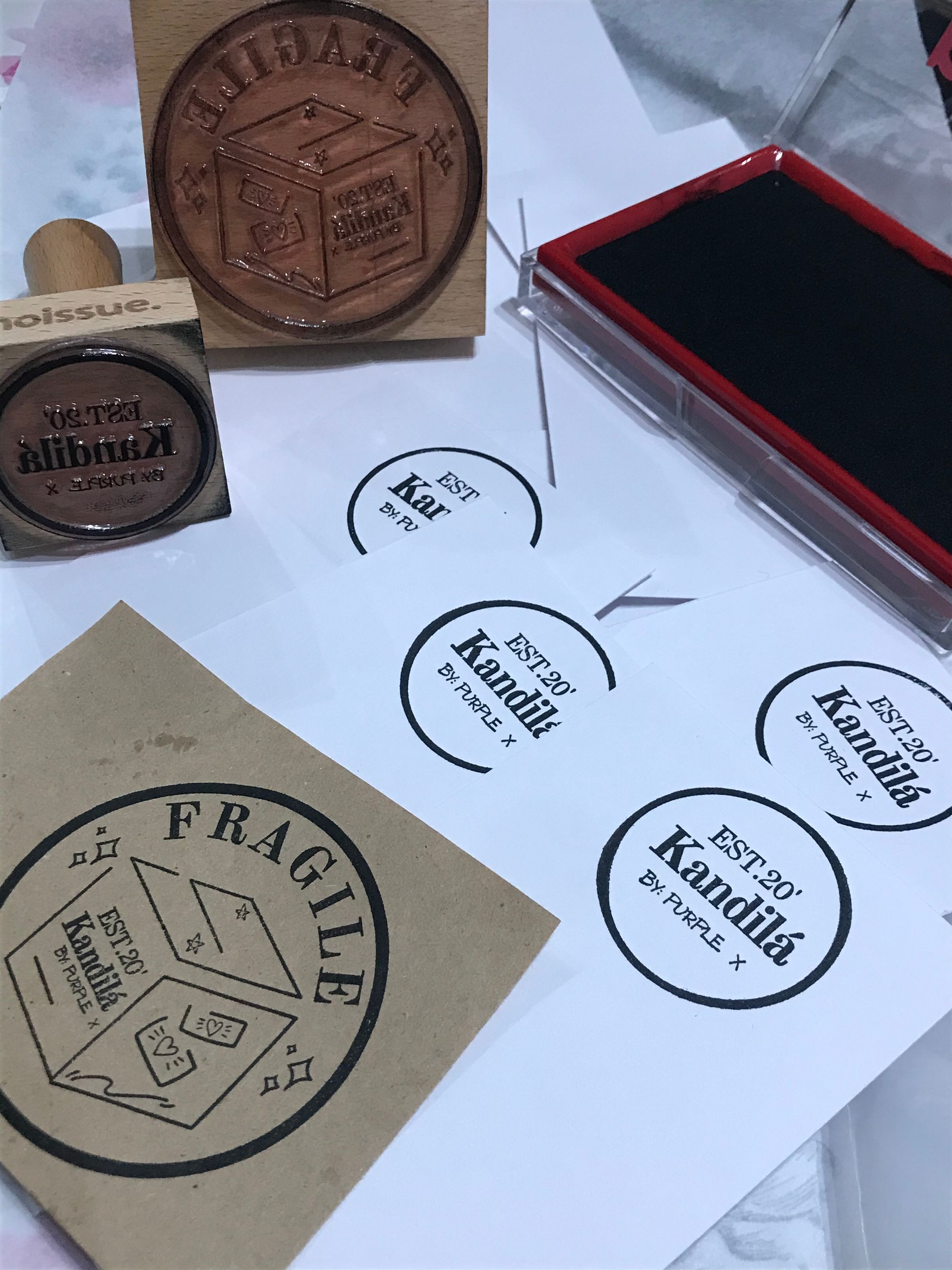 Unlike other home fragrance brands, their products are hand-poured and created in small batches. Ann believes that when you love what you have, you have everything you need, so she encourages others to take care of mother earth. It's a message she wants to send out to her customers.
"From the very start, I wanted Kandila to be transparent when it comes to the subject of 'sustainability'. As a brand, we're constantly working on projects to make us stand out, encouraging people take an eco-friendly approach when purchasing products from us. I think starting a business comes with great responsibility, and with that I want Kandilá to take this road to sustainability seriously, and I think most businesses should. We're so lucky that companies like noissue exist, that helps businesses find a better alternative to mitigate the current issue of excessive plastic consumption when it comes to their packaging. It's not about making your business 100% zero waste but rather getting businesses to join the movement to be environmentally conscious, small collective efforts make a great impact for the good of our earth."
Ann saw that custom packaging is a way to strengthen their brand's identity. Their brand's beliefs and purpose must reflect on it. It also helps make the unwrapping experience special.
"From the early stages of starting our business we invested our time and energy to create a structure for our brand. There are so many ways to elevate your brand and for us we decided to go with custom packaging. Super in love with our stamps, it just adds a little something to my order, we want our buyers to have a positive experience when receiving their parcel. Like a kid who's eager to open presents on Christmas day, who wouldn't want that?"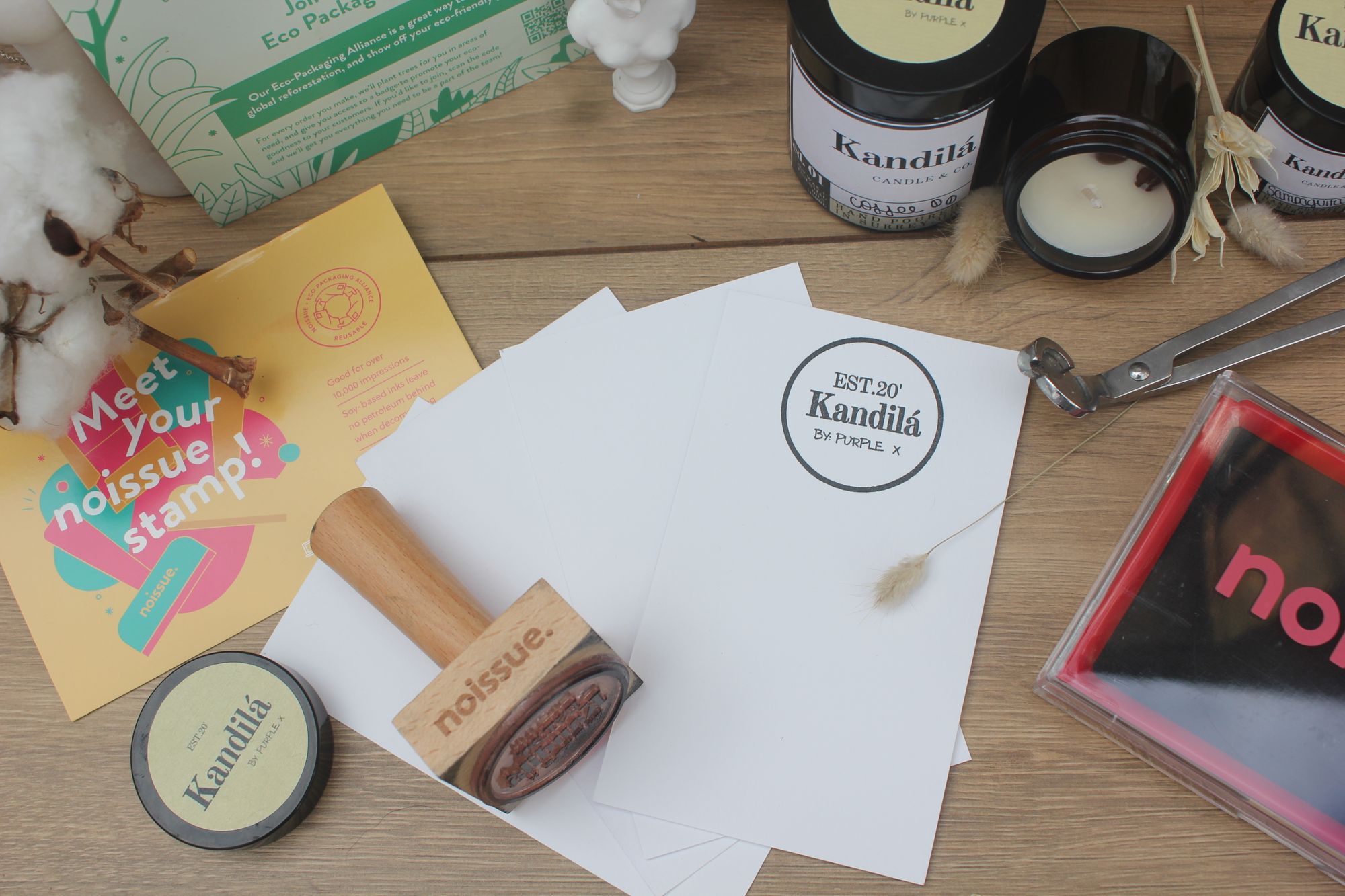 "We chose noissue not because we heard many great customer reviews, but because they offer more unlike any other greenwashed companies. They allow us to be a part of their packaging alliance, plus the opportunity to plant trees??! It really is a complete package."
Kandilá Candle & Co. fun fact:
"If our brand were a room, it'll have a brown accent wall and you'll find plants and flower pots all over the room and lastly a candle burning by the fireplace. "
---
Find more of Kandilá Candle & Co. here:
Website: www.kandilacandleandco.co.uk
Instagram: kandila_c.co
Like this story? Tell us yours! Share your brand story and love for your custom packaging and get a chance to be featured on the wrap! If you're a noissue customer and are interested, you can join the Eco Packaging Alliance by clicking here and emailing us your story at ecoalliance@noissue.co!