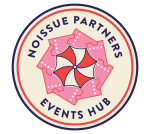 The Big Fake Wedding is a bridal show alternative complete with a meaningful vow renewal ceremony, light bites and a dance-party reception. CEO, Jennifer Ammons, shares how the TBFW team successfully adapted to include micro weddings in their offering in 2020, upholding the sentiment that love is never cancelled.
In 2008 photographer, Callie Murray, pitched this crazy idea of hosting fake weddings and subsequently launched what was originally called The NotWedding. For years she fought the idea of it being an actual business that would spread across the country. In 2017, when my husband and I bought the business from our dear friend, our goal was just that. It was a complete whirlwind to finally own what we know call The Big Fake Wedding (TBFW); a company I had admired for so long from a friend that was my mentor. I bought the company and 17 days later had my first baby. Since then, our team has reached over 25 different cities, helping over 900 vendors and small businesses grow on an annual basis. Our experiential marketing platform has been a starting place for some and a safe bet for our returning "friendors." We are honored to be this for them and to continue this growth, value, and care through what has been the hardest year on the books.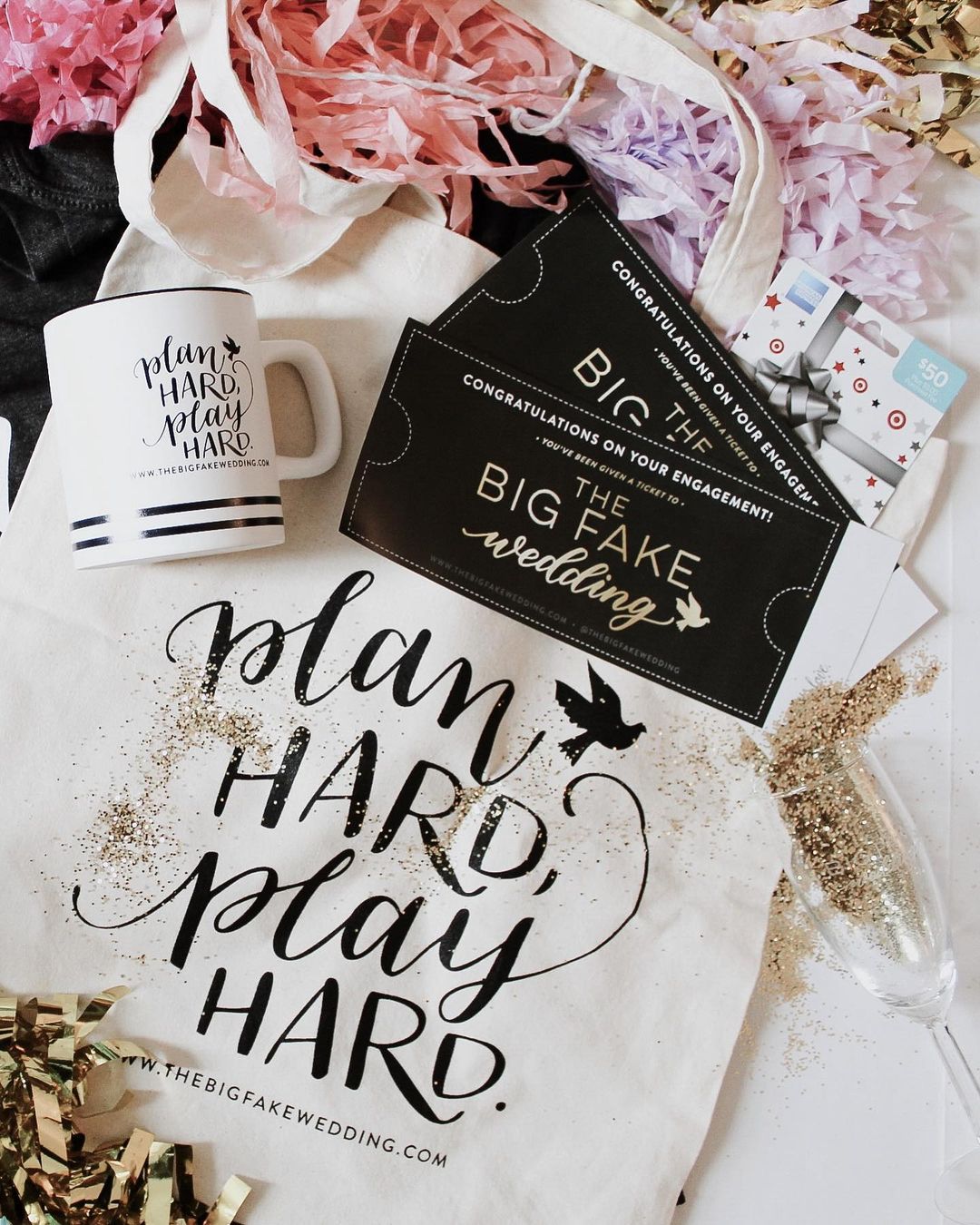 I'm pretty sure I declared 2020 "my year" in December of 2019. I had my third child in February of 2020 (yes, we grew our family while growing a budding business.) On my maternity leave, the world started to unravel. At first, I didn't quite grasp the heaviness and longevity of the pandemic we were about to enter and I, for sure, hadn't planned for how this would affect a business based on experiential events and connecting in-person. I often call 2020, the year of the pivot. Our response was silent but quick - saddening and inspiring all at the same time. I had to immediately cut costs, say goodbye to employees that are my best friends while also motivating the small team I had left to do the work of an army. The leadership lessons I have learned in the past 12 months add up to a novel that you won't ever receive in school. But the reason we were able to last has nothing to do with me and everything to do with the team that made it happen. Here are our team's biggest takeaways:
"Feed your family."
We often call our network of over 9,000 vendors The Big Fake Wedding family. They are the reason we exist, we are here for them and honestly, the reason I do this whole fake wedding thing. As we learned more and more about this pandemic, the news of businesses closing and venues hurting came in waves. We were hurting too. We knew that if we were going to make it, we had to remain true to our cause, what mattered to us. We immediately began hosting quiet, no fanfare, vendor virtual cocktail hours for us to share what we were doing to survive, to connect, and to vent. We continued elevating them through our social media and digital platforms. We continued to be the reliable and calm brand they knew and that helped us make our next move: micro-weddings.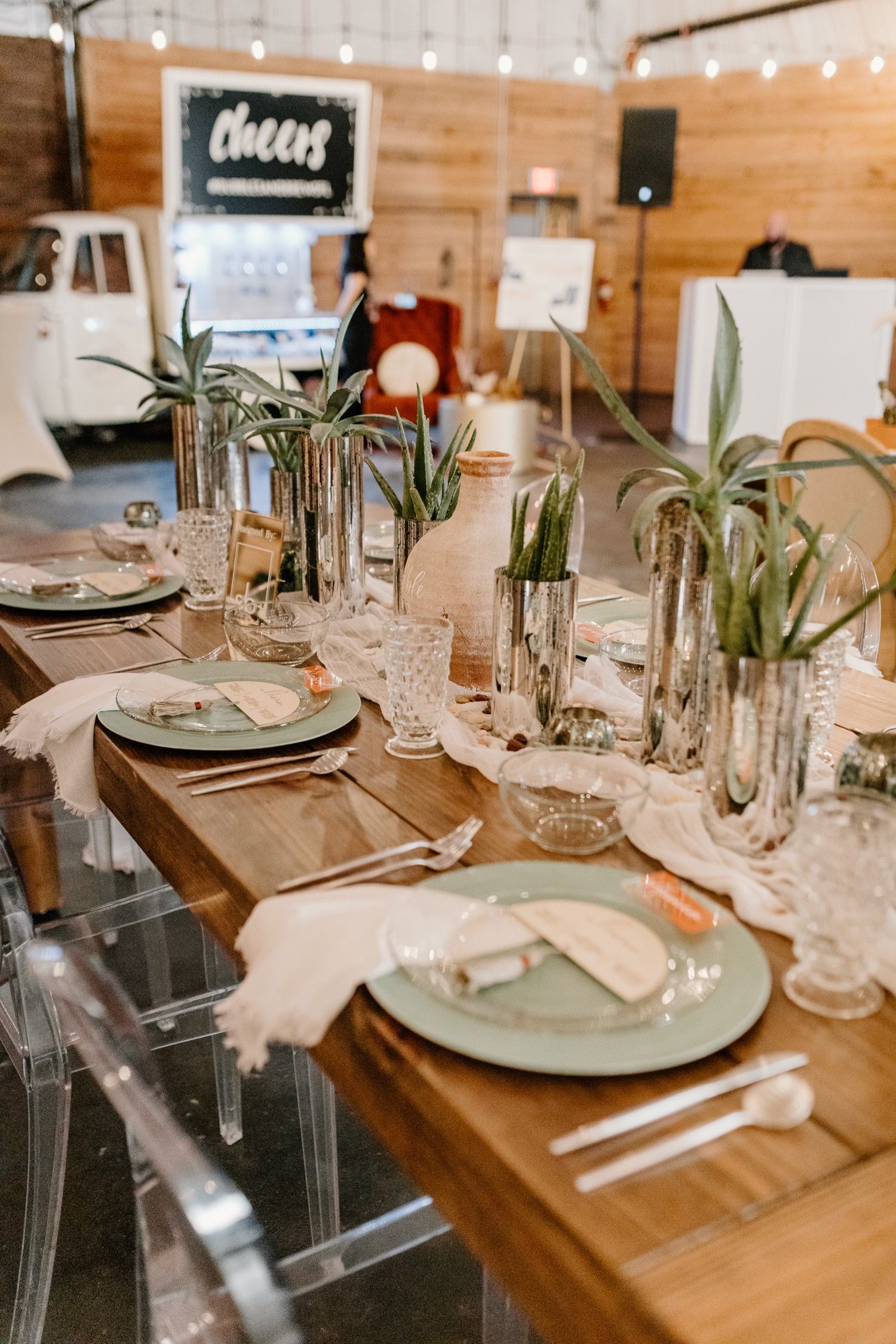 "Be the customer. Retain or add value where it aligns."
We didn't cancel. We didn't say, "Go big or go home." We said, "Let's align this perfectly with our second goal to support committed marriages…because isn't that what your wedding day is all about?" It became clear to us that the secret sauce we've been talking about for years could continue to survive in both experience and principle through smaller intimate settings while retaining its value for vendors.
We remained and remain committed to rescheduling not canceling events and to keep our attendees, virtual pass holders, and vendors' experiences in the forefront of our minds. We brainstormed: How can this virtual experience be as memorable and tactile as our live events? What are our vendors experiencing right now personally? How are our brides and grooms dealing with rescheduling or continuing their weddings? HOW CAN WE HELP? What problem are we solving? Does it align with our heart and mission? The answer was yes every time so, we kept going. Every decision and pivot was put through the lens of our branding and our own special sauce. We kept true to ourselves.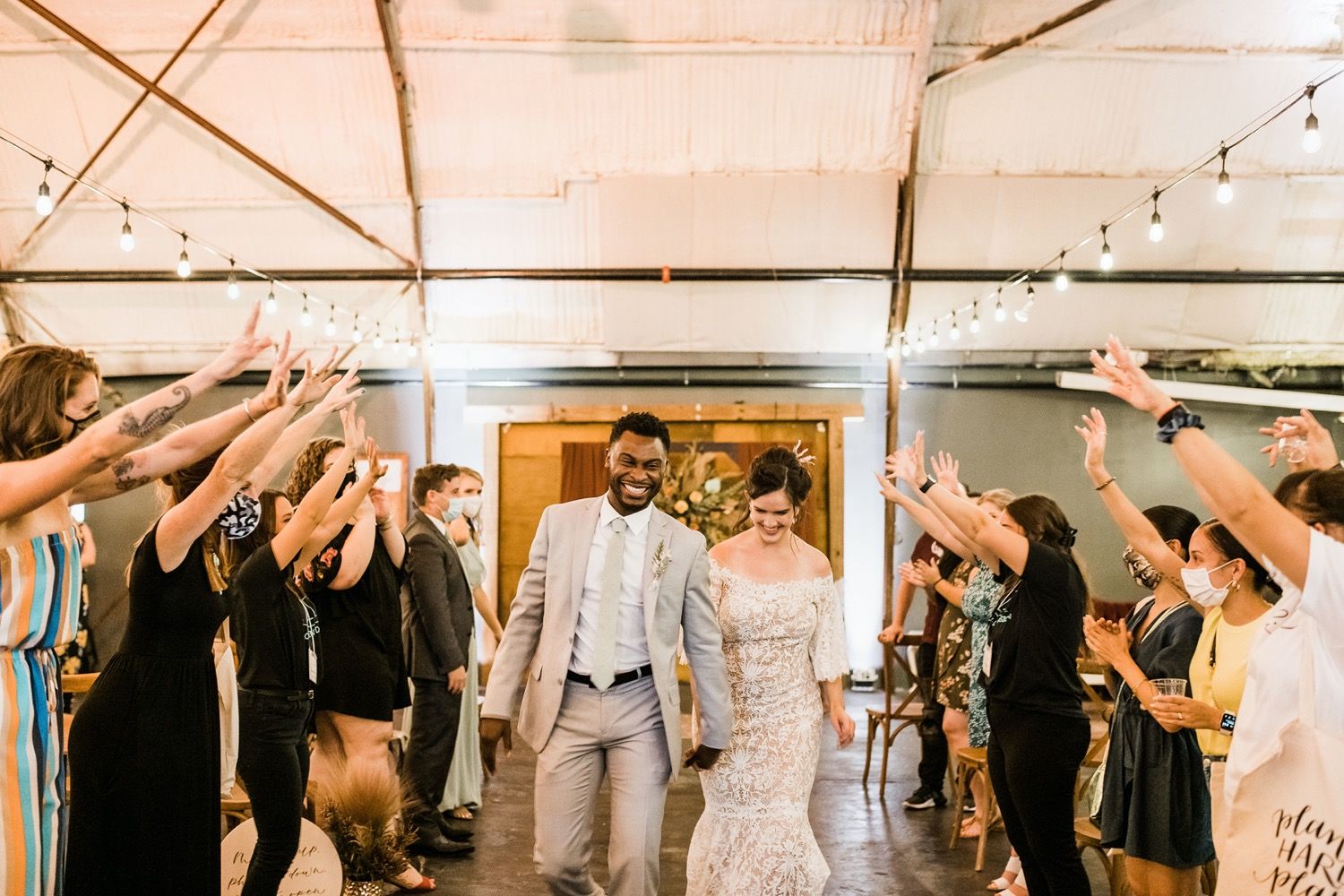 "Safety, but make it fashion."
In the days we brainstormed our pivots, I called those "blue sky days." "Yes, and…" meetings that meant money and logistics weren't questioned, value and experience were front of mind. But, the reality was there was actually no money (we had drastically cut investment fees for vendors - another way we were showing they were our priority and we were in this together) and a lot of logistics that needed to be questioned. We treaded lightly and headed all recommendations from CDC and local government. We were all pretty burnt out from the hustle, the pivot, the workload, the decision making, so we created a play book to help the team make decisions on event safety following certain unique circumstances and we published it to help ease guests' worries. It became our go-to guide on how to navigate safe events. This included limiting attendance, staggering entrance times, removing seating, eliminating buffet lines and passing food instead, using venues with outdoor space and ventilation, making stickers for vendors to remind guests to social distance, new signage, floor markings… and that's just to name a few! We were determined to show couples that they could (if local mandates allowed) have a celebration of marriage, it would just need to look different. The protocols we followed helped guests, but it also helped vendors get a feeling for what our "new normal" in the wedding industry would look like 2020 and beyond. It was an entry point to the possible and we took that very seriously.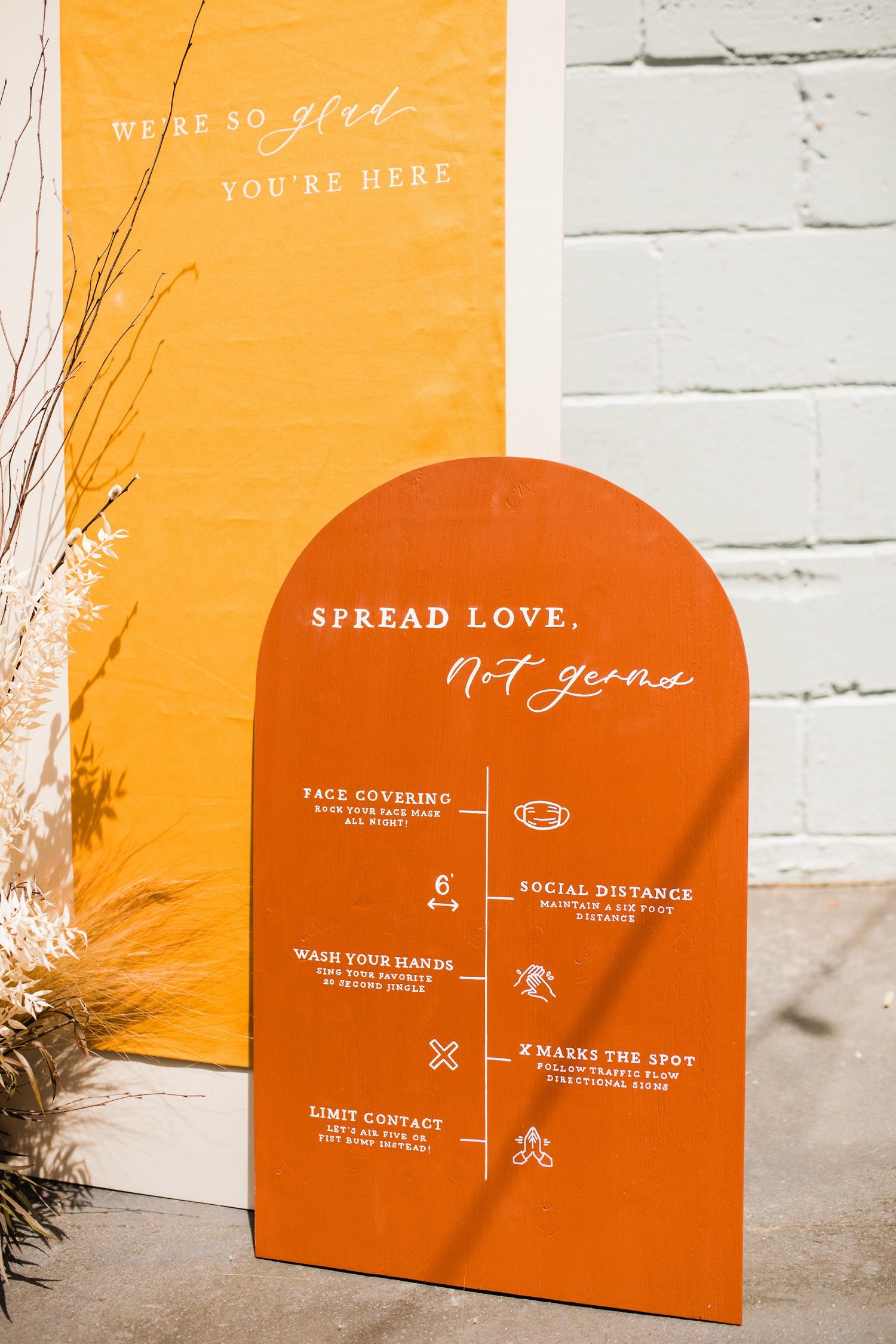 I wouldn't quite say that we've made it out just yet, but every day I'm feeling more hopeful. The amount of gratitude and happiness I feel from doing this beside my small team is a gift I didn't think this pandemic was going to give me. I feel more empowered to lead and to grow. 2021 has already brought so many positives and wins to our growing team. The above process might seem pretty straight forward but the trial and error we experienced over the past 12 months was nothing short of failing fast. We tried, we fell short, we tried again but differently, we fell short again, we kept trying. That process has lent itself to digital products and platforms that did not exist for us prior to 2020 - namely Accelevents + Hopin. These are products that we plan on keeping and expanding going forward because they have added value to us and to our vendors and guests. These products achieve our original goals AND can be made profitable in years to come. I don't think any of that would have happened if we had not kept our brand filters up and our value creating high. That concept will stand the test of time.
Keep up with @thebigfakewedding on Instagram and snag tickets to an upcoming event here!