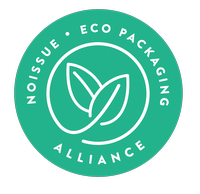 Turning your art into a small business is not easy. With the rise of different types of artists building their portfolios on social media, many have decided to sell their designs in the forms of prints, stickers, stationeries, and other kinds of merchandise such as accessories like enamel pins. England-based artist Jem is making waves on the internet for her quirky and sex-positive illustrations on her brand Maidfetish.
"So, my name is Jem & my brand is Maidfetish. I get a lot of comments on my chosen name, but it's not a super interesting story. There was a character from a series I liked that had a french maid version come out as a character card, and I used the image as my profile picture for a while. The joke stuck."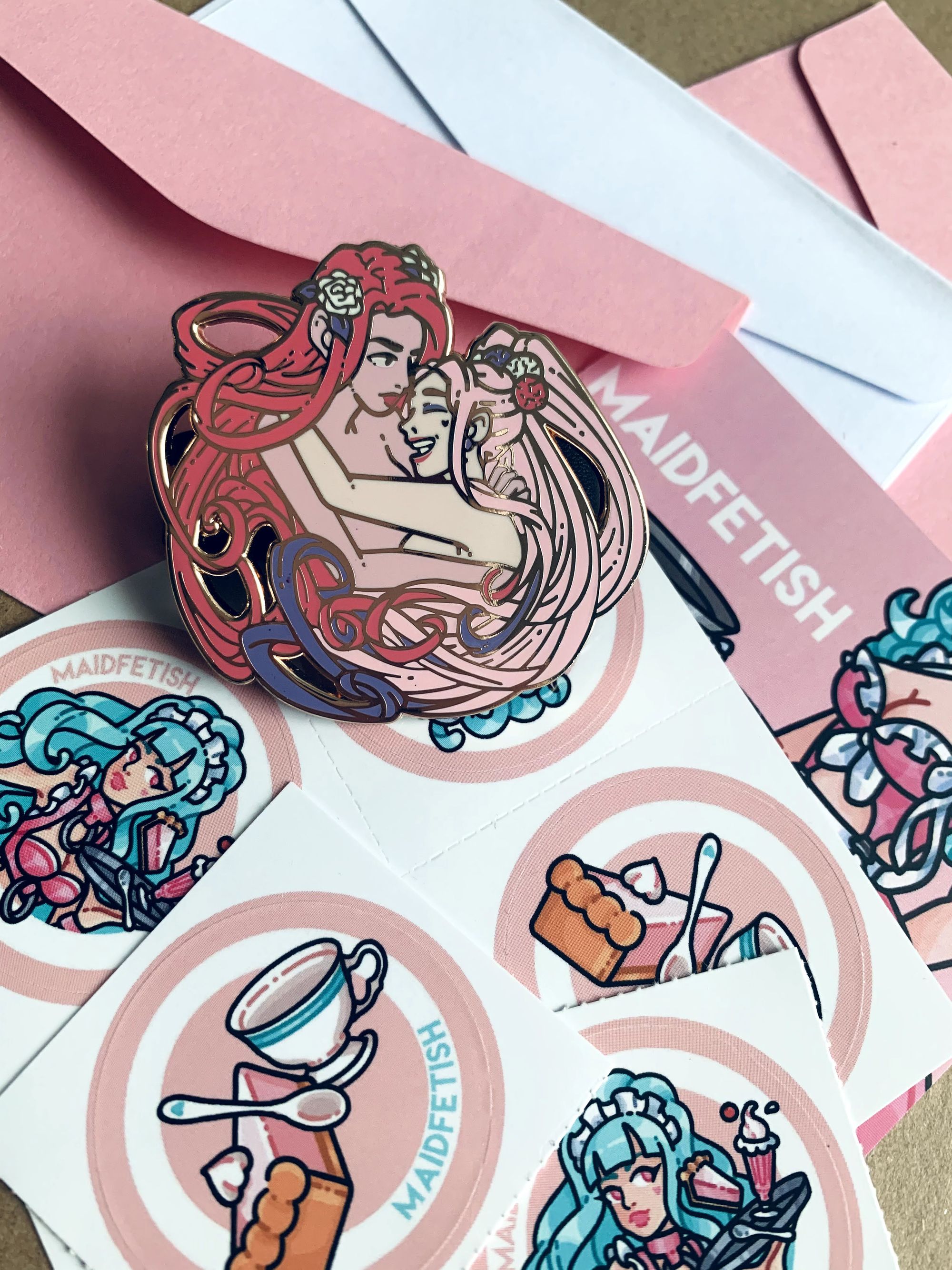 Browsing through her Instagram, you can see how Jem's unique designs are inspired by anime, Japanese culture, and iconic female characters from pop culture such as Totally Spies, Winx Club and Shego. But her brand wasn't always like this. Maidfetish started on Instagram during the early part of 2016. Initially, Jem was posting traditional art until she received an apple pencil during her 19th birthday. This urged her to switch to digital and create art with her iPad, and opening to many opportunities.
"After the first year, I started selling prints and stickers with a stable amount of success. The friends and connections I've made through this process have been amazing. However, at the start of this process, I was also completing my degree in Criminology, so I didn't consider it a full-time business or even consider it a part of my future goals. Two years later, after completing my degree, I now work in student accommodation and do art commissions and open my shop part-time. Having a better grasp on business and employment, now, I think I realize that art and running my own business is something I'd like to pursue full-time and plan to in the coming years."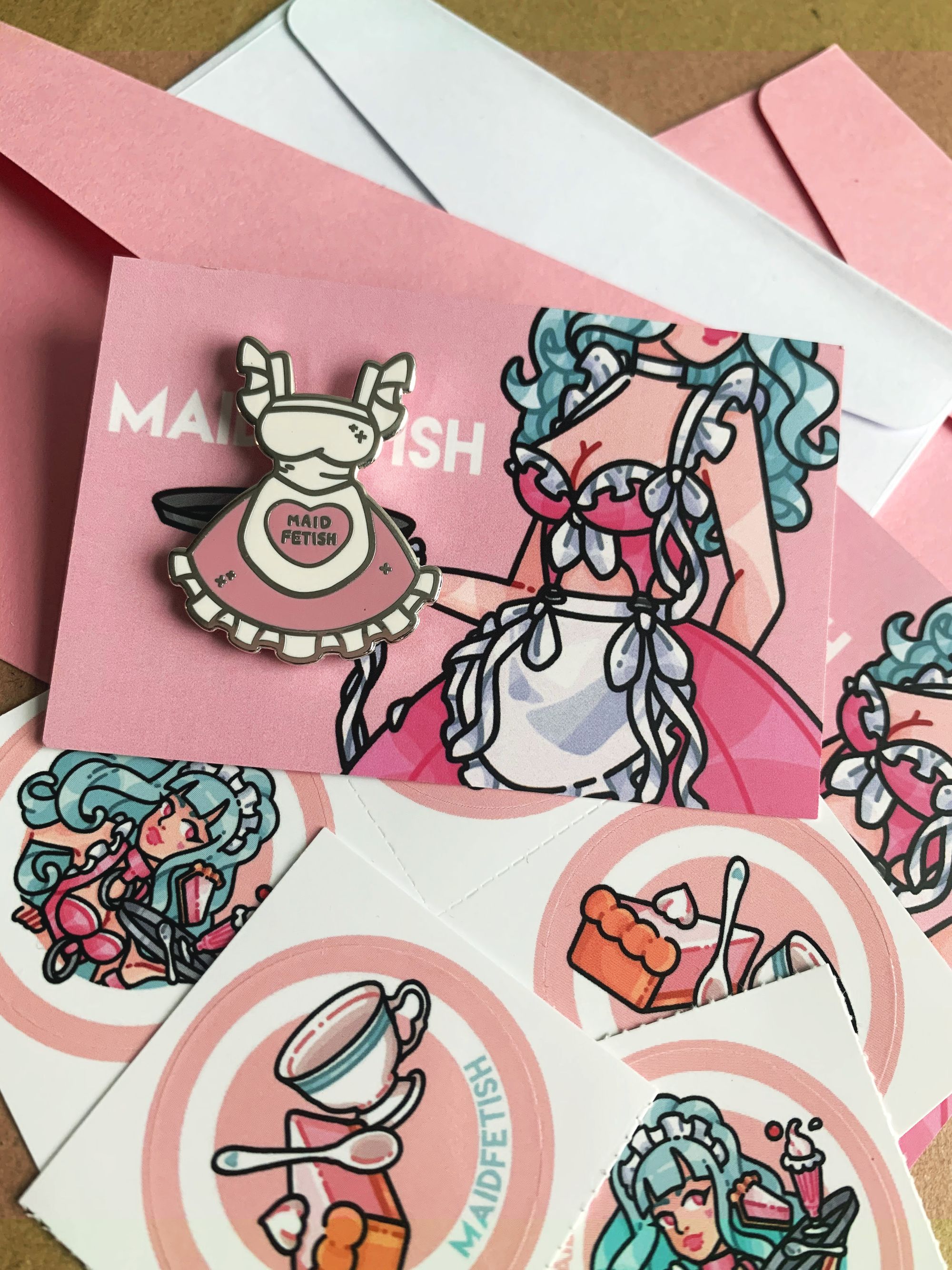 Right now, her brand is a passion project and a creative outlet that allows her to earn. She hopes to explore more about enamel pins and have her art for her financial stability while being able to pursue this passion and interest at the same time.
" I have recently opened up my Patreon monthly print service. But in the future, I would love to pursue an enamel pin tier. Enamel pins are really popular at the moment and something I love to be able to design and produce. I like the manufacturing aspect of the business, communicating with manufacturers, designing packing, & upselling."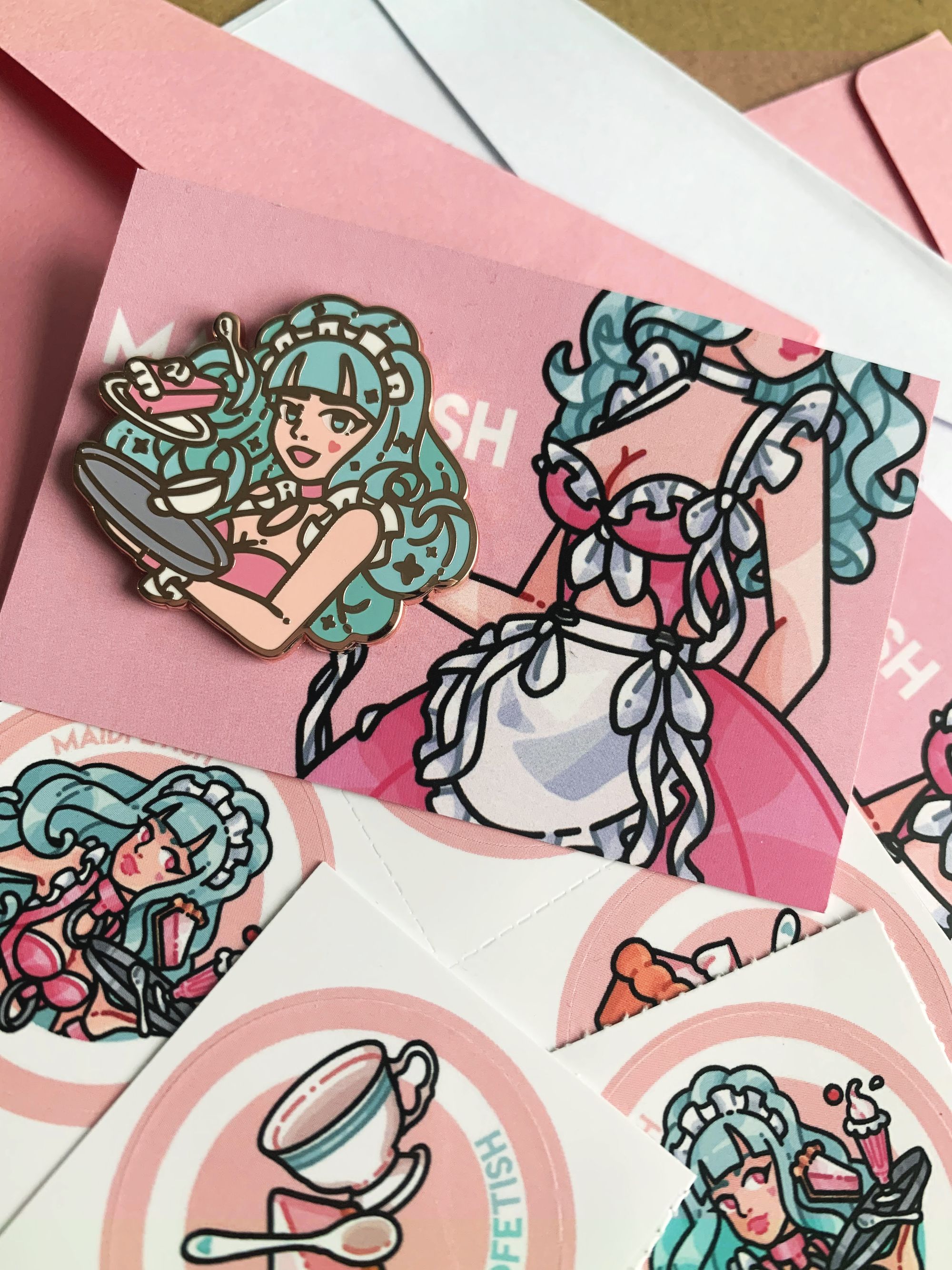 Aside from the fact that Jem gets to draw her favorite characters, Maidfetish also draws inspiration from Jem's self-expression and becomes a space of sexual inclusivity.
"Inspiration, for me, comes from many places. Mainly drawing characters and taking themes from anime and Japanese culture, paired with pastel colors. I also tend to cater to a slightly more adult audience; a lot of my art focuses on bondage and sexual inclusivity. I like to be able to express my love for lingerie and the female form via art."
Once an artist gets their art out there, they're bound to encounter the support of the art community. Jem mentioned that through her encounter with this community, she has met a few artists who have helped encourage her during difficult times.
"Someone that I will also look up to, and sing the highest praises is @coffeekats (Kali). I've known her since she almost first started and watched her grow with me. Being a traditional artist on Instagram & social media, I feel that it is a lot harder as you're constantly pressured to create art fast. And she seems to also post and produce the highest quality watercolor pieces constantly. She is also super connected in the community. Everyone knows her and has only good things to say. Truly, an amazing person, artist, and inspiration."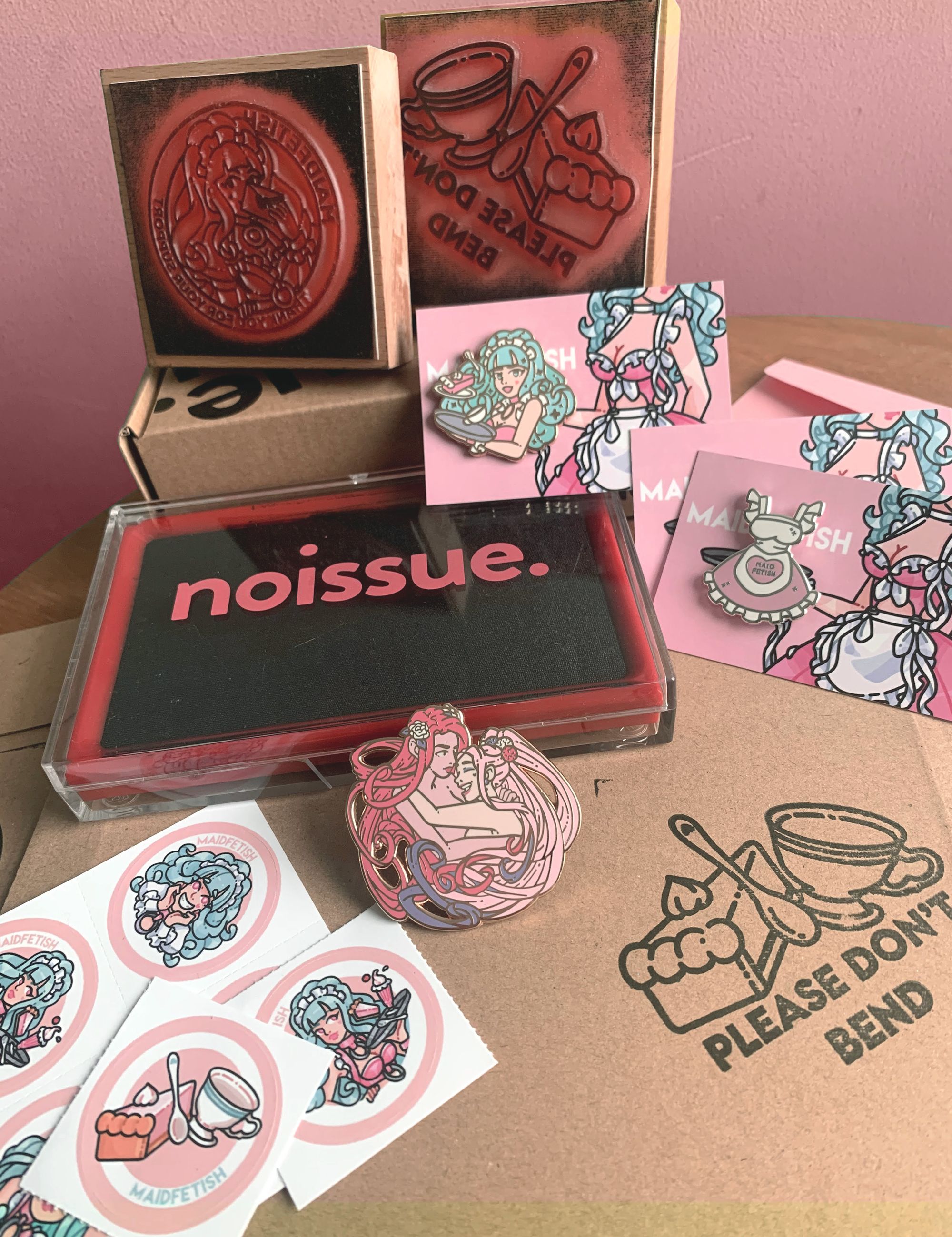 Just as how passionate she is with her art, Jem sees the importance of making sustainable choices and how they can positively impact our planet. Consequently, she chose to use eco-friendly packaging for her orders.
"I try to make sure that the practices I use are consistent and eco-friendly while also making my packing and products aesthetically pleasing. Stamps from noissue were the best way to go for me. They will last forever with no recording and minimal upkeep. I also try to use glassine bags instead of cellophane for prints as I am aware they are more biodegradable and don't cause as big an issue for the environment. As a very small business, it's hard to make some changes due to the cost; but everyone can take little steps like these."
To perfectly represent her brand, Jem had her packaging materials customized and really wanted her stamps to reflect her designs down to the last detail.
"noissue made it extremely easy to customize my stamps, I was a little worried my front stamp would be too complicated of a design, but it came out perfect. The process of uploading my design was super easy, and it stamps well every time. Their customer service is also amazing. I had an imperfection on my first order, so I emailed asking if it could be replaced. Within the hour, I was contacted back and issued a replacement which arrived within the week."
---
‌Find more of MaidFetish here:‌
‌Website: maidfetish.carrd.co
‌Instagram: @maidfetish
Like this story? Tell us yours! Share your brand story and love for your custom packaging and get a chance to be featured on the wrap! If you're a noissue customer and are interested, you can join the Eco-Packaging Alliance by clicking here and answering a few questions here.
Questions? Email us at ecoalliance@noissue.co.