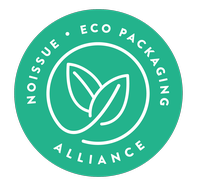 As a graphic designer at the Royal Tyrrell Museum of Paleontology, Mary Sanche is no stranger to massive creatures who once roamed Earth, and the condition of the world in the late Cretaceous period. But aside from creating wonderful illustrations of fantastic creatures, she also produces Natural Formation Handmade Paints that come from the Canadian Badlands and existed during the time of dinosaurs:
"Hello! My name is Mary Sanche, and I operate out of Drumheller, Alberta—the dinosaur capital of Canada! I'd like to acknowledge that my home and livelihood exist on Treaty 7 land, the traditional territories of the Siksika, Piikani, Kainai, and Tsuut'ina Nations, and the Stoney Nakoda First Nations."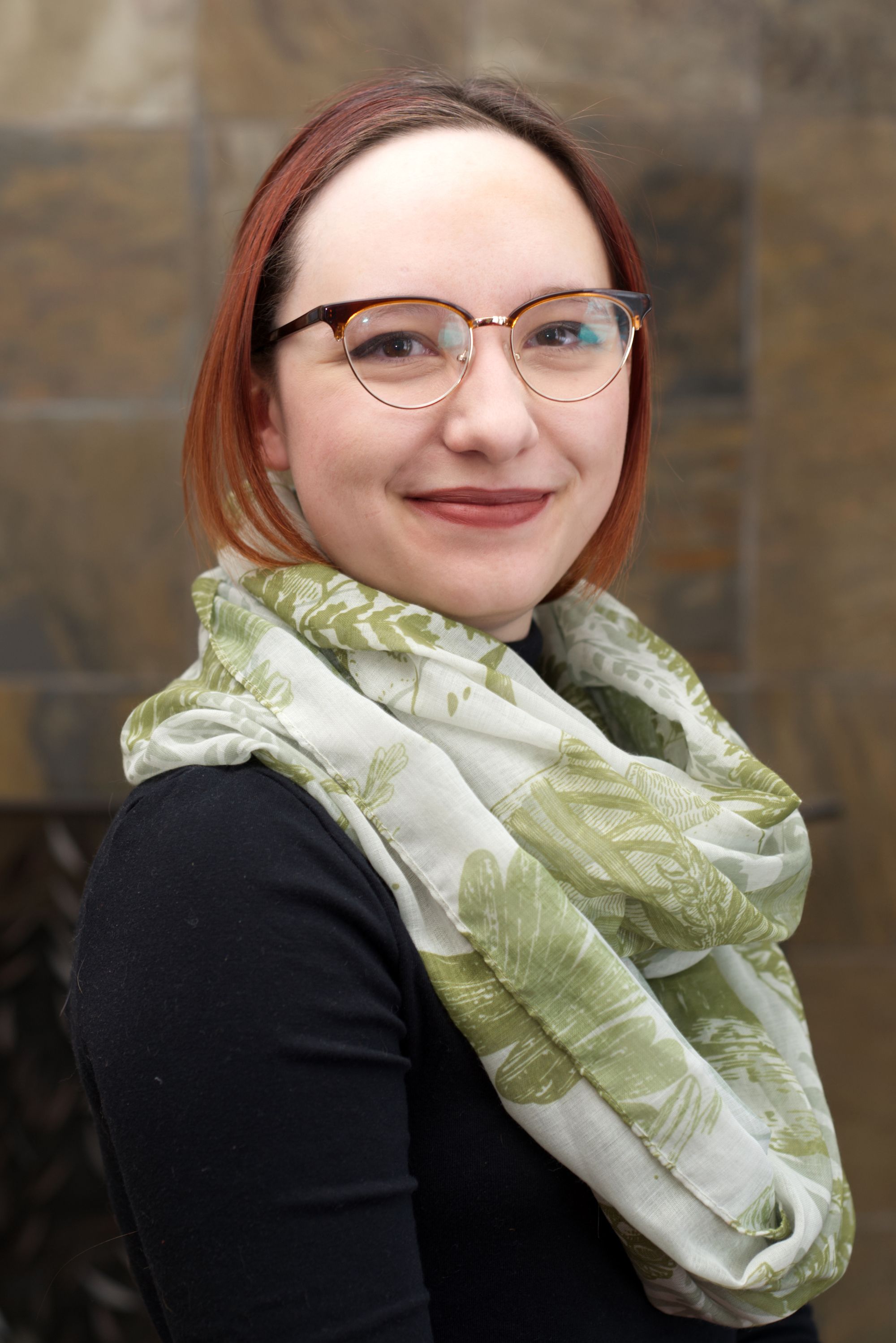 Mary creates whimsical watercolor and gouache art that is inspired by nature's beauty. As a graphic designer for a museum's Paleontology department, you'll see fanciful creatures in her illustrations.
"I like to affectionately refer to my small business as my 'tiny' business. I design and produce fun stationery inspired by the Earth's natural history, and I've just started my handmade watercolour brand, Natural Formation Paints, which is just starting to get off the ground—and all of this is done on the side in the spare time I have left from my full-time position at the Royal Tyrrell Museum of Palaeontology. I think that I just have too many ideas and too much love of art and design that I have to share it with the world, through the products I create."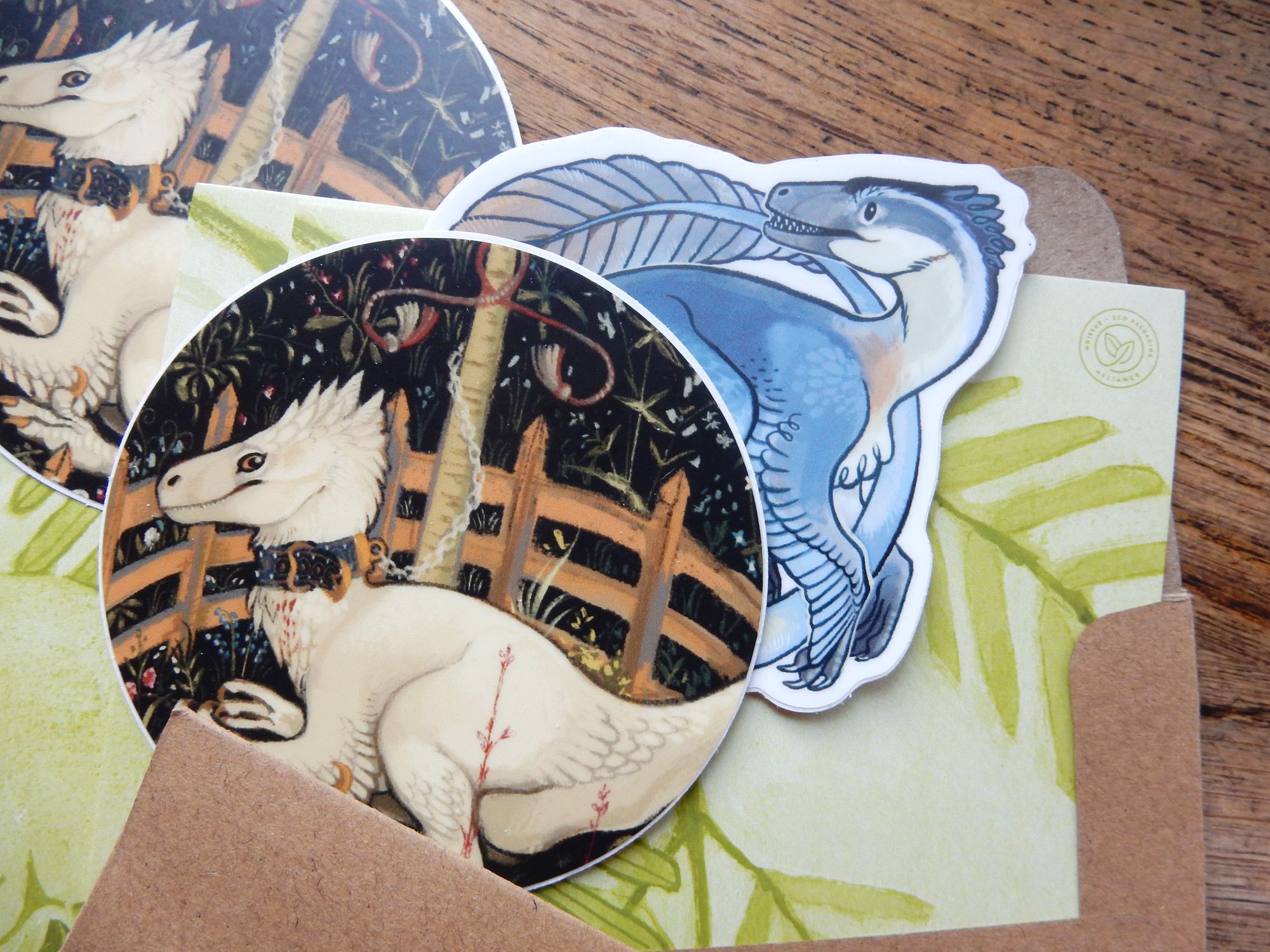 Her love for the environment has led her to become wise and thrifty with her packaging. She has applied a good strategy to make sure that she is not creating more waste.
"Since my business is so small, it's easy for me to transition into eco-friendly packaging in the sense that I don't use it very much, to begin with—but trickier because of the limited finances I have to invest in packaging. Therefore, I've started leaning into a 'reduce and reuse' mindset, reusing packaging I get from other creators and reducing the bits-and-bobs that go into my packaging and branding. noissue's custom stamp fits into my plan perfectly. After all, it eliminates my need for 'thank you' cards and envelope stickers because it fulfills the roles of both with one perennial tool!"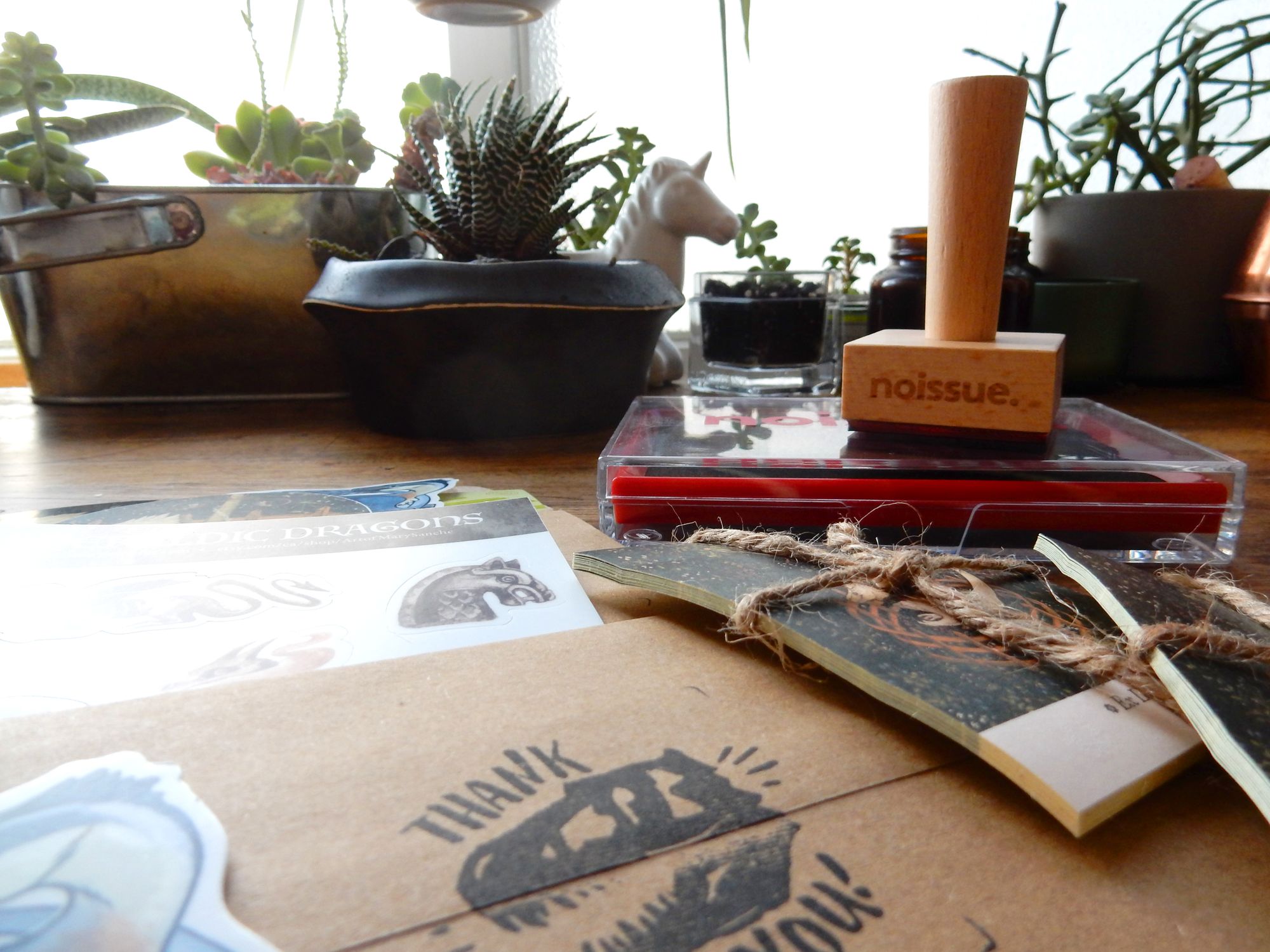 "I loved the process of designing my stamp, and the on-site design tool worked just as I expected as a professional designer. The result is something that I can use for the entire lifespan of my business."
Mary Sanche fun fact:
"If my brand were an animal, it would be a dinosaur because dinosaurs are such an integral and inspiring part of my practice!"
---
Find more of Mary Sanche here:
Website: www.marysanche.com
Instagram: @thoughtsupnorth
Like this story? Tell us yours! Share your brand story and love for your custom packaging and get a chance to be featured on the wrap! If you're a noissue customer and are interested, you can join the Eco Packaging Alliance by clicking here and emailing us your story at ecoalliance@noissue.co!