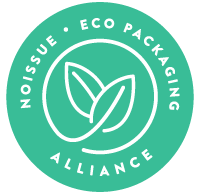 Have you tried art therapy?
When the pandemic happened (a memory we wish never to remember), art became a sanctuary to many; it helped people subdue anxiety and depression and even brought out talents the holders didn't even know they had.
With those said, one thing is for sure: art is the best type of therapy.
Abi, the driving force behind Oodles of Abi Doodles, knows more than a thing or two about art. She founded a purpose-driven brand spreading self-love, productivity, and validation through art prints, stationery goods, greeting cards, and accessories, with a playful and colourful style.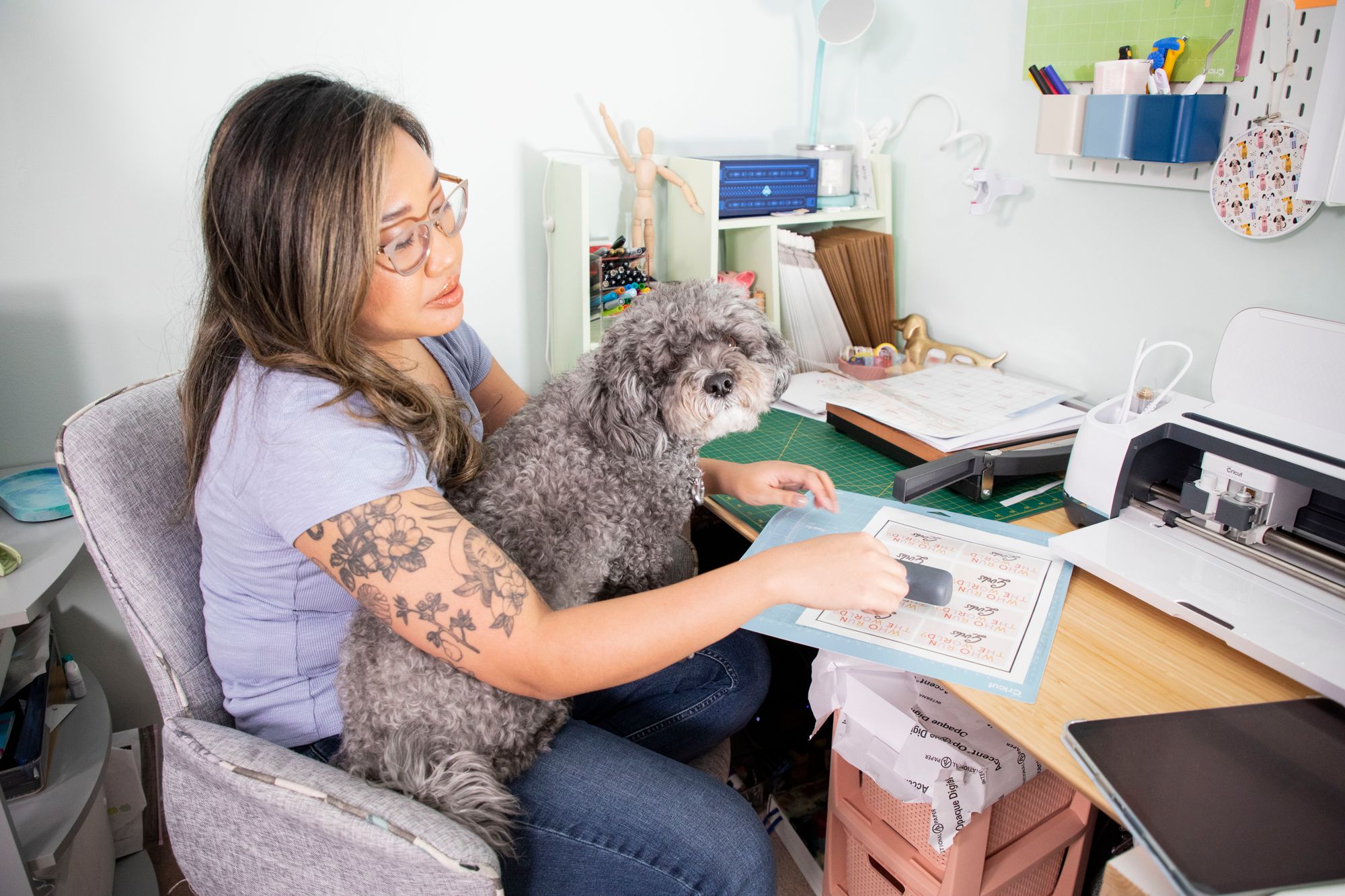 Ever since she was a child, Abi has found a deep love for art and creating. Art is known to bring forth feelings and emotion, and Abi found it as a vessel for all of hers. Art is how she expresses herself, and OAD was built as a safe space for those who want to feel emotion through art, while making an impact in the world.
"I put a lot of meaning and emotion into every piece I create. And that's what Oodles of Abi Doodles is all about."
The love Abi has for art dates back to earlier than her kindergarten days. Growing up, she would always craft something up—even with just paper scraps. Luckily, she was also surrounded by entrepreneurship with her brother making merch for his band and company when she was in high school. This opened up her eyes to possibilities, and also inspired her to toy around with the idea of starting her own business. But as an inherently shy and reticent person, after planning a whole sketchbook of ideas, she never followed through.
Abi went to university to become an art therapist also, but had to drop out due to mental health struggles, sharing that she was creating art to help everyone but herself.
Challenge after challenge, Abi kept on. And with professional help and mindset growth to combat imposter syndrome, she was able to become more comfortable and less shy, letting her doodles get the attention they deserve. Now, she's surrounded by her own community of supporters and lovers of her art, finally living her truth.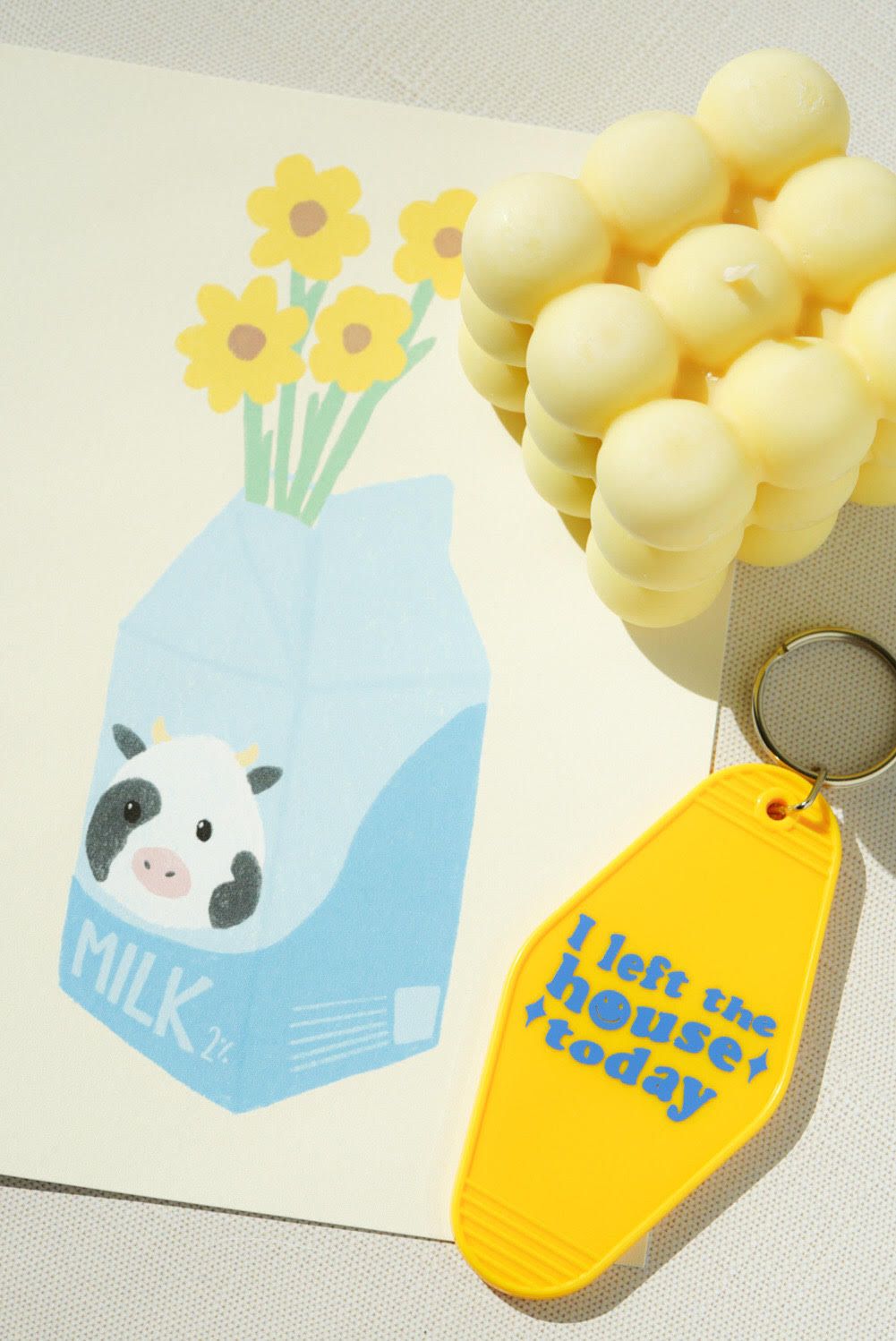 Other than helping others, Abi also has a heart for the environment. She tries her best to commit to a sustainable future, and improving social, economic, and environmental well-being.
"I am dedicated to finding alternative materials that are more environmentally friendly and also proceeding with products ethically."
In her journey to going sustainable, she gets help from noissue.
"In a world where bigger corporations try to capitalize on sustainability as a marketing tactic, doesn't sit well with me. The fact that I don't feel that with noissue is why I decided to make to the switch to their [circular] packaging."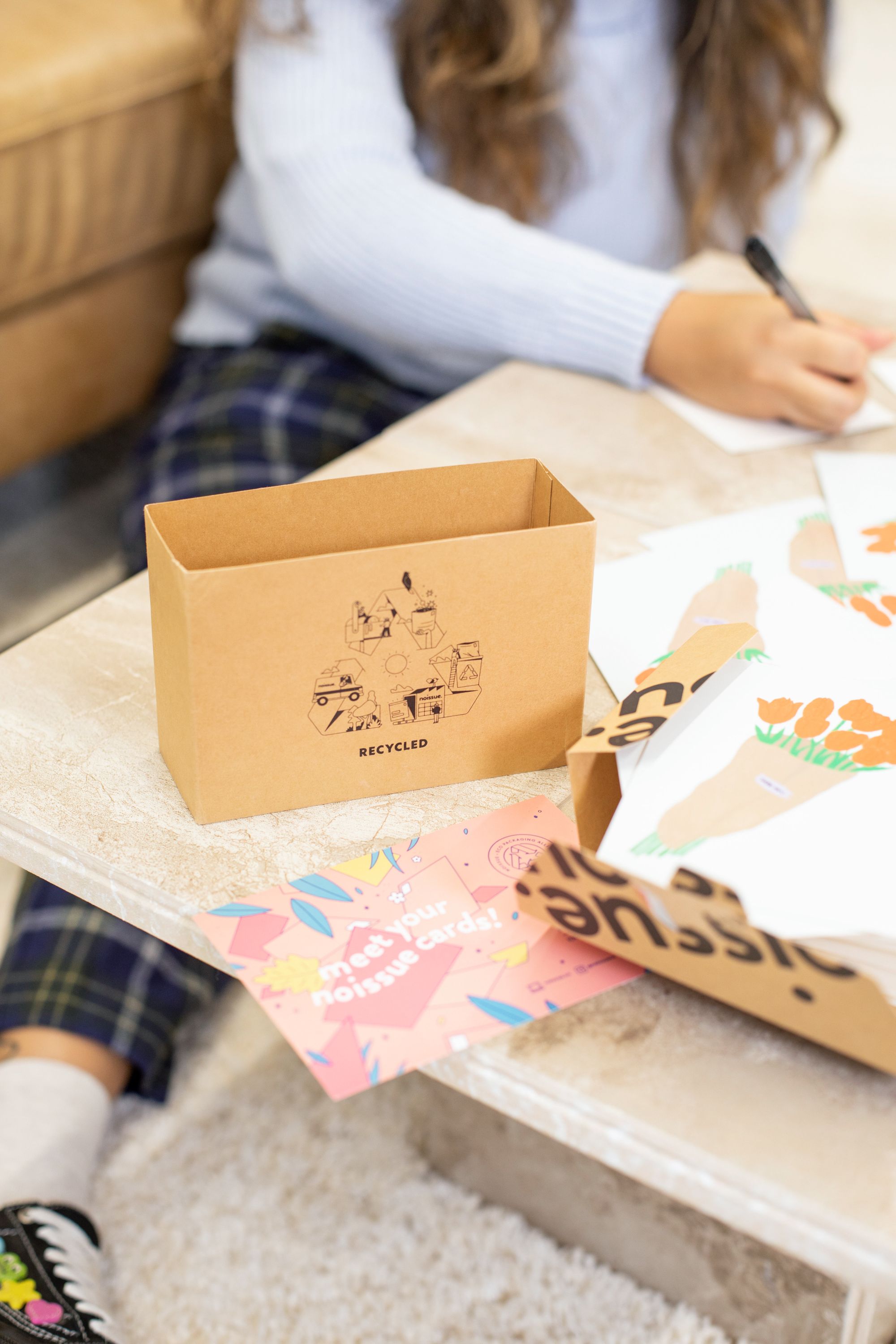 Being an e-com biz, Abi aims to hit all of her brand values in every single point. So not only is she using circular packaging materials, she also donates and supports to charitable causes. She also joined Eco-Alliance, noissue's community of like-minded, eco-conscious brands and businesses, and helps support her in making an impact and a difference in the world.
All these initiatives come with making more products in-house to reduce mail transportation, reusing packaging boxes, and overall lessening her carbon footprint.
"I try to make all of this apparent on my social media, website and newsletter."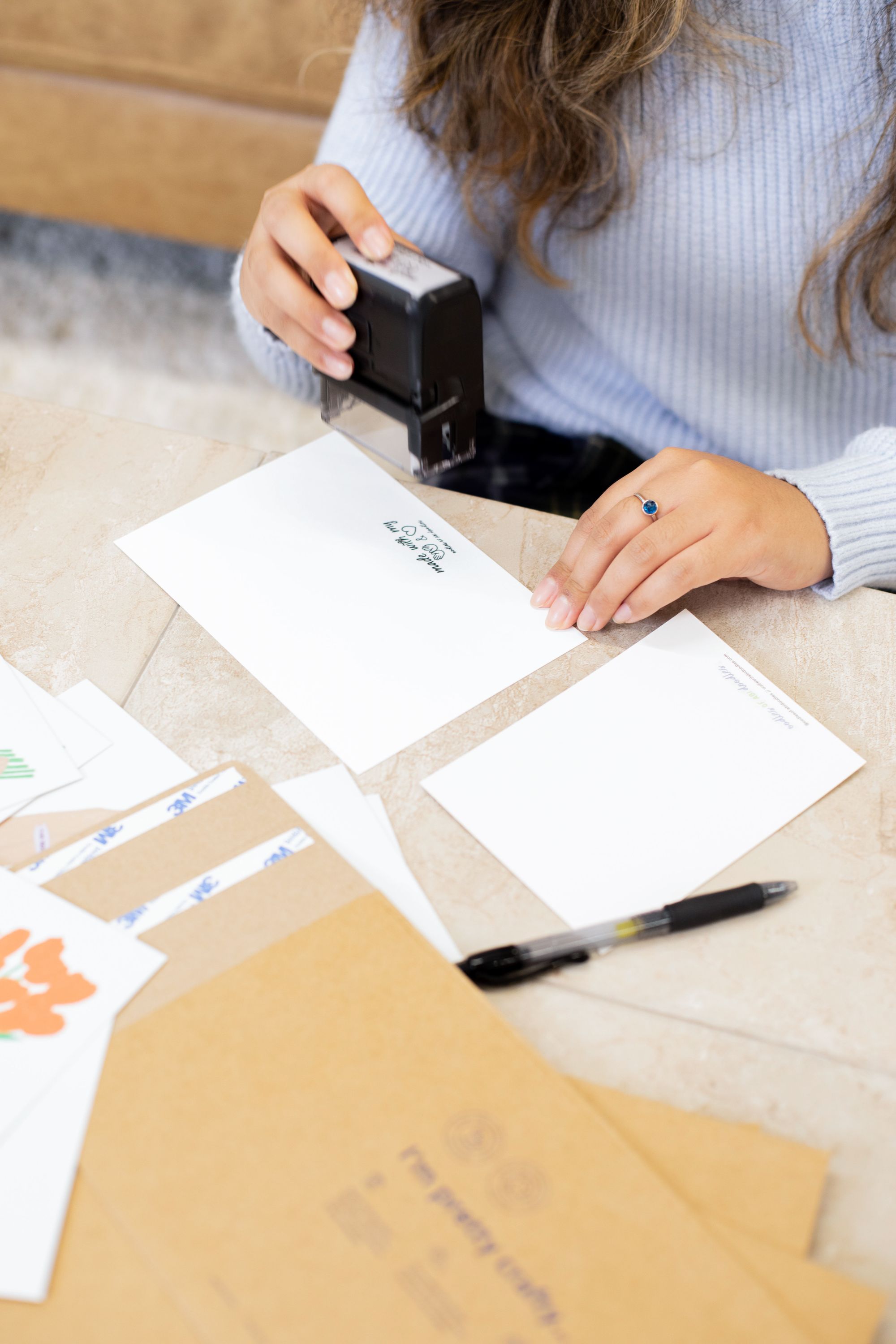 The love that Abi has for her brand and customers is evident, and that's one of the reasons why she's different from other businesses like hers. She always tries her absolute best to make it feel like every part of her brand resonates with her customers. Oodles of Abi Doodles is Abi in all her glory, tapping emotions that are present in each creation she makes. Genuine human connection, after all, helps lower anxiety and depression, regulates emotions, leads to higher self-esteem and empathy, and actually improves immune systems—a necessity she knows we all could get a bit of.
"I keep all of the humans who will interact with my brand in mind as I work, ensuring that every doodle or interaction is engaging, accessible, and promoting the best possible customer experience."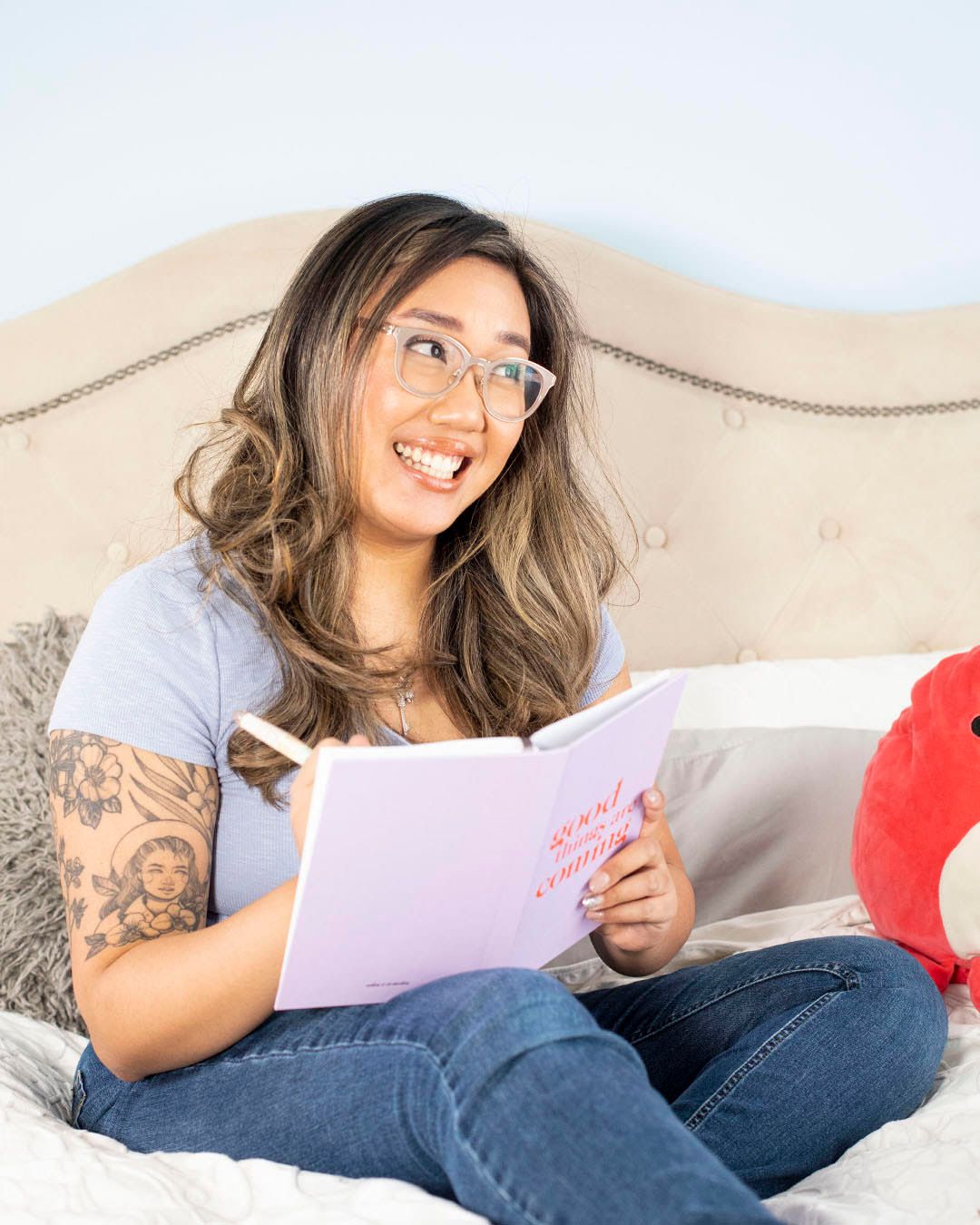 As much as the founder has gotten over a hump of imposter syndrome, it still comes in waves and could be a challenge from time to time.
"Just like progress, it's not linear. So sometimes, I will be over my head to put a new doodle out into a product just because the initial doodle didn't get a lot of likes on Instagram."
When this happens, she reminds herself that social media doesn't equal full customer feedback, and copes by continuing to doodle to get her mind off of negative thoughts. Product pricing is also tricky, but breaking things down and thinking logically help her craft a reasonable price point that's fair to both her customers and herself.
If you find that you're like Abi and you wish to start a business like hers as well, she says, "The timing is never right to start. There will be phases where things will feel crazy—life isn't perfect, and neither is running a business. But that doesn't mean you shouldn't try.
As for the founder, cultivating a community that's mighty on its own, and engages with her, is more than enough to keep her going.
Fun facts about the artist:
Abi's favorite product in her collection is her Good Things Are Coming notebook. Although, she isn't much of a writer, she writes a good amount of thoughts, goals and plans (and doodles!) Another would be her Drink Milk, Love Your Life collection that was inspired by her parents telling her to drink milk to grow strong.  Many customers relate to it which brings her some of the best customer stories.
According to the artist, the emojis that would best describe OAD are 💭💌✨
And one song she would always play when she hustles is Work It by Missy Elliot.

---
Find more of Oodles of Abi Doodles here:‌‌‌‌‌‌

Website: oodlesofabidoodles.com
‌Instagram: @oodlesof.abidoodles
If you enjoyed this read, we bet you'll like this feature too: ‌
Woofys: Serving Food, Drinks, and Fun Through Branded Events
‌‌
‌Want to share your story? We'd love to hear it! Join the Eco-Alliance here and share your deets with us here to get a chance to be featured on The Wrap!
Questions? Email us at ecoalliance@noissue.co