We all know it: the feeling of waking up in the morning, sun just clearing the horizon, and throwing on our comfiest clothes to grab coffee from our favorite coffee place. We picture the early morning warmth of the cups clasped between our hands, the comfort of the chairs, and the smile of our favorite baristas greeting us as we walk in. A coffee shop is a community space, somewhere old friends can meet and new friends can find one another.
That's why we knew that getting our compostable coffee cups right was important. For coffee places everywhere, their takeout cups represent a valuable way to connect with their customers no matter where they might be headed. So, we had to balance ethical disposal methods with high-quality materials, ensuring every cup would deliver on its promise.
The result of that balance – our sustainable coffee cups - have just landed, and we couldn't be more excited to introduce you! Consider this your comprehensive guide on how to create the perfect custom coffee cup, brought to you by some of sustainable branding's leading experts.
Get to Know the Specs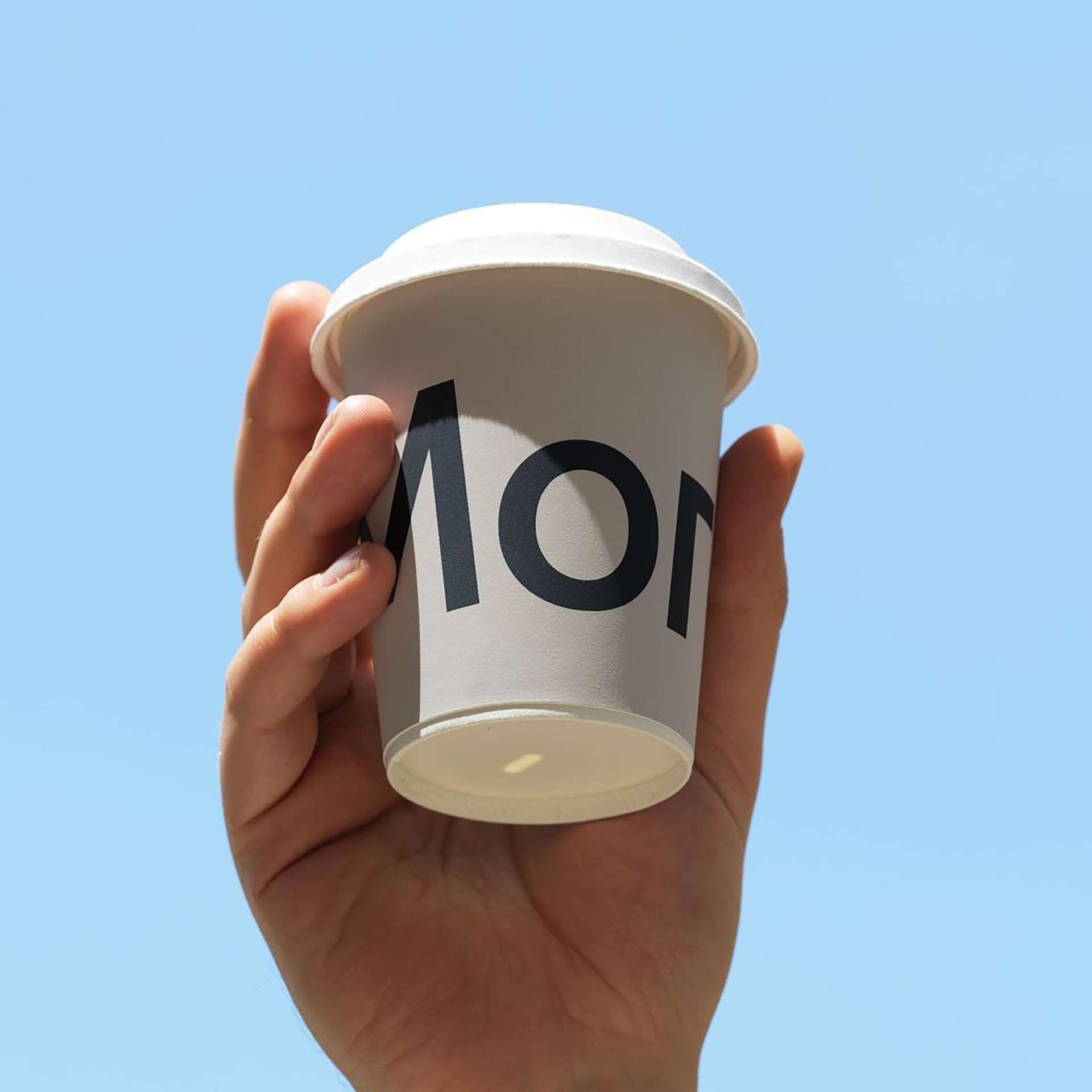 First, let's get technical. We've technically released two versions of our compostable coffee cups: a single-walled version and a double-walled version. While you can find the comprehensive technical breakdown on each of their linked product pages, we've pulled a few highlights from both to give you a great overview.
Custom Single-Walled vs. Double-Walled Coffee Cups
To keep things simple, a single-walled coffee cup has one layer of paper, while a double-walled coffee cup has two. But why have the two options?
Well, single-walled cups are popular as a more sustainable option, considering they use less material. One tenet of the circularity framework is to reduce, meaning we at noissue do our best to minimize the use of unnecessary materials and encourage the same practice with our customers. If you're looking for an ultra-sustainable option that will still keep your drinks warm and your customers happy, single-walled cups are for you.
On the other hand, our double-walled cups are designed to do double duty, helping to keep the cold out and the heat in. That extra layer of thick paper insulates the life-giving coffee inside, maintaining its delicious warmth for longer than a single-walled cup. On top of that, double-walled cups tend to be more robust which is ideal for businesses whose customers will need to hang onto their drinks for longer.
An Extra Coat
Our cups also have a hidden secret: a compostable-friendly PLA coating on the inside. Thanks to that water-resistant coating, our paper cups last without crumbling or melting away from contact with any hot beverages on your menu. Pair that with your choice of CPLA or Sugarcane Bagasse lid for a fully-compostable and robust option for your coffee cups.
Both our coffee cup varieties are completely customizable via our noissue Plus program, which allows you to access wholesale prices for high-volume orders. Most importantly, our coffee cups are entirely compostable at your closest commercial composting facility, allowing both you and your customers to do your part for the earth with every sip of joe.
Nail Your Compostable Coffee Cup Design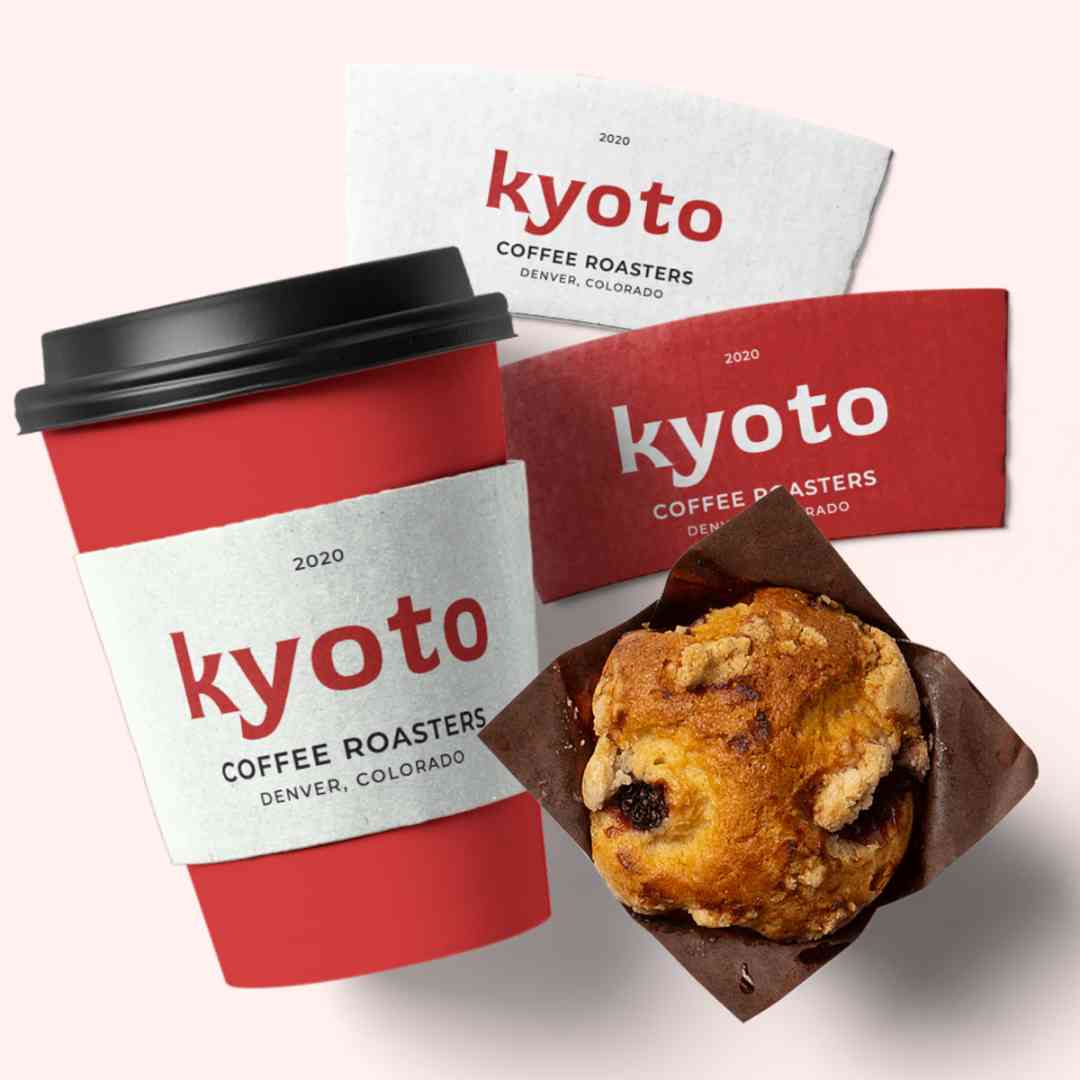 Nailing your branding is so important, even more so with consumers charting a course to value-driven brands with an eye for finessing their designs. For brick-and-mortar food venues looking to cultivate a sense of community, it's even more important to have a clear representation of your brand that your customer can carry into the world with them.
Luckily, we've curated a simple, straightforward design experience that allows you to save your creative energy for where you need it most: your branding. We've been in the game for a while, so we have some additional tips to help you get the most out of your new sustainable cups.
1.     Pick your palette
Your cups should be an extension of your existing brand, encouraging your customers' minds to echo back to where they ordered their favorite coffee from. Whether you want to opt for minimalism or maximalism, it's essential to echo your brand's color palette on your coffee cups.
You might want to select a main color and an accent color. The main color would act as your background – we offer full-bleed CMYK or Pantone printing – while the accent color would help your chosen focal point pop.
Speaking of which…
2.     Choose your focal point
A coffee cup isn't a lot of real-estate, so it's important to be discerning with what you want to highlight about your brand. Rather than trying to cram a lot of information onto a small space, consider what you would want to show to a customer cradling a cup from your establishment.
Maybe you want to include a quote to brighten their day, an image that speaks to your values, or keep things bold and simple with your shop's name and logo. There is no wrong answer here, so consider this the space to express yourself, and don't be afraid to lean into your creativity!
3.     Select your specs
Once you have an idea of the kind of design you'd like rendered on your cup, it's time to choose the specifications.
· Single or double-walled: Both versions of our cups will hold up to anything on your menu, so it's simply a question of which you feel more drawn to. Is the more sustainable single-walled version calling you, or do you prefer the extra heat-saving abilities of the double-walled cups?
· Size: As with most coffee shops, you might want to select a few sizes to offer your customers. Consider whether you want the same design across all sizes or whether you'd like to change it up from size to size, thus adding a little extra interest. With wholesale noissue Plus orders, you can also work with us to create a custom size that's perfect for your place.
· Type: We offer either white paper or kraft paper bases. While the former will give your cups a clean feel, kraft paper bases are fantastic for adding a homey, rustic touch to your coffee cups.
4.     Think bigger
You can stop there, but we offer a couple great ways to put an extra spin on your coffee cups to blow your customers away.
· Coffee Sleeves: These are a great way to boost the heat-protectant qualities on your cups while adding an extra kick of contrast. Design your sleeves to push your branding even further, whether you add extra variations or pick a punchy accent color.
· QR Code: Let your customers connect even more with your brand by leaving a digital footprint on your packaging. A QR code is a fantastic and discreet way to add a ton of information to your packaging – whether about sustainable disposal or your brand – without crowding the limited real estate!
If you're anything like us, you love taking inspiration from those who went before! With that in mind, we're going to highlight some amazing community members who have nailed their custom compostable coffee cups.
Inspiration Station: How Others Nailed It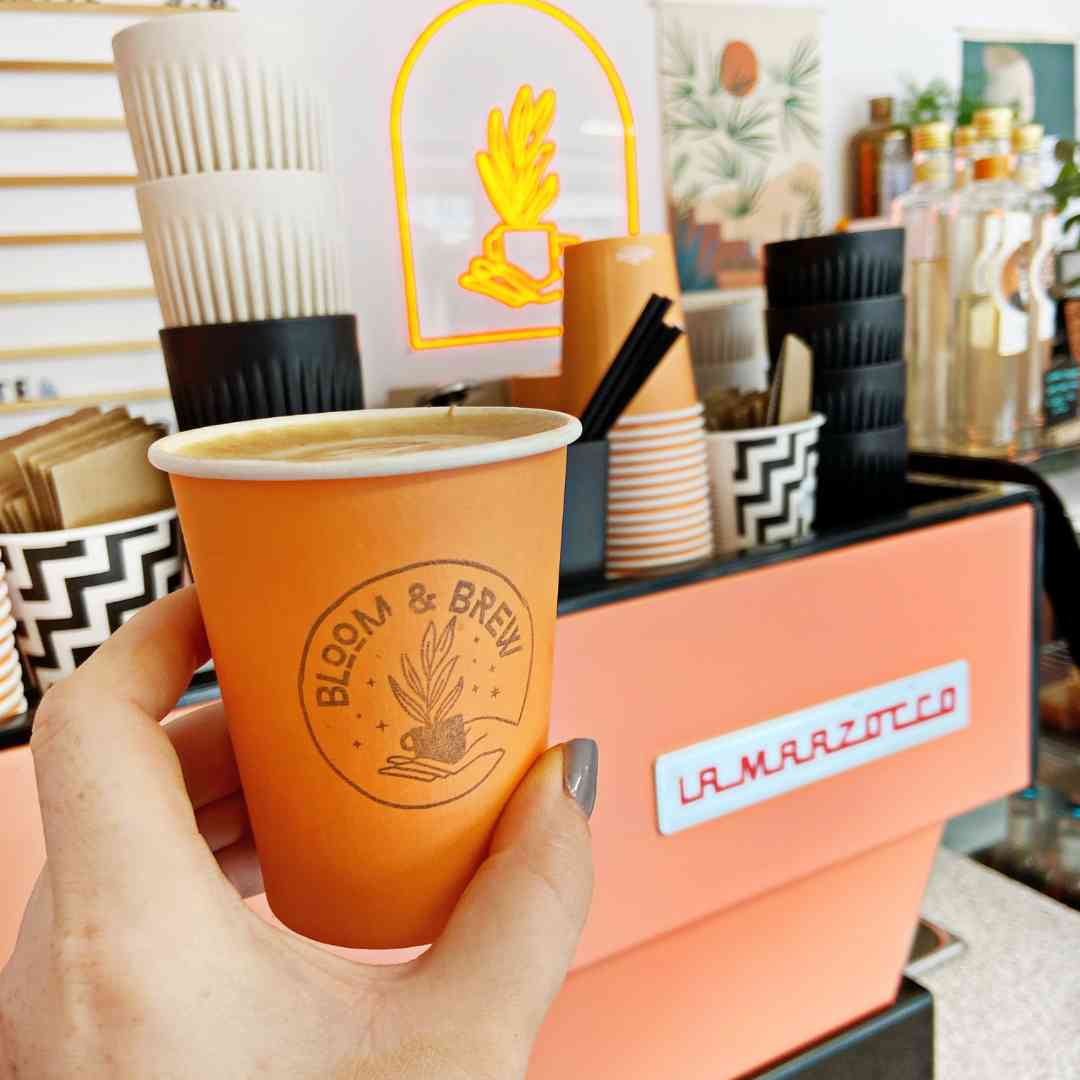 Bloom & Brew
Bloom & Brew is a small, independent coffee shop based in the UK. They're all about building a community, supporting independent artists, makers, and crafters with their in-store market. This is something they've taken great care to communicate with their branding, choosing a sunshine-orange base color that sings 'joy'.
Their natural logo is rendered in simple faded black, keeping things simple and down-to-earth in a way that's so uniquely them.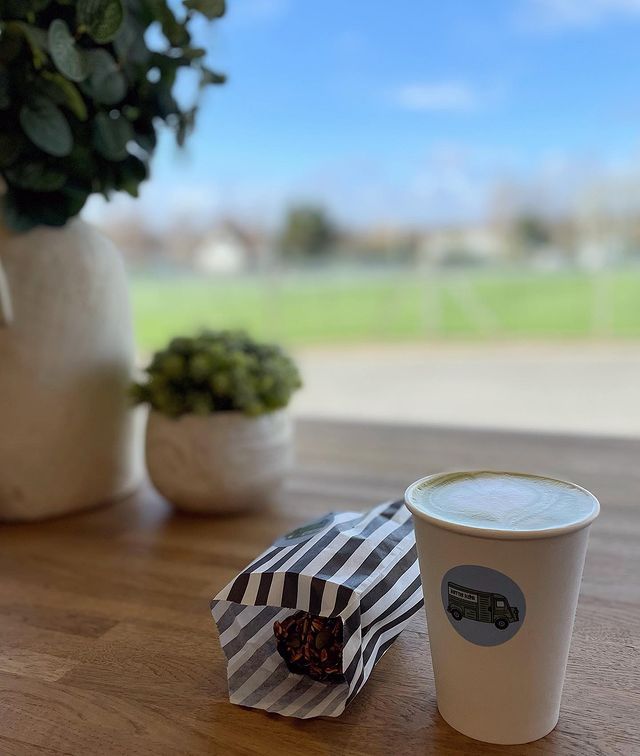 Kettle Klub
Kettle Klub is a free-wheeling, easy-travelling portable coffee shop living in a 1965 H Van. They echo the chill, blue color of said van on the outside of their coffee cup, alongside a flattering silhouette of the chassis. This design keeps things minimal, with a whimsical touch that speaks to the brand's easy-going spirit.
When you pick up a cup of coffee from Kettle Klub, you know you're about to take the most calming sip of coffee you've ever had in your life.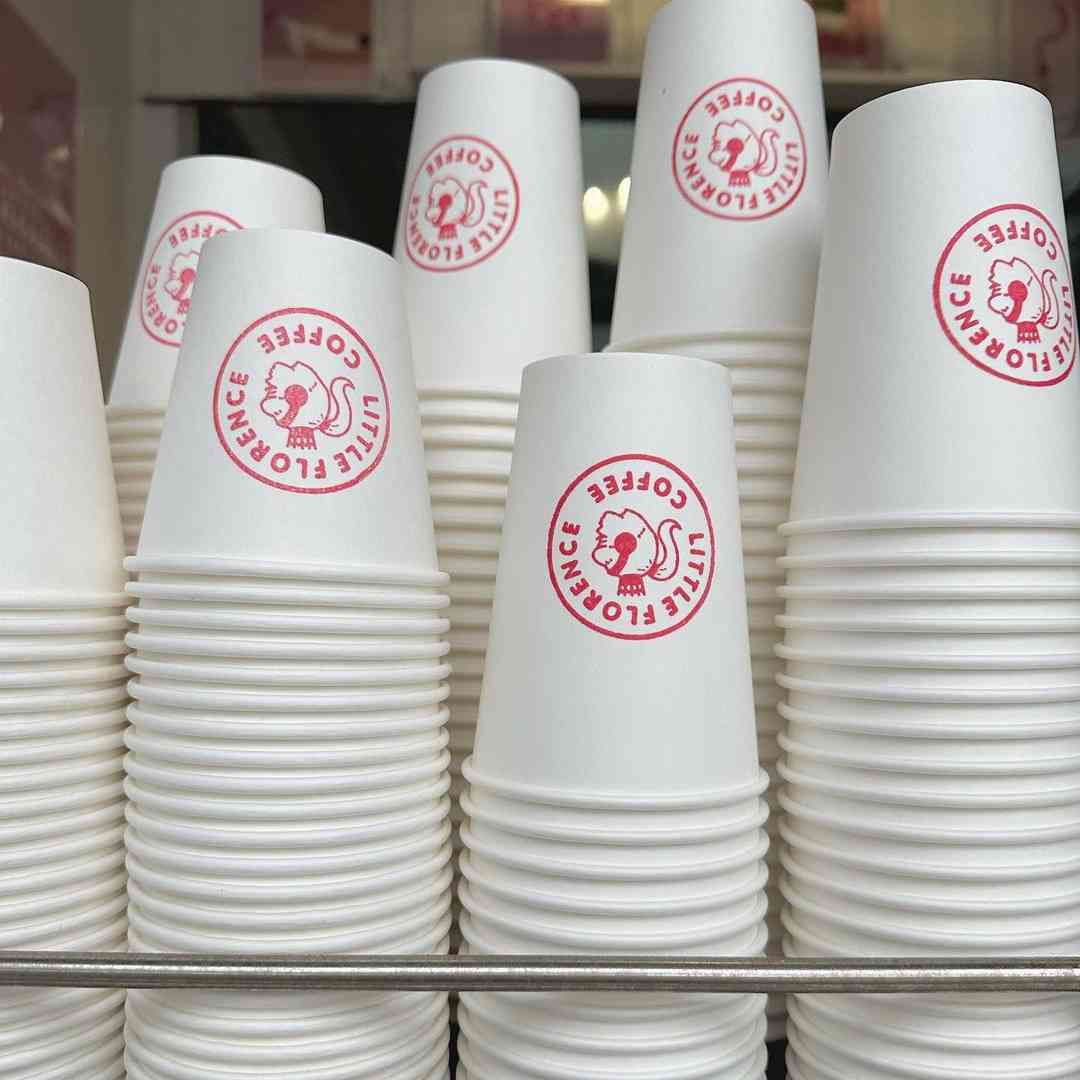 Little Florence Coffee
Little Florence Coffee is an Australian brand, but you wouldn't know that from their look! This brand has taken an Italian influence and gone all the way with it, putting a modern twist on the classic red and white. Instead of a basic Italian shape or symbol, we see Little Florence herself walking to the beat of her own drum on the cup.
When you pick up a cup from Little Florence, you know you're sipping coffee from somewhere hip, happy, and in love with Italian culture.
Your Choice, Your Impact
Put your branding and your values on the same level with our custom compostable coffee cups. These are the best way to literally put your brand into the hands of your customers, exactly where it's meant to be!
Drive your business to the top, the sustainable way, with noissue! Explore our restaurant and takeout range.