Listen, packaging can be expensive. We get it! This is especially true when you're making the effort to find high-quality and sustainable packaging that puts your brand front and center. From this standpoint, jumping straight into wholesale orders can feel like a lot of commitment, doubly so if you're working with a smaller customer base or you only need a niche set of packaging.
Whatever your reasons, we understand that having a set of affordable sustainable packaging will help all brands stand out in their unique ways, big or small. We've seen the need – it's baked right into very roots of noissue - and today, we're doing something about it.
Introducing, for your consideration: our Low Minimums category! This is our newest shopping category, dedicated to highlight and celebrating sustainable packaging made easy. Featuring both custom and stock options, this is the place to go when you're looking for packaging options to suit a Direct to Consumer (DTC) model instead of a wholesale model.
Ready to meet the usual suspects? Tour our top sellers in this category and get to know what each one can do to elevate your brand.
Stock Compostable Mailers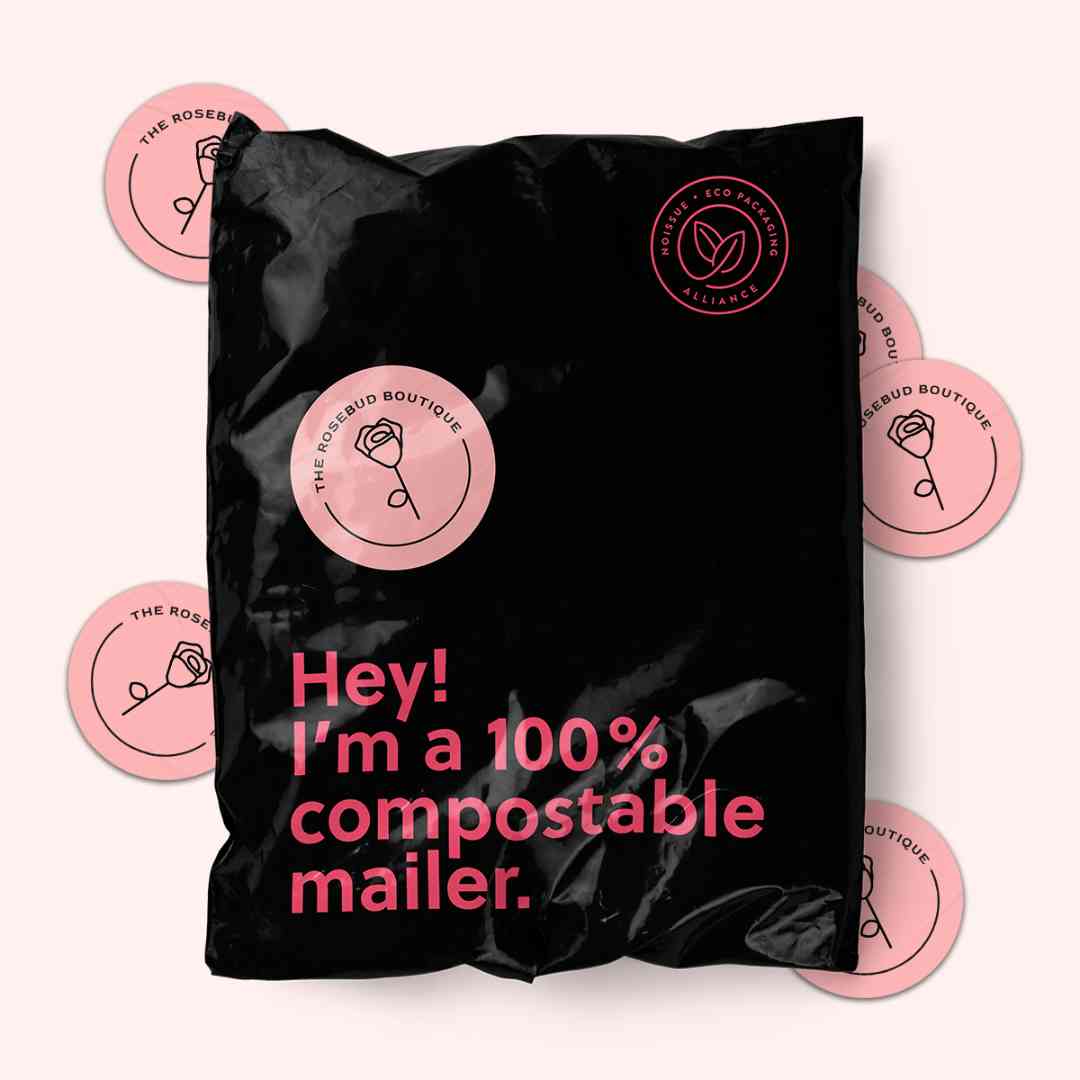 Our stock compostable mailers are baked into our history. noissue is on a continual mission to make sustainable packaging accessible to businesses, brands, and makers from every corner of the globe. To us, accessibility means versatility and affordability. These mailers embody those values more than any other.
These are both reusable and compostable, fulfilling two of the three pillars of our sustainability frameworks. We've designed them with two adhesive strips to make sure that you can use them and your customer can use them one more time. Not only does this double the bags' lifespans outside of landfill, but it also doubles your brand's contact with your customer. Usually, bags get tossed the minute consumers are done with them. With these bags, there's a round two with a generous suffision of good feelings, since your customer feels happy about doing their part for the Earth.
However, once the bell rings and it's time for the bags to meet their maker, you can feel safe in the knowledge that they will do so sustainably. These bags are plant-based, made of 30% corn-starch, 15% PLA (made from plant waste!), and 55% biodegradable PBAT. All that to say that these bags will disappear back into the Earth within 90 days (commercially composted) or 180 days if you're doing it at home.
Out in the Wild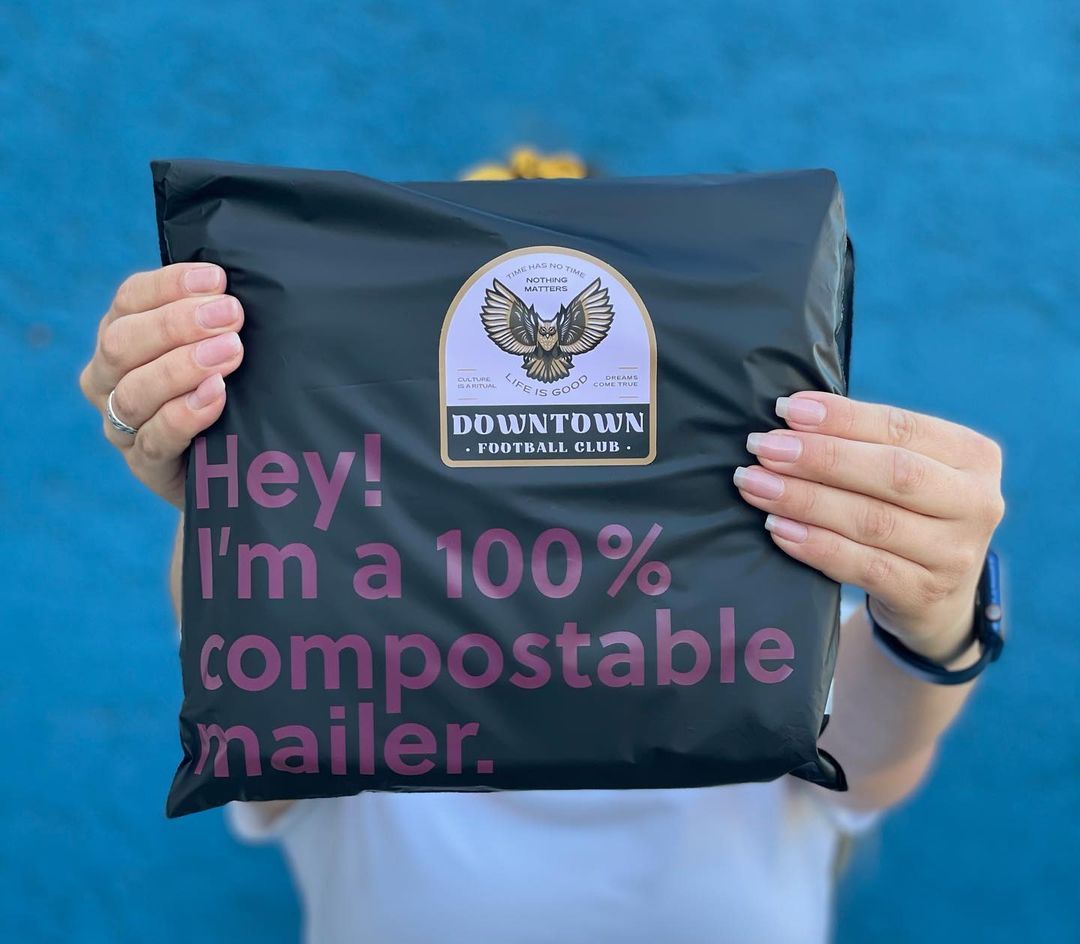 Downtown Football Club – a California-based sport community that also touches retail – proudly uses our compostable mailers to ensure they're doing their best for the environment. To these guys, there's nothing more important than contributing to your community, and that's exactly what they do with these mailers.
Since the mailers are stock, and thus unbranded, the DFC took it one step further and sourced stickers to put their mark on each package. This is a great way to elevate a stock package in a way that caters to a smaller budget.
Custom Compostable Tissue Paper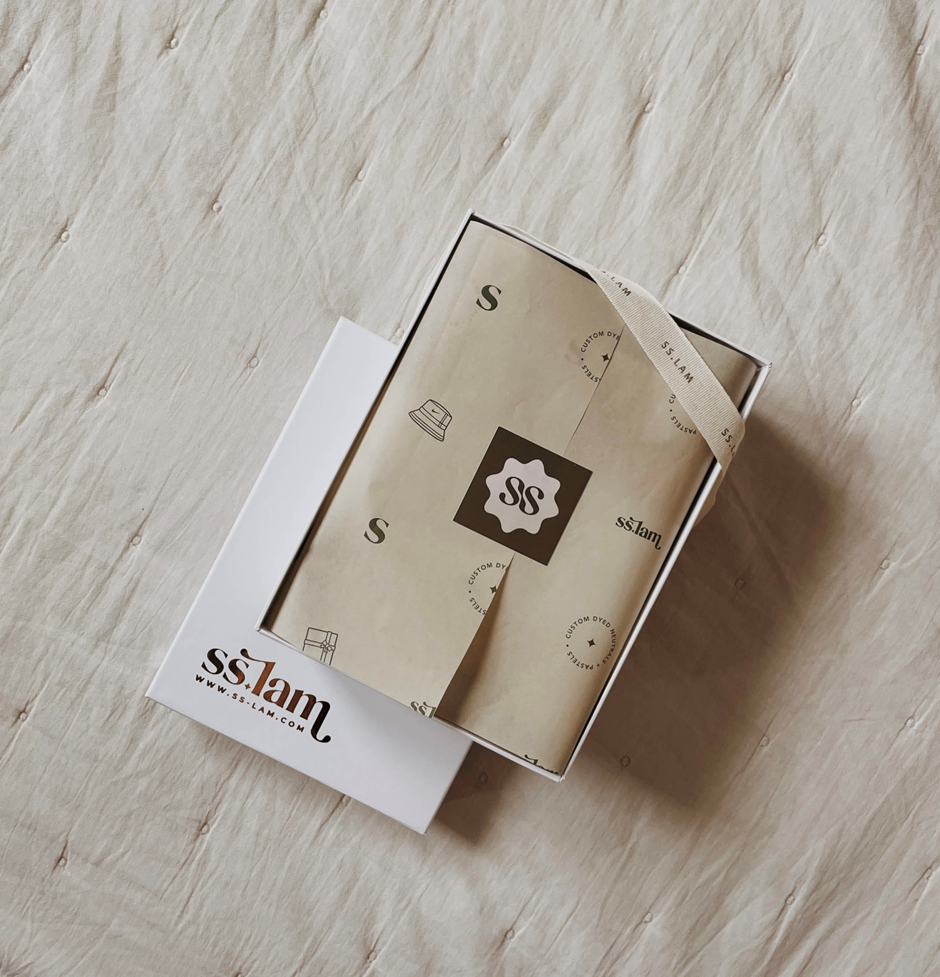 Our custom compostable tissue paper is the first and last word in branding versatility. Whether you run a brick-and-mortar store or rely on eCommerce channels alone, a stockpile of well-branded tissue paper will always be there for you.
We've designed this paper to be fully home compostable, meaning your customers won't feel any additional pressure because disposing of the paper is as easy as receiving the package itself (easier, even!). On top of that, the paper is made from fully recycled materials, pushing this even closer to a fully circular packaging product.
There are two paper weights to choose from – 17gsm and 28gsm. The former is fantastic if you're after package stuffing while the latter has a gorgeous luxury feel perfect for delicately encasing your products.
Out in the Wild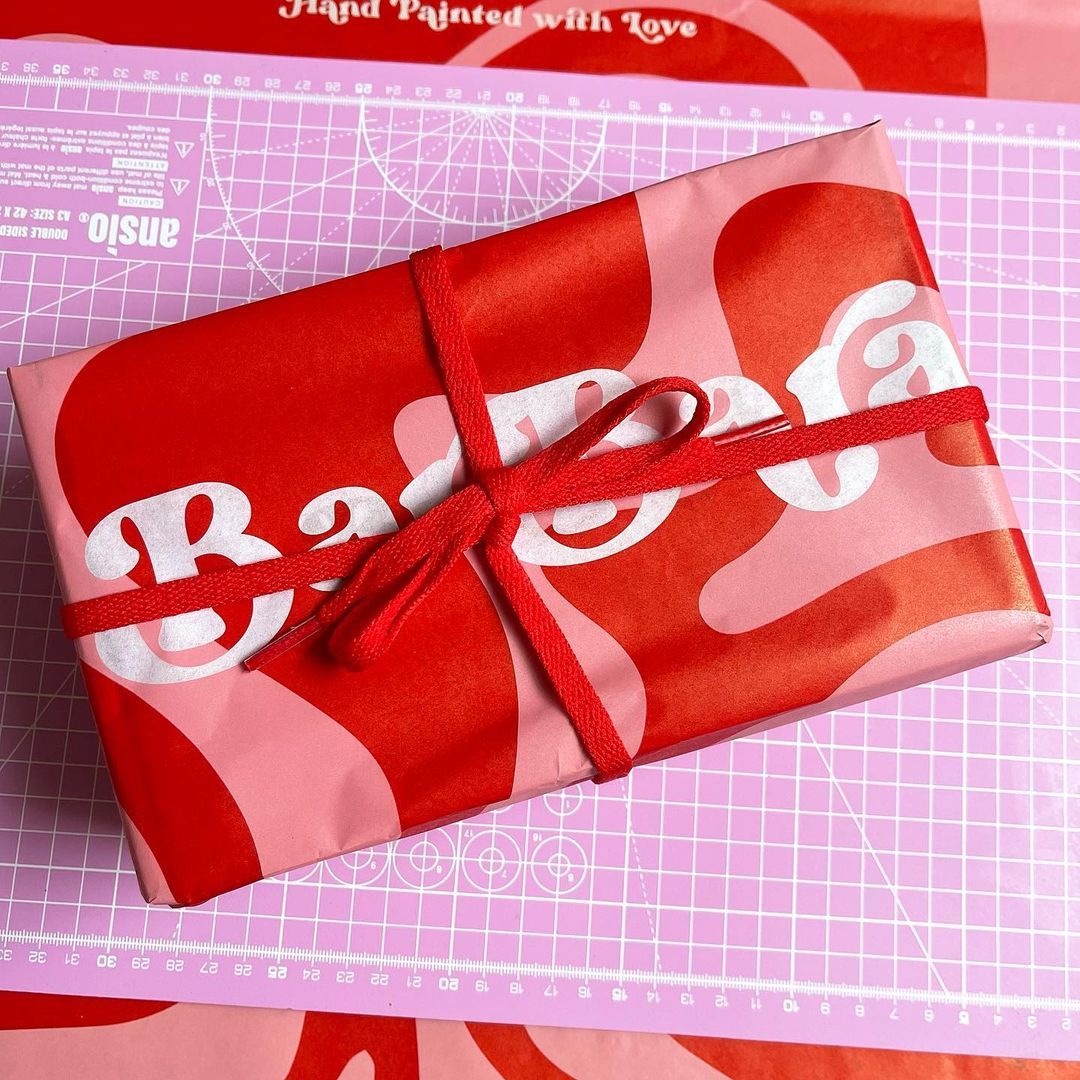 We could all learn a little something from Barbara Bennett. As an Ireland-based company specializing in rebranding shoes, masks, and other accessories with her unique flair, she lets us all know that we have a unique voice and the only way to succeed is by sharing it unrepentantly.
Those principles extend all the way to her custom compostable tissue paper, which absolutely bursts from the package with its vibrant colors and captivating waves. She embraces this material's versatility, using it as a wrapping paper, a package stuffer, a branding element, and everything in between.
If there's one thing to take away from Barbara Bennett's branding, it's how uniqueness can make you iconic in your field.
Custom Stickers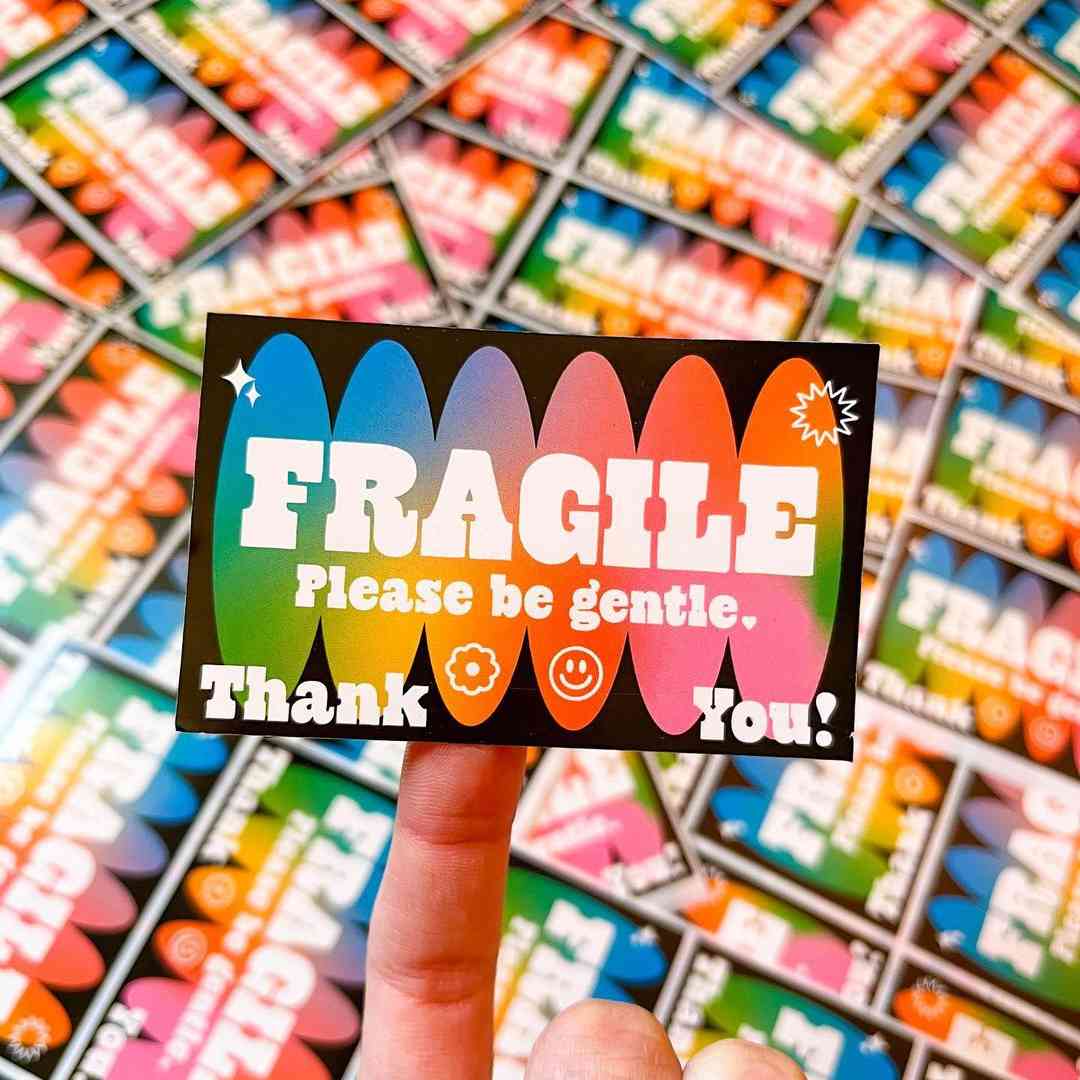 Third on our list is a long-running company favorite and top-seller: stickers. Custom stickers stand out as a DTC packaging product because they can be used on virtually any material or product. They're an excellent way to bring your branding to any place, even allowing business owners the chance to put their branding in their customers' hands with ready-to-use stickers.
Stickers are a finisher, an accent, the sheer proof that not just devils lie in details. A good sticker can transform a boring package into something unique and fun, giving your customer a tangible insight into your brand that they can reach out and grab with both hands. These are a powerful and accessible way for businesses of all models and sizes to show their customers who they are, no matter the surface area they're working with.
We create our stickers with acid-free paper and soy-based ink, so they're both compostable and curb-side recyclable. This is a perfect example of how simple sustainability can be, because it's truly just about picking the right materials for your product, all with no sacrifices to print quality or branding!
Consider combining this offering with a TapKit QR code to close the loop on your customer's experience. With a dynamic QR code, you can tailor the corresponding microsite to suit your needs. Draw your customer back in with an exclusive discount code, reconnect them to the top of the funnel with a quiz, or educate them on your sustainability vision with a navigable miniature website. With the versatile sticker as a vehicle, there is nowhere you cannot take your message.
Out in the Wild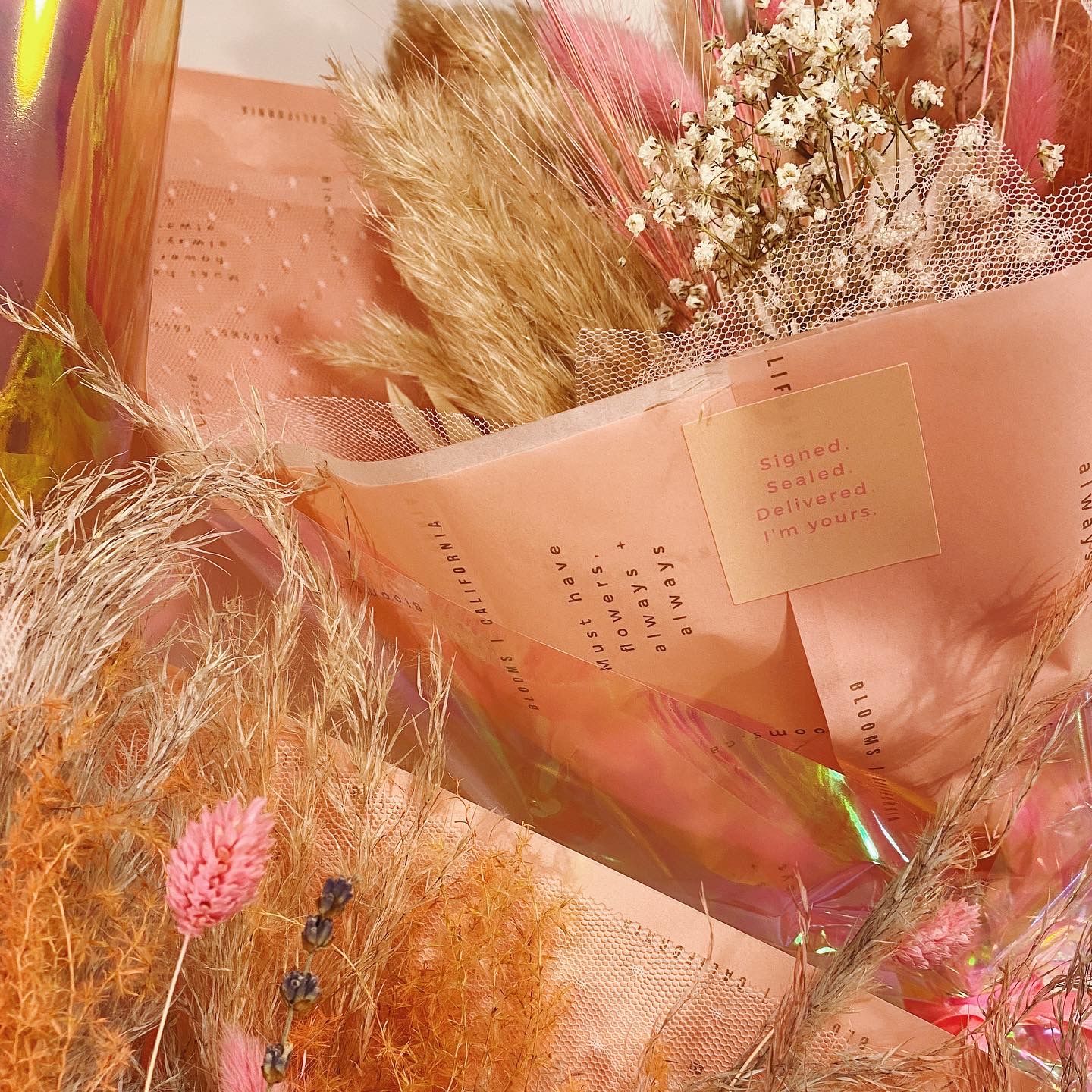 Out of Blooms California, these bouquets prove that stickers do more than just look pretty. The best stickers are both functional and attractive, putting your brand forward while doing more to make unpacking your product – whatever it is – a positive experience for your customers.
Aubrey and Amber are the masterminds behind the brand, bringing their signature unique, wild, and free mindset to their visuals. These stickers appear on everything from their bouquet wrappers to customer correspondence, but they don't just appear, they communicate. Businesses must put their best foot forward in all things, and Blooms CA knows the hidden power of the simple sticker and uses it to their advantage.
They have a niche customer base with a particular aesthetic, so a DTC ordering option is the perfect way for them to deliver on branding without breaking their customer acquisition budget.
Custom Food Wrapping Paper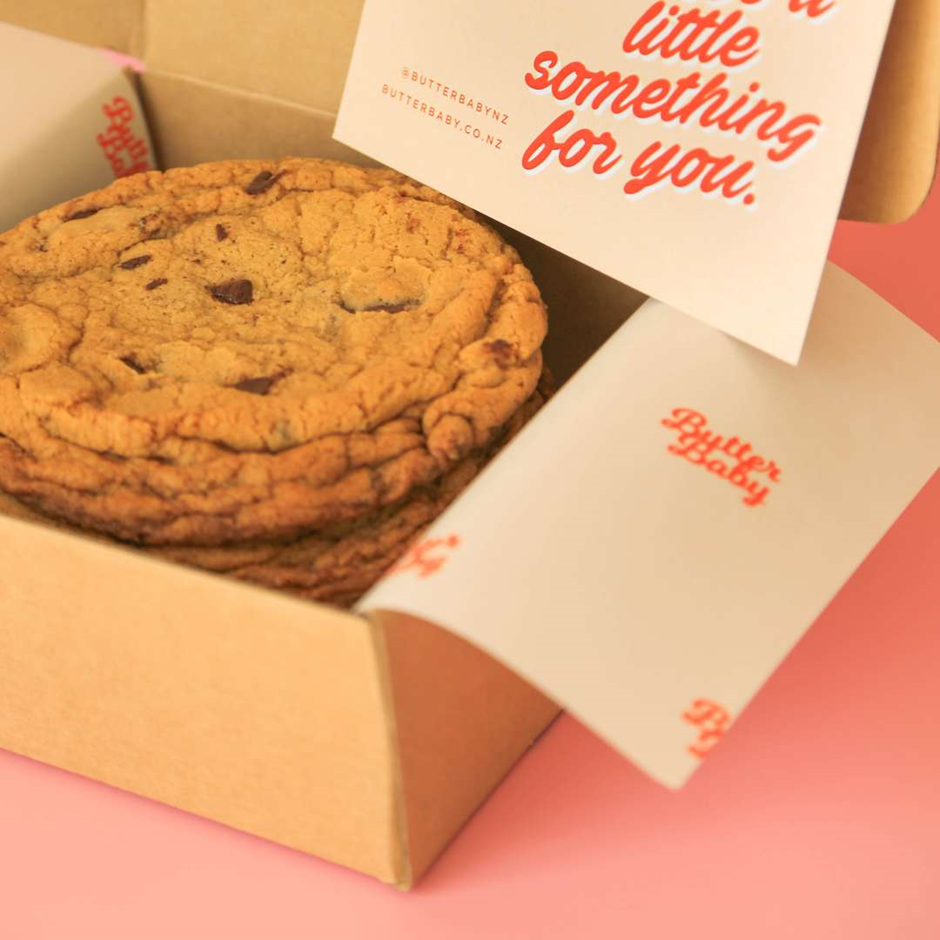 Custom branding options that ensure food stays well-presented is a cornerstone of the food packaging industry. That's why we put so much time and energy into designing the perfect line of custom food wrapping paper.
If you're in food business, your customers deserve to receive hot, crispy, high-quality food. Better yet, they deserve to experience your brand with all the sights, smells, and tastes it promises, all perfectly packaged. That's where this food wrapping paper comes in. We were careful to design a simple yet versatile product that businesses could put their own spin on.
Choose from a white or kraft base and ten different sizes to emblazon with your logo, catchphrase, or full background image. Once this FDA-approved food paper reaches the end of its life, it's easily compostable right in the comfort of your establishment, at your customers' homes, or at a larger commercial composting center.
Out in the Wild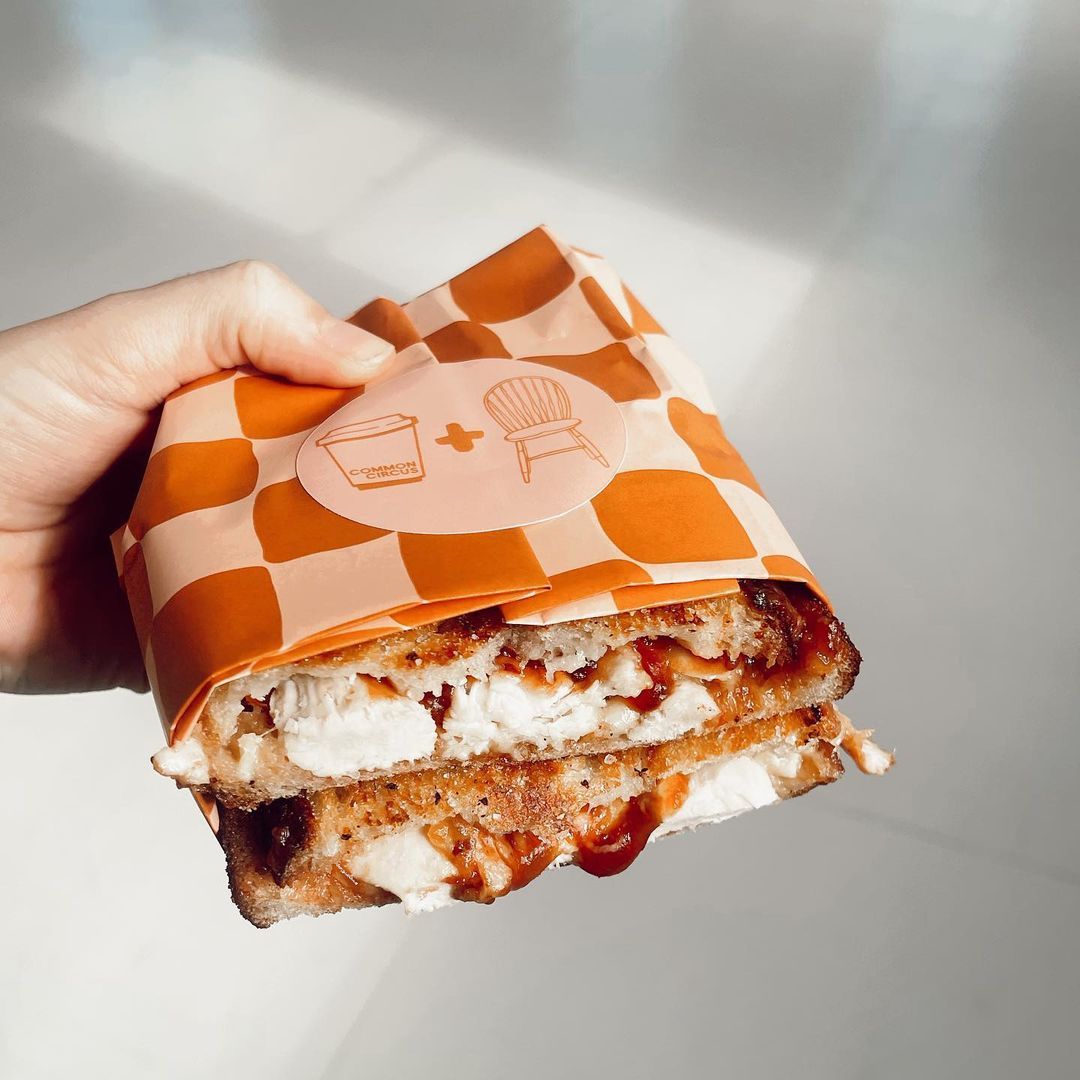 The Common Circus Café in Hamilton, Australia exists at the intersection of coffee, food, and community. Their goal is to bring a smile to every single customer's face, and that starts with letting them know they've arrived somewhere safe, fun, and bright.
That's why their food wrapping paper design is so beautiful. Using their retro, earthy palate of available colors, they've created a design that screams 'fun-loving place for people who love happy days'. Paired with their well-conceptualized brick and mortar venue, this food wrapping paper closes the loop of Common Circus' branding. It makes customers believe in what they're saying.
At the end of the day, that's what branding is. It's about making customers believe that you know what you're all about by dotting the 'i's and crossing the 't's of your brand's unique style. From this little corner of happiness, we can see that no detail is too big or small when it comes to creating a space for your customers to associate with your business.
Custom Roll Labels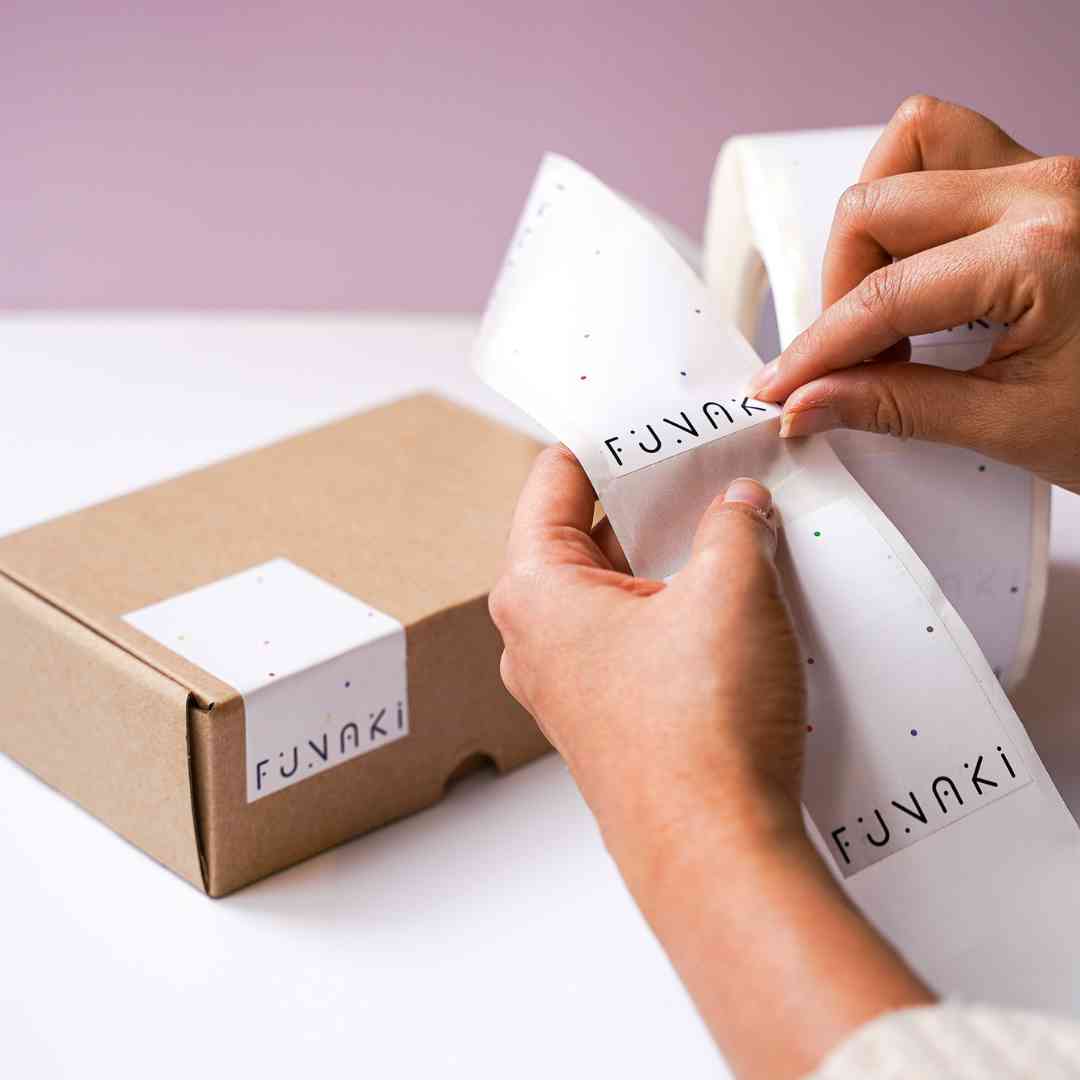 Fifth on the list is our collection of custom roll labels. These labels are rendered on acid-free, FSC-certified paper and use a non-toxic adhesive to ensure they are compost-friendly. Even the release liners are curb-side recyclable, so you know we thought of all the details.
Labels are a great way to take your products to the next level. Adorn your products with essential consumption information, seal your packages shut with a touch of flair, or dress up your correspondence with these multi-faceted packaging assets. Choose from five different sizes to discover the label that works best for you.
Our labels come in rolls of 1000, and we understand that is more than enough for business that produce a lower product volume. That's why we offer single-unit purchases for this product, escalating all the way up to 10,000 label purchases with discounted pricing before you reach the noissue Plus tier.
Out in the Wild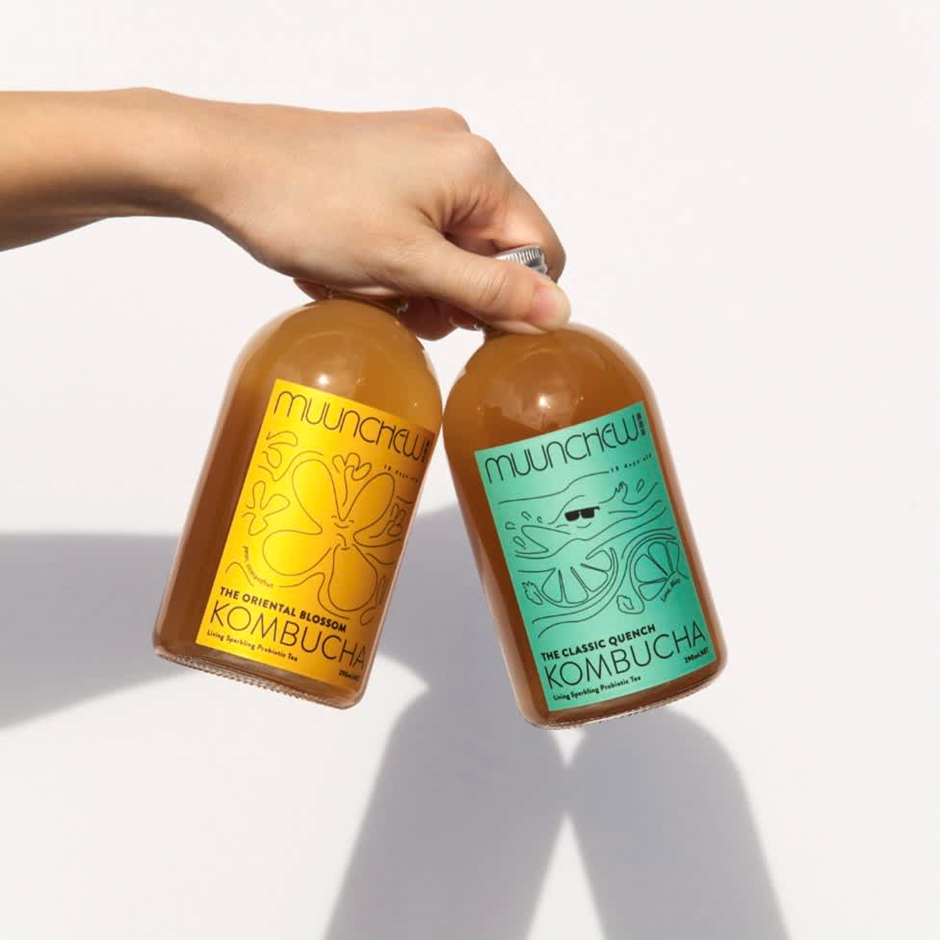 Quench your thirst for a beautiful, design-forward, unique brand voice with Muunchew Kombucha. This is a kombucha microbrewery chain thriving across Malaysia, offering pop-up community spaces, good times, and delicious drinks wherever they appear. Their branding is simple yet effective, conveying their voice and vision without taking away from the focus of their business: the kombucha.
In fact, it does what all good branding should do: it enhances their product. Tropical jewel-tones and simple line art bring to mind that first refreshing sip of ice-cold kombucha, drawing you in from the very first moment.
Interestingly, this brand ships their bottles as well as selling them in-store, so they have to be sure their assets can survive various modes of travel. Having customized our label rolls to adorn their kombucha bottles, they can be sure they will. This is another example of how helpful DTC ordering can be, as this is a boutique brewery chain with limited stock that doesn't always translate to wholesale packaging numbers.
Custom Water-Activated Tape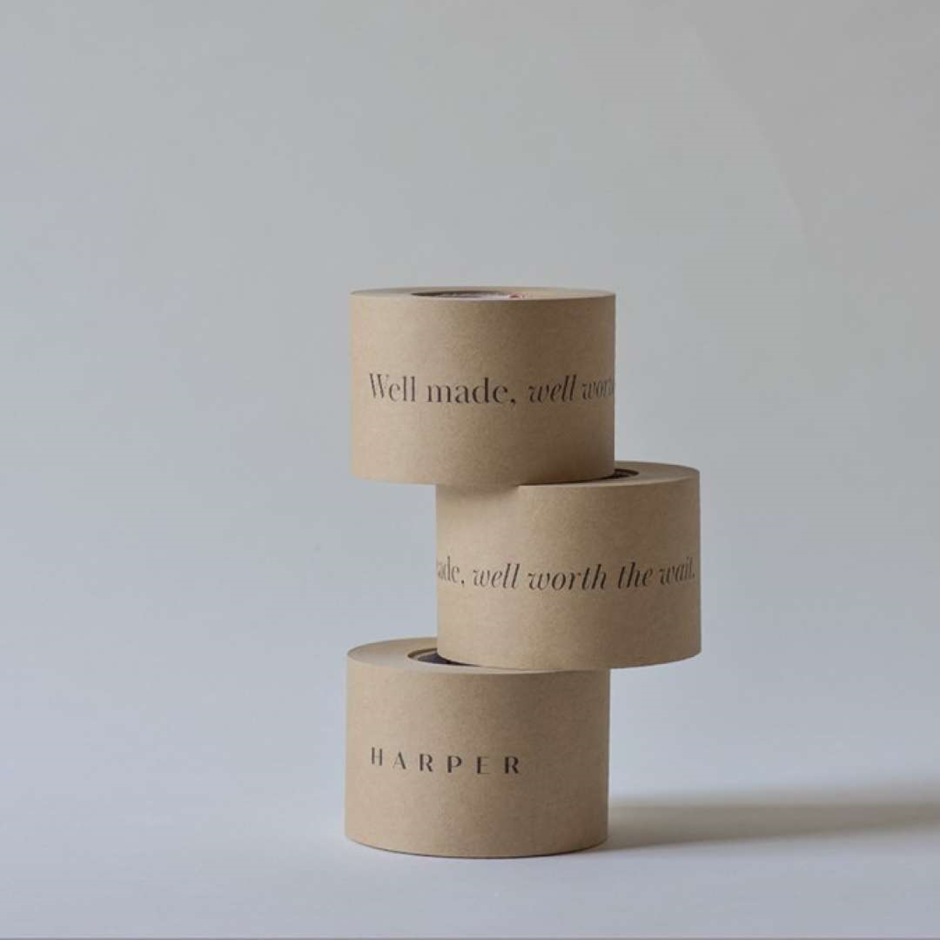 Our final low minimum must-have has been steadily gaining steam over the years thanks to its unique approach to sustainability and long shelf-life. Meet the biggest name in on-brand packaging tape: noissue's custom water-activated tape. Not to brag, but we're a little (very!) proud of how well this one turned out.
This tape comes with FSC-certified paper as a base and non-toxic adhesive backing it up. The adhesive comes to you dry, needing a quick dip with a sponge to wake up, but then it's powerfully strong and beautifully smooth. This beauty will secure packages up to 20kgs – that's 44lbs! Once again, choose between a white or a kraft base for your tape (the latter of which can offer some strong rustic branding possibilities).
Once your consumers are done loving their unboxing experience, they can simply dispose of the tape in their home composts or a commercial facility. If they don't have access to this, not to worry, the tape is also curb-side recyclable to make sure your business is delivering on its intended sustainability vision every single time.
Out in the Wild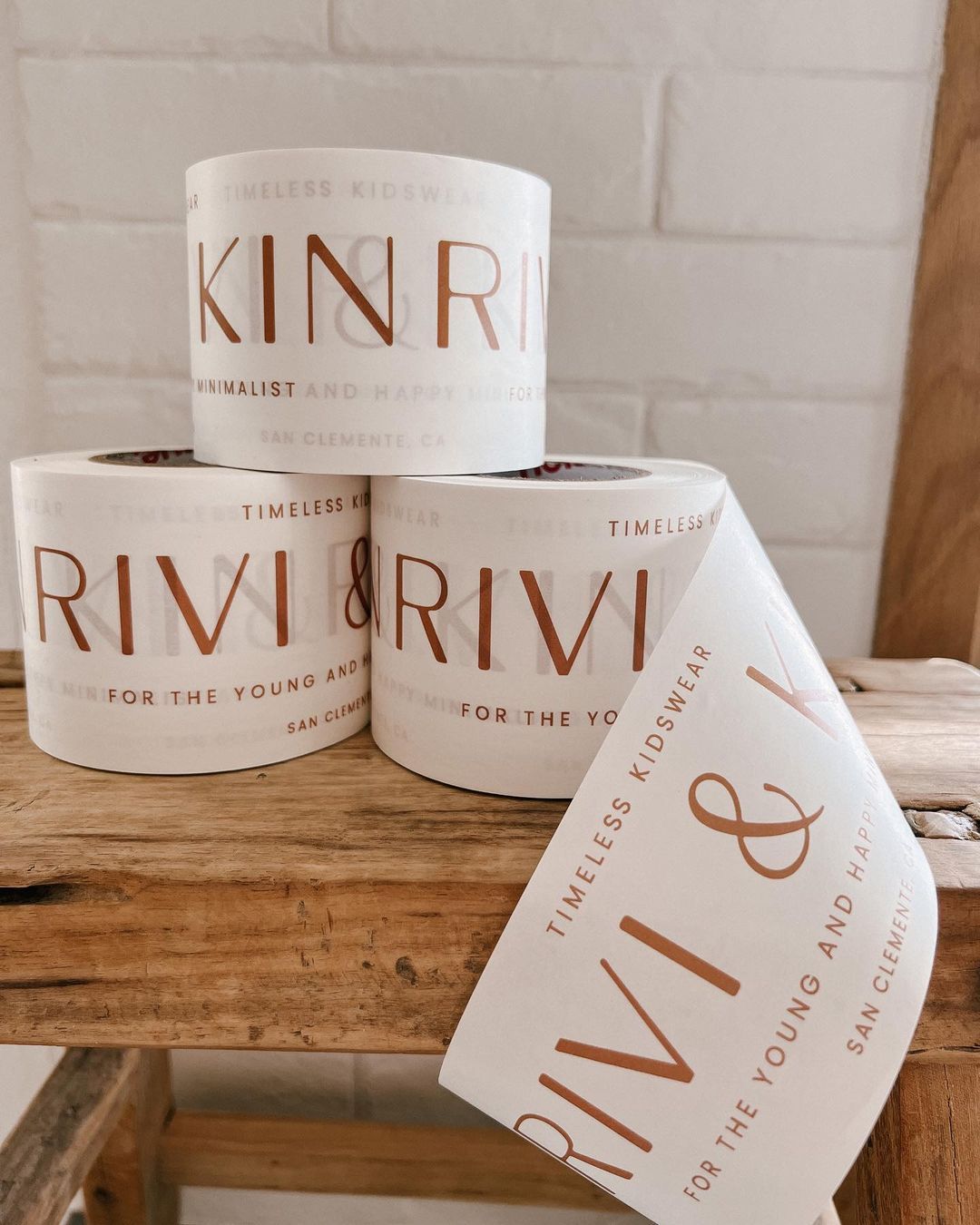 Timeless and minimalistic, Rivi & Kin out of California know exactly what they're doing when it comes to packaging their orders. They took our custom water-activated tape and made it their own with a bold yet clean font and simple, earthy tones.
Their use of the tape is a perfect example of how to communicate a lot of information about a brand without cluttering limited surface area. They began by choosing the widest option we have – our three-inch tape – before carefully considering how they wanted their customers to see their packages for the very first time. After all, as an eCommerce brand, their packages are a crucial physical touchpoint! The result is a slogan, brand-name, location, and key product range all rendered in clean, worry-free lines. Looking at this is like exhaling after a long day, and we love it.
This is a conscious eCommerce-focused brand with an emphasis on slow-fashion for little ones. Thus, the pieces are usually higher in price and don't fly out the door as quickly as a comparable fast fashion brand, making them the ideal study for our low minimum category. As a study in intentionality, this is the kind of place eco-conscious parents want to source their childrenswear.
That's a Wrap!
Now that you've met the top-sellers in our Low Minimums category, jump in to explore more of what we can offer you in both stock and custom options. We're proud to connect with our sustainable community around the world, so if you order from us, tag us! We want to hear about it.