noissue custom washi tape by @picketfencecakedesign
When you run a food business, the secret to success is getting customers in the door. As much as café owners can rely on the smell of caffeine to draw desperate coffee lovers, you can also rely on using great branding to call customers to you! Here at noissue, we're lucky enough to provide sustainable packaging for many food businesses worldwide.
Hunting for your next opportunity to bring your food brand's assets up to scratch? Check out five ways the members of the noissue community are using to execute flawless branding sustainably with products from our Restaurant & Takeout range.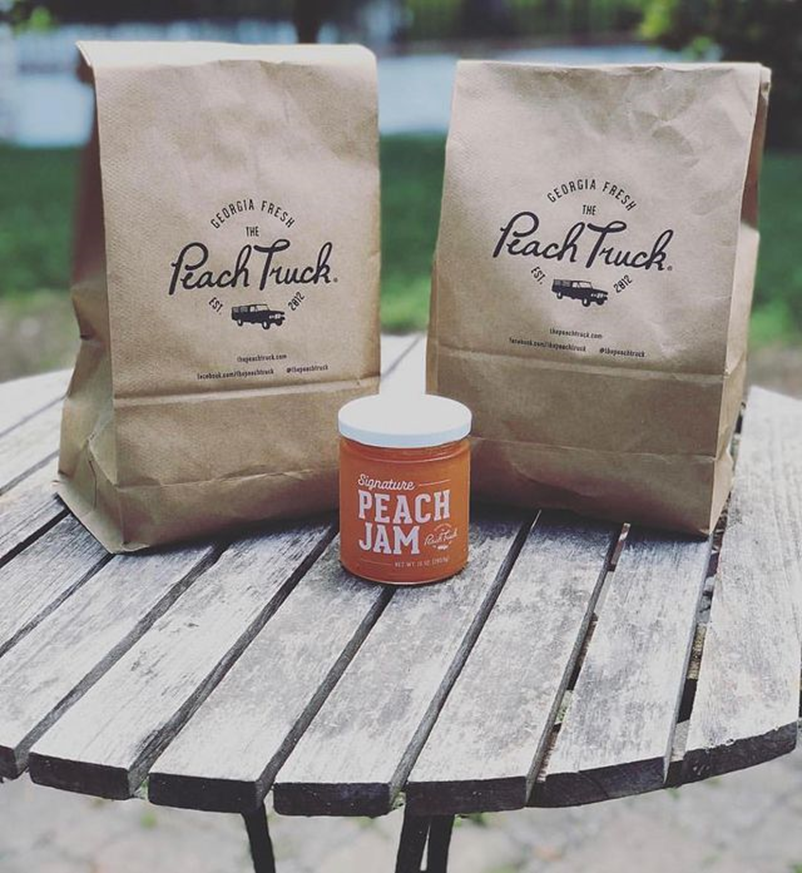 The Peach Truck
First up, we have the wonderful proprietors of a Georgia-based peach business in the United States. What began as a humble single-truck operation has since expanded to be one of the most hotly-anticipated events of the Georgian summer. The Peach Truck is exactly what it sounds like: a businesses that sells seasonal Georgia peaches all over America's South. For many Georgians who have put down roots in other states, this truck is their key to getting a little taste of home whenever the days get a little longer.
To make sure their customers get their peaches in the best possible condition, The Peach Truck uses brown paper bags to allow the fruit to breathe during transport and delivery. So, they chose our custom sandwich bags and made them their own. A simple, solid black logo featuring their iconic truck's silhouette transformed the bags into branded pieces, making them a great vehicle for perfectly ripened seasonal peaches.
💡What we can learn from Peach Truck: Sometimes, less is more! When using sandwich bags, choosing the right material to give your customers the best experience is just as important as representing who you are through logos, imagery, and wording.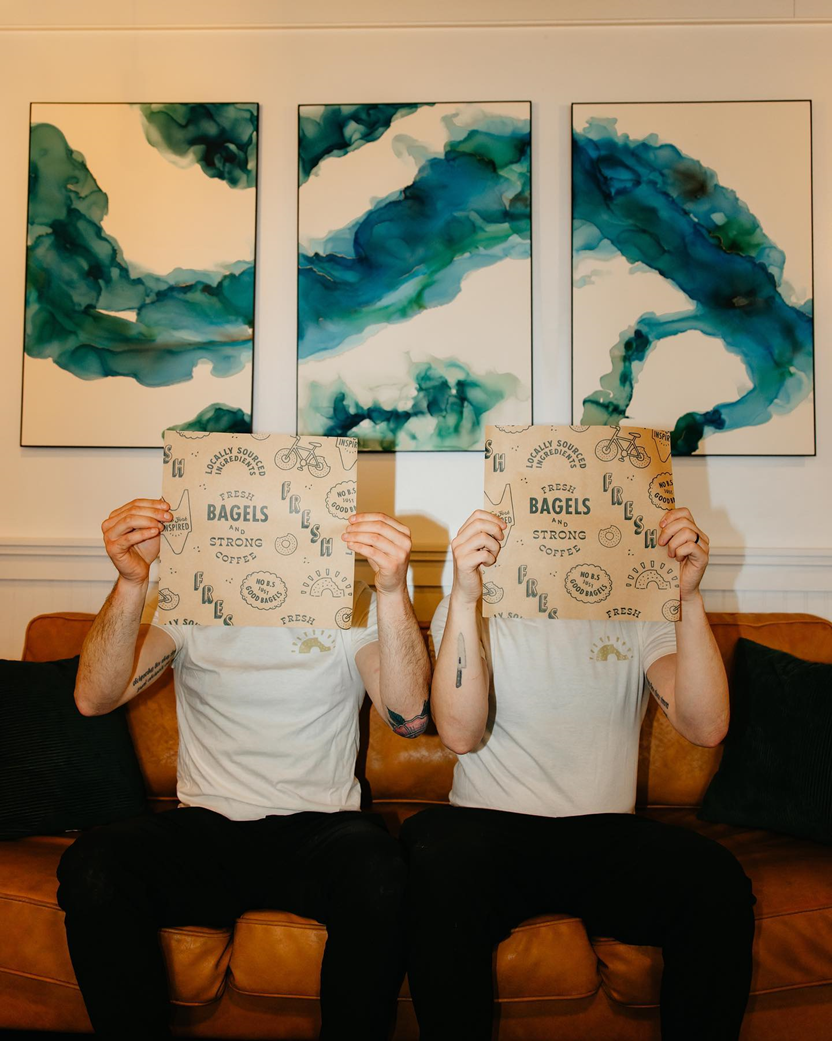 Good Bagels
Washington State has acquired a genuine New York-style bagel place, and they couldn't be happier about it. Good Bagels is run by two brothers, both as dedicated as the other to creating the perfect New York-style bagel. When you have a bakery, your reputation rides on how well your food is received by your customers, so choosing food wrap that will keep your items fresh is key.
At the same time, extending your branding onto said wrapping is key to establishing a connection with your customers. That's why we're obsessed with Good Bagels' food safe wrapping paper! They went with our sustainable food-grade wrapping paper as base and undoubtedly made it their own.
Front and center, bursting from the page, is their motto: "Fresh bagels and strong coffee". Simple, straightforward, and connected to their values, this motto is clear enough that any customer who sees it will immediately remember it. They're putting what they want to be known for out into the world, and then immediately delivering on their promise with high-quality goods.
🔥What we can learn from Good Bagels: The brothers at Good Bagels know the value of making a simple promise to a customer and then delivering on it without fail. Your branding is as much a chance to let your customers know who you are as it is a chance to catch their eye, opening the door to forming a lasting relationship with the patrons who value your business.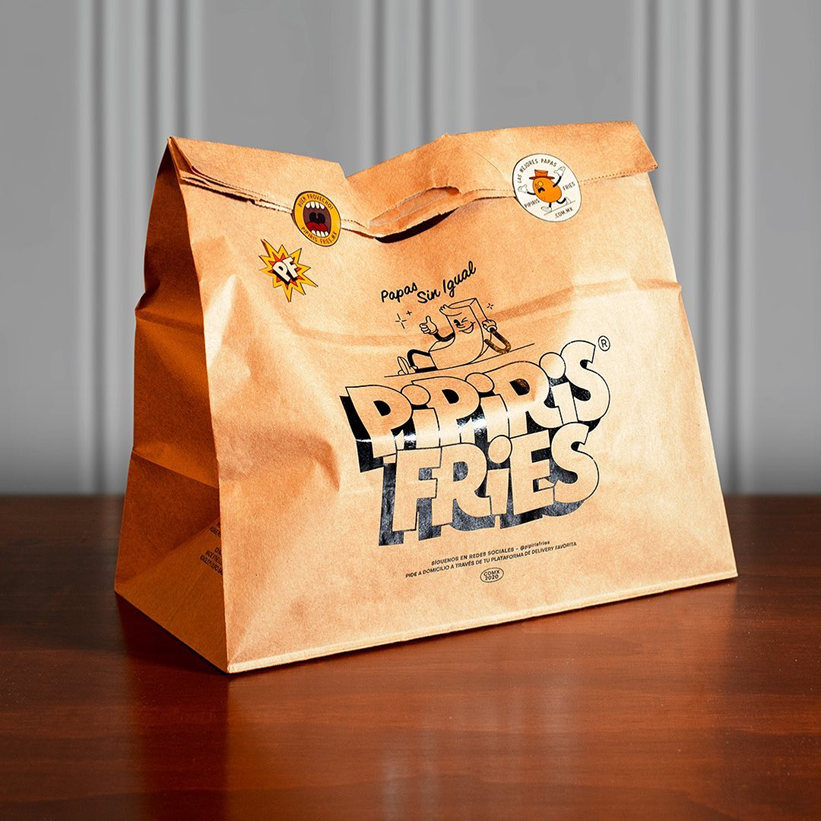 Pipiris Fries
Straight out of Mexico, this next businesses knows exactly what they're about and won't settle for anything less than perfection. You might call Pipiris Fries the House of Fries, because they specialize in creating the best loaded fries under the sun. They've been repeatedly praised for the quality and creativity of their food, which means they had to make sure both of these qualities came through in their branding.
On top of that, it was crucial for them to choose paper bags that would keep their fries hot and crispy while customers carry them home. That's where our custom sandwich bags come in! Emblazoned with a cheeky winking French fry – their mascot – Pipiris Fries declares their unique style, creativity, and dedication to the perfect fry for all to see.
These bags feature a Kraft base to keep everything inside fresh and safe during transport, and the side-gusseted design ensures they can hold takeout containers of any size or shape.
✌️What we can learn from Pipiris Fries: The branding choices Pipiris Fries makes on their custom bag lets the world know exactly who they are! Making bold choices and being unafraid of your brand's uniqueness is the road to connecting with like-minded customers. It's better to be memorable and interesting than it is to blend into the background, so let your fry flag fly!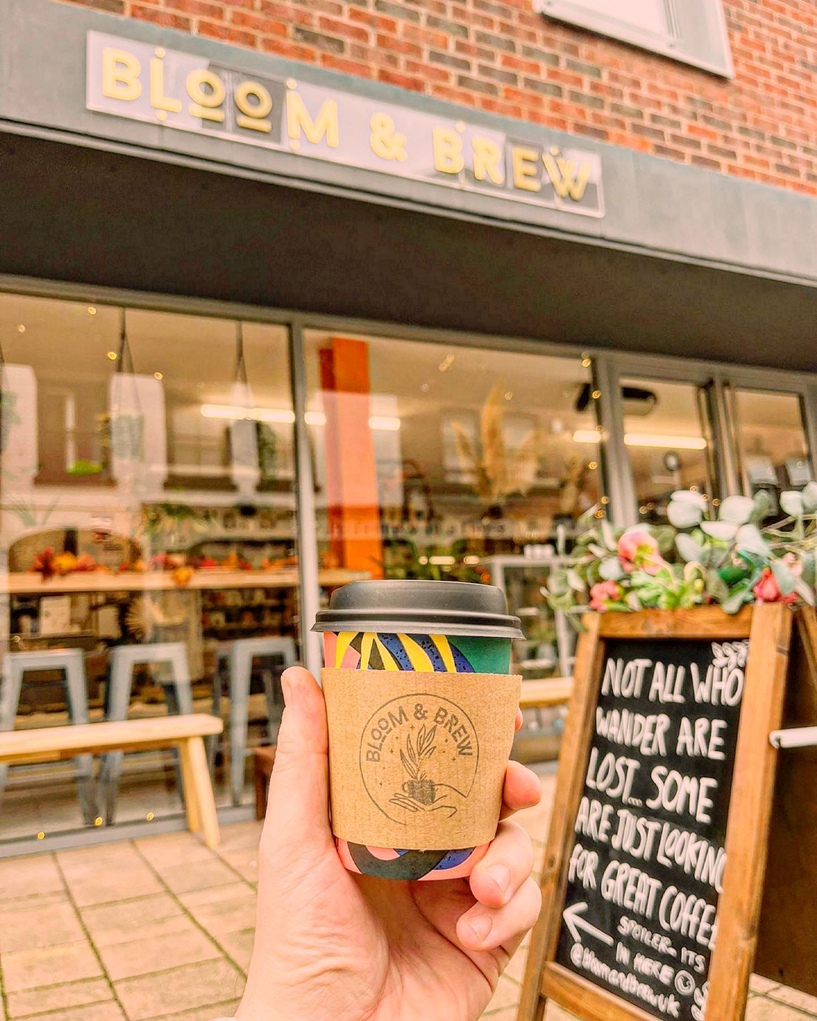 Bloom & Brew
This independent coffee shop in the United Kingdom takes the idea of a café one step further than many, transforming its brick-and-mortar space into a communal area meant for conversation, connection, and great coffee. Welcome to Bloom & Brew, the most colorful and chilled-out space to enjoy coffee in the UK. Since they're an independent brand with a rustic feel, they needed to convey that vibe through their chosen branding.
So, they looked at their potential opportunities and arrived at a decision: they would customize their paper coffee sleeves. However, since they were operating on a budget, they had to get creative and use stamps rather than purchasing the sleeves customized. That's where our custom stamp came in!
Luckily, the simple inked logo on kraft brown coffee sleeves created the perfect aesthetic to suit their rustic, grounded branding.
🌻What we can learn from Bloom & Brew: Never let your budget get in the way of great, cohesive branding! Finding a workaround when your budget won't allow for one kind of customization is a great way to still hit the mark with your customers without breaking the bank. Not to mention, this outlook aligns with doing things sustainably: only purchasing what you will use.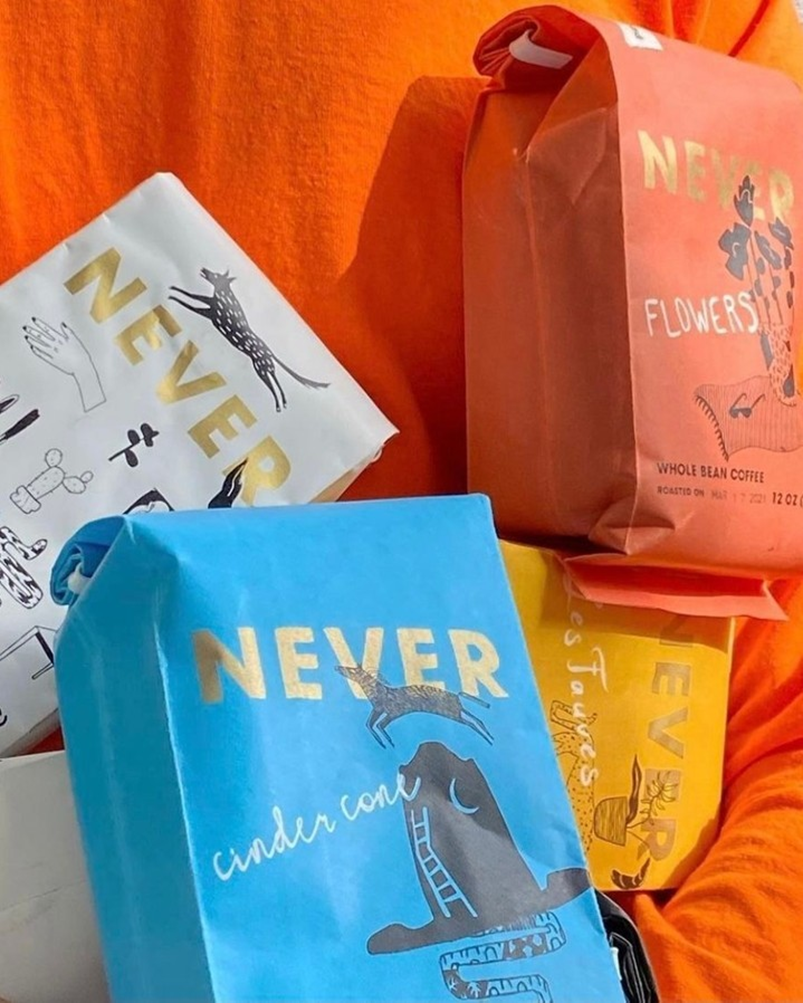 Never Coffee
Finally, we have Never Coffee. As an independent brand serving Portland customers their daily cup of joe, they saw the opportunity to expand beyond a brick and mortar café. They progressed into retail, selling their signature coffee blends to patrons who couldn't get enough of their coffee.
To do that, they needed to ace the branding on their custom coffee bags. Not only that, they needed to ensure they chose the right coffee bags for the job, as the quality of retail coffee is often dictated by how well it has been preserved by its packaging. They reached out to us with their design ideas, eventually landing on our custom compostable coffee bags.
The owners decided to lean on bold colors and quirky illustrations to denote each different blend of coffee, helping customers to instantly pick out and connect to their favorites. This made their coffee bags a huge hit in-store, as the bright colors helped draw their customers' attention even in the midst of ordering their daily hit of caffeine.
☕What we can learn from Never Coffee: Color and dynamic shapes are a powerful way to draw your customers' attention, but only if you edit your approach. Too much will blur your message, while too little will have their eyes skating over your product. Finding the balance is crucial, and that balance comes from knowing your own brand inside and out.
That's a Wrap?
Looking for more branding ideas? Check out the rest of The Wrap to find other businesses nailing their sustainable branding.
If you see something you like, check out our Restaurant & Takeout range to build out your business' branding with high-quality, food-safe products like our custom sandwich bags. Our crack design team is always on hand to help, so reach out to us if you'd like any assistance!