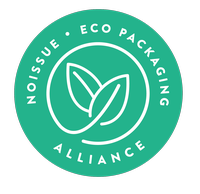 Clay jewelry is so beautiful! Prepping clay for jewellery making is a bit tedious. But the outcome of each handmade piece is always worth the time and effort! Artists who choose clay as their medium can really bring out their brand on their trinkets, with each pendant or bead being made by hand and given full attention.
Philly Cowdrey is an artist who enjoys making wearable art pieces with clay! Her statement earrings are sure to turn heads and start conversations. But aside from making clay jewellery, she also has a knack for designing silk scarves, and takes pride in the quality and craftmanship of each piece!
Read on and know more about our featured artist and her love for wearable art – and who knows, you might find your next obsession here too!
"Philly Cowdrey Designs creates statement earrings with powerful pops of colour and pattern made to stand out, from my sunny studio in Woy Woy on the Central Coast of New South Wales, Australia.
I started Philly Cowdrey Designs from a lifelong passion of art, craft and professional textile design. This has led my creative endeavors to working on costume design for feature films such as The Hobbit Trilogy & District 9, designing digitally printed interior fabrics and luxury designer rugs and carpets."
With this wealth of knowledge and experience in 2017 I started to experiment with the medium polymer clay…and was obsessed. I love how malleable it is and love how it makes me go into a creative zone where the possibilities are endless! I found working with polymer clay allowed me to translate my textile designs to life, something I had been wanting to really share with others through accessory design."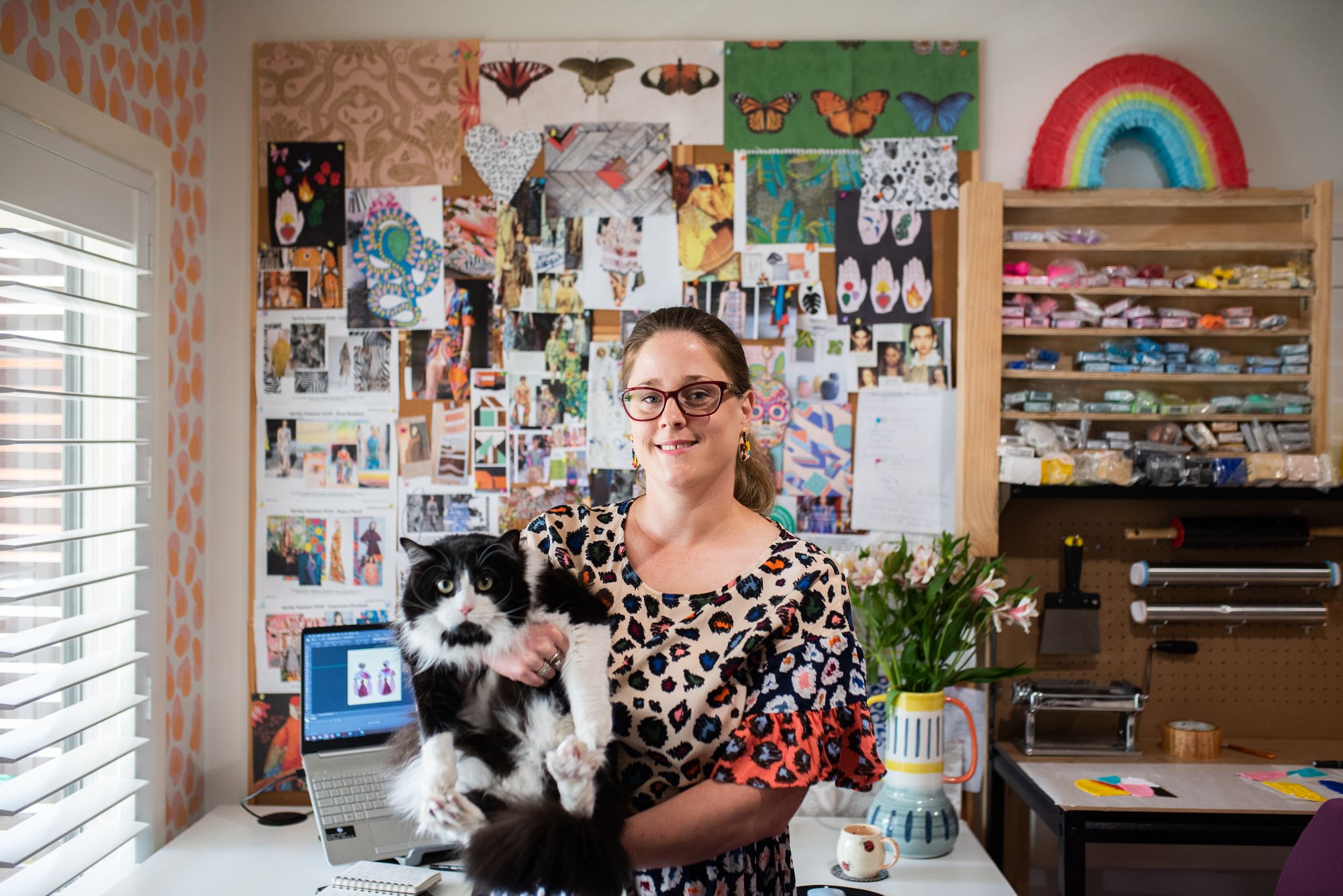 "Earrings were the perfect choice because they are small yet can have so much attitude! I wanted these accessories to keep the integrity of being handmade in Australia. Using polymer clay as the medium allowed me to set up my studio workshop at home and be in complete control of all steps during the creation process from design to finished product and presentation. The result is truly authentic Australian designed and handmade jewellery for those who cherish the bright and colourful.
I started selling on Etsy, where they quickly received top reviews and featured in multiple articles.  Although I've developed my own website, I continue to sell on Etsy as I believe it's an important global marketplace for the handmade community.
My is vision to create quality, handmade pieces that inspire the wearer to express their true style with colour and pattern. This vision is important to me because all of my earring pieces are made in small batches [minimising waste] where each individual piece is handmade, sanded and painted with lacquer to make the colours POP! I want my pieces to resonate with the wearer because they appreciate handmade and enrich their own personal style with small studs or bold colourful statement pieces. There is something for everyone!"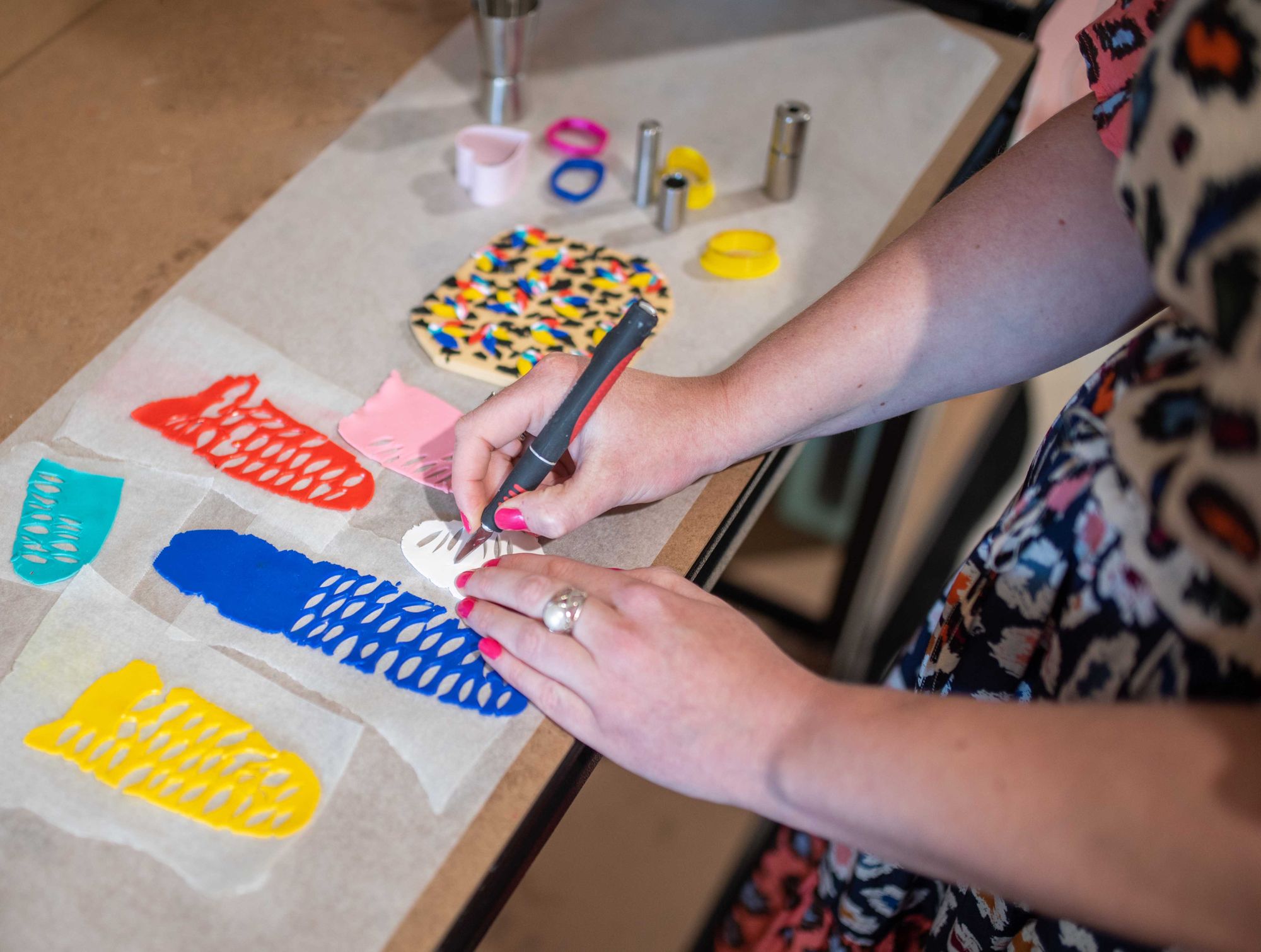 "Working fulltime down in Sydney and living on the Central Coast was really tough when I first started, especially when commuting was adding 3-4 hours travel time to my daily schedule. This meant evenings and late nights were filled with packing orders, making clay slabs and turning up to the post shop before work or lunchtime to post my orders. Lucky my post shop was at the local corner store who seemed to post all times of the day!
Fortunately, I have a very organised partner who has helped redesign my studio workshop 3 times over the years. The result is a more efficient workflow as I move between workstations, from the initial clay slab making through cutting, sanding, gluing, lacquering, assembling and order packing and processing.  This was key to remaining sane through the busy periods and helped reduce the midnight panic sessions of stock counting and making extra product to try and keep on the front foot for orders. I also used the downtime on the daily train commute into focusing on social media marketing and business planning.
We always knew the first few years would be tough and sacrifices would be made, however moving to the Central Coast was a decision we have never regretted, waking up next to the beach each day really does wonders for the body and soul."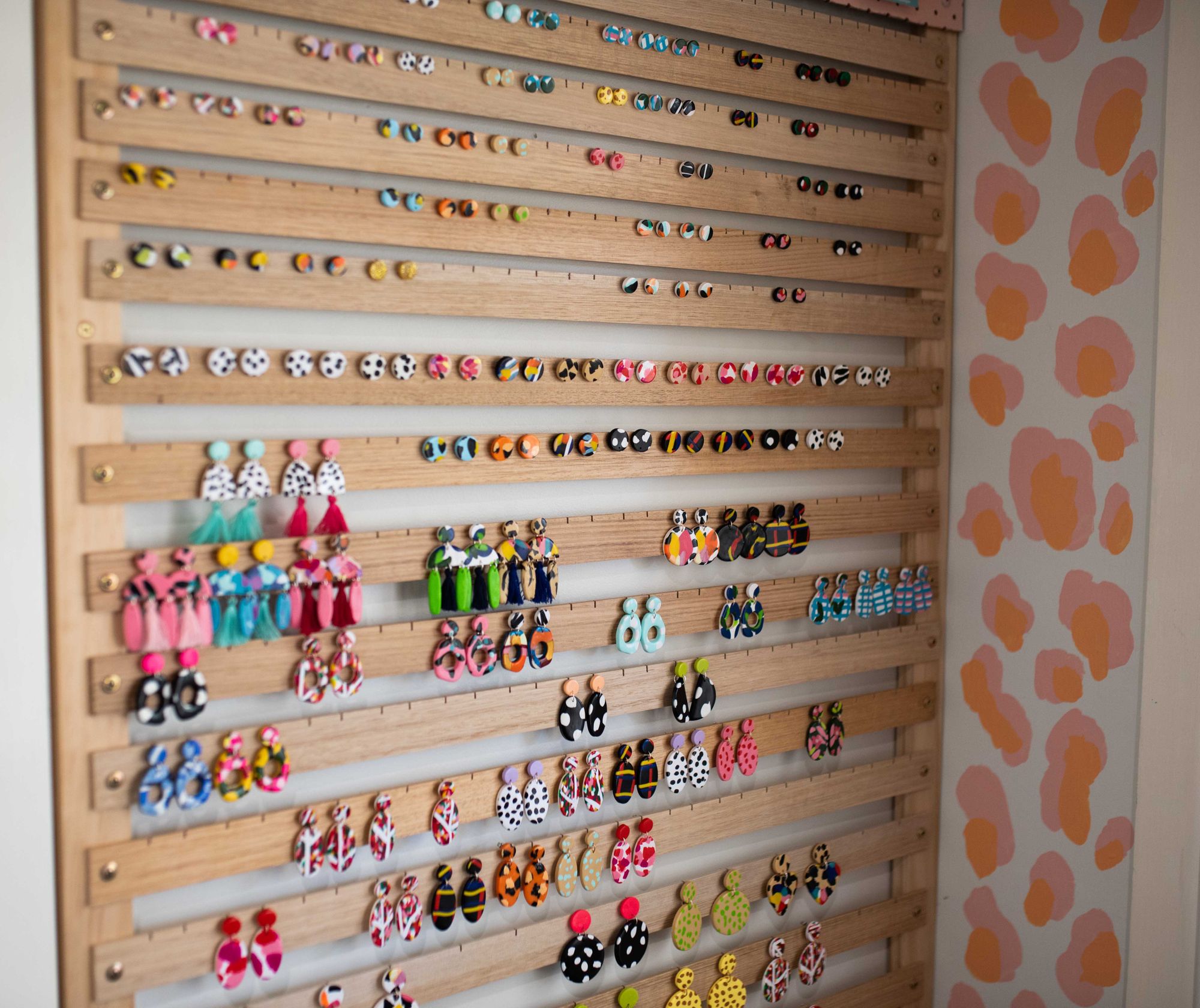 "My advice? Take risks, make sacrifices, if you have the fire in your belly to take the plunge, listen to your instincts and do it! Everything you make or do will not always be exactly what you want it to be or look like but learn from this and keep pushing yourself to progress. Learning what doesn't work is as valuable as learning what does.
What inspires me to keep moving is the unlimited pattern combinations bouncing around in my head! Sometimes I flick through a mag or walk past some beautiful flowers and it triggers ideas and colours that I must immediately write down or make. I also want to provide a product that embodies hand craft, so it is never lost in a society of mass production."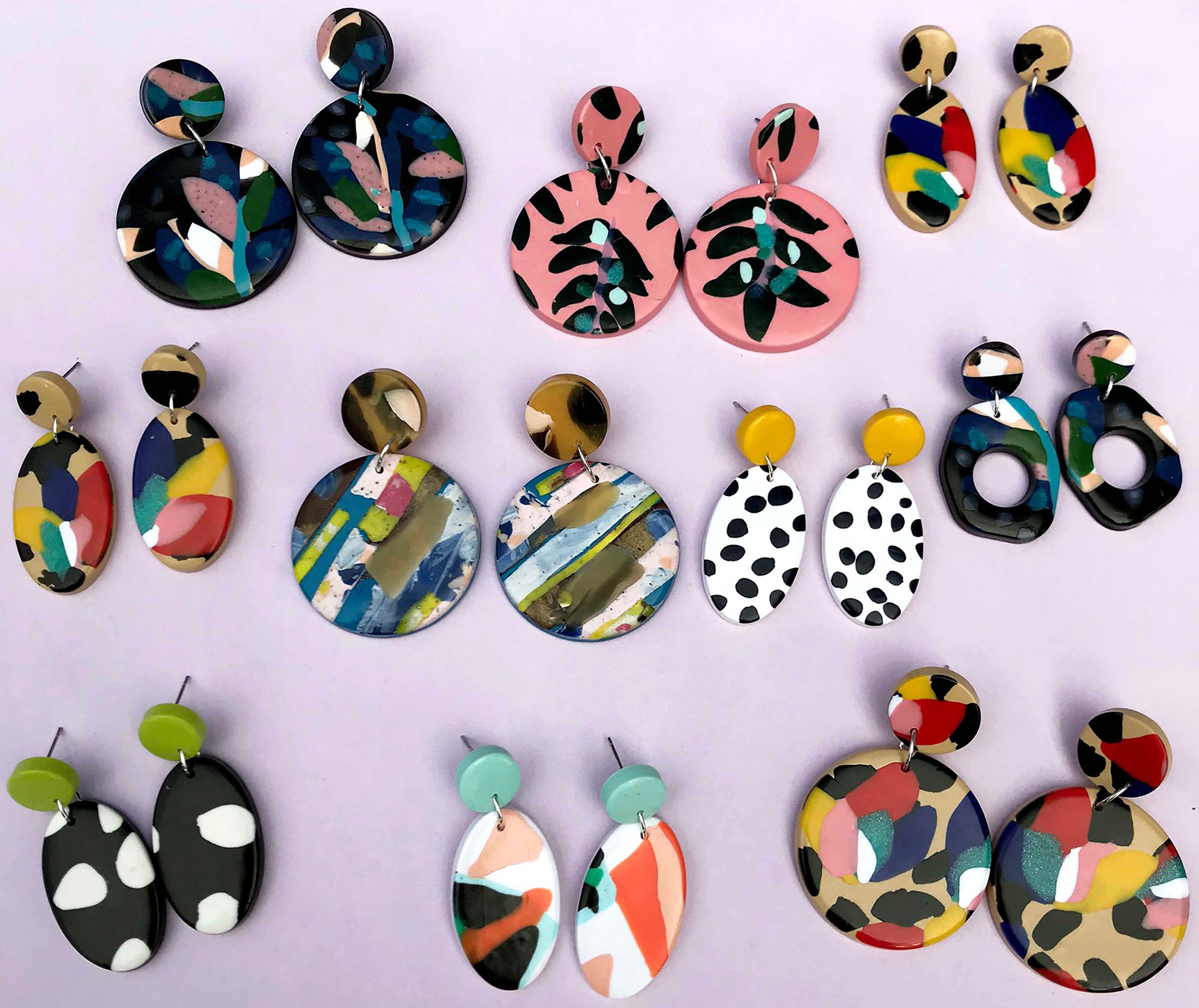 "Sustainability has increased importance to my business over the years. I make all my designs in small batches allowing me to control my use of resources as I go – no need to make huge quantities and increase unnecessary waste.
One of my latest designs Sun Seeker, where I create one stripe-y design then I recycle the leftover clay to create the second agate collection, is an example of working out ways to reuse my materials efficiently."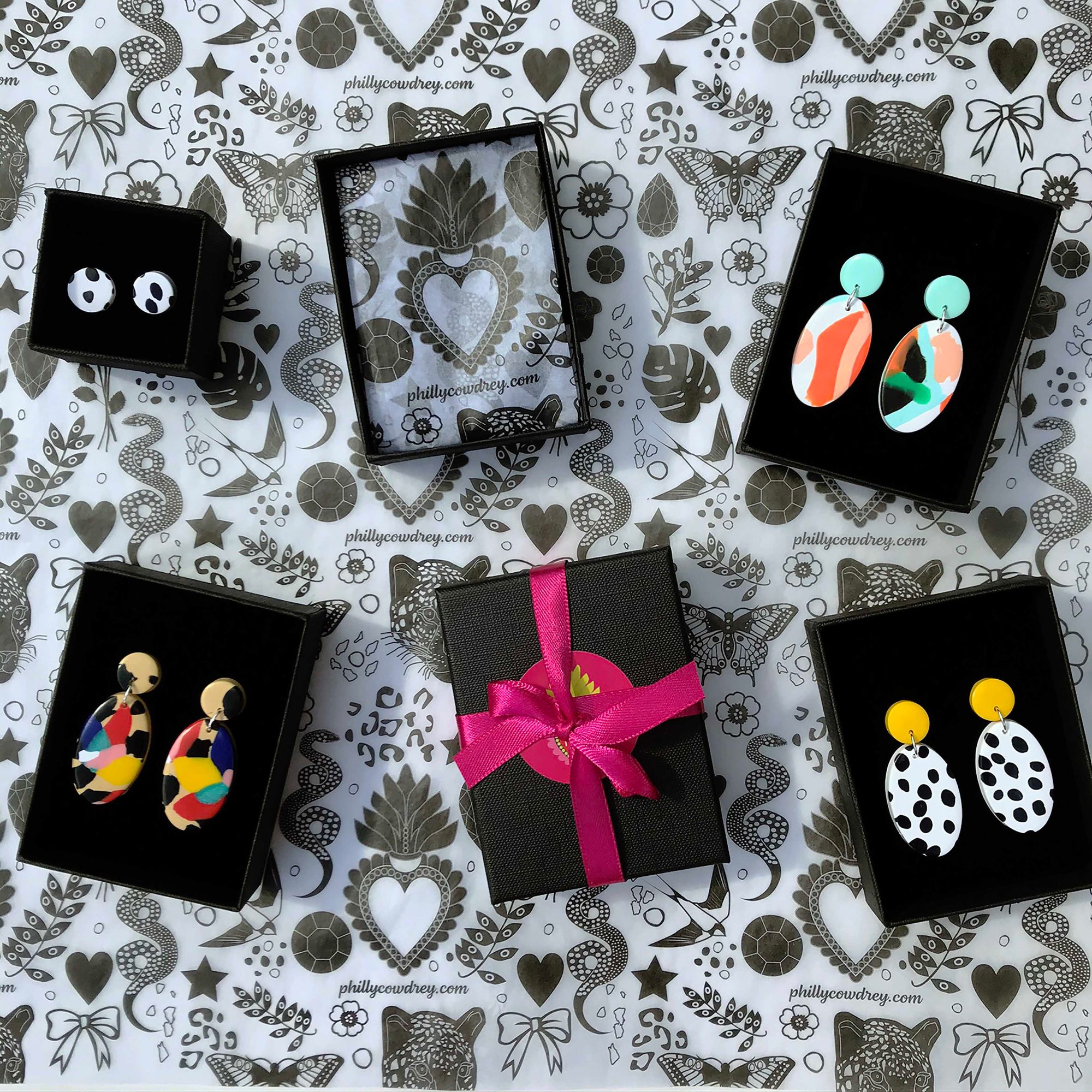 "To lower my environmental footprint I've set up recycling bins for all of my soft plastics and cardboard which the bulk comes from the packaging my materials. For my orders I'm constantly reviewing my packaging to minimize plastics and non-recyclable materials including having switched to noissue tissue and environmentally friendly mailers/sticky tape.
I decided to get custom packaging because I wanted an environmentally friendly product that I knew when my product was wrapped, it would remain safe and sound while travelling to its new owner.
Secondly, my instinctive desire to design something totally epic that hopefully creates a talking point for my customers and improves their customer experience with my products.
I chose the amazing tissue paper from noissue! I needed a tissue paper that roared at everyone who opened their Philly Cowdrey Designs earrings box! This customized tissue meant I could create something special as way to say thank you for supporting my brand – also no more boring packaging!"
"I chose noissue because I'm aligned with their environmental sustainability mindset and I want my products to be associated with companies that are looking after our planet. Next step will be to order some of that amazing tape!
I found the design process  and upload straight forward, we made a couple changes which were an easy fix to get the best outcome. noissue was very thorough and I loved the experience of creating my very own tissue paper! Couldn't believe how quick it shipped and arrived safe and sound in its packaging."
Philly Cowdrey Fun Fact:
"If my brand were an animal, it would be a colourful parrot because when I fly the skies, I look like a bright rainbow bringing colour and happiness to all living things around me!"
---
Find more of Philly Cowdrey Designs here:
Website: phillycowdrey.com
Instagram: @phillycowdreydesigns
Etsy: /PhillyCowdreyDesigns
Facebook: /phillycowdrey