Eco friendly packaging is becoming a much bigger concern for consumers. According to Dotcom Distribution's latest study, 62% of shoppers are more likely to buy from brands who use sustainable packaging.

It's a sign that consumers are growing increasingly conscious of their environmental impact - and that they want businesses to help them with their efforts to be sustainable!

It isn't always easy being a sustainable small business, especially when you deal in paper goods. Stationery and illustration can be very resource-intensive practices - and that's before you add your packaging needs into the mix!

This week, artist and illustrator Piera Cirefice tells us about her efforts to be a sustainable small business - and how noissue tissue paper helped her create a low-impact unboxing experience for her customers!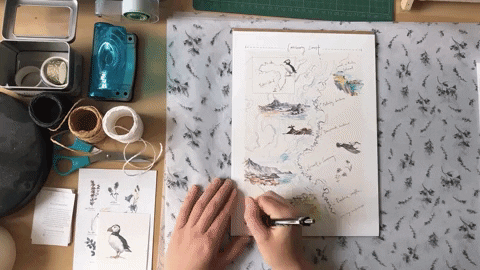 (In Piera's own words):

"My name is Piera Cirefice and I am a freelance Illustrator from Ireland, currently working in Cambridgeshire."

"My aesthetic vision is very much so in response to my process as a creative, with travel reportage Illustration at the heart of my practice. By marrying more illustrative qualities with traditional landscape studies, I hope to offer a different perspective to our unique landmarks and landscapes."

Using traditional methods like watercolour and referencing cartography, I aim to document the landscape: the flora and fauna, as well as the tales tied to that land, all with an underlying emphasis on ecological concerns."

"The overall environmental principle guiding my work being, that if one is more familiar with something then one is more likely to love it and ultimately then protect it."

Being a More Sustainable Business with Eco Friendly Packaging

"Sustainability is very important to my brand: My work draws heavily on the beauty of our natural environment and is my main source of inspiration. I want my business to reflect my values of conserving and protecting our natural landscapes by emphasising the beauty of this earth, and the importance it should hold in our society."

"Packaging has been a challenge to my business in terms of making it more environmentally friendly. As I want to protect my items which get posted, without compromising on my values of sustainability. To begin with, I wanted to keep my business expenses low and so went for the cheapest options. However, as my business has grown in the last two years, I have been able to invest more time and money into sourcing more sustainable packaging for my products - Like noissue's custom tissue paper!"

"I have therefore focused on packaging as a way to improve my sustainable practices:"

- I always use recycled packaging from previous orders.
- My envelopes for prints and cards are made from recyclable materials.
- I am phasing out single-use cello-bags in my online shop, replacing them with fully biodegradable cello-bags where necessary, but mainly replacing the cello-bags with my custom tissue paper made with noissue!
- My prints and cards are all FSC-certified.
- I also try and operate on a simple, small level, working from home to reduce my carbon footprint, and cycling to the local post office as much as I can!

For any small business, Piera's sustainable packaging tips offer some fantastic ideas for becoming more environmentally friendly! Packaging waste contributes hugely to your environmental footprint, especially for eCommerce businesses. Although something like eliminating plastic wrap might seem like a small commitment, it can make a big difference to your overall footprint in the long-term! Sustainability is all about taking those actionable steps towards a greener operation.

For more tips, check out our environmentally friendly packaging ideas blog!

Going custom with eco friendly packaging

Making a commitment to use sustainable packaging doesn't mean giving up valuable branding opportunities! Customized eco friendly packaging offers businesses the opportunity to put their brand identity at the center of their sustainable efforts, and look great while doing it!

noissue packaging isn't just eco friendly - it also provides the opportunity for businesses to aid other sustainable efforts too! Our eco-packaging alliance allows our customers to plant trees in deforested regions around the world with every order, providing a real-life way to offset the impact of your packaging needs.

Piera's custom tissue design is inspired by the flora of the Mourne Mountains in Ireland - both an expression of her nature-inspired artwork and her Irish upbringing:

"For me, the custom tissue paper offers a really unique touch. I want every order to feel like a special gift to each customer and so taking the time and care in making my packaging more custom allows me to hopefully achieve that goal!"

"I fell in love with all the Instagram photos I was seeing of other illustrators who had made custom packaging with noissue, and so wanted to try it out for myself. noissue stood out to me based on the quality of the product, but also the company's strong emphasis on sustainable practice. I loved how noissue's tissue paper uses soy-based inks, is acid-free AND FSC certified! My order also meant I could contribute to their reforestation programme (Eco-Packaging Alliance), in which a tree is planted for every order made, which I thought was very exciting!"

"These sustainable practices mean that me, as the customer, can contribute and be involved with a more environmentally friendly process of consumerism….as well as allowing my brand to be more sustainable itself!"

Click here to find out more about our eco-alliance program!