Plastic was hailed as a revolutionary product when the invention of Bakelite in 1907, by the Belgian-born American, Leo Baekeland, heralded the birth of the modern plastic era. Few would have predicted that more than a century later, plastic would become one of the biggest threats to the environment.
As such, single-use plastics are the biggest cause of plastic pollution. What's more, research shows that greenhouse gas emissions from the plastic industry will exceed that of coal-fired power plants by 2030. Currently, 232 million tons of greenhouse gases are released by the plastic industry each year.
Fortunately, the increasing public awareness of the environmental damage caused by plastics has pushed governments around the world to address the problem of plastic waste. Authorities are introducing new regulations, policies, and plastic taxes in a bid to drive society towards greater sustainability.
This article will focus specifically on how governments are using plastic taxes to help reduce the unsustainable consumption of plastic materials, and what businesses can do to manage and avoid the impact of these taxes on their operations.
Why are countries implementing taxes on plastics?

Governments have a range of tools available to them for controlling plastic waste. So, why is plastic tax the instrument of choice for several policymakers? Here are a few reasons:
1. To make plastic consumption more expensive

Plastic is a major packaging material that is used for a wide variety of products. Abruptly banning the use of plastics without developing an ecosystem for the manufacturing and adoption of alternative packaging can hurt the economy.
The idea behind the plastic tax is to make it more expensive for industries and consumers to keep using plastics. The more expensive it becomes, the more will be the number of businesses willing to switch to eco-friendly packaging materials. The greater demand will lead to greater availability and lower prices of eco-friendly alternatives.
2. To boost recycling

Lawmakers hope that taxing plastic packaging will make recycled plastic more competitive with virgin plastic.
The goal is to tax single-use plastics to the point that it will make more economic sense for businesses to use recycled plastics rather than single-use plastics.
3. To raise funds for eco-friendly initiatives

Sometimes the revenue generated from plastic packaging taxpayers is earmarked for subsidizing the recycling and eco-friendly packaging industries.
These funds are used to create a level playing field for the manufacturers of sustainable packaging alternatives that are struggling to compete with virgin plastic that's much cheaper to produce.
Which countries are implementing plastic taxes?

Many of the countries that have chosen to impose a plastic tax are located in Europe. Developing countries have shown a greater willingness to implement outright bans. In Africa, for example, the absence of a strong lobby for plastic producers has made it easier for countries to ban plastic products outrightly — this refers only to the few African countries that have adopted sustainable packaging policies to help control climate change.
China is another developing country that has outlawed certain types of plastic packaging. India has also passed new tax laws facilitating a plastic ban but its implementation was paused due to the COVID-19 pandemic.
The United States still lacks country-wide bans or taxes on plastic bags, although some states have implemented such laws. 10 states in the U.S. including California, Connecticut, Delaware, Hawaii, Maine, New Jersey, New York, Oregon, Vermont, and Washington have imposed bans on disposable plastic bags.
Countries, states, and local governments that opt to impose charges on plastics tend to do so on specific kinds of plastics. Some tax all types of plastic packaging, while some only target single-use/non-reusable plastics. The tax design model also differs from one country to another. Some impose the tax on the producer, while others impose it on consumers.
As a business owner, it's important to familiarize yourself with the types of plastic taxes that may be applicable in your country or state. You need to know who will be liable for the taxes within the supply chain.
You must also consider how these taxes may impact your enterprise risk management systems. Make sure that you have employees responsible for handling compliance and provide them with the training and access they need to perform their duties.
The table below shows the list of countries that have implemented plastic taxes, how these taxes work in each country, and how much it costs.
How to lower or avoid plastic packaging taxes

Undoubtedly, the growing focus on plastic taxes will challenge many businesses. Companies will have to comply with a growing labyrinth of laws and a plastic-heavy supply chain will continue to get more expensive as time goes by.
Business owners must, therefore, take adequate steps to mitigate the risks and make their operations more sustainable. To that end, here are four ways your business can lower or avoid plastic packaging taxes:
1. Use recycled packaging alternatives

Perhaps the most obvious solution is to switch to recycled plastic packaging that has been manufactured using non-virgin plastic materials. Using recycled packaging means packaging waste doesn't end up in landfills and carbon emissions are reduced.
Most countries avoid imposing a plastic tax on recycled products and the good news is that such packaging will still protect your product as well as materials made from new plastic.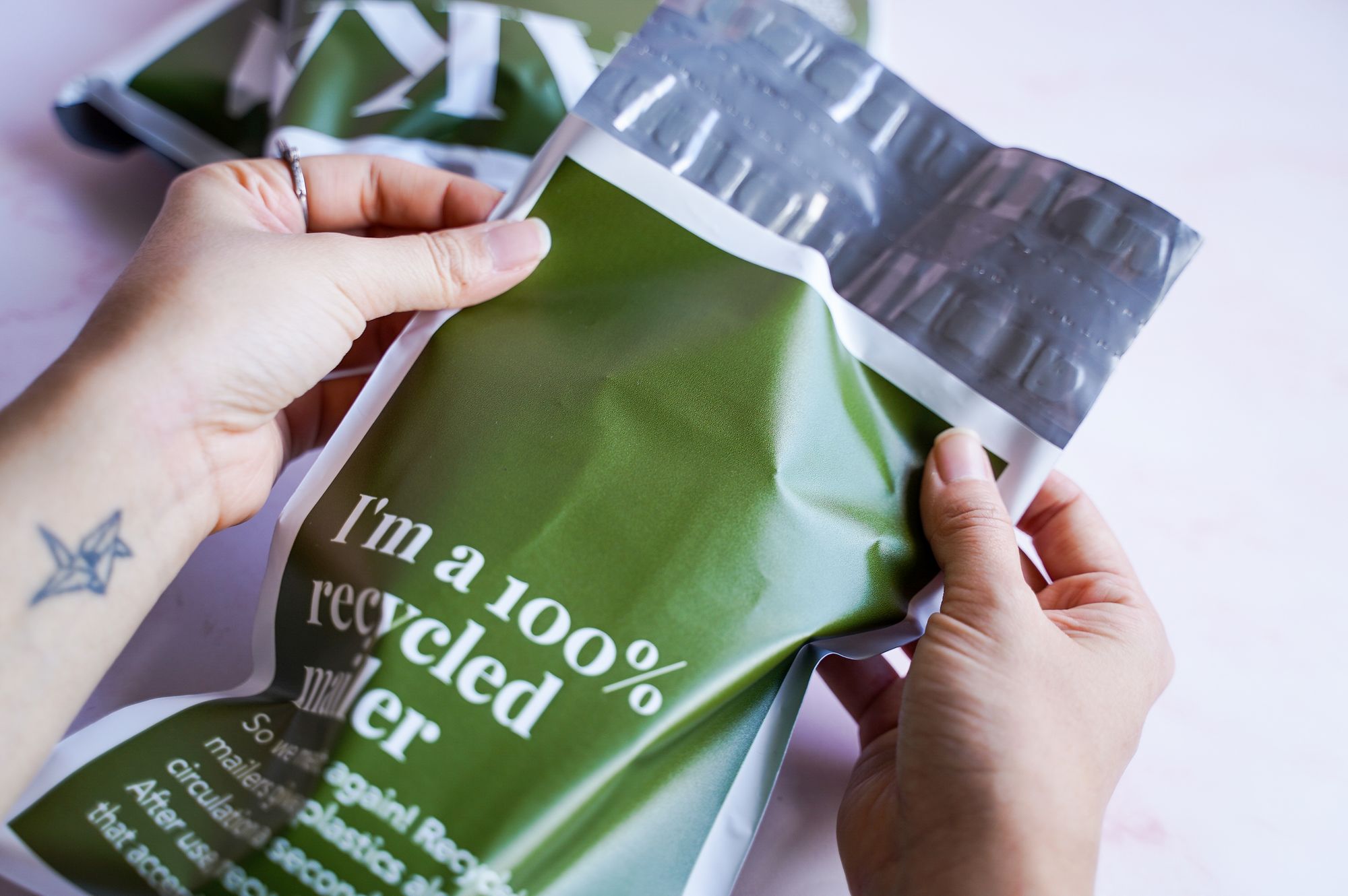 2. Adopt paper-based packaging

Corrugated or paper-based packaging is a good eco-friendly alternative to plastic. Paper has higher biodegradation rates (breaks down much faster in natural environments) and is one of the most recyclable materials in the world.
The main drawback is that some fragile products require absolute levels of protection that cannot be provided by paper packaging. In such a situation, the costs of any prospective damage caused by inadequate paper packaging will outweigh the costs incurred from plastic tax.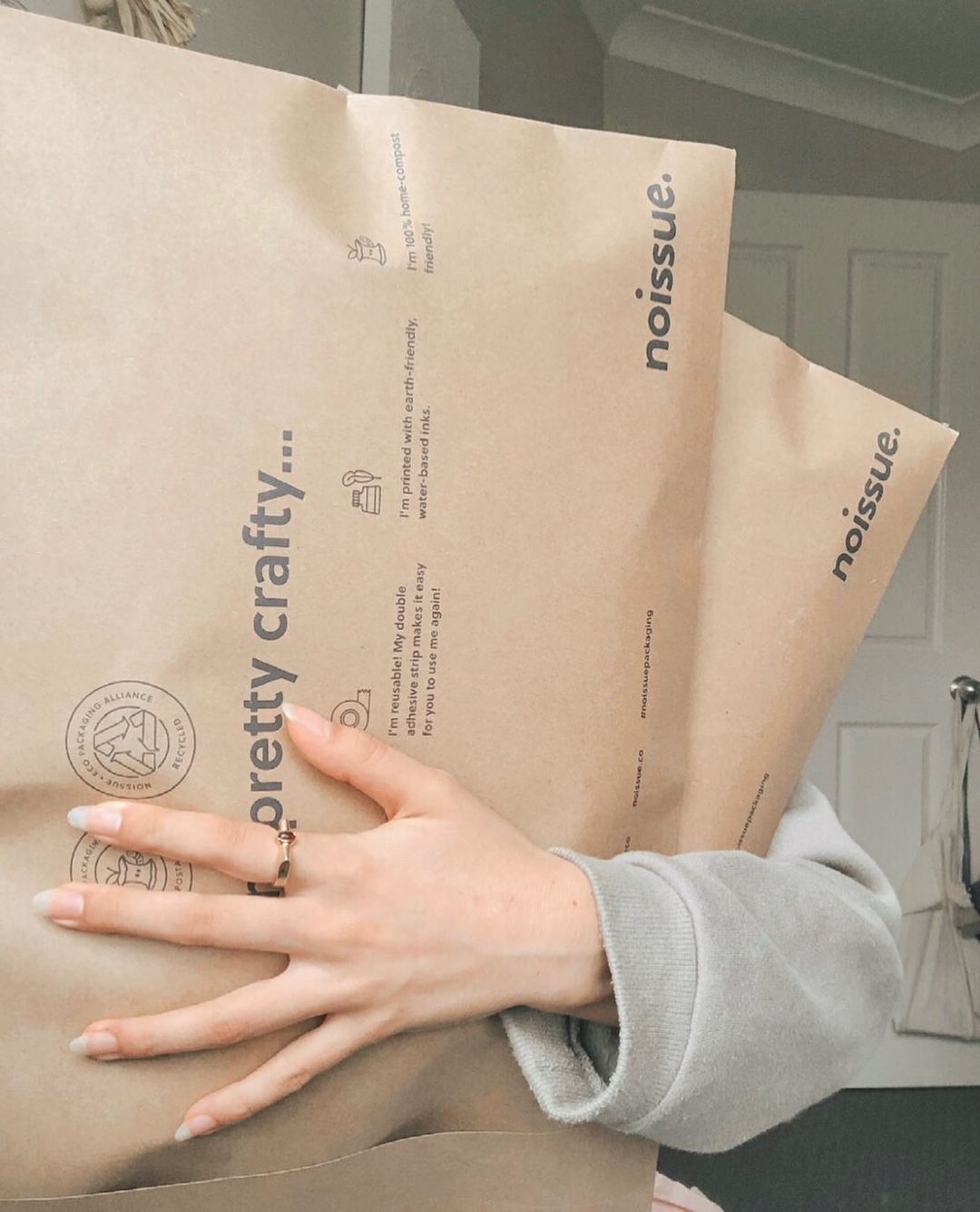 3. Switch to reusable packaging

If you use lots of plastic packaging within your supply chains, consider switching to reusable packaging.
This is beneficial because by reusing plastic, you will spread the costs of taxes over a long time period. For example, noissue's range of recycled poly mailers feature a second adhesive strip to encourage reuse, keeping materials in circulation and out of landfills. The longevity of the reusable packaging will severely minimize the impact of the plastic tax.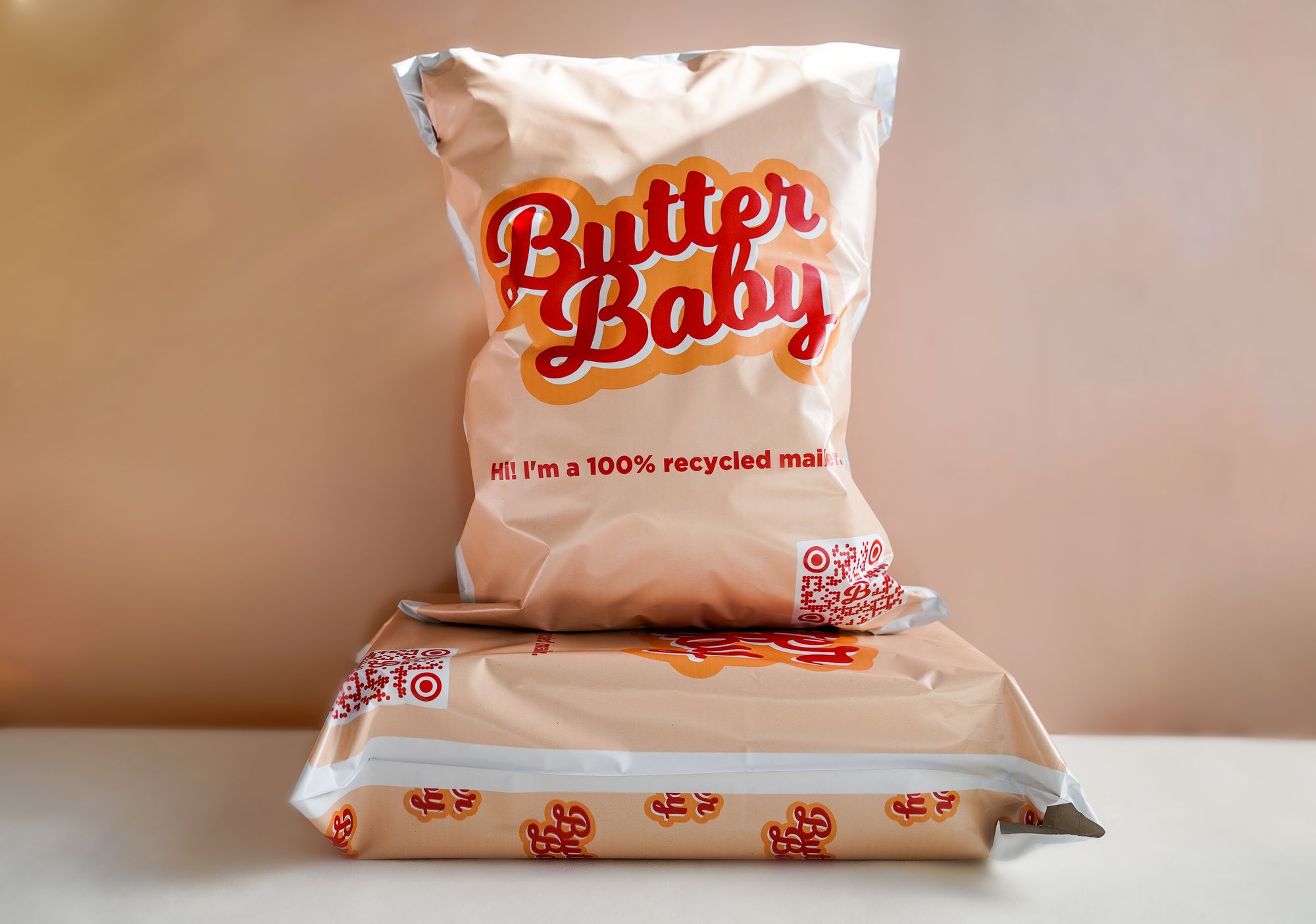 4. Embrace plastic-free packaging

The best choice you can make to completely avoid the tax is to stop using plastic packaging. Not only will you save money that can be passed on as cost savings to customers, but you will also increase the appeal of your brand to consumers and investors.
At noissue, we produce customizable, sustainable packaging materials that will help you deliver on-brand unboxing experiences while helping you avoid the plastic packaging tax. Some of our most popular eco-friendly packaging products include:
Compostable mailers
The noissue Compostable Mailer is a superior alternative to plastic mailers and is made from corn starch and other biodegradable materials. It has a shelf life of nine months and it can be used to package lighter, non-fragile items like clothing, shoes, jewelry, and more.
Custom compostable and recyclable boxes
noissue Custom Boxes are made from corrugated cardboard. They are home compostable or curbside recyclable. They are versatile enough to be used to transport a wide variety of products including fragile and perishable products. You can create your own custom design for your boxes on noissue's design platform or use one of the available customizable templates.
Reusable tote bags
noissue Tote Bags are made from 100% organic cotton. The bags are reusable and they provide an excellent medium to show off your brand. They can be used to pack snacks and are big and durable enough to be reused by your customers to carry anything they could possibly need in a day.
Recycled/recyclable paper takeout bags
noissue Paper Takeout Bags are made from recycled kraft paper and are reusable. They are quick-service takeout and shopping bags with handles making them perfect for food deliveries. What's more, they can be customized to elevate your customer experience and promote your restaurant.
🎁 Wrapping it up

We've covered everything you need to know about plastic packaging taxes and what you should do to adapt to them as a business owner. Going forward, you will be best served by switching completely to non-plastic packaging materials.

If you must, however, continue using plastic packaging, make sure to stay abreast of the evolving tax landscape to avoid being subject to financial penalties for non-compliance.
Before you go, don't forget to check out our complete range of sustainable packaging solutions that fulfill every business need.