Big retailers: noissue is your friendly home for beautiful, sustainable packaging in high order quantities! Read all about becoming a noissue Plus partner, and head to our noissue Plus page to get started. Easily design your beautifully branded packaging that's compostable, recyclable, or reusable!

While the holidays are full of happiness, it can also leave us scratching our heads when it comes to finding the perfect present. (Lovingly) raise your hand if you've ever gotten stuck on what gift to get for your pickiest loved one. 🙋‍♀️
But don't settle for the standard gift card just yet. We're swearing by these picks from our noissue Plus customers bringing the best of the season! These rockin' retailers are sure to have something for everyone – including grand gifts and stocking stuffers that are sure to pleasantly surprise.
A word on noissue Plus

Give a round of applause to the brands, big and small, that are taking the step toward a more sustainable future by using noissue packaging! A noissue Plus Partner is a medium to large business that's making a large packaging order of 10,000 to 100,000 units (or more!)
Does your large business need creative, custom, and sustainable packaging by the hundreds to meet your customers' demands? noissue Plus welcomes bigger businesses to access our online design platform and place product orders in larger quantities. Just get in touch with us on the noissue Plus page, fill out the enquiry form, and let us take it from there.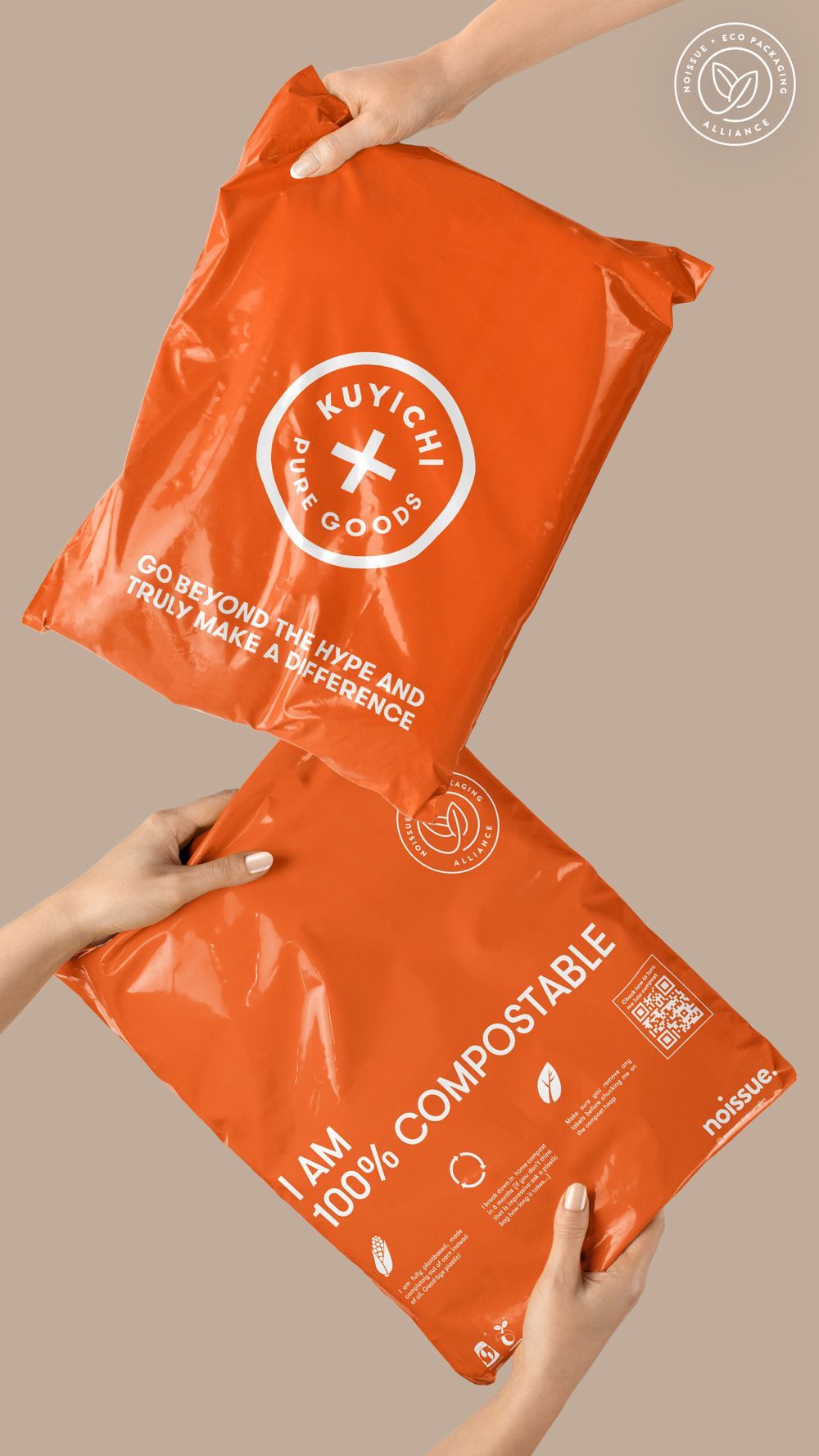 Now, let's get into it! Below, you'll find some familiar names that will have your holiday gift haul covered. Then just pack it all up in beautiful custom packaging like noissue Tissue, and relax by the fireplace as your loved ones rave about their gifts.
Loose Canon

For those who revel in the finer things in life, Loose Canon has just the right gifts. Loose Canon is a wine retailer that's also filling up glasses and serving up tasty toasties at their home base in Ireland. They're shipping out their best-selling bottles across the island of Ireland, so be sure to send a few toward a loved one. Keep your eye out for your Loose Canon order to arrive looking pretty in custom noissue Tissue, and pop one (or three open) to wine and dine during the season.

You can never go wrong with a real rosé like the one Loose Canon has available for purchase. And don't forget a bottle for the host – either for another, or yourself!
OAK+FORT

All smiles for OAK+FORT! This beloved clothing brand is synonymous with chic womenswear and effortlessly minimal style. The brand has expanded internationally from humble beginnings in Canada while remaining true to its sustainability commitment by using noissue packaging. As a noissue Plus Partner, OAK+FORT created custom, gusseted Compostable Mailers that make it a breeze for customers to reuse or compost.
The Canadian brand is unstoppable this holiday season with a comprehensive gift guide of its own to boot! Check out their list of under $25 gifts to source the sweetest stocking stuffers.
Wild Wawa

Wild Wawa is your destination for the cutest children's clothing around! Inspired by the Peruvian heritage of mother-daughter duo Marina and Micaella, Wild Wawa believes in bringing a touch of special to your little one's everyday adventures. The brand sticks to sewing their pieces as sustainably as possible, like using GOTS-certified organic cotton and shipping purchases in noissue Plus custom Recycled Mailers. In Lima, Peru, everything is handmade by a small team of talented artisans working alongside the duo for years, so every product is lovingly crafted with the utmost care and attention to detail.
Treat your tiny one to a Wild Wawa Terry Lounge Set that can take a cool tyke from daytime to playtime!
St. Louis Art Supply

Who says your packaging tape can't be creative? St. Louis Art Supply is leaving customers in awe with their rainbow-ridden custom noissue Tape, and we wouldn't want it any other way! Having roots in the charming city of St. Louis, this art supply retailer is spreading seasonal cheer through well-made gifts. If you know a budding artist or want to stock up your art stash, browse through their curated collection of supplies. And packaged so sustainably with noissue, we promise that your presents from St. Louis Art Supply will shine brightly under the Christmas tree.
An excellent gift for any art-lover is this Custom Schmincke Horadam Watercolor Set – you can even choose colors by themes like Botanical and Bright!
Kuyichi

For fuss-free, sustainable, and ethically-made closet essentials, Kuyichi is your go-to for clothing that does it all. Kuyichi's journey started as a sustainable denim brand that's rapidly grown into crafting high-quality and durable apparel for all occasions. Since they've got an expansive (and we mean massive!) collection of jeans in many styles, you can't go wrong with gifting your loved one some durable denim. And Kuyichi is all about pure, toxin-free materials – including a line made from recycled textiles – that exclusively come from a healthy supply chain, so every article of clothing is handcrafted to last you a long time.
Grab your loved one and yourself a pair of their signature denim, sweatshirts, and tees for a wardrobe that'll never go out of style. Your Kuyichi order will come in a bright custom noissue Plus Compostable Mailer, so you can also give a gift that'll be good to the earth!
Ritual Chocolate

Those with a sweet tooth will be celebrating when they bite into a bar from Ritual Chocolate! This award-winning artisan chocolate company is known for one-of-a-kind takes on both classic and contemporary confectionery creations. Ritual Chocolate sustainably and ethically sources every ingredient into their delicious chocolate, actively ensuring fair wages for the cacao farmers they work with and maintaining a healthy supply chain as kind to the earth as it is to people. When an order from Ritual Chocolate arrives into your hands, wrapped in custom noissue Tissue for decadent decoration, you won't be able to resist the tasty temptation!
For the ultimate seasonal sampler, send someone the 3 Bar Holiday Bundle from Ritual Chocolate! They get a taste of three new flavors that are for a limited time this holiday – great for an S.O. who's really into sweets or just about anyone who's keen on really, really good chocolate.
Flavedo & Albedo

Love makeup and hate plastic? You're not alone! It's no sure-kept secret that the beauty industry is notorious for producing large amounts of packaging waste – which is what Flavedo & Albedo are trying to change. While most cosmetic casings have non-recyclable parts like pumps, bottles, and lids, Flavedo & Albedo's cosmetics line comes in skin-safe and sustainable materials. The beauty brand works closely with their suppliers to ensure that plastic isn't present throughout their entire process from formulation to packaging and constantly comes out with new, earth-friendly products that blow non-sustainable beauty out of the water! Top off their best-selling beauty with eco-friendly, die-cut Stickers from noissue, and you've got a gorgeous gift for the environmentally-conscious beauty lover!
Flavedo & Albedo are masters at making a sustainable statement – and that also extends to a stunning eye look! The Maximalist Duo, which comes with a colorful eyeshadow and eyeliner combination, will be a dazzling conversation starter.
Davines

Healthy hair doesn't have to bring harm to the environment. Davines is a hair care company that is out to prove that good products can transform hair and the earth for the better, and at the same time! Davines believes in the balance between beauty and sustainability – hence why their hair care products are crafted from high-quality ingredients, produced in Italy using renewable energy, and packaged sustainably with the help of noissue's custom and compostable Tape. Davines does it all and then some, especially since their collection of mane-taming products will leave your locks pretty and pristine!
A unisex gift suitable for all hair types would be Davines' OI Set, which has a luxurious dose of shampoo, conditioner, and oil for a well-maintained mane.
🎁 Wrapping it up

There it is – these are what we think are the best holiday picks from the bigger brands that are sustainably and stylishly making moves! Through being noissue Plus customers, these retailers are really changing the game on what it means to be a successful brand without compromising sustainability or quality in their day-to-day, from the production process to custom packaging.
If you're a large retailer needing a sustainable solution to your packaging, look no further than becoming a noissue Plus partner! Head here for more information, and give us a shout to start customizing your brand's sustainable packaging.
The holidays are a wonderful time to make a sustainable switch in your gifting and packaging! So get to shopping, and check back here on The Wrap for more holiday gift guides that'll save you plenty of precious time and energy this season.
Getting your gifts all ready to go into Santa's sleigh? Follow us on Instagram for plenty of present packaging inspiration!