Custom Folded Hang Tags and QR code by noissue and Tapkit for @azar_newzealand
For businesses, it's always essential to keep ahead of the times. After all, you want your brand to stand out among the competition and weather any storms for the long term! And if the past couple of years has shown various industries anything, it's that adaptability is crucial for brands to thrive and find success in a post-pandemic world.
The past two years have also redefined what it means for brands to conveniently, safely, and instantaneously engage with consumers. As in-person events and dining make their way back into our regular routines, brands shouldn't forget to provide a digital experience to bring their branded experiences above and beyond.
Thanks to the mini yet mighty QR code, you can reach your customers effectively and efficiently! The QR code has proven to be a valuable addition to the overall branded experience. Not only that, but the QR code has become a hallmark of the pandemic. QR codes can still be spotted on restaurant windows, menus, invitations, and consumer goods via packaging.
Nowadays, smart packaging makes a solid statement to customers. Brands that employ QR codes on their product and shipping packaging signal that they're a thoughtful, innovative, and future-proof business to customers. Regular ol' packaging is transformed from being more than just the first physical touchpoint a brand has with customers into smart packaging capable of giving an immersive experience beyond the box!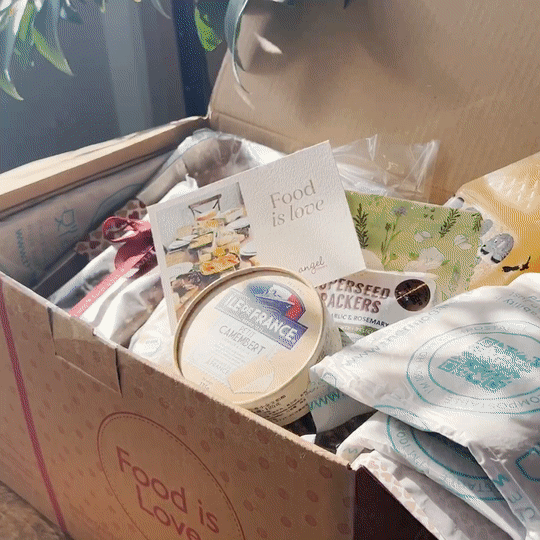 What is smart packaging?

Smart packaging displays a QR code for customers to scan at any point during the unboxing. Smart packaging adds even more value to the unboxing experience by giving your customer a physical and digital interaction to explore your brand, products, or services. It's a clever and cost-efficient way of connecting with customers. And QR code packaging removes your customer's pain points by providing more options to their fingertips and phone screens!
Let's dive into what makes using a QR code on packaging great for future-thinking brands.
What can you use a custom QR code for?

There are many ways that your business can use a custom QR code! From sharing your cafe or bar's menu to arriving guests to making reordering a product easy with one scan from its packaging, a dynamic QR code goes a long way in doing a lot for your business with little lift from your end.
What kind of QR code should I use on my brand's smart packaging?

A custom dynamic QR code will allow you to freely switch out its destination URL anytime without changing the code's design or display. On Tapkit, you can create your brand's own dynamic QR code to place onto your packaging. You can also make a corresponding microsite that you can assign as your QR code's destination URL or have it direct to your website.
Suppose you decide to change the destination URL from a particular page to a different destination. In that case, you can do so quickly and effortlessly, so there'll be no need to remove the QR code from physical products!
Read about several methods of using a custom dynamic QR code to impress customers and generate more buzz around your brand in this story.
Inspiration Station 💡

Various products are compatible with custom QR codes and will be a hit among excited customers unboxing your product regarding packaging. And since noissue has plenty of picks on which you can place your custom QR code, your business will lead the rest of the pack in creating smart, sustainable, and stylish packaging. Below, you'll find examples of Tapkit and noissue customers with smart packaging designs that completely blow the competition away!
1. QR code to a fun and tappable quiz

Belu is a water brand with a mission to help humans and the planet thrive! In pursuit of making the earth a place where people and the environment can live in harmony, Belu invests its profits into carbon emission reduction to champion circularity and end water poverty. The drinks brand also does what it can to minimize its environmental impact and remain 100% carbon neutral with every order of its mineral waters, tonics, and mixers.
When receiving an order from Belu, you're already given a show from the bold and bright shipping box! Once the beautiful shipping box is opened, you're greeted with a lovely card containing a custom QR code – this is where the digital magic begins! Customers can scan the QR code card directing to a tappable quiz where they'll find out more about the brand and which mixer flavor suits their tastes. They can also access different drink recipes through this interaction, giving customers an extra activity that makes the Belu unboxing experience more memorable. Talk about a bang for your buck that also does big-time good for people and the planet!
2. QR code to sign up for can't-miss VIP rewards

No one can refuse a good deal. That's why The Kindred Studio, a Canadian family clothing brand, allows customers to join their rewards program as soon as a customer's package arrives! The Kindred Studio takes much inspiration from their community in Abbotsford, BC, on the traditional and unceded territory of the Stó:lō people, the Semá:th and Mathxwí First Nation. All of the brand's products are proudly manufactured in Canada and follow their philosophy of making production as ethical as possible. They believe in spreading good throughout every article of clothing in their line, so it was natural that their VIP program fosters a caring customer community, chock-full of exclusive discounts and promotions!
On The Kindred Studio's recycled shipping mailer, customers will find a custom QR code that opens their Facebook VIP Community page and a prompt to join. Customers can also access an SMS sign-up form for an extra percentage off their next order. It's an effortless method of engaging customers to stay up to date with the brand while giving back to their biggest supporters, encouraging repeat sales and smiles!
3. QR code to a handy and informative microsite

For Fussy, a natural deodorant brand, smart packaging was a no-brainer to make their customer's interaction with their product even more seamless after unboxing. There's nothing fussy about their product since the brand prides itself on creating effective and eco-friendly products, and its packaging reflects these values. Opening a Fussy package, customers get to have a comprehensively branded experience that doesn't take away from the brand's mission statement dedicated to sustainability – a win-win in our books!
Fussy's custom QR code inside their product box leads to a microsite housing multiple helpful links for customers to browse at their pace. The links include an educational video that teaches customers about the benefits of natural deodorant and how to refill theirs once it's all used up, a referral program to earn rewards from friends, and an option to donate to a charity partnership. What's great about their microsite is that the brand can update the links at any time, such as for seasonal promotions or content, without making any changes to the QR code on their packaging. All customers have to do is scan the QR code on the box to enjoy these features. Fussy is all set to impress with its fresh deodorant smells and sustainable smart packaging!
4. QR code to show off your brand's latest collection

Since QR codes can be pretty small, they're perfect for being placed onto the finer details of a package – like custom hang tags! And Azar New Zealand, an ethical leather goods brand, does this through cleverly designed folded hang tags. Azar New Zealand hand-packages every order with care and thus aims to extend this sentiment through hang tags displaying their brand statement and QR code.
Customers can read up on the brand's commitment to ethics and quality on one side of the hang tag and browse their website by scanning the QR code. By making their website the destination URL tied to their QR code in the hang tag, Azar New Zealand bridges the gap between physical and digital by quickly bringing their latest online collection to the customer's fingertips. Consider a second (or third, or fourth!) order placed right then and there!
5. QR code for customers to join a community

Above all else, the feeling of receiving a gift addressed and curated just for you is unmatched. But imagine if that gift not only contains goodies but also warmly welcomes you into a close community? Angel Delivery seeks to make every single order of their gift hampers extra special and memorable through thoughtful item curation and smart packaging!
The New Zealand-based brand was founded on the passion for connecting loved ones by putting their love on the table with gift hampers of handmade, chef-prepared chilled meals and gourmet treats. Angel Delivery's small team also ensures that with every gift package received, they allow the recipient to join the Angel Family, a points program that grants customers offers and free gifts by scanning the QR code on a custom card. Customers can then keep the love going, and the program encourages recipients of an Angel Delivery package to send one of their own to a loved one! The Angel Delivery unboxing is already unbeatable and topped off with a card containing a sweet note and QR code to join the brand's customer community, it's made all the more heavenly.
More ways to make your brand's packaging smarter

The above examples are excellent ways to turn regular packaging into interactive branded experiences! But the innovation doesn't stop there – here are a few more ideas that effortlessly transform your packaging and help build your brand as a future-proof one.
🎁 Wrapping it up

So there you have it! The possibilities are endless for making your brand's packaging smarter. QR code packaging is not just the way of the future – it's how brands of now can ensure a future full of success! And making your packaging more brilliant doesn't have to come at the cost of the environment or your brand's style. Get started with your business's custom dynamic QR code on Tapkit to print onto noissue boxes, mailers, product packaging tubes, and more.
Keen to turn your packaging into a smart and modern experience? Learn how to get your custom QR code print-perfect for impressive packaging here!