This year at noissue, we have developed our sustainability framework by focusing on where we can minimise harm and have a positive influence.
In this piece, we focus on the social side of our framework, which includes our people and what we're doing to support wellbeing, diversity, inclusion and equity. We're also working on initiatives that foster a culture of sustainability, and what we can do to ensure our people are empowered and connected to our purpose and sustainability values.
Sustainability happens only when we have a perfect balance between three pillars of sustainability: economic, environment and social.
As a business that has a team of more than 100 people, we want to support social equity, gender equality and climate action. Here are some of the initiatives we're working on that also support our people and these United Nations Sustainable Development Goals (SDGs).

Wellbeing, engagement and benefits

As well as ensuring wellbeing across our supply chain, we want to ensure the wellbeing of our people. Wellbeing and sustainability to us go hand in hand, as taking care of yourself is part of working sustainably and thinking for the long term.
When considering wellbeing, we consider the social aspect of connectivity across our team and the culture we foster, physical and mental wellbeing, the flexibility of our roles and working hours to allow for balance, the financial component (we pay living wage or higher for all of our roles) and the fulfilment and challenging work through learning and development and ambitious goals.
We've recently introduced new benefits, which include wellness leave across all of our markets, along with improvements on our health insurance, paid time off, growth and development, flexibility, and improving the home offices of our teams.
Diversity, inclusion and equity

Inclusion promotes equity, access and opportunity. We know diversity strengthens relationships and delivers meaningful benefits to our people, our customers and communities.
We have a team from a variety of backgrounds and located across 11 countries. We've done an audit of where we stand and have work underway to continue to build out data on how we're supporting diversity and inclusion.
One metric we use right now is the number of women in a team lead or manager role which today sits at 66%, and maintaining our zero gender pay gap. These are metrics that are easy to track but we also know that it doesn't take a holistic view and we need to do more on tracking a broader range of demographic data (as given optionally by the team), and also measure the inclusion and belonging of our team.
As we've grown we've reviewed our recruitment processes, taking steps to reduce bias and operate a standardised recruitment process.
We've also introduced the same structure and process to how we set pay, run performance reviews, communicate and conduct meetings and provide access to new roles and learning and development.
How we're building a sustainability culture and engaging employees

The environmental and social challenges we face require everyone to engage as a collective to create meaningful change.
We recently conducted a culture survey to find out what sustainability meant to noissue. This helped guide us with the outcomes we want to achieve and how we wanted our people to feel.
We've implemented an internal sustainability newsletter, are continuing to develop educational resources and have created a Slack channel for collaboration and education on sustainability to keep everyone engaged.
Setting up work in line with sustainability ambitions

One of our goals is to ensure everything we have 100% control over in our own operations is aligned with our strategy ambitions, such as reduce waste, use renewable energy to power our office, where possible purchasing refurbished office equipment. See more about our onboarding here.
We are a hybrid remote workplace, with the majority working remotely, which helps us reduce carbon emissions.
One of the benefits we are starting to offer after one year for our fully remote teams is financial support to improve the sustainability of their home office space. We've put together a guide on things to look for when setting up a space with sustainability in mind.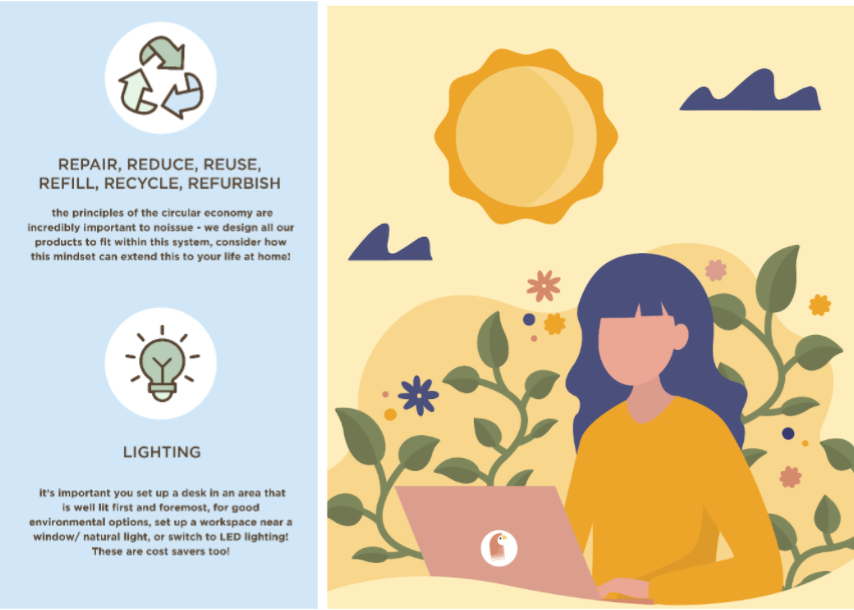 Here's what we're else working towards

Next year, we're going to measure more data points on diversity and inclusion, set targets and continue to put measures in place to set in stone what we've been already doing
Ensuring any new office spaces are in line with environmental policies
Measuring team engagement on wellbeing and inclusion
Continuing to educate the team on sustainability and working towards a better future together.
Wrapping It Up

As part of our Sustainability Framework for 2021, we're sharing our sustainability roadmap and our progress to our customers as we improve our processes and find better ways of doing things.
Sustainability and impact is not something we tick off, it is a continuum and we look to improve. Our people and supporting diversity, inclusion and wellbeing are a key part of this sustainability journey.
We want diversity of thought and experience to be embedded in everything we do, and to foster professional and personal growth, engagement, and wellbeing through a range of initiatives, including benefits.
We will continue to share our learnings with you, so keep an eye out for future updates!