Is your brand looking for a convenient and sustainable way to ship products? If so, you may be wondering what the best eco-friendly poly mailers are. In this post, we will discuss some of the best options available and share some tips on choosing the right one for your business needs.
What is an Eco-Friendly Poly Mailer?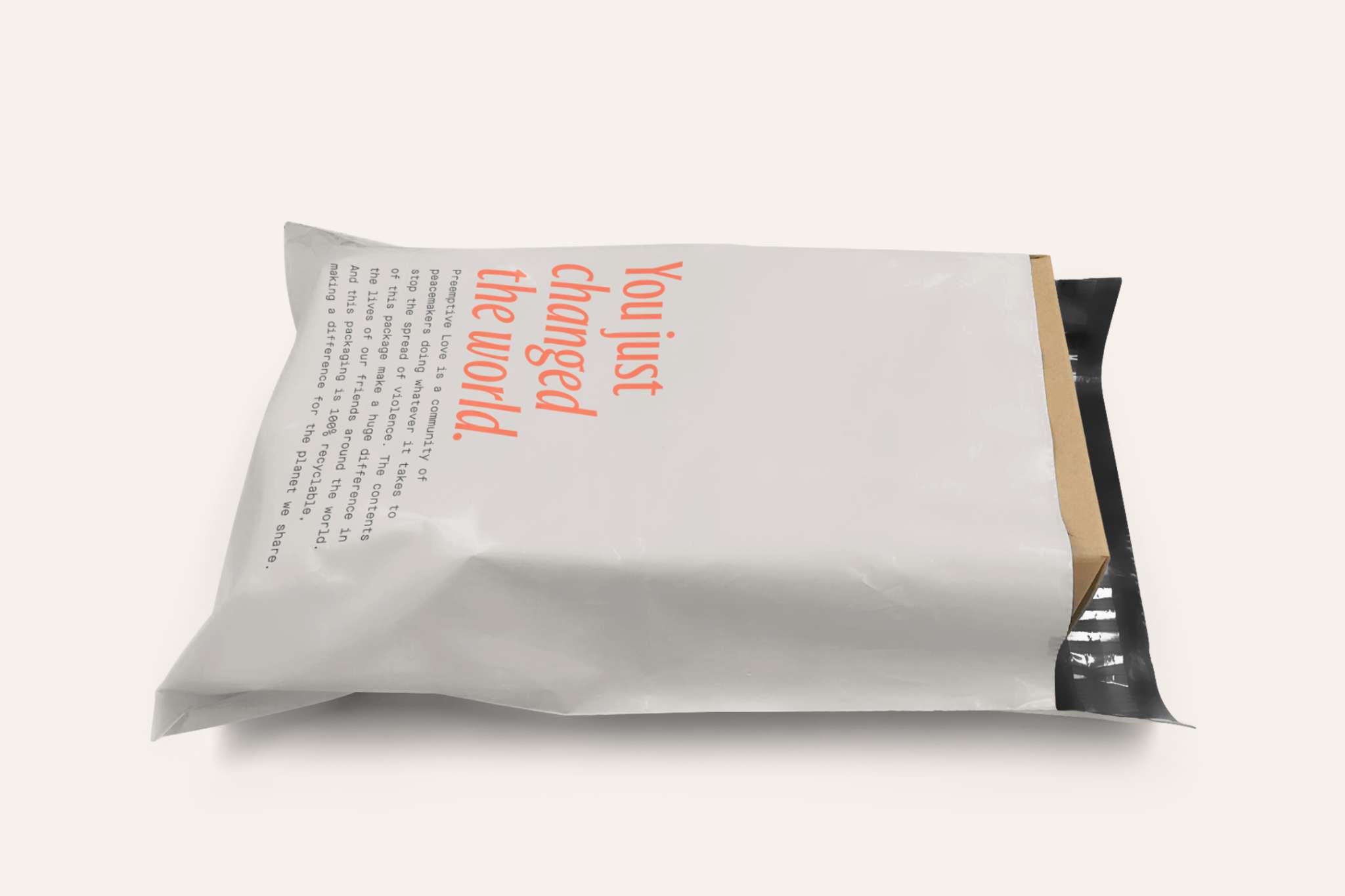 An eco-friendly Poly mailer is a type of mailer bag packaging made from recycled or recyclable plastic materials. 'Poly' stands for Polyethylene, which is a commonly used type of plastic with many applications. It's often used to make plastic bottles, containers, bags, and more.
While virgin plastic poly mailers are not a sustainable option, recycled Poly mailers are. This is because they are reusing a material that's already in circulation for a useful purpose, instead of this plastic only being good for a single use and then heading to landfill. This prevents plastic from piling up in a landfill, where it can take more than 1000 years to decompose and release harmful toxins into the environment.
However, keep in mind that Recycled Poly Mailers are not a perfect sustainable packaging solution either.
Recycled Poly mailers are still made from Polyethylene, which is sourced from non-renewable resources like oil. They cannot break down in a natural and quick way in the same way Kraft Paper Mailers and Compostable Mailers made of bio-plastic can.
Their best hope is to be recycled where soft plastics are accepted, and then they can be repurposed and reused in a different form again.
Eco-friendly Poly mailers can often also use sustainable water-based inks, adhesives, and other details. Some poly mailers like noissue's will even come with two adhesive strips so they can be used a second time, furthering their life span.
Are Poly Mailers Recyclable?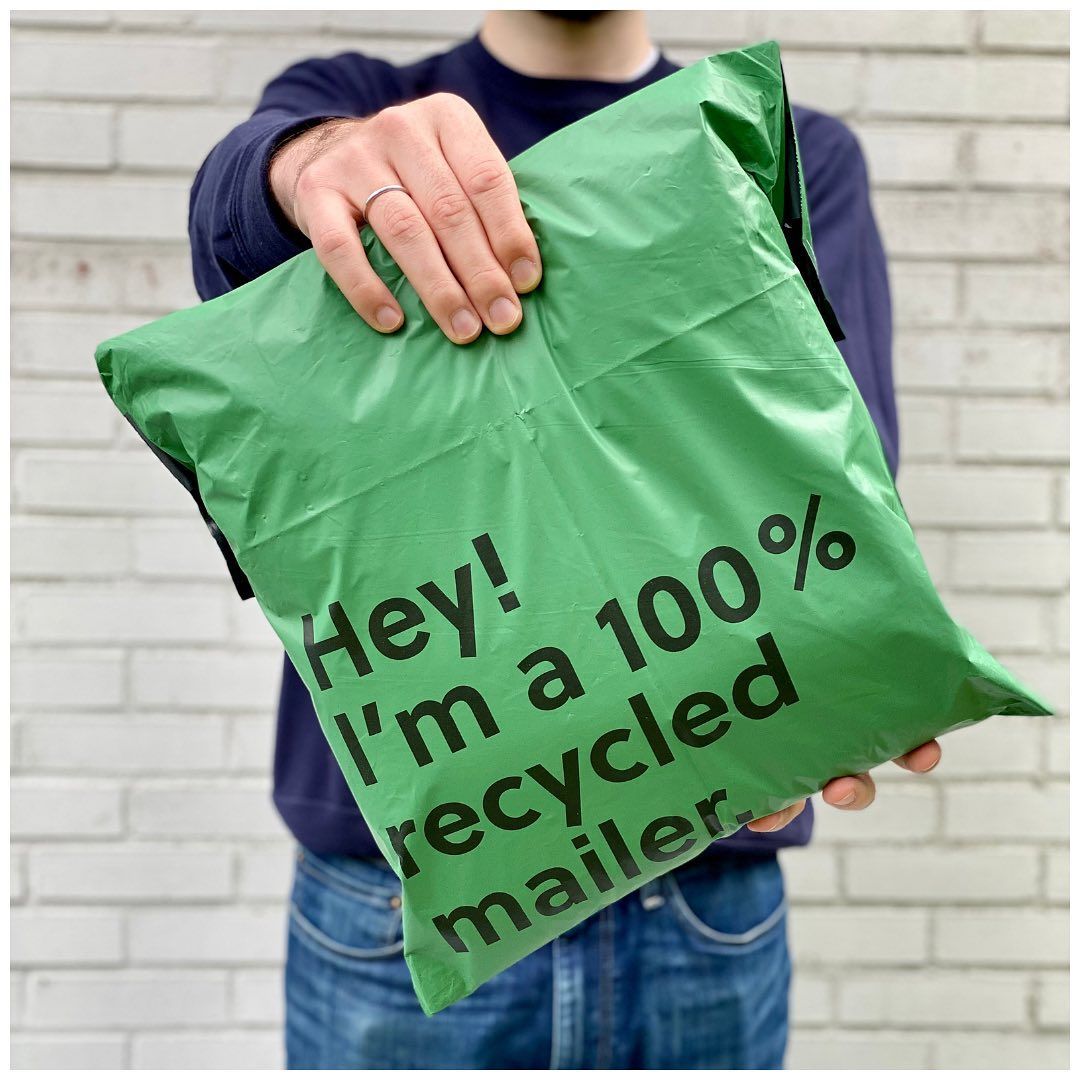 Whether Poly Mailers are recyclable will depend on which packaging provider you're using. Here at noissue, all of our Recycled Poly mailers are recyclable. That means once your customers are finished with them, they can simply recycle them anywhere soft plastics are accepted instead of throwing them away.
All of our Recycled Poly Mailers also fit into a reusable framework thanks to their double adhesive strip, which means customers have the option to reuse these mailers when they receive them. You can proudly display the Eco-Alliance badge on your mailers to let your customers know that you are part of a sustainable packaging alliance and are making an effort to reduce your impact.
How Much Do Poly Mailers Weigh?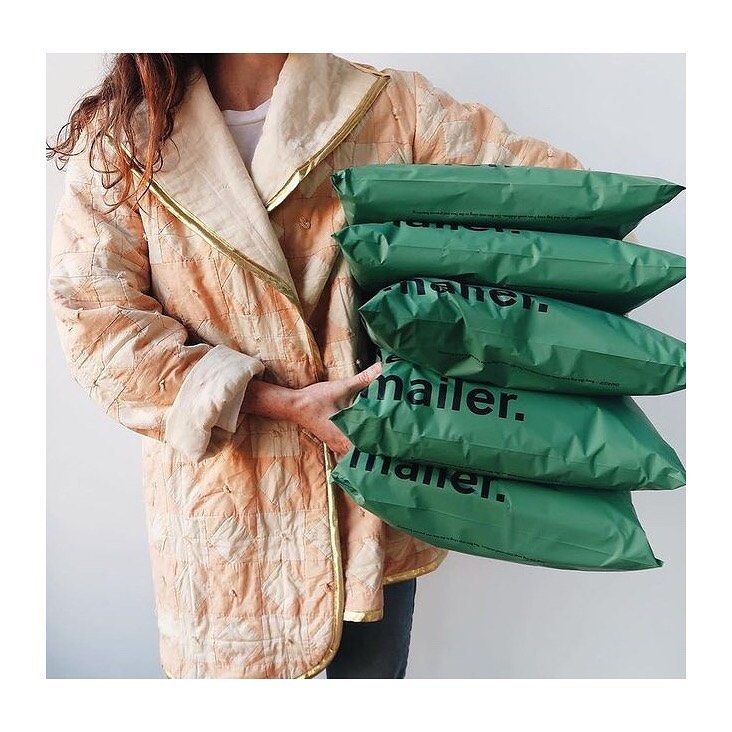 Another important consideration when choosing eco-friendly poly mailers is the weight. Since shipping costs are often based on weight, it is crucial to choose a lightweight option. Poly mailers are usually weighed in grammage, which is the weight of the material in grams per square meter. The lower the grammage, the lighter the material.
At noissue, we offer a variety of grammages to choose from so that you can find the perfect balance between weight and durability. Our Recycled, Padded Poly Mailers have a grammage of 60UM + 90gsm and a weight of 32g a piece, while our Recycled Poly Mailers have a grammage of 60UM. This means these Recycled Poly Mailers will withstand travelling in the post while adding as little weight to your package as possible.
Why You Should Use An Eco-Friendly Poly Mailer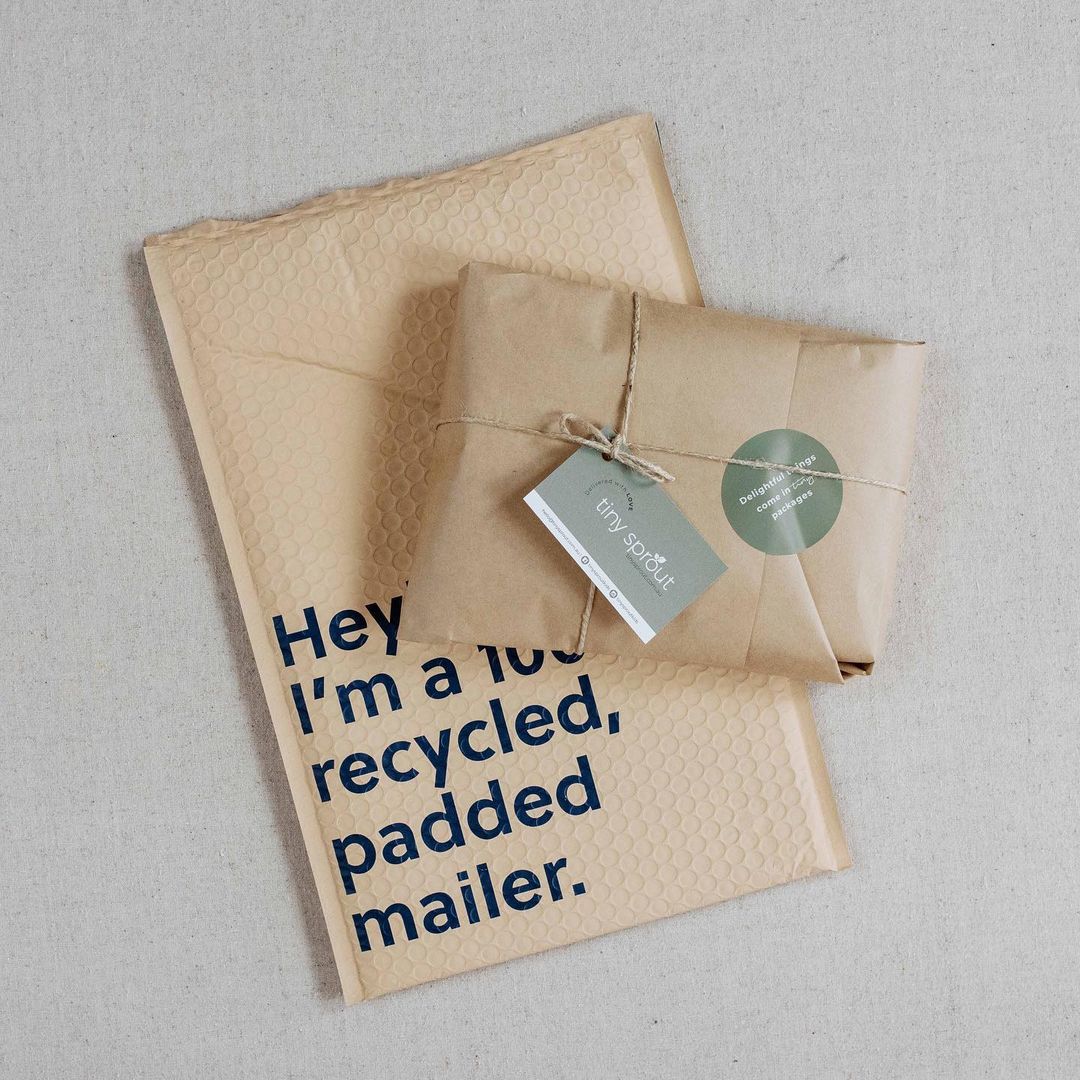 Recycled Poly mailers are an excellent way to package small to medium-sized items. These flexible mailers are lightweight, durable, and eco-friendly. And at noissue, we make it easy for you to add your own personal touch with our customizable options.
If your item needs extra protection, you can choose a Padded Poly Mailer or fill the bag with Custom Tissue Paper. You can also add a card, sticker, labels, or any other promotional materials to the bag before sealing it.
Eco-friendly poly mailers are also a great way to reduce your business's carbon footprint. By choosing recyclable or reusable options, you can do your part in a circular economy to make a difference in the environment.
The Best Eco-Friendly Poly Mailers to Use

If you are looking for the best eco-friendly poly mailers to use for your business, we recommend checking out the three options below.
1. Recycled Stock and Custom Poly Mailers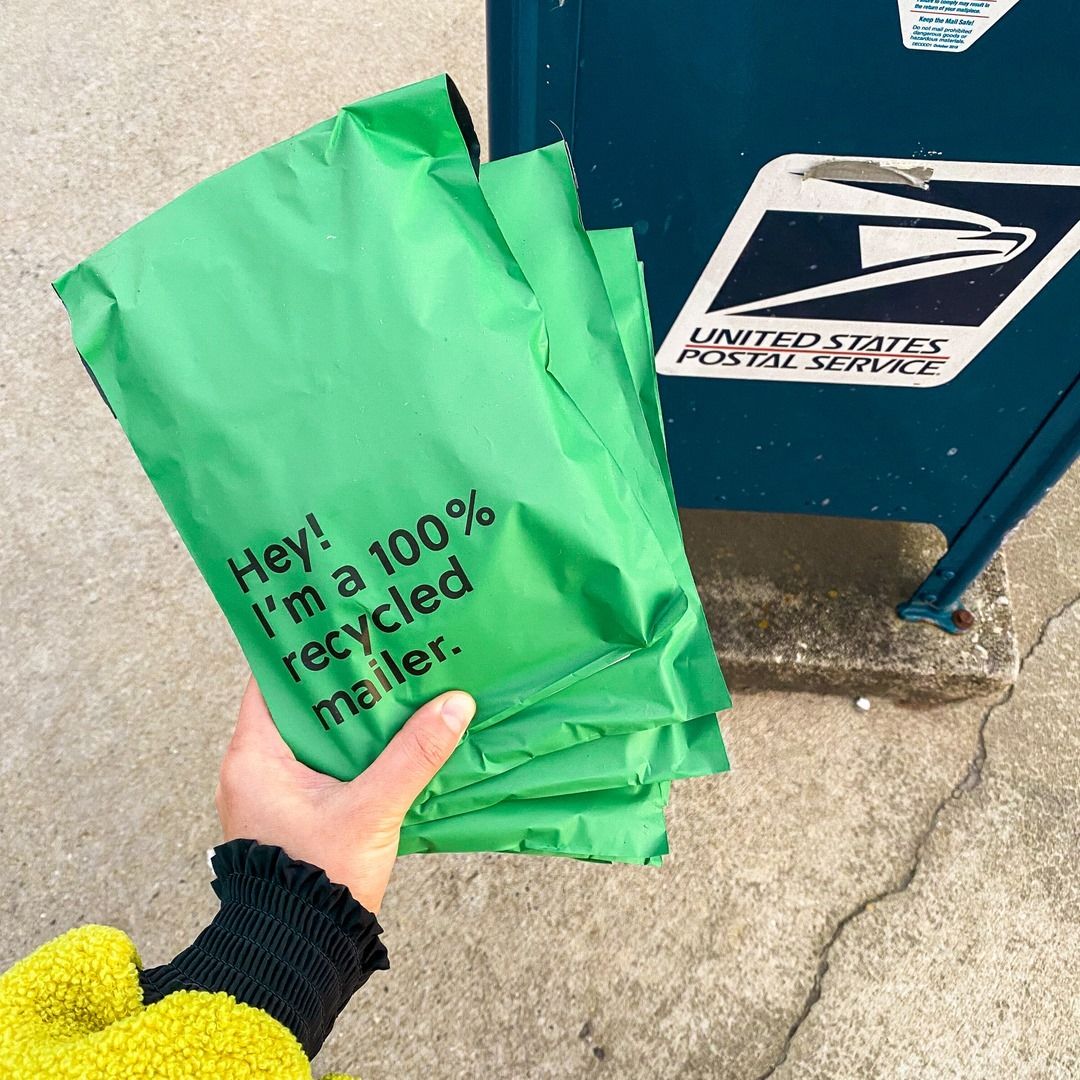 As the name suggests, recycled mailers are made from pre-consumer recycled plastic waste. Specifically, we use low-density polyethylene, which is a type of plastic that can be recycled. Our noissue stock recycled mailers are ideal for items like clothes, books, and accessories.
These green-colored bags capture your customers' attention and help communicate your brand's commitment to sustainability. In addition, these mailers are just as durable as regular poly mailers, so you don't have to worry about them tearing or leaking.
With a minimum order quantity of 50, these mailers are a great option for small businesses.
Pros:
Flexible
GRS-Certified (Global Recycling Standard)
Communicate their end-of-life care on the exterior of bag
Durable and leak-proof
Long shelf life
Cons:
Less protection than padded mailers.
You can also customize our Recycled Mailers with your branding and colors to make a lasting – and less wasteful – impression on customers! Print your logo or custom design in vivid water-based inks that won't affect recyclability, so your packages can stand out from the crowd without harming the environment. Our Wholesale Custom Poly Mailers start at orders of 10,000 units, making it a more sustainable solution for budding brands with quickly increasing sales.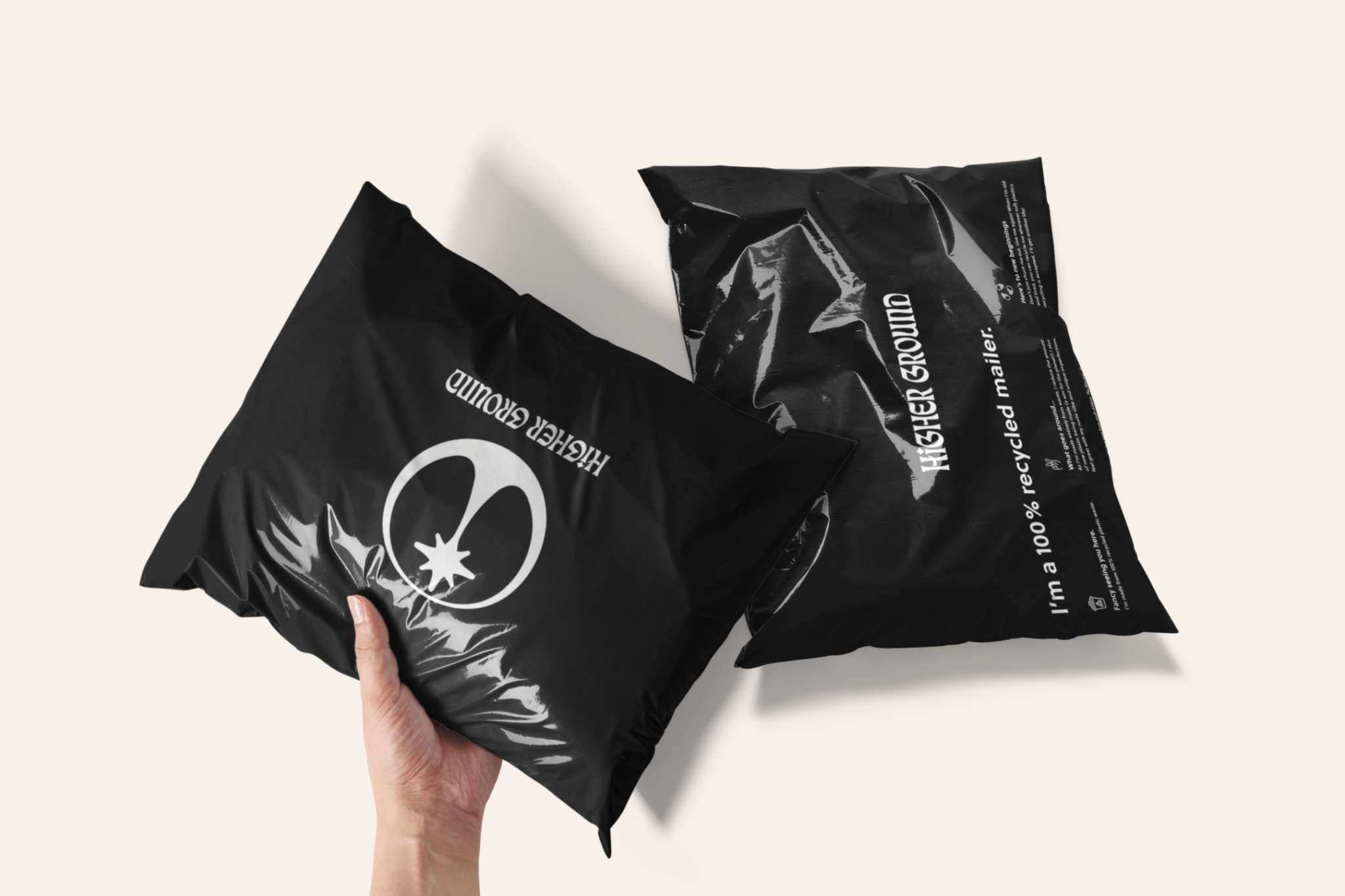 2. Padded, Recycled Mailers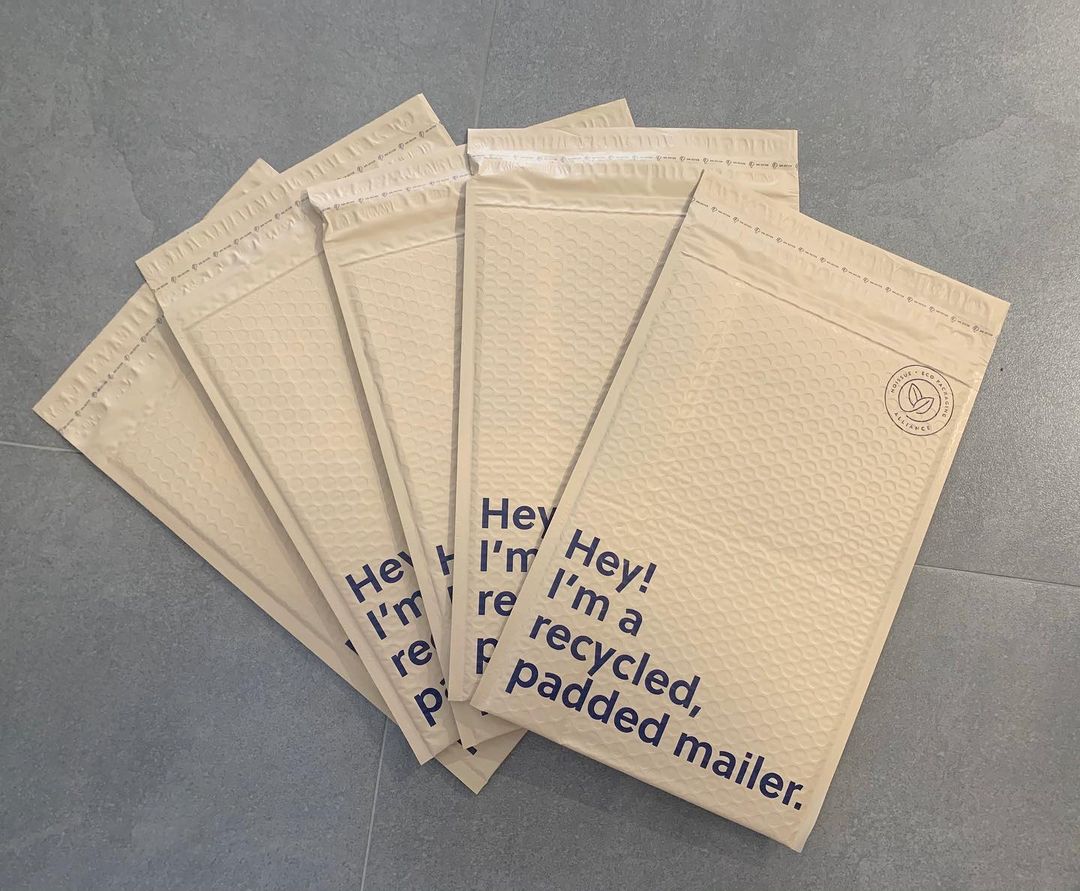 Next, we have our Padded, Recycled mailers. These mailers are made from the same recycled materials as our regular recycled mailers. However, they also contain a layer of padding to protect your items during shipping. The protective inner layer is made of bubbles, adding durability and cushioning.
Our Padded Poly Mailers come in a neutral beige color and also communicate their sustainability framework on the exterior of the bag. This mailer has a rectangular, rigid shape, which provides more space for your items. You can use our recycled, padded mailers for fragile items that need a little extra protection, like packaging books, jewelry, and cosmetics.
Pros:
GRS-Certified (Global Recycling Standard)
Padded for extra protection
Different design to stand out from the crowd
Rigid shape
Cons:
More expensive than standard recycled mailers
Limited sizing.
3. Recycled Stock Poly Mailers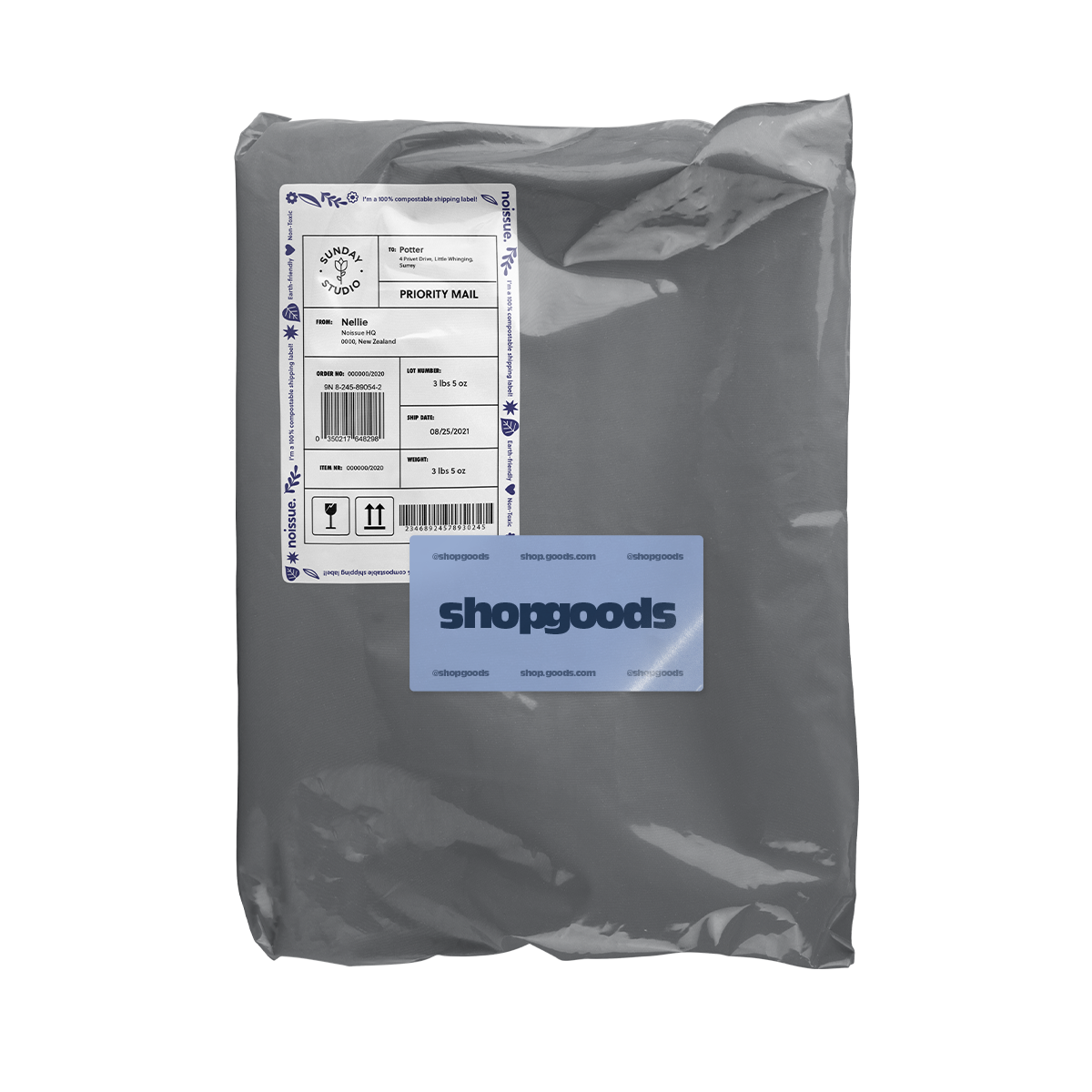 If you want to keep it nice and simple, our recycled stock poly mailers are a great choice. These bags are made from up to 50% recycled plastics and are entirely recyclable.
The bags come in a plain gray color with no branding or logos. This makes them perfect for businesses that want to use their own branding or for those who want to keep their packaging low-key. Of course, you can use noissue's eco-friendly stickers and labels to add a personal touch.
These bags are similar in style to virgin plastic Poly Mailers you might have seen used by the likes of Amazon, but unlike those mailers, these are both made from partly recycled materials and recyclable. Their versatile and flexible shape means they can be used for a wide range of items, from apparel to stationery.
There are four sizes available:
159mm x 229mm (6.25" x 9")
254mm x 330mm (10" x 13")
368mm x 483mm (14.5" x 19")
483mm x 610mm (19" x 24")
Pros:
100% recyclable
Waterproof
Plain exterior you can add branded stickers or tape to
Affordable
Cons:
Not customizable
No extra padding or protection.
4. Bonus Eco-Friendly Option: Compostable Mailers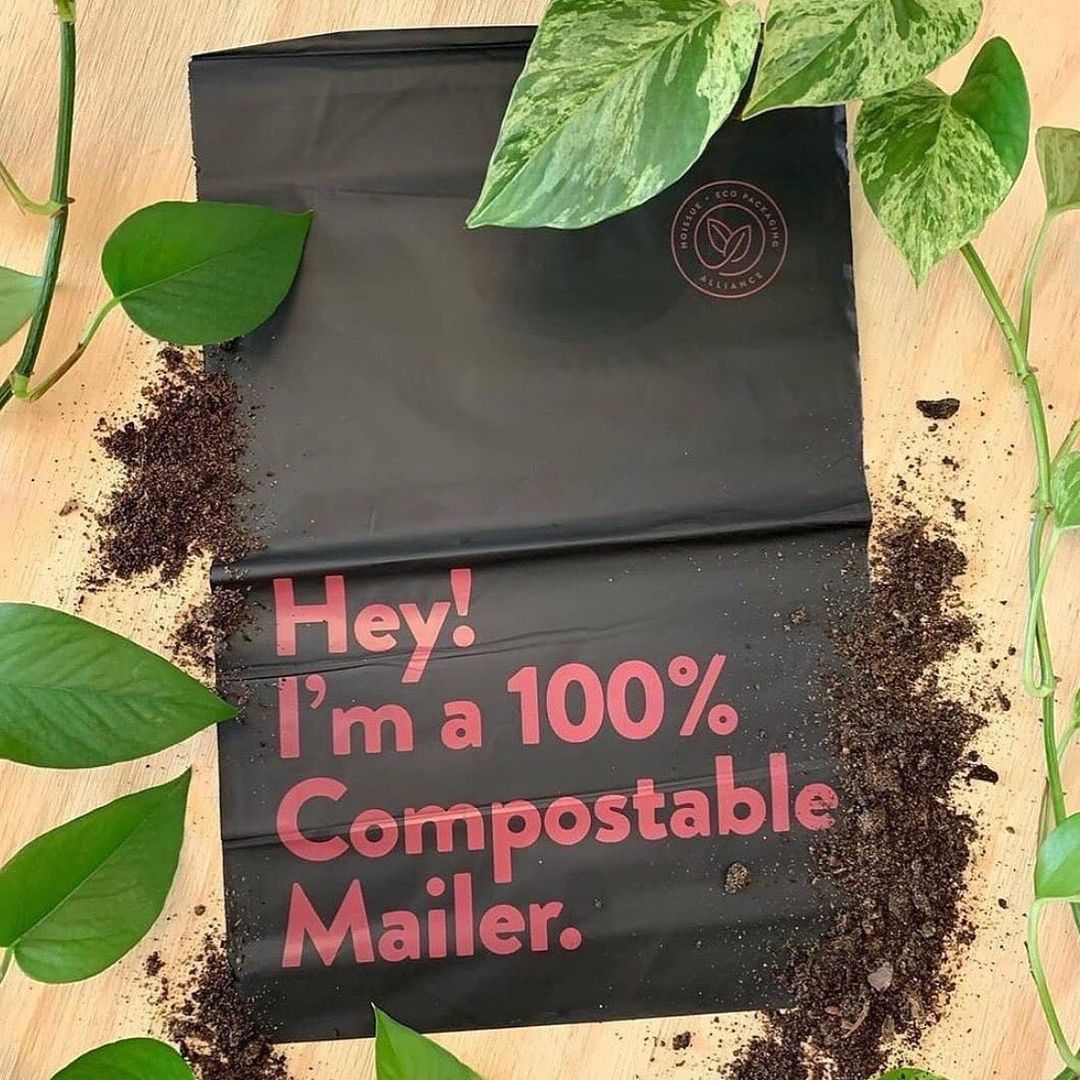 Finally, we have our compostable mailers. These mailers are made from 30% Corn Starch, 10-15% PLA (polylactic acid made from corn waste and other plants) and 55-60% PBAT which is biodegradable and will decompose, leaving no toxic residues.
What this means is that these bags are certified to break down within 180 days in a home composting system and return to the earth as fertilizer for new plants. The soy-based ink is also safe for the environment and will not transfer onto your items.
Due to the natural materials the Compostable Mailer is made from, it has a shorter shelf life of approximately nine months.
Pros:
Compostable
Made from renewable resources
Flexible
Reusable adhesive strip
Cons:
Less sturdy than regular mailers
Shorter shelf life of 9 months.
Where Can I Buy Poly Mailers?

The best place to buy poly mailers is from noissue! We offer a range of eco-friendly poly mailers that are suited to businesses of all sizes. If you're ordering in wholesale quantities, our team can help you create custom branding for your Recycled Poly Mailers so they can really stand out from the crowd.
Our platform makes placing your custom mailer order easy so that you can get started immediately. Simply sign up for a free account, select the type of mailer you want, and choose your desired quantity. We'll take care of the rest, so there's no excuse not to make the switch to eco-friendly poly mailers today!