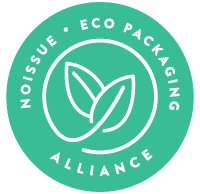 Hygge is a Danish concept rooted in comfort, togetherness, and well-being. Though it may not be directly translated to English, the Oxford Dictionary defines hygge as "a quality of coziness and comfortable conviviality that engenders a feeling of contentment or well-being." During these current times of uncertainty, Australia-based brand The Cosy Box aims to bring this soothing lifestyle to everyone's homes. Mexican-born founder Lorena started The Cosy Box to offer the perfect love and self-care gifts that bring light to every home it gets to. Each box is filled with a range of Australian-sourced ethically made products wrapped in custom noissue Tape, Stamps, Cards, and Stickers.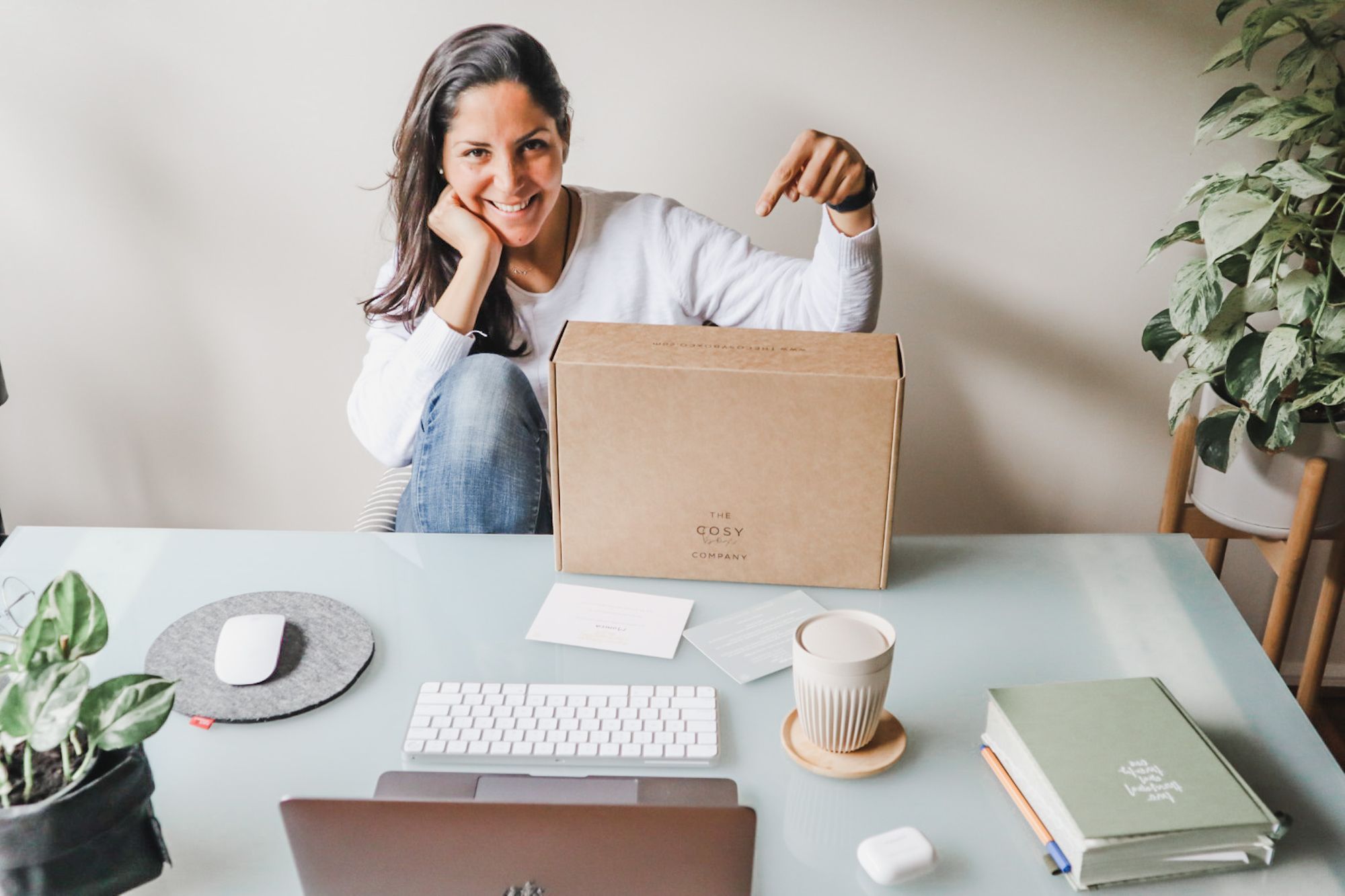 Let's face it, we live in a fast-paced world where being stressed is the norm of everyday life. The Cosy Box aims to bring joy to our lives and remind us to take a break and unwind. This incredible concept makes it the perfect lockdown gift for anniversaries or birthdays that show how much you care for your loved ones.
It's Lorena's brand mission to leave her customers feeling brighter, happier, and more loved after they receive products from The Cosy Box. With endless possibilities, Lorena offers a unique unboxing experience with finding everything inside. Packaging matters and the thoughtful business owner wanted send out her products in materials that were both compostable and affordable without compromising design. Here at The Cosy Box, they care about the footprints they leave behind on our planet, which is why they chose noissue's FSC-certified Tape, Cards, and Stickers to protect their products in transit. To top it all off, Lorena designed her noissue custom Stamp to decorate their boxes in soy-based ink. As a new business with an owner who loves nature, it was a no-brainer to opt for earth-friendly packaging and to keep environmental conservation in mind with every decision they make.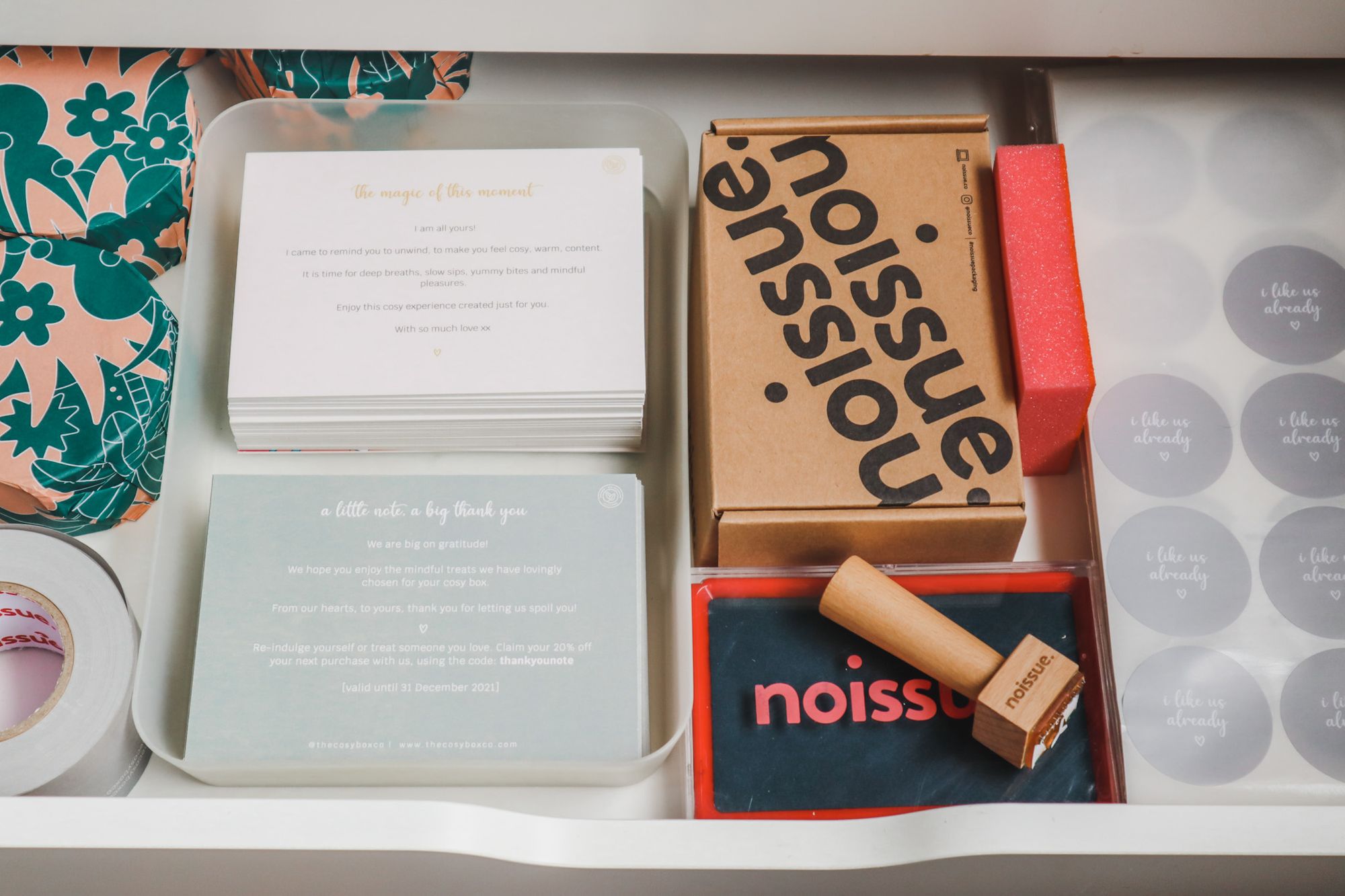 "My love for nature is behind every choice that I make for my business, since the beginning, I would not do it any other way."
Every product offered by The Cosy Box was chosen with the intention of protecting Mother Nature. One example is the Huskeecup, which is a reusable cup created using waste husk leftover from the production of coffee. Aside from curating circular products and packaging, The Cosy Box takes a step further by joining the Eco-Alliance. This way, they get to contribute to climate action initiatives with every purchase at noissue! Being a part of this global community of like-minded small businesses allows Lorena to connect with other brands doing their part and further inspire her audience and customers to follow suit.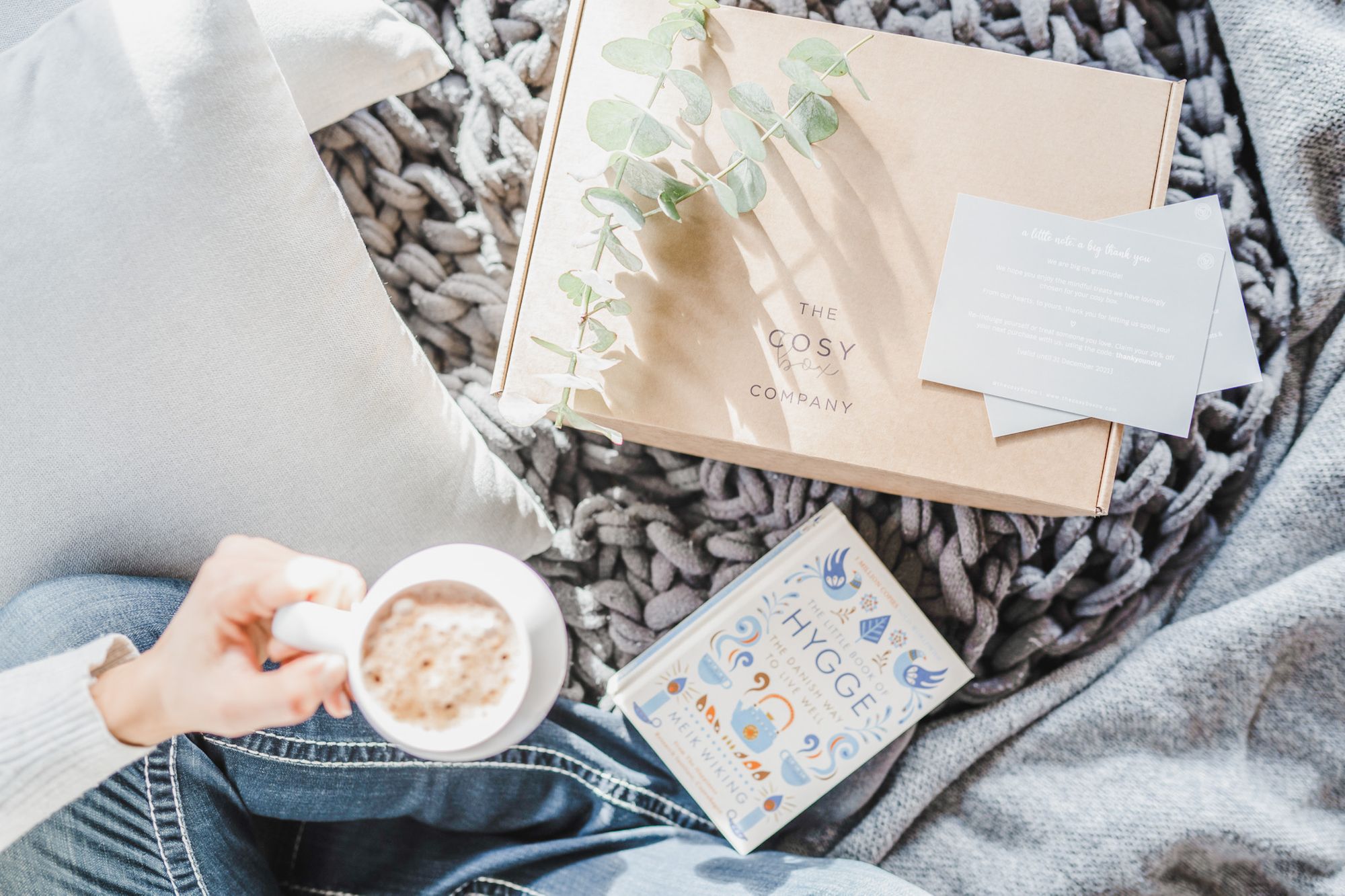 Ever since The Cosy Box was launched, Lorena has been living her dream. She strongly believes that there is a need for hygge moments—the magic and mindfulness that we need to live fully. It's The Cosy Box's goal for everyone to take time for themselves and experience hygge. Besides, who can resist a much needed self-care sesh delivered in a box? Lorena's unique passion for design, sustainability, nurturing treats, and beautiful packaging sets The Cosy Box apart from the usual hampers or gift boxes.
Despite Lorena's achievement of starting her dream business, her biggest challenge was sustaining it. "Starting a business is one thing, staying in business is another," Lorena shared as she continued to list down everything she had to consider. From packaging orders and taking photos to answering emails and assuring the best customer experience, the Mexican entrepreneur sets everything in an organized to-do list in order to stay on top of her her small business, her day job, and supporting her family. There are some days where things don't go according to plan and Lorena doesn't get to finish all her tasks. She copes with this by structuring her hours and focusing on what she can get done rather than dwelling on what she couldn't.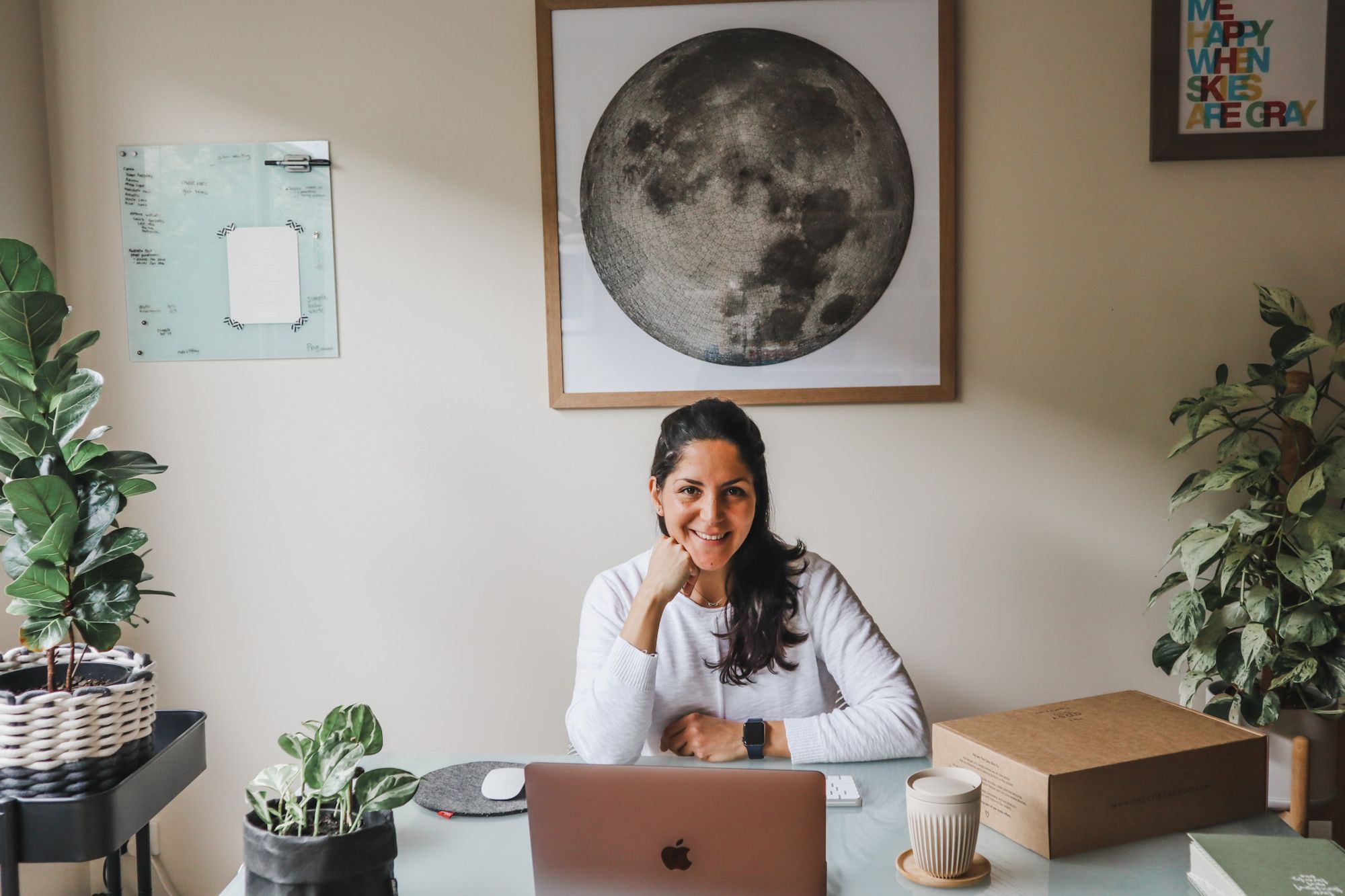 Lorena's advises other aspiring business owners is to take care of their finances and have a clear reason why they want to start their business. This will be the business' driving force and what will inspire them to take action and do the work, especially during hard days. Another piece of advice from Lorena is to have a clear set of non-negotiables, which is basically a set of rules that you should not negotiate with when it comes to your business. Lorena's non-negotiables include avoiding placing products in their boxes that she does not resonate with. Another is to only collaborate with companies that inspire her and that feel right to her. Lastly, Lorena strives to always deliver love, care, surprise, and exceptionally good service in every box, post, or any interaction done with The Cosy Box. In addition to this, it's also important to surround yourself with people who will believe in you, support you, and cheer you on in every step of the way.
A box full of ethically-chosen goodies meant to provide comfort and spoil us? Don't mind if we do!
---
Find more of The Cosy Box here:‌‌‌‌‌
‌‌‌‌‌‌‌‌
Website:‌ thecosyboxco.com
Instagram: @thecosyboxco
If you enjoyed this read, we bet you'll like last week's feature too:
The Curious Fox Co.: Eco-Friendly Flicker for Self-Care and A Cozy Ambience
Want to share your story? We'd love to hear it! Join the Eco-Alliance here and share your deets with us here to get a chance to be featured on The Wrap!
Questions? Email us at ecoalliance@noissue.co