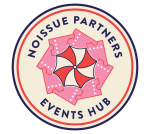 ED&Co. is a Toronto-based gifting company, founded by event professionals Emily Connell & Devon Domanski, that curates specialty gifts featuring products from Canadian brands, small businesses and makers for personal use, thoughtful gifts, and corporate & custom orders.
Welcome to the noissue Events Hub! Tell us more about yourselves, your business, and the services you provide.
Thanks for your interest in our business! We are Emily & Devon from ED&Co. and we curate gifts, featuring Canadian small businesses, artisans & makers, for people to treat themselves and others. We service customers across Canada through our website, and have a lot of corporate customers who request custom gifts for their clients, employees, vendors, and attendees at special events. We ship across Canada, and offer local delivery across the Greater Toronto Area, and local curb-side pickup in downtown Toronto.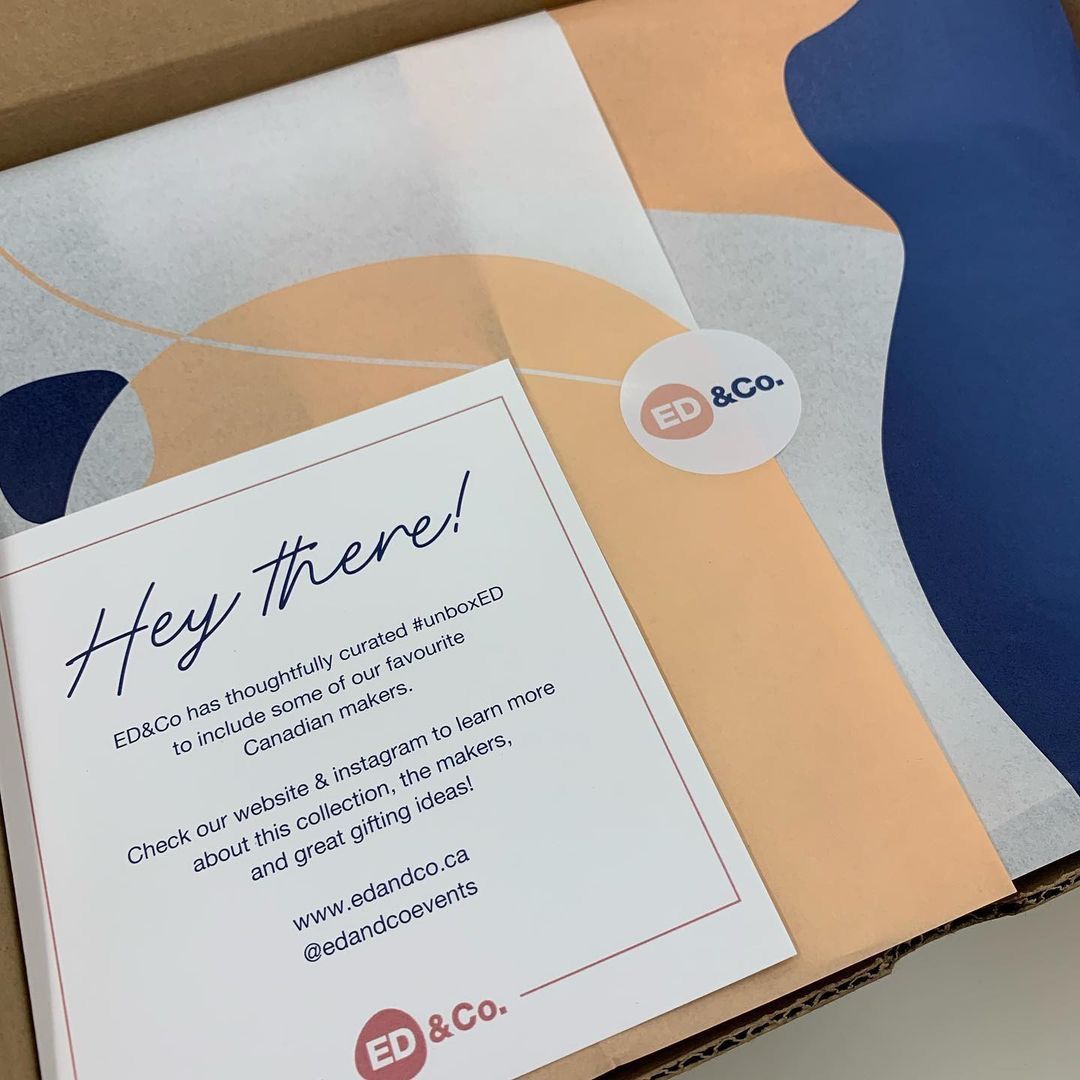 You both share a background in experiential marketing. Can you tell us more about that time in your lives and why it brought you into business together?
We met both working at the same agency. At the time we lived in the same neighbourhood, and started carpooling to work, which helped us parlay our coworker relationship into a true friendship. Experiential marketing can be very full-on, go-go-go, and while it's fun, exciting, and challenging (often producing the best of the "can-do-anything" kinda people), it's sometimes unsustainable to achieve other life goals while driving hard and fast in that express lane. On our drives to and from work we'd muse about professional projects we could do together in future – just us – and it's probably that initial enthusiasm and optimistically curious approach that led us to believe it would become a reality one day. We knew our skill-sets were solid, we both possess independent talents that complement the other, and we're driven to succeed – for ourselves, each other, our clients & customers, and ED&Co.
What types of events did ED&Co. plan before COVID restrictions affected large-scale gatherings?
We started our events business in 2019, and were fortunate to experience success right off the hop! We essentially did all kinds of events: conferences, company offsites, holiday parties, social experiences, influencer events, and pop-up retail. We loved putting our collective skills together to produce memorable events, and were so energized with the variety of experiences we were creating. Our 'last' event was just a handful of days before Toronto officially locked down, and we thought, "Wow, this is scary! Thank goodness we don't have an event scheduled until the end of the month," but little did we know in March 2020 just how long that would last.
Tell us about ED&Co gifting. What is this service? How did it come to be?
The gifting idea was hatched when we talked about what kinds of things we were doing at home while isolating, what we missed, and also the changes in our neighbourhoods and the lack of sales local businesses were seeing. So we thought we'd try to treat people to the kinds of everyday, simple luxuries that we enjoyed from brands we personally used and loved! Our original box idea was a labour of love that we marketed totally grassroots-style on our Instagram. And when we met our sales goal, and saw people really enjoying what we were doing, we thought, "Let's do this!" And we headed into the holidays with new offerings, and haven't looked back.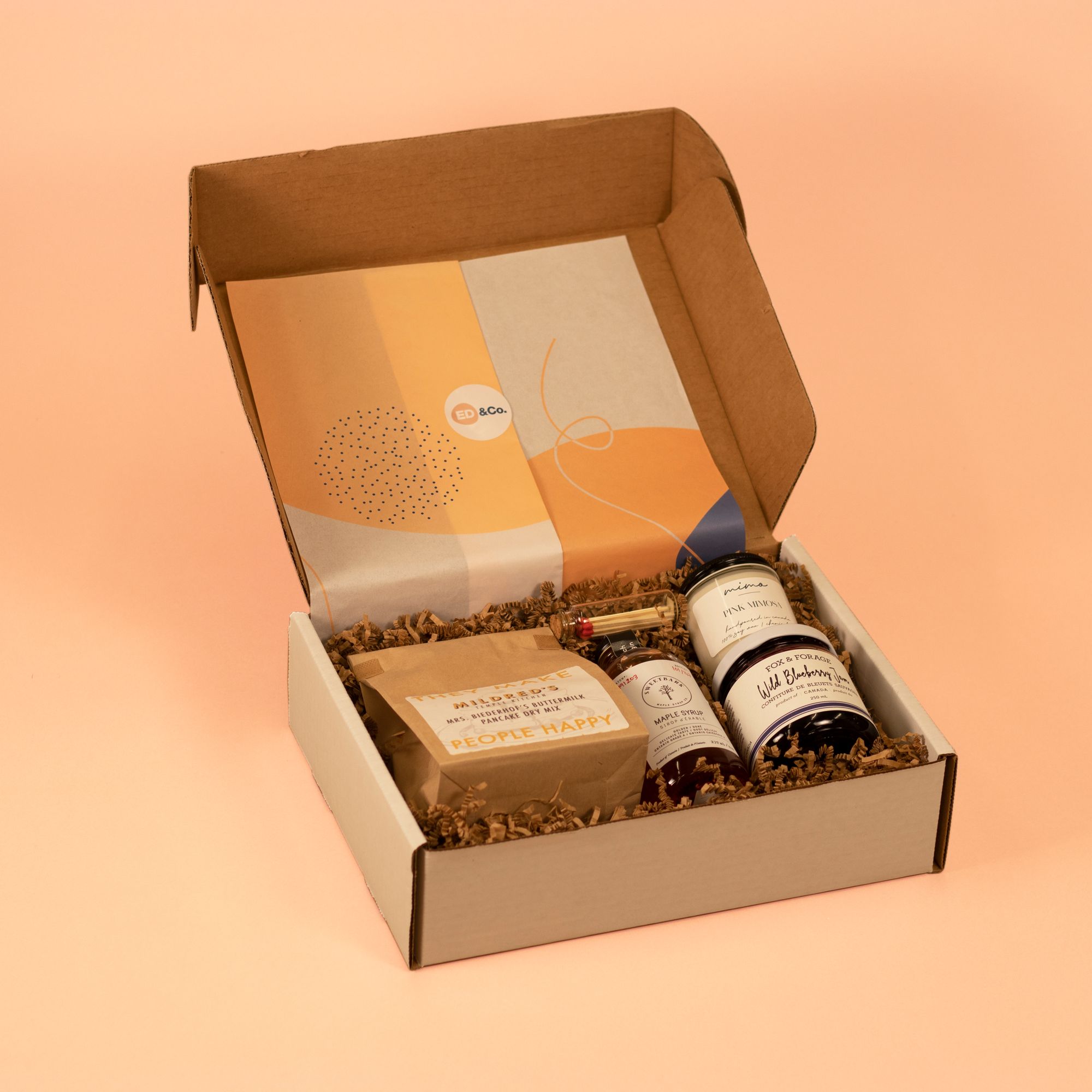 How do you source local makers for your collections?
For us it's truly an organic process that first started with just cold-calling some of our favourite Canadian makers, telling them how much we loved their products, sharing our idea, and asking if they'd come on board and allow us to carry their products. The response was super positive! As we've grown, we still take on that approach: what do we love, what are we into, what would we love to give & receive? We have branched out doing calls for makers on our social media platforms, as well as discovering brands and makers online as well. More recently we've received samples from makers, which feels like an accomplishment in itself, and we're humbled by the brands that have reached out to be a part of what we're doing! We're also super proud that some of the artisans we work with are also personal friends that have started businesses, several of them coming from the experiential world, so it's kind of full-circle in that respect.
How did you learn about noissue, and why did you opt to use noissue products for your gifts?
noissue was recommended to us by someone we had worked with, and we valued their opinion and checked out the offerings online. We wanted to package our gifts with minimal waste, but still offer a beautiful #unboxED experience – something that excited the eyes and compelled people to want to get into their gift. We were impressed with the environmentally responsible options and designed our tissue paper (which we're obsessed with!) and stickers quickly and easily, with amazing results! When people think of our boxed gifts, the first things they see are the stickers and tissue wrapping, and we're so glad noissue could help us realize our vision, leave a lasting brand impression with our customers, and help us achieve our goals to create as minimal waste as possible. These little things have garnered big compliments from our customer base.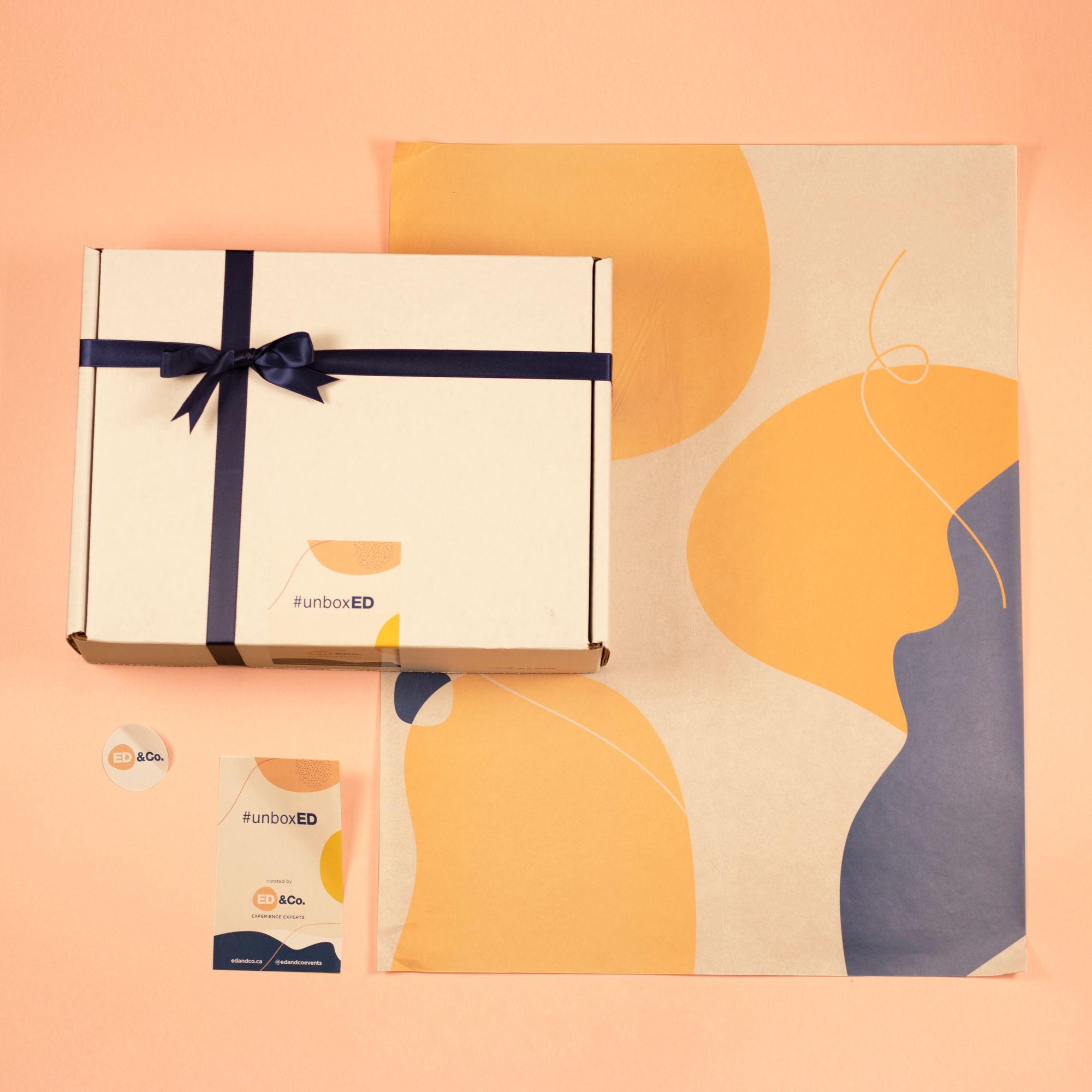 Events are all about making memories. How did you translate this sentiment when designing the contents of your unboxing experience?
When we design a gift, we often think of an experience: for example brunch, cocktail hour, relaxing & unwinding. Whether the gift is large or small, we'll often think of a keepsake item that anchors that experience that will live on in one's home – like warm wool socks, kitchen linens, handcrafted serving boards, hand woven blankets – and then round out the experience with consumables – like breakfast fixings, jams and crackers, chocolates, candles – that support the experience. We'll sometimes have smaller gifts inspired by some of these larger experiences, but the process and intention is much the same – create a moment for someone to enjoy. Many of our offerings are indulgences that one could enjoy at home solo, or with others, and that we feel that's a niche that really speaks to people at this point in time.
What tips do you have for fellow entrepreneurs who are looking to upgrade their unboxing experiences? How can branded packaging elements create connections with customers?
We think of branded packaging as the calling card. While there may be compelling items contained within the packaging, the wrap itself helps set the tone of an experience. Just like when you're working with an event venue, you dress up that space to entice, excite and engage people just as much as you would with the programming for an event. So why wouldn't  you want to invest in that 'first impression'? We think it's a worthwhile spend to build one's brand, to create a great first AND lasting impression.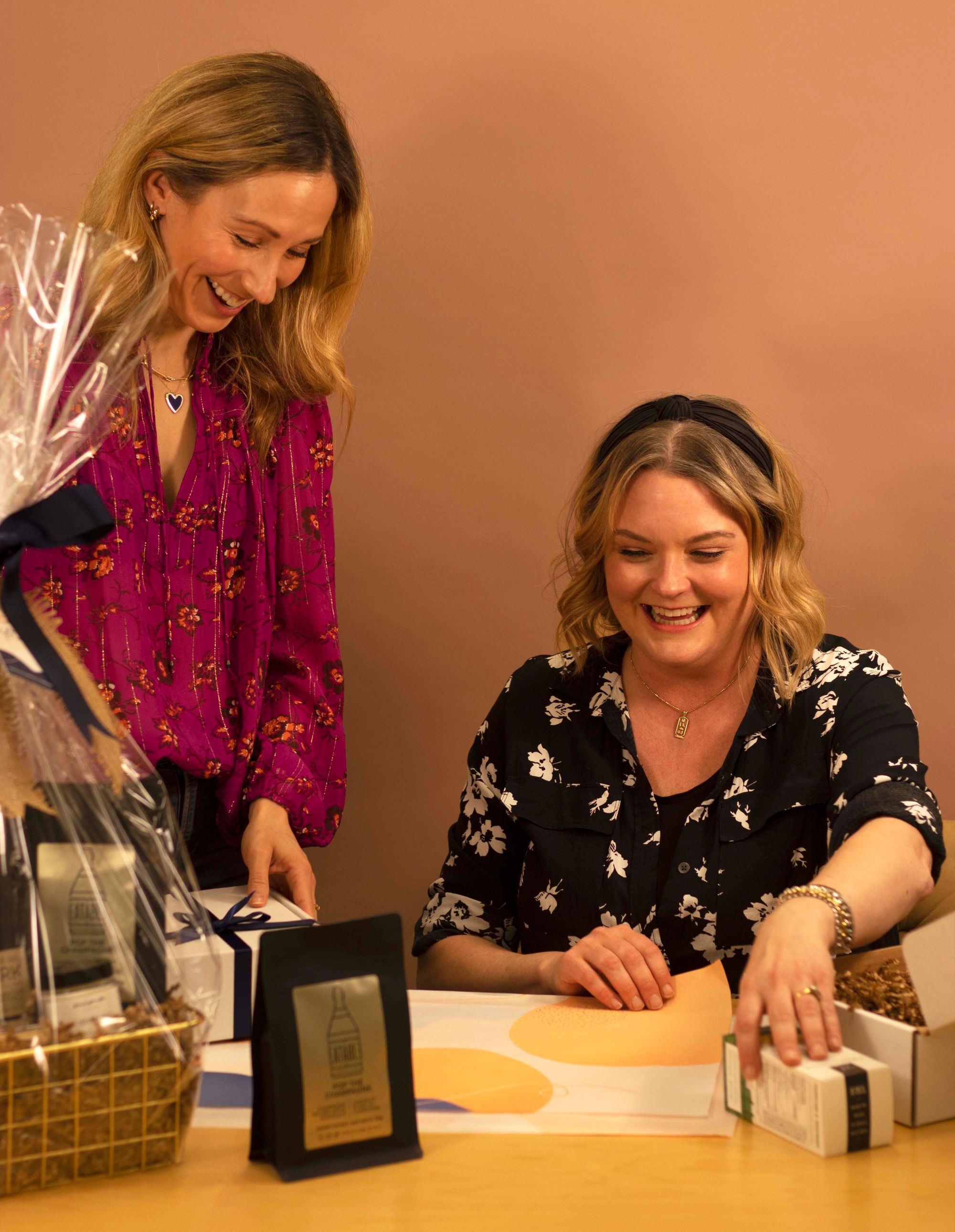 Fun Fact Question! If you could curate a special box to gift each other, what would the components be? No budget! ;)
Emily's answer: I would look high and low for a beautiful handmade pot for Devon to rehome a GIANT cactus she has – it's over 100 years old, she loves it, and it's due for a new vessel. Devon loves spending time in her kitchen so I'd want to add an Erin Rothstein food inspired print – she loves this artist's work – and then a smattering of local condiments for her various culinary creations… think PEC Hot Sauces, Kozlik's mustards, nut butters from Mumgry and Fatso, Cucina Calabria Hot Pepper Spread, and Zing pantry products. Devon would say one can never have too many candles, I'd go a step further and get her a clean burning tabletop fire bowl for her and her sweetheart to enjoy outside on their beautiful patio.
Devon's answer: Emily geeks out about health and wellness products so I would get her a Bee Keeper's Naturals BPowered Superfood Honey, and Propolis Throat Relief spray for her kiddos! I'd shop a favourite local spot, Gee Beauty, to include GOOPGENES Clean Nourishing Lip Balm and some sheet masks for her once a week at-home facial ritual. Emily and her husband both dig a variety of art, and are big history fans so Kent Monkman's new coffee table book, Revision and Resistance, would go over really well. Emily spends a ton of time outside with her two young boys, so an electric scooter seems like a no brainer so she can keep up with them! Finally, to round out the gift, I'd grab a new Varley workout set from Holt Renfrew because she also spends a lot of time on her Peloton… or to wear zooming around on her new scooter!
---
Want more of ED&Co.? Visit their website and give them a follow on Instagram!