Custom noissue water-activated tape by @zytwerk

Terrific typography packaging is a trend that's here to stay.
Well-treated text can transform your whole design into something aesthetically pleasing without looking wildly busy. Typography is an art form, after all, and is one that's far from only being super simple or bare! Want to learn more about typography and how your brand's packaging designs can pack a punch all on their own through type? Keep on reading for some word-sy inspiration to write home about!
📇 What does typography look like in packaging design?

Typography is the art of arranging type artistically using typefaces, color, sizing, and placement to garner visual interest. Graphic designers use typography on packaging to add compelling context through language, such as including a brand's slogan or playing with a logo's text layout. Simply put, typography can take a basic background or design and pack a punch while conveying a message through words!
💡 Inspiration Station

Wondering what to do with type on your brand's packaging design? Check out these stunning typography-inspired designs on noissue products that take six brands' packaging to another level!
1. Make a simple and sustainable statement

Organic childrenswear brand Eticora is all about understated refinement that still contains a charming and childlike sensibility, which is why their custom noissue Tissue features a soft, repeating serif logo pattern! Printed on semi-transparent paper, this easy tissue design trick creates a sense of pleasant surprise when unboxing Eticora's package. When their text logo turns into a repetitive pattern, it creates an extra eye-pleasing layer for their cute, custom noissue Sticker to stand out. Both packaging materials also note their compostability, so customers know to compost their Tissue and Sticker once their order arrives.
Pro tip: Replicate Eticora's repeating logo on tissue paper look by using noissue's online design platform, which gives you a range of templates to try your logo out with.
2. Go big and bold on custom Tape

We bet your customers will be itching to unbox their order when it comes wrapped in big, typography-inspired tape! Folio understood the assignment by turning what would have been ordinary packaging tape into an aesthetically pleasing announcement of your order's arrival with a repeating serif logo filling the entire width of custom noissue water-activated Tape. To break up the pattern, they also included a circular element that plays on their customer's eagerness to open up their package. So when an order gets to your doorstep, you'll immediately know who it's from!
Pro tip: Create a tape design just like Folio's by using noissue's online design platform, which gives you an easy-to-use tape template to try your logo out with.
3. Maximize your brand's motto

Sunloops proudly stands by their style with custom and compostable noissue Tape displaying their brand motto – to which we say looks totally groovy! The sunglasses chain brand sticks to a fun sans serif font that draws recipients in with a welcoming statement. The tape's text alternates between white and a pretty pink, which sits atop a peachy background color, so Sunloop's water-activated packaging tape goes beyond just sealing a customer's box!
4. Stay circular and chic on a 100% organic cotton Tote

Round and round we go, which is a good thing for cheering up customers with circular products! And by circular, we mean both aesthetically and consciously – like how Random Candle Co. packs their signature candles in a reusable custom noissue Tote. Having text displayed in a circle adds a touch of quirkiness to the simple design, elevating a plain tote into something more stylish and still versatile. Since noissue Totes are made out of durable, 100% organic cotton, Random Candle Co.'s customers can utilize their tote again and again for any occasion!
Pro tip: Create a typography design on a tote bag using noissue's online design platform. Simply upload your logo and play with the placement of it on the canvas!
5. Use lightweight layers for a look that's more than meets the eye

We've seen some superb styles so far – so let's get loud! And 3 Women Co. are no strangers to standing out with their custom noissue packaging Tissue. While their Tissue features lots of elements like large marker fonts and illustrations, nothing appears overpowering due to the consistent rose, black, and white palette used for their text and images. Did we mention that white is a bonus color on our Tissue, too? And since they've printed their powerful design onto lightweight tissue paper, the overall layered look that encases 3 Women Co.'s products creates a cohesive explosion of color!
6. Multiply the personalization on custom Hang Tags

Why not write your name all over it? Yep – yours! Align Slimes got the memo that customers enjoy gifting and getting their products to and for others. So, the conscious slime company figured to include packaging that can be personalized upon arrival through custom and compostable noissue Hangtags, which have a special space to write one's name! We love how the star of this design would actually be the handwritten portion that simply can't be replicated anywhere else or by anyone else. And with a pared-down aesthetic altogether, Align Slime's custom packaging remains perfectly subtle and sentimental.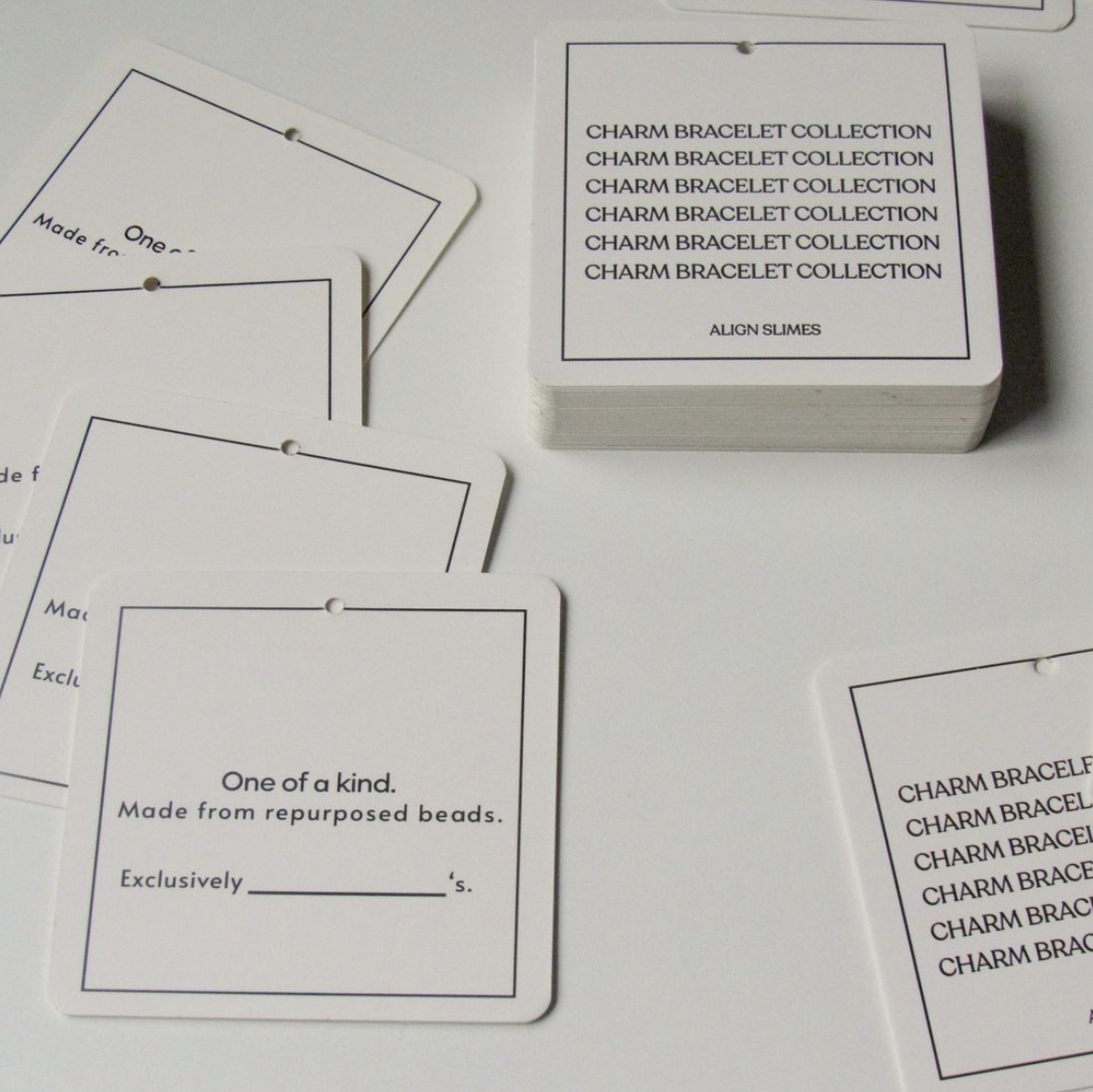 Pro tip: Need some help deciding on the typography for your brand's hang tags? Browse our range of Community Design templates for tags and let us do the work for you!
📣 Tell all about your brand through typography

Keen to start creating your brand's own typography-inspired design? Consider the innovative ideas from the six businesses featured in this article, and transform your package in the most unexpected and understated ways with packaging typography!
---

Look no further than noissue's custom packaging that's circular by design, so you won't contribute to excessive packaging waste while showing off your branding! From customizable and compostable Water-Activated Tape and Hangtags to reusable options like Totes and Boxes, add your brand's logo to create a repeating pattern or upload your design to impress customers at first glance.

On top of a grand first impression, shape your ultimate unboxing experience through noissue packaging that represents your brand's style and purpose! Head to our easy-to-use online platform to get started with customizing your packaging, then let us handle the rest.