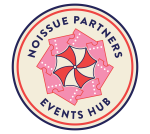 Welcome to the noissue Events Hub! Tell us more about yourself, your business, and the services you provide.
At Do Loop we are on a mission to make everything celebration related a bit more sustainable. You might think a sustainable party means expensive or not as good, but we have options to ensure an Instagram-worthy party without costing the earth. From renting party decor, to paper decorations and toys used as cake toppers we can help you plan the perfect event and minimise the use of single-use items.
Can you paint a picture of what Do Loop was up to pre-shutdowns?
Do Loop was only just being born! A lot of the development for our party themes comes from planning birthday parties for my own children. I had been planning a launch party for my son's fifth birthday for a few months already when the news of Covid-19 started spreading. There were a few times I thought we may need to cancel, but managed to have the party a week before restrictions kicked in. Phew.
How did you venture into virtual party kits? Where did the idea come from and how did the party kit evolve after introducing it to your clients?
The virtual party kit came about while planning another party for my twins' third birthday. By now we were deep into restrictions on gatherings and I wanted them to still be able to celebrate. The first virtual kit was set up to cater for this age group so it consisted of a lot of small activities to allow a three year old remain engaged for about an hour. Since then I've done some more focused kits with one main activity for older children who have longer attention spans; like a virtual cookie baking party. These kits can also be used post lockdown to organise a no-fuss celebration for wherever you would like to host the party, even your local park. Or even if planning a party at home, the kits contain everything needed already prepped to help busy mums and dads.
How did you learn about noissue, and why did you opt to use noissue products for Do Loop?
My target market is someone who perhaps cares about sustainability, but really the overall look and ease of our party kits is the main draw. However, offering sustainable products is something really important to me. Therefore I'm always on the lookout for products that are beautiful, environmentally friendly but do not cost so much that I am completely priced out of the market for aiming to make a traditionally wasteful industry into something more sustainable. noissue offers beautiful, customisable products that balance these needs perfectly.
Not only did you want your packaging to be sustainable, but also the party goods themselves. Can you share some examples of the different eco-friendly party elements in your virtual party kits?
Where it makes sense I like to print products on seeded paper so that it provides an additional element to the party kit for the child (they can plant the paper and watch lovely bee-friendly flowers grow) and prevents that piece of paper from going into the bin. I have used this for things like bingo cards and also backing card for pins that are used as party favours. I also like to have options available to my customers to purchase toys for cake toppers, which takes a normally single use item into something that can be played with for many years. These types of one off items (i.e. cake toppers, decorations, or event crockery etc.) can also be rented meaning less money spent to create a perfectly themed event, but also less items going to landfill, or taking up space in your cupboard, after one event.
Where do you find inspo for your party kit themes?
My children are the driving force for the inspiration. I have a number of themes I'd like to get to one day, but inevitably they'll say "I want a knight party" and that's what I'll focus my attention on.
These virtual parties are designed with kiddos in mind. How did you come up with Do Loop's pre-planned Zoom party itinerary? (It's quite a feat to keep tots entertained!)
Everything gets tested on my kids before anything goes live! For the little ones' party I knew that I had to break an hour down into at most 15 minute segments and started from there. Then my kids and I did crafts over the weekends for weeks to test what they found engaging, and would be easy for parents to help with but required very little set up. But every party is always a learning opportunity to improve, move things forward and test out new ideas.
Time for a fun question! If you were to create a grown-up version of Do Loop's virtual party kits - what goodies would you include and why?
Ohhhh, I've been dreaming of doing an Alice in Wonderland kit for a while! In a past life I enjoyed making iced biscuits and this is something I'm busy bringing back into Do Loop, so my mind just goes wild thinking about all the beautiful iced biscuits I could make for this theme. And there would need to be gin of course, maybe a drinking game with gin!
---
Want more of Do Loop? Hit follow on Instagram and check out their website!