How's it hanging? 🏷️  Let's get up close and personal with your brand's product!
Hang tags are more than just prices in print. They're the best performers in beckoning customers to interact with your product physically. And hang tags are capable of helping your brand stand out from the crowd by sporting important information, all in a convenient little card!
You're most likely to find hang tags on clothing and accessories, but they're versatile as portable billboards for your brand on other products and packaging. Let your logo do the talking on one side of a custom hang tag while providing your brand's website or social media on the back. Or get smart with your packaging and hang scannable QR code hang tags on your products to continue your branding beyond the box. However you choose to hang your tags, you'll be well equipped to craft an unbeatable customer experience!
In this article, we'll help break down the following questions:
What is a hang tag?
What materials are hang tags made from?
What can hang tags look like?
How do I attach a hang tag?
What other packaging products can hang tags complement?
What is a hang tag?
They might seem straightforward, but hang tags hold lots of potential in bringing your brand up a notch through innovative capabilities and clever details. A hang tag is more or less a small card that can be tied around a product or packaging. It typically houses information about the product, like size and care instructions, or added information about your brand, such as logo artwork or a short mission statement.
What materials are hang tags made from?

Hang tags are often made from Kraft paper that's flexible enough to keep its shape without adding excess weight to products. They can also be made from other materials like cloth or plastic, but these materials aren't as eco-friendly, customizable, or lightweight as paper.
Kraft hang tags made from recycled paper is your best bet in creating hang tags that won't harm the planet or the unboxing experience! noissue Recycled Hang Tags are great for customizing to your liking while providing a more sustainable customer interaction with your products. And lucky for you, there are plenty of options to choose from as to what your brand's hang tags can look like!
What can hang tags look like?
Don't think you need to conform your hang tags to any one size or style. For example, noissue's recycled hang tags come customizable in beveled, rectangle, and square shapes. Even the most minor details like nicely beveled or rounded edges will leave an impressive impact on customers during the unboxing experience.
And the beauty of hang tags lies in how versatile they are in brandishing the best features of your brand while avoiding information overload. Your logo deserves a surface to shine on, as does your product name or shade, website QR code, and social handles! Instead of sticking all that onto a bulky booklet, a custom hang tag can do it all without overwhelming your customer.
Folded hang tags are a simple solution for including more information in a chic and compact package. You can encourage a serendipitous encounter with your product through folded hang tags by displaying your brand logo on the front and surprising with a QR code inside that directs to your website, a reordering page, or packaging disposal instructions.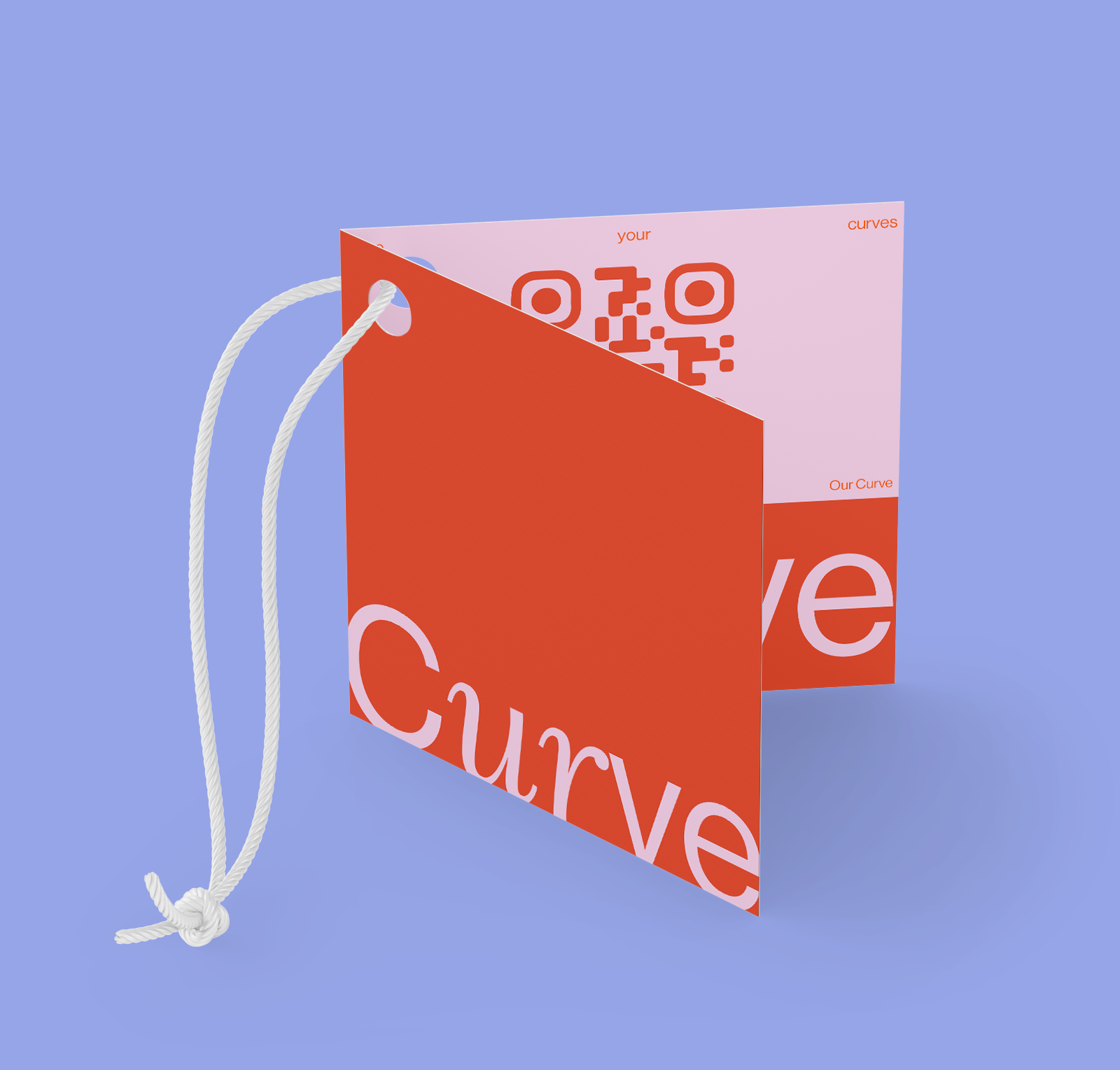 Create your custom paper hang tags here. Then, choose your shape, size, base color, and quantity. Hit "Design Now" to customize your brand's hang tags through our easy-to-use design editor, and let your creativity fly!
How do I attach a hang tag?

After customizing them with your design, you'll want to show off your sophisticated hang tags to the world on your products! First, grab some eco-friendly ribbon or biodegradable jute string. Get your hang tags ready and identify the string hole location. Simply thread your string through the hole, and tie it to attach the hang tag to your product. Hang tags for clothing can tie directly around a strap or button or be secured to garments and textiles with a safety pin. And there you have it – a lovely little hang tag that packs a beautifully branded punch right onto your product!
Alongside your logo, your noissue hang tags can proudly provide customers with an Eco-Alliance QR code badge to scan. They'll be directed to a page covering how your product packaging can be recycled, reused, or composted. Talk about a smart way of shouting out your brand's sustainability efforts!
What other packaging products go with hang tags?
No maximum applies to going the extra mile for an exciting customer experience! To compliment your custom hang tags, consider these packaging products that also avoid generating excess waste:
🎁 Wrapping it up

Don't stay hung up on how to brand your products without the bulk – use these helpful tips to make your hang tags handy for customers to enjoy interacting with! Transform your small business's orders with smarter packaging by customizing your hang tags to help deliver an unbeatable experience.
Are you an ambitious accessory or apparel brand wanting to make your mark with branded packaging? Here's our ultimate guide to the best packaging products for clothing, handbags, and more!