Branded stickers are a small yet impactful part of building an unboxing experience. They are usually the final step in packaging and can be used to seal a mailer or box or decorate the exterior of a parcel or bag.
Though their surface area may be small, custom stickers can be used to build brand recognition, convey key information or even display a QR code linking out to your website! However, it can be challenging to know whether sticker rolls or sticker sheets are right for your business.
In this article, we'll break down the benefits of custom sticker rolls and how they can enhance your packaging.
The Problem

If you're a business owner that packages you products, it's always good to find ways to simplify the process. Layers of custom packaging enhance the customer experience, but they can also eat into your precious working hours if you're the one who's packaging them all together. There's only so many hours in the day, and that time could be better spent talking directly with customers, working on marketing or managing your orders.
The Solution

Convenience is key, which is why custom roll labels are a must for busy business owners.
Unlike other sticker variations that require you to peel them off and stick them down, Custom Sticker Rolls can sit in a dispenser or on a dowel, making sticker applications easy.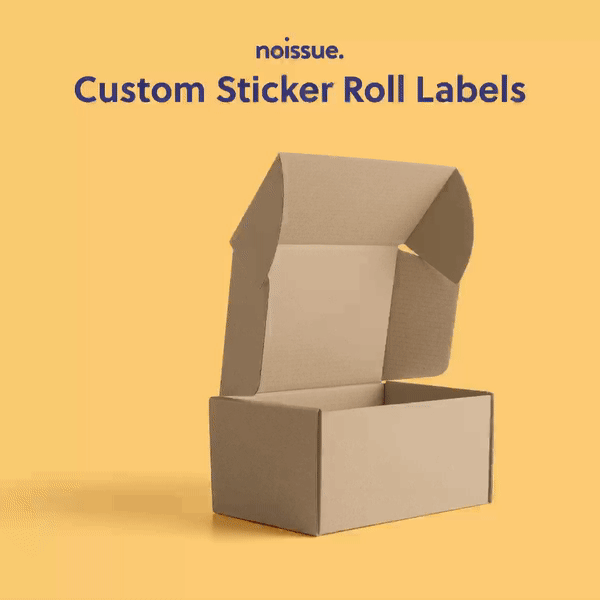 Simply dispense them from the roll and effortlessly add a pop of branding to the exterior of a mailer bag, shopping bag or box! Whether you have a store or an ecommerce brand, they make the final step of branding a package quick and seamless.
The Key Specs: Custom Roll Labels

Color: Custom
Material: FSC-certified, acid-free paper
Thickness: 80gsm
Shapes available: Circle, square, rectangle, oval.
Sizes available: 5 size variations for circle and square stickers, 7 size variations for rectangle and oval stickers.
Print colors: CMYK
Sustainability features: Compostable materials, non-toxic adhesive, soy-based inks.
Minimum order quantity (MOQ): 1000
End-of-life care: Can be recycled or composted.
The Circularity Framework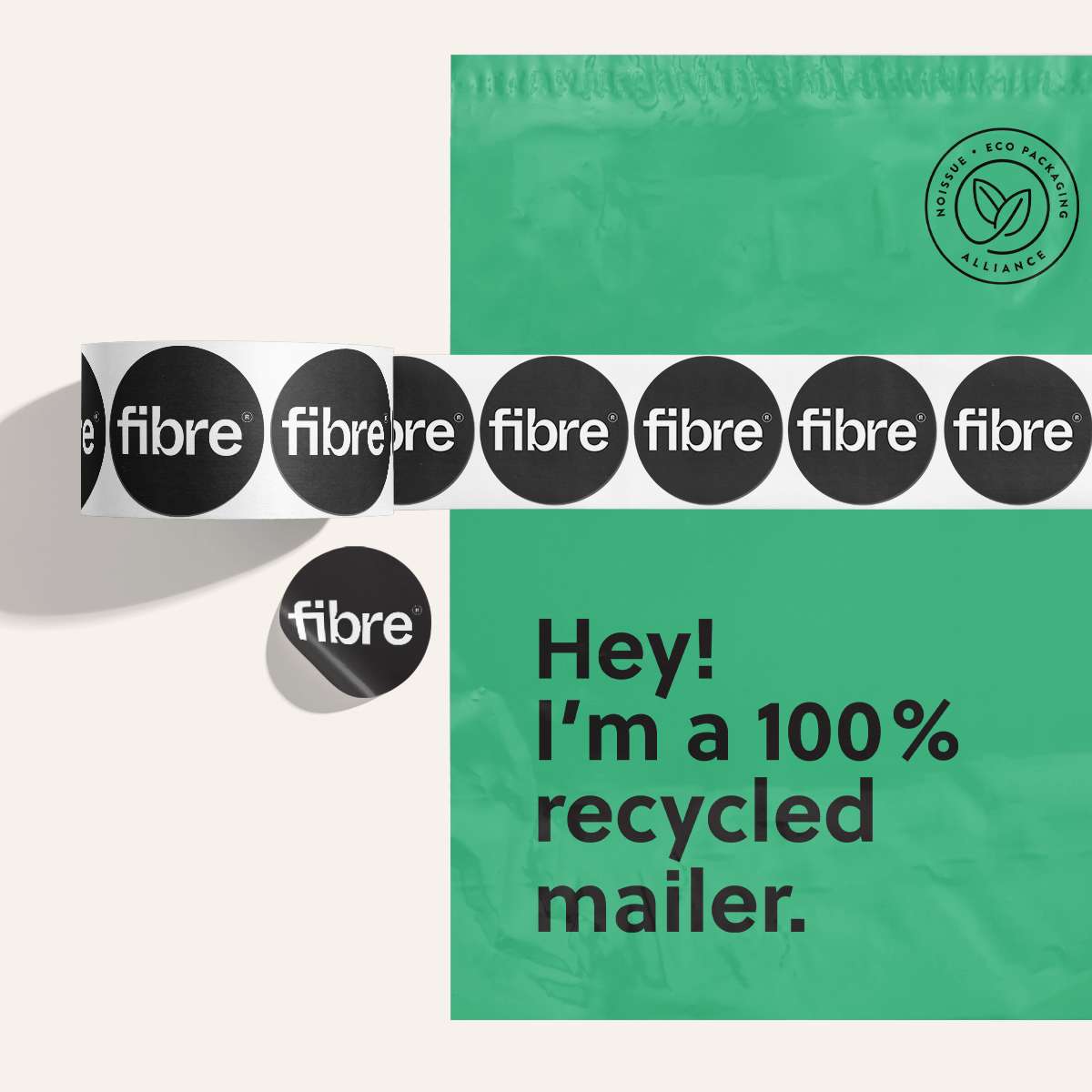 noissue's Custom Sticker Rolls are part of noissue's circular packaging framework.
Circular packaging follows the principles of the circular economy. Instead of the traditional 'take-make-waste' linear model, circular packaging packaging is designed to be either reused, repurposed or disposed of in a responsible way that has a lower impact on the planet.
This designs out waste from customer journey, rather than businesses using single-use packaging that's sent to landfill after use.
Our Custom Roll Labels are made from Forest Stewardship Council certified materials and printed with compostable inks, which makes them 100% compostable.  
We also use acid, lignin and sulfur-free paper, with the active acid pulp removed during the process. This means ink from the sticker won't transfer onto any surfaces it comes into contact with. It also means a healthier biodegrading process, as the paper won't leave any chemicals behind when it's decomposing in a compost.
These eco-friendly stickers also have a matte finish and don't have a PE or silicone coating, unlike many other plastic-coated stickers on the market.
End-of-life disposal is easy, as your customers can easily recycle or compost the Compostable Stickers. Learn more about noissue's circular packaging materials.
Pro tip: The release liner used for the Custom Roll Labels is also recyclable, so be sure to dispose of it correctly!
The Use Cases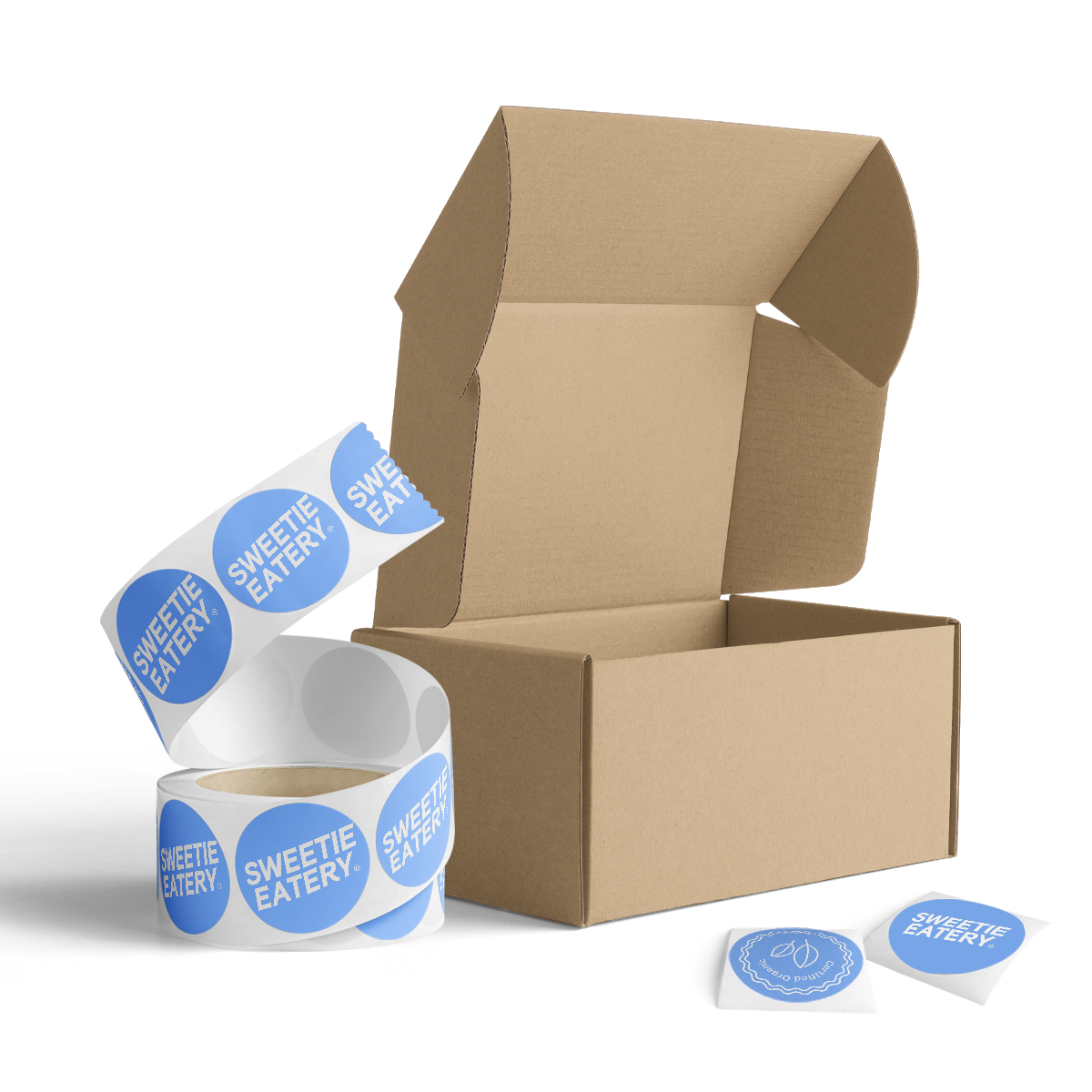 Custom sticker rolls present a versatile way of getting your branding onto packages.
The roll label printing means you can add your logo, brand design, important business or product information, or an interactive QR code onto the stickers and dispense it easily onto your packaging.
If you're a retail business, they're an effective way to label limited edition products, with minimum order quantities starting from 1000.
If you're a hospitality business, they're a great way to build momentum and hype for upcoming launches, like releasing a brand-new cookie flavor! Pop them on the outside of a shipping box or a Custom Takeout Bag and let the label do the talking to build excitement about your brand.
They're also an effective way to create personalized thankyou stickers for your business. Share a message of gratitude with customers as the final step in your unboxing experience by saying thanks, so that's the final message they see when they open the package!
The Design Guide

noissue's Custom Sticker Rolls are printed with digital offset printing in CMYK colors. You can use as many colors as you'd like in the design, so go big with your branding!
We have downloadable guidelines and a Print Perfect Checklist available in the 'Design Now' section when you create your Custom Roll Label design. Some general rules to follow with your design are:
- Text height should be at least 0.8mm.
- Line thickness should be at least 0.2mm.
- Bleed area should be 10mm all around.
Once you've uploaded your finished design, our pre-press design team will check that everything is A-OK with your stickers and send the design to you for final approval before it goes to print!
The Next Steps

Sticker rolls are the answer if your business is looking for quick and easy branding.
Ready to get started with Custom Roll Labels? If you're after stickers that come in flat sheets rather than rolls, look no further than our noissue Stickers and Custom Die Cut Stickers. Happy designing!

Browse our product catalog