Image from @bituin.flowers
Whether you're a newbie or want to enter the sustainable packaging world but don't know where to start, you've probably looked for a business to learn more from and wondered, are there any more of us here?
We know many brands are opting to go sustainable with their packaging and supporting others in their shift, too – and we're here for it! At noissue, we value our community of brands helping each other out while making a difference through their branded circular packaging. We show this support through our own sustainable packaging coalition!
This term was invented by an organization called Sustainable Packaging Coalition® (SPC), a membership-based collaborative that believes in making packaging more sustainable through the power of industry. Members include brands like McDonald's, Target and Microsoft. We recommend checking out their website for more information if you'd like to become a member.
However, there can also be other types of sustainable packaging groups that create packaging good for both the people and the environment—just like noissue's Eco-Alliance!
noissue's Eco-Alliance is unique in the sense that there is no eligibility criteria and micro and small businesses can join at no cost, making it accessible to brands of any size.
The Dream Team

Aside from being a part of a sustainable packaging dream team, what makes a sustainable packaging coalition is its global authority. It consists of members from a diverse collection of businesses of all sizes and industries, united by one common factor. In this case: the use of sustainable packaging that benefits everyone, everywhere!
The Eco-Alliance is just that.
The Eco-Alliance is a sustainable packaging coalition consisting of a community of businesses that have made the switch to circular packaging. Being part of the Eco-Alliance will grant you access to a community of like-minded, eco-conscious brands. Businesses, makers, and artisans from around the globe make up this collective, with a remarkable 34,000 members—and counting!
Taking part in our sustainable packaging coalition acknowledges your commitment to using circular packaging. And the bonus? You can easily share this with your customers through our Eco-Alliance badge that now uses a QR-enabled resource to help your customers learn more about your packaging materials and how to dispose of them properly.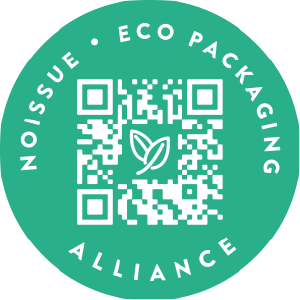 Your badge on your packaging, storefront, website, and social media is also a good form of environmental marketing, and third-party verification adds credibility to your business and packaging. Through these, you show your customers how much you care for the cause and validate that your brand isn't "greenwashing" or making unverified claims in your sustainability processes. And the best yet? You can contribute your sustainability tips to a global resource hub and help other businesses find answers to queries not everyone can have a say.
To celebrate Eco-Alliance, we launched a community page that also highlights more details about the program.
In creating such a forward-thinking sustainable packaging coalition, we hope to inspire others to consume consciously and prompt sustainable solutions beyond packaging.
How do I join your sustainable packaging coalition, the Eco-Alliance?
Easy! There are two ways of joining the community:
Method 1:
Visit the Eco-Alliance community page.
Scroll to the bottom of the page until you see Eco-Alliance Member Benefits and click Join Now
Enter your correct information and click Submit
Following this, you will receive a welcome email with more information on the program and a link to download the badge, which you can also download in the Sport Your Support section on the community page.
Method 2:
You can opt into the Eco-Alliance while placing a packaging purchase during checkout.
Select to opt into the program and complete your purchase–you have now been added to the Eco-Alliance!
Following this, you will receive a welcome email with more information on the program and a link to download the badge, which you can also download in the Sport Your Support section on the community page.
Wrapping it up
What are you waiting for? Join the Eco-Alliance today and be part of a community that can be better together.
---
Have an interesting brand story you want to share? We'd love to hear it! Join the Eco-Alliance here and share your deets with us here to get a chance to be featured on The Wrap!
Questions? Email us at ecoalliance@noissue.co