You can never have too much of a good thing, which is why we're excited about the latest product in our noissue sticker range: Multi-Design Custom Die Cut Sticker Sheets!
Their multi-design feature gives businesses the option to build a collection of branded stickers that features a business name, logo, a catchphrase and illustration all in one sheet. How many sticker designs you want to include on the sheet is up to you, so long as they fit comfortably within the print dielines.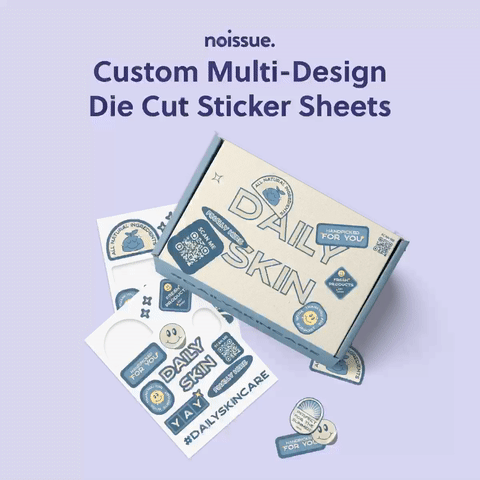 The die cutting process means these stickers can be completely customized, right down to their shape. These Custom Die Cut Stickers are guaranteed to add a pop of personality when decorating the exterior of product boxes, mailer bags and shipping boxes, and they're also perfect if you're an artist or illustrator wanting to sell stickers online.
Learn more about the difference between Custom Die Cut Stickers and Regular Stickers.
noissue's Multi-Design stickers are made from FSC-certified and acid-free paper and printed with soy-based inks. They can be home or commercially composted after use and will break down in 180 days in a home compost, or 90 days in a commercial environment. The release liner the stickers come on is also curbside recyclable, so be sure dispose of it correctly!
To keep our stickers sustainable, our Multi-Design Die Cut Sticker Sheets don't have a plastic coating, which does mean that they aren't completely waterproof.
They are uncoated with a matte-like finish instead of a glossy one, but this means they can stay 100% compostable.
The Key Details

Color: Multicolor on a white background
Material: FSC-certified, acid-free paper
Thickness: 80gsm
Sizes available (release sheet): 105mm x 148mm (4.1" x 5.8"), 148mm x 210mm (5.8" x 8.3"), 216mm x 279mm (8.5" x 11")
Print options: 1 side
Print colors: CMYK colors
Certifications: FSC-certified
Sustainability features: Compostable materials, soy-based inks, recyclable release liner
Minimum order quantity (MOQ): 500
End-of-life care: Compostable.
How to Create Multi-Design Sticker Sheets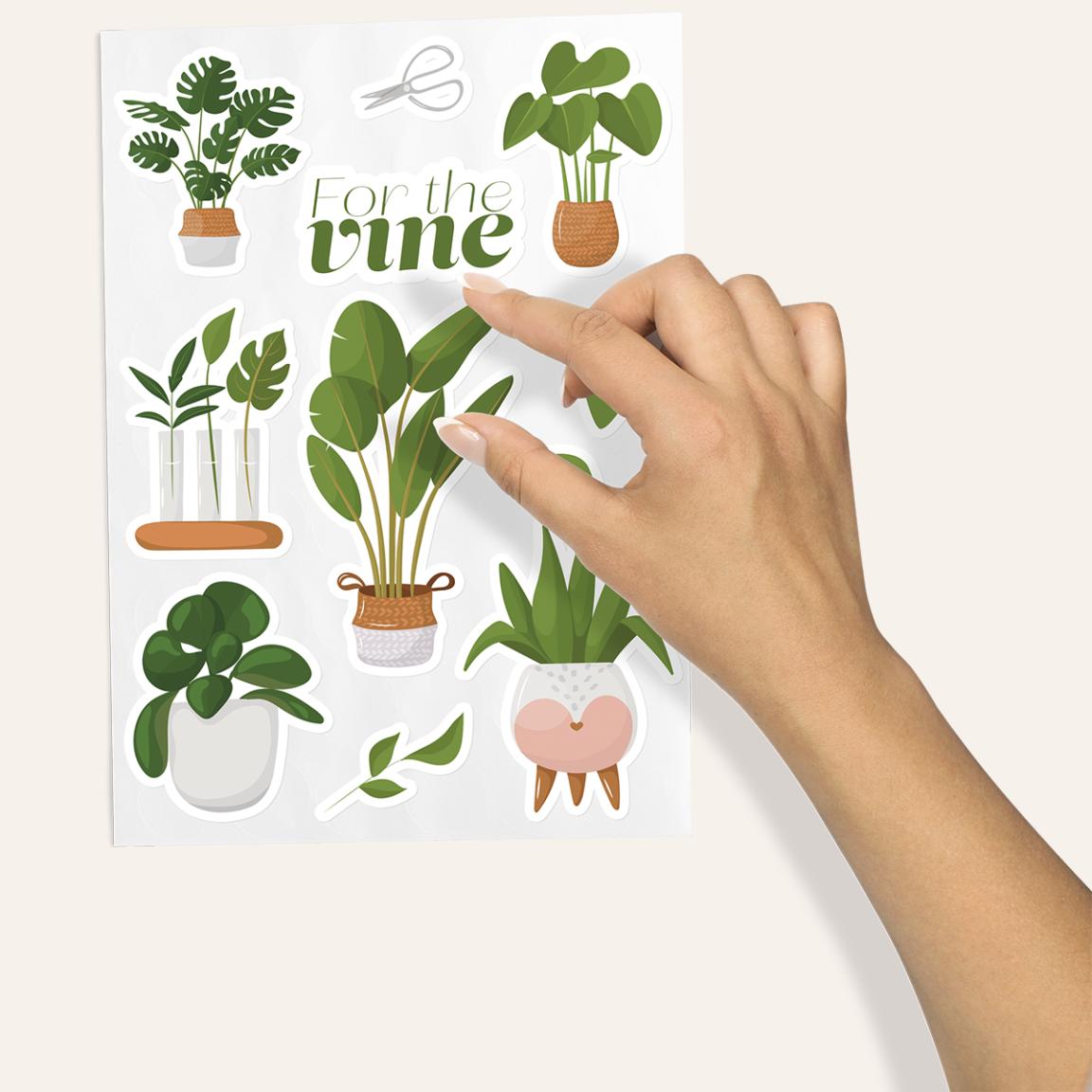 You'll be able to find downloadable dielines on the Multi-Design Sticker product page in the 'Design Now' section. There is no limit on how many stickers you can include on a sheet, but there is guidelines to follow to get the best printing result:
Each design should be at least 25mm.
Text height should be at least 0.8mm.
Line thickness should be at least 0.2mm.
Bleed area should extend at least 4mm out from the trim lines with 8 to 10mm of space between each design.
Once you've created your finished design offline, you can upload the final version into our online design platform, select the size and order quantity you're after and we'll take care of the rest! Our pre-press design team will check everything is in order and send you a final copy to review before it goes to print. If you're not happy, we don't print – we're all about getting those stickers picture perfect!
Pro tip: We can do Die Cut Stickers with a clear background or waterproof stickers for orders of 10,000 units or more, but keep in mind these wouldn't be eco-friendly! Inquire with our noissue Plus team today.
Wrapping It Up

Variety is the spice of life, so why not order your brand Multi-Design Custom Die Cut Stickers? They're perfect for your next marketing or merchandizing campaign. If you want to try a different style of sticker instead of die cut, check out these other sticker style ideas for businesses.
Custom, circular packaging for your brand – with us, it's noissue!