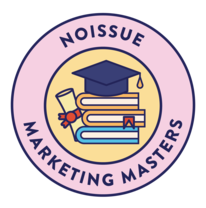 The ultimate objective of any content marketing strategy is to inform, educate, and entertain audiences through content that inspires action. Social media marketing is no different.
However, for beginners it can seem a bit daunting as it's easy to get lost in the sea of the latest social media trends and techniques.
Don't worry: if you're new to social media marketing, this practical guide is all that you'll need to craft a social media strategy from scratch. 🔍 So, let's get started.
1. Understand your audience

A successful social media marketing strategy is one that puts the audience at its core. So, before you start thinking about your content formats and what not, make sure you understand the people you'll be creating content for.

Here are some questions to ask about your audience:
– Who are they?
– What do they care about?
– Which social media platforms do they frequent?
Understanding your audience is the key to creating relevant content that resonates with them. However, making blind assumptions about your audience isn't going to cut it.
Start by analyzing your existing social media audience to understand their demographics, interests, and preferences. You can check out the Analytics section of your Instagram, Facebook, or YouTube accounts or use tools like Sprout Social that consolidates the data from all your accounts.
If you have an existing customer base, take a close look at the people who are already buying from you to gain a better understanding of who they are. This, in turn, will help hone in on the right audiences on social media.
Based on the data you gather, you will have the information needed to create your audience/buyer personas, which is a comprehensive representation of your key audience segments. Once you know your audiences well, you'll be in a better position to craft a social media strategy that's tailored to their needs.
2. Define S.M.A.R.T. goals

The next step in your social media marketing strategy should be to define your goals. If you lack a clear vision of what you want to accomplish, you are likely to end up wasting money and resources. Your goals will also help you define your success metrics so that you can calculate your Return On Investment (ROI).
Some of the most common social media marketing goals include increasing brand awareness, generating leads, increasing followers, engagement, or website traffic. It's best to pick just one or two so as to avoid losing focus and keeping things simple.
The most important thing to remember while defining your goals is to make sure that they are specific, measurable, attainable, relevant, and time-bound. S.M.A.R.T. goals can guide you towards better results from your social media marketing.
Here's an example of such a goal:
"We will use Facebook to increase brand awareness and grow our page followers and post likes by 15% in the next three months."
Strive for that level of clarity when coming up with your social media goals.
3. Establish your metrics

Once you have identified your goals, you need to define your success metrics. Some of the most common social media marketing metrics are:
Engagement rate: The total number of reactions or likes, comments, and shares divided by the total impressions for a post.
Clicks: The number of clicks to a particular post or content.
Reach: The total number of people who saw your post.
Sentiment: The type of sentiment (positive or negative) that your audiences feel when they see or interact with your content.
When you establish your metrics for measurement, make sure that they align directly with your goals. For example, if your goal is to increase brand awareness, you must focus on measuring reach through impressions and shares. The table below can be a good starting point.
4. Choose the right channels

Did you know that 74% of adults in the US with a college degree use Facebook? Or that the top sites used by teens are YouTube (85%), Snapchat (69%), and Instagram (72%)?
Data such as these coupled with your audience personas should govern your choice of social media channels or platforms when it comes to promoting your brand. You need to select the platforms where you're most likely to find your target audience.
For example, Musical.ly used Facebook Analytics to learn that there was a huge potential for them to engage users aged 25 and above. Based on this knowledge, they redesigned their interface to appeal to older users and recorded a 130% increase in users belonging to this age group.
Once you've identified the channels you want to focus on, create your company profiles on them or improve the existing ones. Make sure that they contain up-to-date information about your brand with relevant keywords and consistent branding across all platforms.
5. Determine the right content mix

The next step is to create the content to be posted on the channels you've identified. An analysis of the social media accounts of your competitors can be a good starting point here. While originality and uniqueness are extremely important in social media marketing, a little inspiration from others never hurts.
If you're unsure of what to post, the rule of 80-20 can help. This means that 80% of the content you post should be focused on entertaining, informing, and educating your audience. And 20% should be focused on directly promoting your brand.
You can also take a cue from the latest social media trends such as leveraging Stories as a content format, posting purpose-driven content, or focusing on inclusivity.a
Regardless of the content types or formats you use, make sure that you use a consistent theme, color scheme, style, and voice that reflect your brand identity. This will make sure that your followers know what to expect from you and give them a reason to engage with your content. Notice how the same rotating color scheme and graphics impart a cohesive feel to Shopify's Instagram feed.
The best way to make sure that you adhere to a consistent theme (filters, captions, and creative touches) is to lay out your posts on social media management tools before publishing them. Tools like Preview, for example, can help you get a feel of how your posts might look in your feed, before you actually publish them.
6. Establish a posting schedule

To maximize your ROI from social media marketing, not only should you post content regularly but also at the best times. Post your content at times when your target audience is most likely to see and interact with them.
As for determining when to post, some social media management tools have features that can automatically optimize your post scheduling.
It may also help to check industry data. CoSchedule analyzed multiple studies on social media post timings and found that the best days and times to post on social networks vary, depending on your industry. On Instagram, B2C companies benefit from posting at 8am, 1pm, and 9pm. Meanwhile, media companies should post on Instagram at 9am, 12pm, and 3pm.
The best days to post also, vary, but here's a quick summary of what CoSchedule found:
Regardless of what days and times work for you, it's best to leverage social media management tools like Buffer, Sendible, or Agorapulse to automate your publishing based on your social media calendar. These tools will allow you to plan and schedule a number of posts in advance (along with proper captions and hashtags) so that you don't need to be available round-the-clock.
7. Focus on engagement

Engaging with your audience in a timely manner is critical to the success of your social media marketing. If you don't provide speedy responses to their questions, comments, or shoutouts, you're leaving serious money on the table.
Failing to engage your audiences properly can result in a loss of followers and negatively affect brand sentiment. On the other hand, timely responses can help you strike up meaningful conversations about your brand and win trust and respect.
Take a page out of Glossier's social media strategy and don't let a single question, comment, or mention go unanswered. Social listening tools like Mention, Hootsuite, or Brandwatch can help you monitor your brand mentions so that you can engage with your audiences effectively.
8. Evaluate and optimize

The final step in your social media strategy should be to track and measure your results. Check to see which posts or campaigns are driving the most traffic to your site or resulting in the most sales.
Look at your success metrics and keep making the necessary tweaks and adjustments to your strategy to ensure that your goals are met. Continual testing will help you understand what's working and what's not so that you can refine your strategies to get the maximum returns.
While it might seem like a lot if you're new to the world of social media marketing, don't get overwhelmed. If you take some time to go through each of the steps mentioned in this guide meticulously, you should be able to master the art of social media marketing in no time at all!
Enjoyed this story? Find more marketing advice for new businesses by Francesca Nicasio in our Marketing Master series.