In 2022, more and more industries are starting to adopt Stand-Up Pouches as their standard form of packaging. They're the perfect way to preserve coffee even after the package is opened, which makes them the best choice for manufacturers.
Coffee companies that haven't adopted this super comfortable and sustainable packaging might be perceived as lagging behind others in terms of adaptability and innovation. Here's why upgrading your coffee bags might be a great next step for your business.
What are the Benefits of Stand-Up Pouch Packaging?

There are many advantages to using stand-up pouches as a business, ranging from increased protection to reusability and eco-friendliness. Let's explore them below!
1. Good Level of Protection

Coffee and tea are sensitive to environmental factors like sun rays, moisture, and insects and can be easily spilled. Good quality pouch packaging bags can protect your product from UV light, contamination, oxygen, moisture, and other pollutants. And with the help of the design of the reusable zipper pouches, the fresh aroma of your coffee beans is kept inside the pouch.
2. More Space for Branding

Showcasing your amazing product on a shelf has never been easier with the ample branding space Stand-Up Pouch coffee packaging has to offer. They can have a tiny transparent section to show your product to the world, while using the rest of the exterior of the bag to convey key information like ingredients, sourcing information, your social media handles and website, a call-to-action and even a QR code!
3. More Room for Customization

Almost everything about a Stand-Up Pouch can be customized, including the zipper type, the material, shape, color, and branding. Also, you can even decide to add a valve for example in order to facilitate your customers with certain products.
4. There's no Extra Costs

As amazing as these sound, Stand-Up Pouches are not more expensive than conventional packaging like plastic containers or bottles. Moreover, their weight is almost 20 times smaller than the one of most plastic packaging types, bottles included. Not to mention, compared to glass (which often is linked with premium coffee brands), pouches can also have a premium look and are much more durable.
5. They are a Sustainable Packaging Option

Stand-Up Pouches for food and coffee are recyclable and landfill friendly. The majority of pouches are manufactured using Polyethylene or polymers of raw materials, including soy protein, starch, lactic acid, rice paper, or cellulose. Compostable Stand-Up Pouches cost slightly more but will bring extra benefits to your business in the long run by adding extra loyal clients to your customer base.
Keep Your Coffee Safe and Your Customers Happy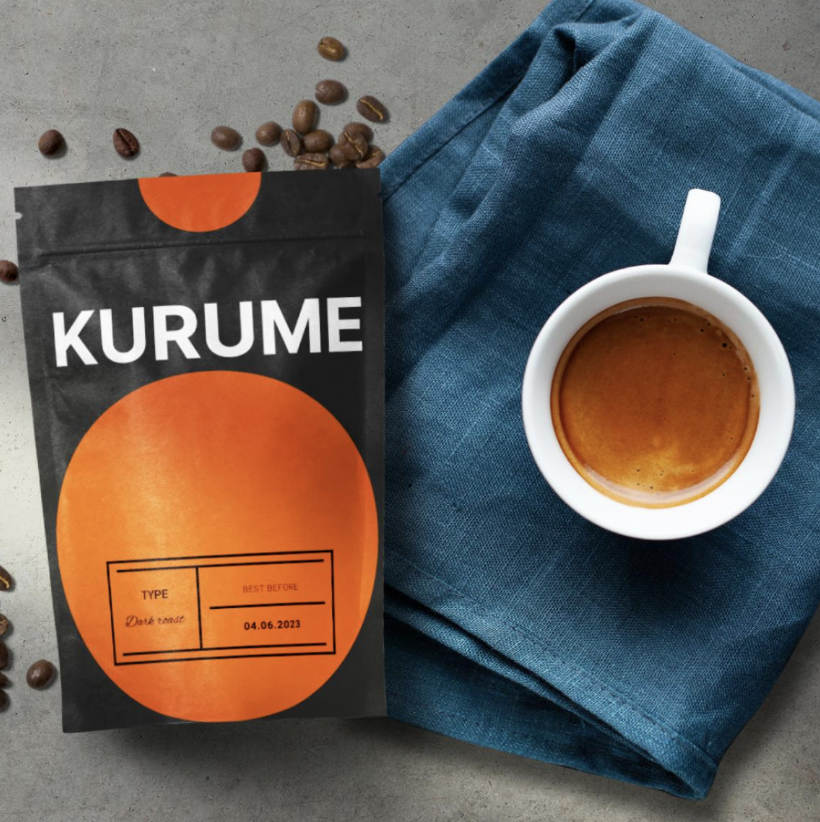 Aside from protecting the environment, more and more people want to return to the basics. A standard-looking brown paper pouch bag with a barrier film to showcase the contents will often be perceived as high-quality and stylishly minimalistic compared to colorful designs.
When choosing the right pouch for your coffee product, make sure to choose a high-quality barrier film to protect the light-sensitive product. Coffee relies on being kept in an air-tight space in order to maintain its aroma, which is ensured by the zip lock of the packaging.
Stand-Up Bags Improves Your Marketing

Coffee has become a necessity for many. Like flour and sugar, coffee doesn't need packaging to be extravagant to get sold.
Stand-Up Pouches are easy to notice, especially when manufactured from sustainable materials. They signal, "We care more for the environment than for our product's presentation" from miles away. Environmentally friendly products beat fancy packaging by a long shot. In 2022, the overall distribution of key selling points, according to Businessesnewsdaily's survey, are as follows:
89% of customers pick a product solely for its qualities.
72% are purposefully purchasing eco-friendly packaging over non-eco-friendly ones.
49% try to purchase healthy and safe products only.
37% of all customers will drop out of a purchase if the packaging is not eco-friendly.
The key takeaway is that the majority of customers would pay a higher price for sustainable packaging and a good product in combination. Therefore, if you focus on improving your product, your packaging can remain simple yet sustainable, and that would be a win-win for your brand.
With more and more people caring about the environment, choosing environmentally friendly plastic or non-recyclable should be a no-brainer.
Wrapping It Up

Stand-up pouches preserve coffee better, making it easy to transport while also keeping things environmentally friendly. They don't increase your costs and have an awesome and aesthetically pleasing look, so what's not to love?
If you are ready to take the next step and upgrade your coffee packaging, be sure to check out noissue's custom Stand-Up Pouches!

Browse our product catalog