Clamshell Packaging is one of the best and most reliable alternative packaging methods brands can turn to. Compared to paper boxes, clamshell boxes are easier to find and have better storage capabilities given that they are adjustable to any size or shape of food.
Additionally, sustainable clamshell boxes use less-intensive production methods, allowing them to cut your costs and reduce your carbon footprint, improving your business' reputation. Plus, they are compostable and made from plant-based materials that don't use petroleum or other chemicals.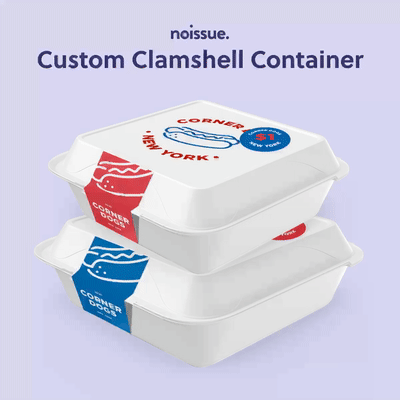 Considering that the food delivery industry has been seeing a big boom in recent years, particularly among younger generations, brands need sustainable and flexible packaging solutions to match the changing consumer dynamics in today's world.
Business leaders looking to provide high-value customer experiences and improve their brand imagery should look towards leveraging custom clamshell business to provide seamless packaging solutions.
There are three key reasons why your business should use custom clamshell packaging for future orders, helping you win new customers and save money simultaneously.
Clamshell Packaging Offers Maximum Protection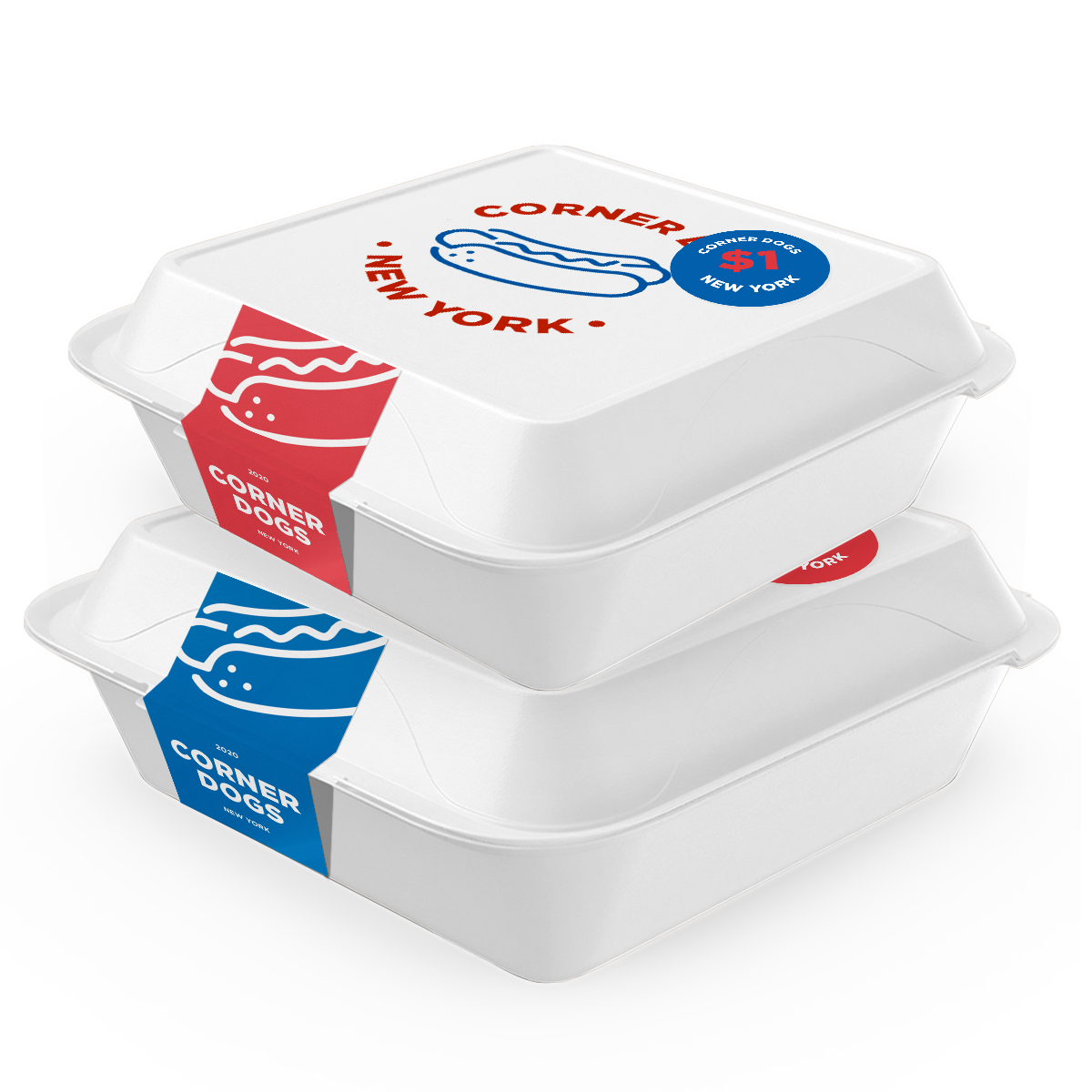 One of the most significant benefits of using clamshell takeout containers or other types of clamshell packages is that they come in different shapes and sizes, providing premium security for various foods and other products.

Whenever brands need something simple yet for packaging various food items while placing obvious and attractive branding imagery to promote their business, these takeaway food containers are among the most reliable packaging options.
Clamshell packaging preserves the quality of food and other products amid changing storage conditions and improper handling that regularly takes place during transit. The packaging eliminates the risk of contamination and the lost revenue that comes with that. Furthermore, this type of packaging works well with hot or cold substances, making them ideal for any season or setting.
By the end of this decade, clamshell packages will become more of the norm as the industry continues to grow. Brands provide seamless customer experiences with these packages as they are easy to open and close.
They contain various protective layers that preserve the taste and texture of food while preventing other products from being damaged during transportation. Protection with convenience is what the packaging best offers customers.
Clamshell Takeaway Boxes Have Versatile, Tamper-Free Designs

Packaging matters to customers when choosing brands, with 72% of customers expressing that their purchasing decisions are heavily influenced by the packaging design.
Clamshell to-go containers satisfy all the design parameters customers care about most: aesthetics, simplicity, versatility, and a professional look. Though the designs are uncomplicated, they are equally eye-catching.
The simplicity of the clamshell takeaway boxes makes them appealing to brands and customers alike.
The boxes offer stress-free ways of providing a complete enclosure for optimal protection against contaminants. Brands can insert graphics cards and logos on the top of the boxes, showcasing their brand imagery to make it clear where the packaging is coming from.
The packaging also comes in different colors, giving it more shelf appeal with customers making in-house purchases.
The colors as well as the placement of the brand imagery on the top of the packaging and the custom coated labels that seal them provide a combination of aesthetically pleasing elements that positively influence purchasing decisions. Additionally, the designs are tamper-free, preserving more expensive, high-value items with ease.
The Sustainability Benefits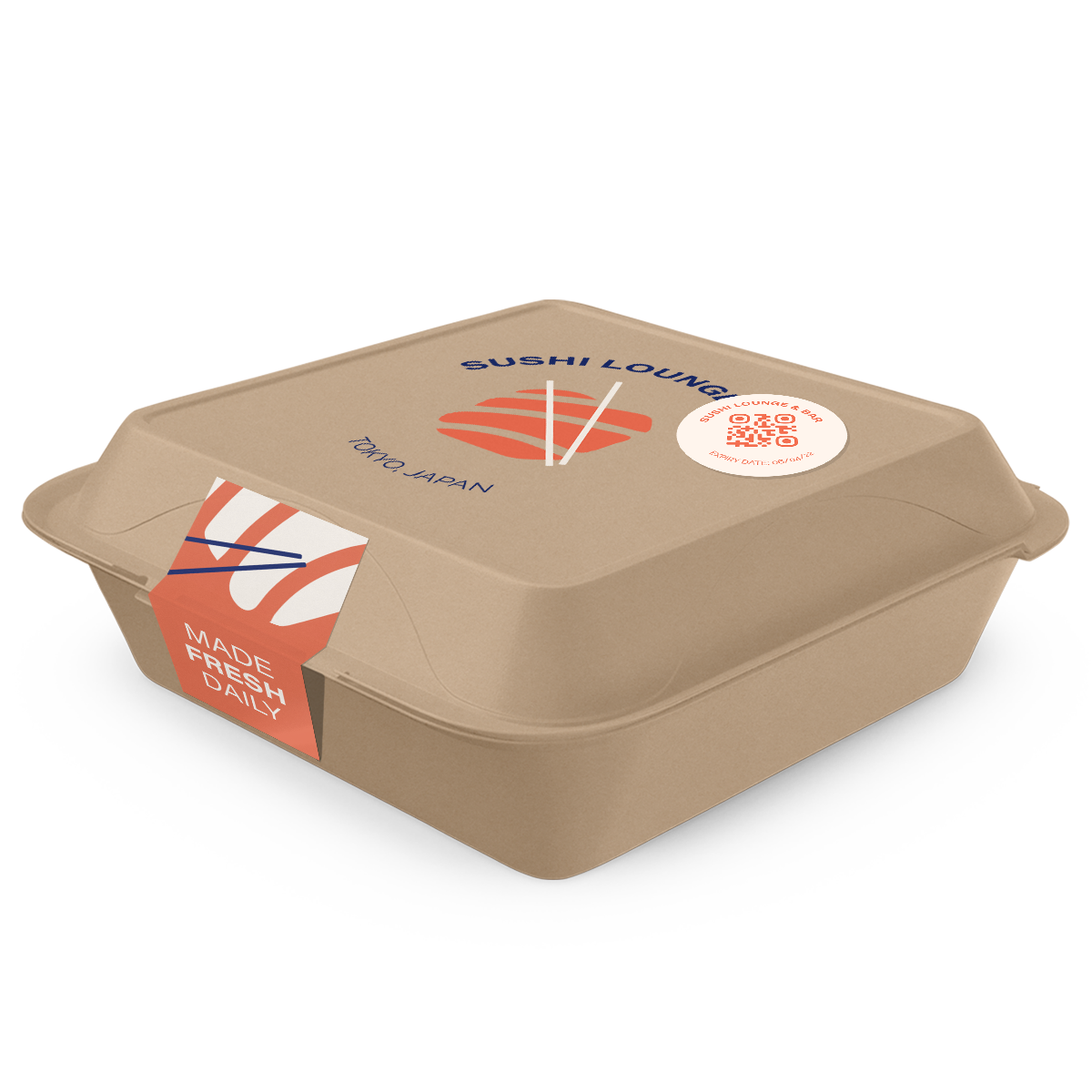 Around 43% of customers consider the environmental impact an essential element for packaging, while 54% prioritize sustainable packaging when making critical purchasing decisions. Considering how much the online ordering of food and various other products has been booming in recent years, the need for more sustainable packaging has increased significantly, forcing brands to rethink how they present their products to customers.
Clamshell to-go containers are representative of the shift to sustainable packaging. Some containers are made from white and natural sugarcane fiber. Other clamshell packages are made from regenerative fibers sourced from the southeastern United States.
Plant-based packaging eliminates the reliance on petroleum and other chemicals, using purely natural material to preserve food items and other products.
Additionally, clamshell takeaway containers are commercially compostable and biodegradable, making them easy to dispose of and reuse.
Their reusability makes them attractive because brands can reduce waste and prevent any contributions to landfills. The packaging is environmentally-friendly and reduces carbon emissions, helping brands to improve their reputation and making brand leaders more socially aware regarding their packaging strategies.
Also, these containers use water and soy-based ink while being certified by the Forest Stewardship Council (FSC).
Wrapping It Up

Choosing sustainable food packaging helps your brand image and fully preserves the quality of the food you deliver to your customers. Check out noissue's customized food packaging options for your brand today!

Browse our product catalog