Competition is fierce in the world of commerce, and any advantage you can give your business is worth considering. Custom sticker rolls are a unique and cost-effective way to help your brand stand out.
Their convenient roll format means that they're a great option for busy business owners, as they can sit in a dispenser or a dowel, making applications easy.
At noissue, we print high-quality custom sticker rolls and ship them directly to your door. We offer a wide range of materials, finishes, and sizes so that you can create the perfect sticker that helps your branding stick.
What is a Custom Sticker Roll, and Why Are They So Versatile?
Custom sticker rolls are exactly what they sound like – stickers that come in a roll format, rather than in a sheet! They can be customized with your company logo, key business information, or any other design.
One of the best things about custom sticker rolls is that they are highly versatile. You can use them for various purposes, such as labeling products, sealing the outside of an envelope, decorating the exterior of a Mailer Bag, or hand them out at trade show.
Their versatility extends to their size, shape, and material – you can choose from a wide range of options to create the perfect sticker for your needs.
How Can Custom Sticker Rolls Help Businesses With Their Branding?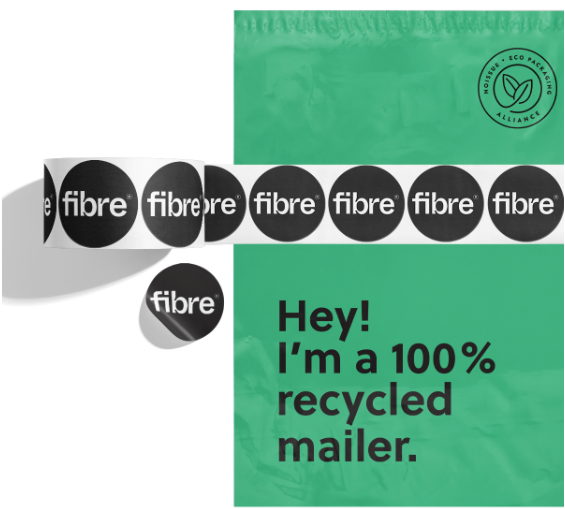 Good branding is all about creating a consistent look and feel for your business. Custom sticker rolls can help you achieve this by ensuring that all of your marketing materials – from product labels to your social media channels  – have a cohesive look in your brand identity.
This will help customers remember your brand and what it stands for. In today's competitive marketplace, anything you can do to make your brand stand out and be remembered is a valuable asset.
5 Ways You Can Use Customer Sticker Rolls

You might be itching to get started designing your custom sticker rolls, but it would be best if you have a plan first! Here are five ideas to get you started:
1. Customer Education

One of the best ways to use custom sticker rolls is to share key information about your business or product. This could include your company's mission statement or something simple like your contact information.
If you run a food business, you could use your sticker roll to list the ingredients in your products. It would be particularly useful for customers with allergies or those looking for specific dietary options.
You could also include cooking or storage instructions so that customers can get the most out of your product. If you have any certifications, such as Fairtrade or Organic, this is the perfect place to showcase them.
We've even seen instances where infographics have been printed on custom sticker rolls! This is a great way to get potential customers interested in what you do, and it's also a fun way to show off your brand's personality.
2. Brand Recognition

Another option is to use your custom sticker roll for brand recognition. That means keeping the design of your sticker simple with just your company logo or icon. Since the purpose of this sticker isn't to inform but to wow, make sure that your logo is high quality and eye-catching.
This type of sticker is perfect for sticking on the outside of an ecommerce order, as it can be applied to a mailer bag or box with ease.
Of course, you can also use this type of sticker in your own office or store. Give them out to customers as they purchase, or use them as a fun way to show off your brand identity.
3. Product Hype

If you have a new product launch coming up, custom sticker rolls are a great way to create some hype. You can use them to tease the product or let people know that something new is coming.
Add these stickers to your current product orders to get people talking. You could even mail them to your most loyal customers to get them excited about the new product before it hits store shelves.
Sticker rolls are also an excellent option for limited edition products. If you have a special batch of cookies or a seasonal flavor of ice cream, let your customers know with a sticker. They'll be thrilled to have a chance to try something new, and they'll appreciate your attention to detail!
4. Connected Packaging

If you want to take your customer engagement one step further, you can use your custom sticker roll to connect your packaging. Include a QR code that links to a microsite or social media page so that customers can learn more about your product.
QR linking is a great way to collect customer feedback or engage in social media marketing. You can also use it to showcase a new product collection, or limited edition product. It's a way to connect with your customers and get them excited about your product.
Just make sure that the QR code is easy to find and scan so that people can take advantage of it.
5. Customer Appreciation: Give thanks with a custom thank you sticker

Finally, one of the best ways to use custom sticker rolls is to show your appreciation for your customers. This could be as simple as a "thank you for your purchase" sticker or something a bit more creative.
You could also include a discount code or coupon so that customers can save on their next purchase. That way, you encourage repeat business and show your appreciation simultaneously.
"Thank you!" stickers are a great way to build customer loyalty and make your customers feel appreciated. They'll be more likely to recommend your business to others and appreciate your thoughtfulness.
How to Choose The Right Sticker Roll Provider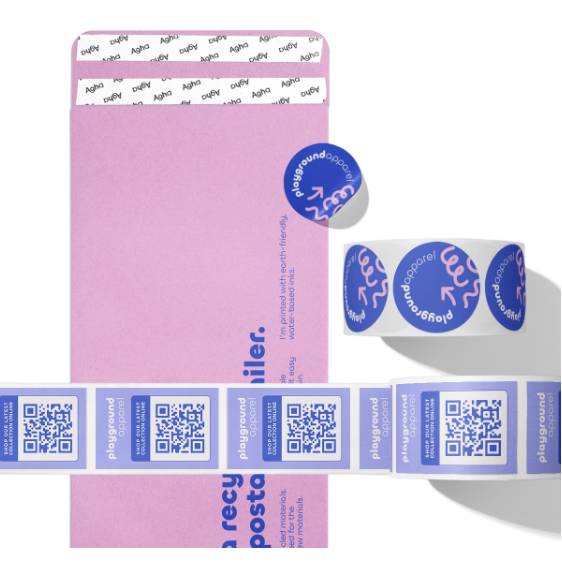 Now that you know some of the best ways to use custom sticker rolls for your business, it's time to choose a provider. Here are some things to look for:
Customization options

Your platform needs to offer a wide range of customization options so that you can tailor your stickers to your specific brand. If you're not a designer, don't fear! noissue offers free designing tools and dedicated customer service, including a pre-press design team that will check your design for you before it goes to print.
Sustainable materials

Our custom sticker rolls are made from 100% recycled materials, so you can feel good about your purchase. Your customers will appreciate your commitment to sustainability, and you'll be able to use your stickers with a clear conscience. Our custom sticker rolls are made from 100% recycled materials.
Low minimum order quantities

We want to help smaller brands as well as bigger businesses, so we keep our minimum quantities low. You can order as few as 1000 stickers, which is a great amount for smaller businesses to get started with.
Wrapping It Up

Ready to learn more about Custom Sticker Rolls? Head to our product page to explore the different sticker sizes, shapes and materials you can use for your brand, or check out our full range of circular, custom packaging options!