@studiopassepartout

When it comes to the noissue community, we want to help our customers have a broader positive impact on the world beyond just using eco-friendly packaging. This is why we created the Eco-Packaging Alliance program: to give people the opportunity to get more hands-on in protecting the environment.
The great news? Joining the Alliance is as easy as ordering one of our products. Read on for our handy guide on how to sign up and promote your membership to your customers.
What is the Eco-Packaging Alliance?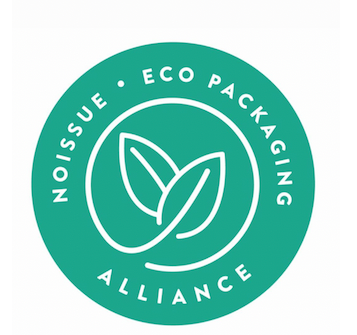 The Eco-Packaging Alliance is an initiative to help further offset the impacts of your packaging choices. Noissue already has a bunch of incentives in place to minimize the impact on the environment, including:

– Each of our packaging products is either compostable, recyclable or reusable
– All of our paper products are Forest Stewardship Council (FSC) certified, which means they're sourced ethically and sustainably
– We use soy-based ink in all our products, which is made from a 100 percent renewable source (soy oil) and is biodegradable.
But we wanted to take this one step further, so we created the Eco-Packaging Alliance.
Every time an order is placed by our customers, they can choose where a tree is planted by our partner One Tree Planted, a non-profit organization that plants trees to help with global reforestation. Thanks to the Eco-Packaging Alliance, more than 13,000 trees have been planted worldwide.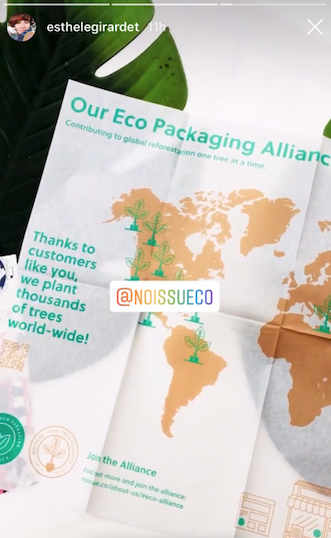 The location where the trees are planted depends on which area One Tree Planted decides is most in need, but areas covered include North America, Latin America, Australia, Asia and Africa. Planting trees helps us contribute to offsetting shipping products to our customers around the world.
By joining our Eco-Packaging Alliance, you also become a member of a global community of creative businesses with sustainable values just like you. You can read the stories of some of the businesses in our Eco-Packaging Alliance here.
Okay, but what does planting trees do?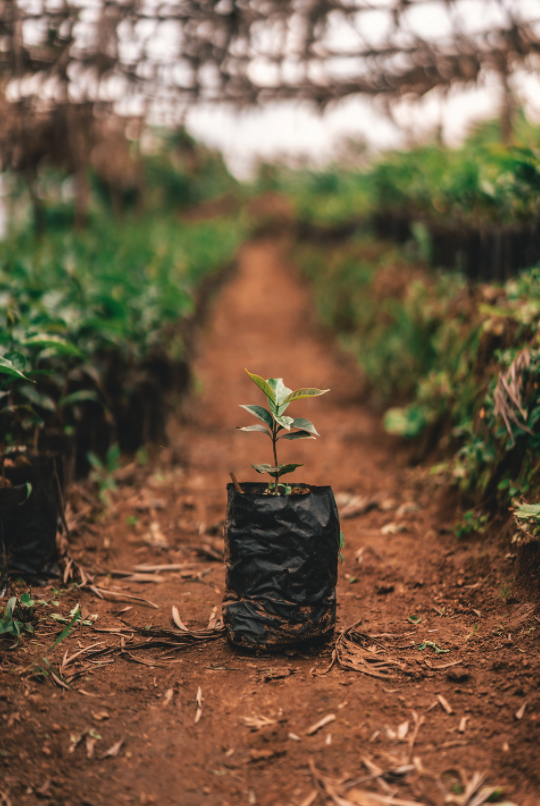 Trees provide a very simple solution to a very complex problem: the climate crisis.

According to scientists, planting billions of trees across the world is one of the easiest ways to reduce climate change by tackling the carbon dioxide emissions that are driving global warming.
Our soaring carbon dioxide levels are being caused by deforestation and fossil fuel combustion, which results in more heat being trapped in the atmosphere.  
But as more trees get planted and grow, they act as a vacuum by absorbing harmful pollutants like carbon dioxide through their leaves and bark and releasing clean oxygen into the environment.
It's estimated a global planting programme could absorb two-thirds of emissions from human activities that are in the atmosphere today – a figure scientists have called "mind-blowing".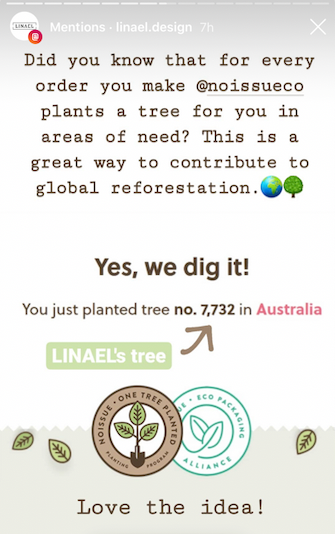 Aside from helping with climate change, trees have many other perks: they are also a habitat to over 80 percent of the world's biodiversity, provide many jobs to people in the forestry industry, help filter the water we drink and are used as an ingredient in 25 percent of the world's medicines (like Aspirin!)
Simply put, trees play a central role in the health of our planet, so the more of them planted, the better! You can read more about why trees are so important on our partner One Tree Planted's website here.
Each order placed with noissue equals one tree being planted in a deforested region across the world.
That's awesome! So how do I sign up?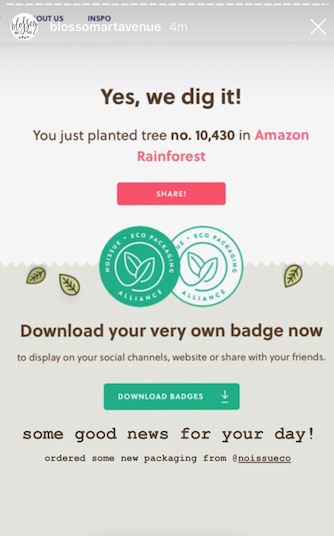 Once you've placed an order with noissue you will be eligible to join the Alliance. But first, you have to sign up with us by heading here and clicking 'Join The Alliance'. We'll then send you a welcome email with all the details on where your tree can be planted, what it means to be part of the team, and more!
Alternatively, when your packaging order arrives there will be a QR code included that you will be able to scan with your phone to enact your membership.
Should I promote being part of the Eco-Packaging Alliance to my customers?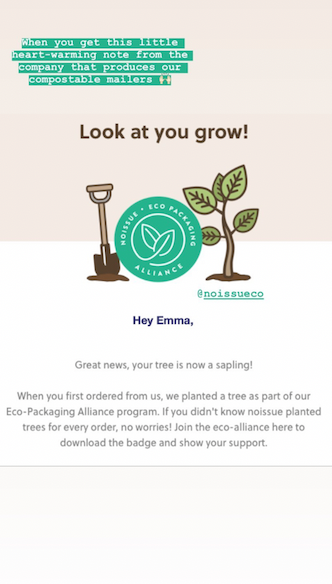 Absolutely! We encourage you to share this good deed with your customers, as research shows that shoppers want to align with businesses that have the same values as them.
A survey by Hotwire in 2019 found that 47 percent of internet users worldwide stopped ordering products and services from brands that had violated their personal values, and protecting the environment was the number one value at the top of their list.
Showing that your business values the environment and that shopping with you helps in the fight against climate change can lead to greater brand love and loyalty.
To make promoting this easier for you, we've created an Eco-Packaging Alliance badge that you can download and display on your site (or on your physical store front!)
The downloadable badge and instructions on how to display on your website are included in our introductory email. Our customers also like to share their Eco-Packaging Alliance membership on their social media channels, too.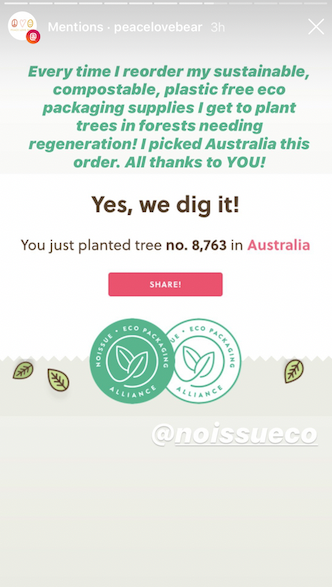 If you want to take it one step further, we'd recommend dedicating a section of your website or a blog post to talk about what it means to be a part of the Eco-Packaging Alliance. You can repurpose the information about tree planting and climate change we've talked here or link through to this blog post.

Explaining the 'why' and 'how' behind your sustainability moves will ensure your customers know you care deeply about this issue and can walk the walk and talk the talk when it comes to making a positive impact on the environment.
More trees, please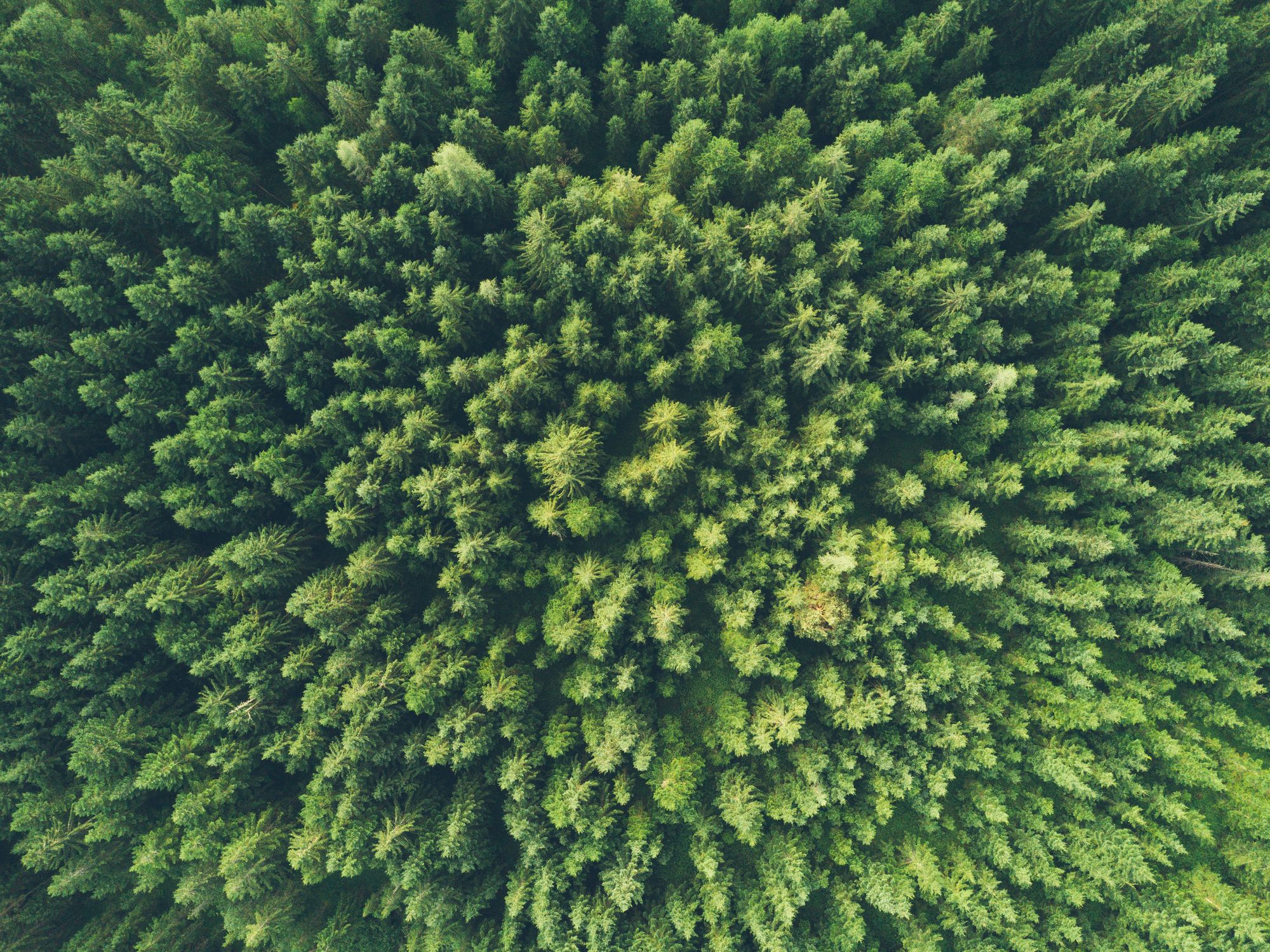 We hope that answers the questions you have around noissue's Eco-Packaging Alliance program! The aim is to help with global reforestation and climate change, one tree at a time – and to get you involved in the initiative, too.
If we've missed anything, feel free to get in touch with us and ask any questions here.

We have lots of exciting things in the pipeline planned for our Eco-Packaging Alliance members (including rewards for customers who've been extra forest friendly) so now is a great time to sign up and get involved!