The holidays are coming, and with them arrives an abundance of festive-themed packaging from some seriously creative brands.
With a huge percentage of purchases made by first-time buyers during the festive season, there's never a more important time to encourage repeat business by offering packaging that truly sleighs.
When it comes to branding, the holiday period provides the perfect opportunity to do a refresh of the precious in-person time your brand has with customers.
Are you not sure where to start? Well, look no further! We're here to help you revamp your designs with seasonal packaging that even the Grinch would find hard to resist.
Here are some tree-mendous packaging ideas that are perfect for spreading some well-deserved holiday cheer.
1. Package It Up in a Box
You can't unbox without a box! To create an incredibly memorable unboxing experience for your nearest and dearest customers these holidays, grabbing a box is the obvious (and best!) place to start.
To make sure you're gifting an eco-friendly experience to your customer, it's a good idea to select a sustainable holiday mailer box. noissue's Custom Mailer Boxes are made from Forest Stewardship Council (FSC) Certified Materials and printed with earth friendly inks, which makes them both compostable and curbside recyclable.
Using a custom mailer box can help you create the ultimate holiday unboxing experience. You can slap on any design on a side or two in a range of colors to make your packaging scream ho-ho-holiday!
But if minimalism is your thing, then noissue's Kraft Boxes are for you! Made with 100% recycled kraft material, you can easily dress this humble box up with a variety of custom stamps, custom tape, and custom stickers to add instant pop of festive cheer.
Keeping with the earth friendly theme, noissue's stickers are uncoated and 100% compostable, while our tape is made from 100% Recycled FSC certified paper and is water-activated, which means there's no sticky residue remaining when it's disposed of.
Just check out the boxed beauty above by Christmas Laurel Company—it sings good tidings and joy by simply using a sprinkle of labels and festive colors.
We love the Santa reference, and the red and white string that ties everything together, effectively stirring up feelings of joy and holiday anticipation! She has also used a noissue custom stamp as her final touch, which uses soy-based inks. Her design is proof that just a few quality items can make a box-load of difference.
2. Get Your Wrap on With Tissue Paper
It's easy to get lost in a mountain of wrapping paper during the holidays—ripping open gifts on Christmas morning is one of the true highlights of the holidays. But once the presents have all been opened, all you're left with is a pile of waste paper.
Unable to be recycled or composted, most wrapping papers (especially those with a glossy finish) are nothing more than a sheet of micro-plastics that only harm our environments when dumped. Not exactly the epitome of festive spirit!
Luckily, there is a way to keep this joyful aspect of gift-giving while considering the environment too! noissue's Custom Tissue Paper is an eco-friendly alternative that is oh-so versatile during the holiday season. It's made with FSC-certified, acid-free paper and printed using soy-based inks, which makes it 100% recyclable.
Theme your tissue paper to include some holiday motifs to spread some cheer like Flora Waycott has done above, and tell your shoppers their purchases will come already gift wrapped to save their time and effort.
You could even encourage them to reuse your tissue on other presents during the season—that's a lot of uses already! Plus, our tissue is fully customizable with any design you desire. Our Custom Multi Colored Tissue allows full colored designs with CMYK printing and is perfect for colorful holiday designs. While our Custom Kraft Tissue can be printed with a dynamic range of Pantone Library colors while keeping the natural beauty of Kraft, making receivers feel a nostalgic warmth. What's not to love?
3. Give a Gift That Keeps on Giving With Tote Bags
If you're looking for a unique alternative to boxes or paper wrapping this year, look no further: our custom tote bags are totes amazing! noissue's Tote Bags are made from Global Organic Textile Standard (GOTS) certified 100% organic cotton, which means they're an earth-friendly and ethical way to stockpile your products when sending them out to your customers.
Your customers can reuse your totes in many versatile ways, from shopping for groceries to carrying gym gear. The bonus for you is wherever they go, your branding will be standing out loud and proud for the world to see.
But wait, there's more. The noissue totes can be customized to suit any brand or reflect any special holiday feeling! Check out how Dan Sargo Studio designed his tote bag above with a simplistic yet impactful festive design. The more awesome the imagery on the tote, the more your customers will want to reuse them in their everyday life.
Want to make it more festive? noissue's Custom Recycled Satin Ribbon can do the trick! Maybe add on a little Custom Hang Tag too? Customize them with your brand logo for that extra charm, loop the ribbon through the tag, tie it around the tote bag strap, and done. Our satin ribbons are made from recycled PET bottles and come in a white or black base.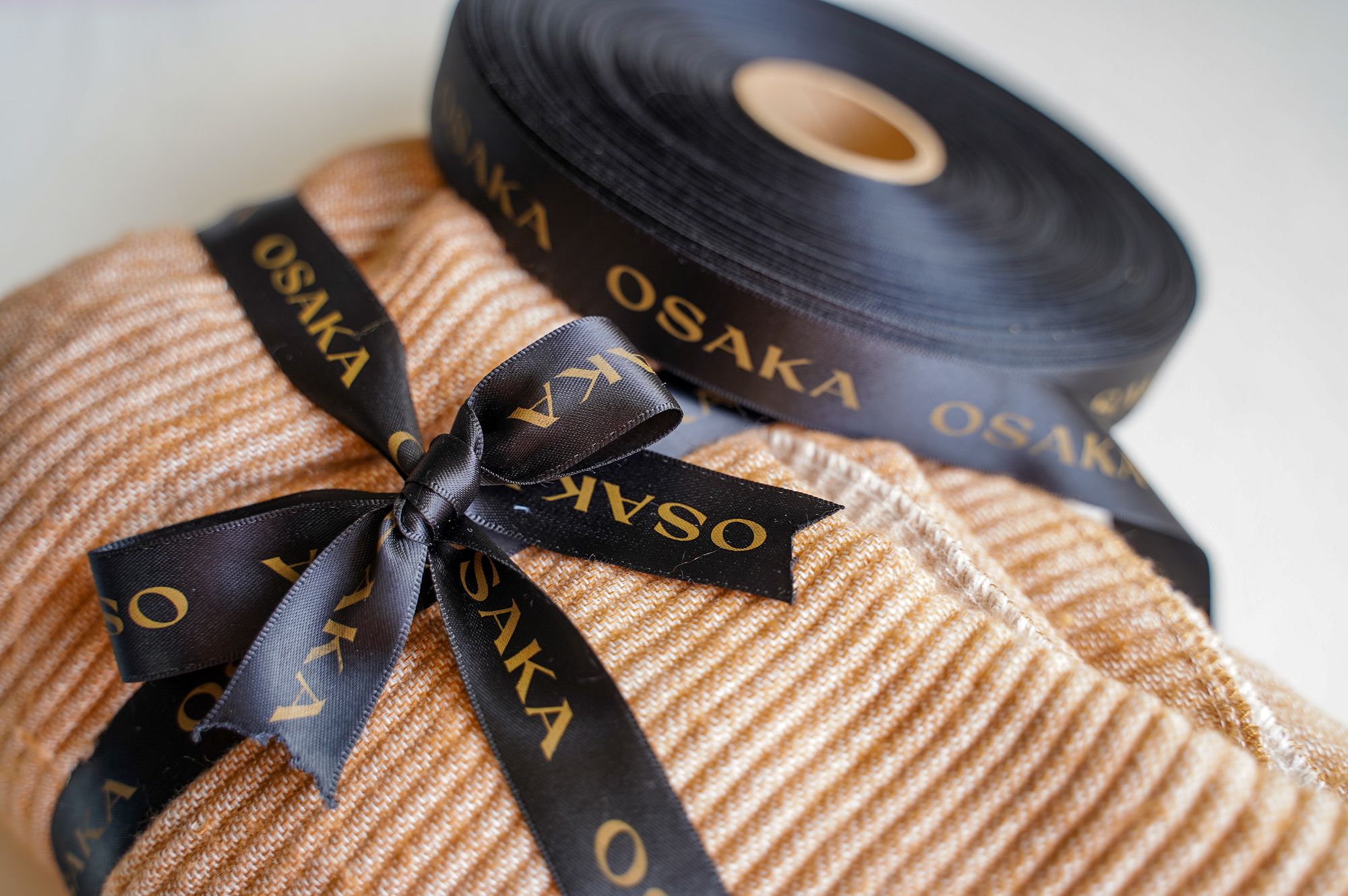 4. Send Season's Greetings With a Personalized Card
Holidays are all about sending good wishes and cheer to those who are important to us. This definitely includes your community of customers, and it's easy to make your packages as meaningful as possible by adding a personalized touch.
The perfect way to do this? Custom noissue Cards, of course! noissue's cards are both recyclable and compostable. Alongside printing branded festive imagery, including a handwritten note on the back is the perfect way of wishing your customers a great holiday and making them feel like the ultimate VIP.
Illustrator Laura Lhullier gives her customers a sneak peek at the person behind the brand by sending out cute Custom Thank-You Cards. Handwritten and personal, these cards beautifully match the rest of her packaging designs. Talk about the cherry on top of this gorgeous packaging.
If you're feeling generous, you could even include a blank card for them to re-gift your designs to someone special in their lives. Pay it forward! And if you're feeling crafty, make use of our Custom Folded Cards' versatility and make one half a postcard they can send out, so they can keep the other half for themselves.
5. Stand Out With A Non-Traditional Focus
Think outside the box! Exciting holiday packaging doesn't have to mean predictable festive images and colors. Sure, Christmas gets a whole lot of love in the holiday season, but it isn't the only day worth celebrating—we're looking at you, Halloween, Thanksgiving and New Years!
You can be sure to stand out from the crowd by using your packaging designs to celebrate a holiday other than Christmas, or refuse to blend into the background by mixing it up even further by trying a unique color scheme.
In a sea of snow and Santas, a unique take on festive packaging can be sure to take the spotlight. Just check out the glow-in-the-dark style custom tissue paper and custom cards used by Saozen Plush to celebrate Halloween—the design is simply fang-tastic! And proof that the answer isn't always red and green.
That's A Wrap

By sprucing up your packaging game using any of these unique ideas, you can be sure your brand will be remembered long after the presents have been unwrapped, the tree has been taken down and the festive season is over!
Happy Make sure you share any packaging designs you're proud of by tagging us on Instagram or Pinterest, and while you're there check out the rest of our community's holiday packaging efforts. Happy holidays!
---

🎁 Ready to order your holiday packaging? noissue ships custom, sustainable packaging anywhere in the world within 3 weeks (or even faster with priority shipping!) Here's the products we featured above:
Cards
Custom Mailer Boxes
Folded Cards
Folded Hangtags
Kraft Boxes
Kraft Tissue Paper
Multi Colored Tissue Paper
Recycled Satin Ribbon
Stamps
Stickers
Tape
Tissue paper
Tote bags