📣  Calling anyone with a love of great design: we've got some exciting news!
At noissue, we thrive on providing small businesses, agencies, freelancers and makers with the resources and inspiration to create your dream packaging. We couldn't be more ready to bring you a new program that'll help you take your packaging to the next level, now available for noissue Stamps.
Introducing noissue Community Design!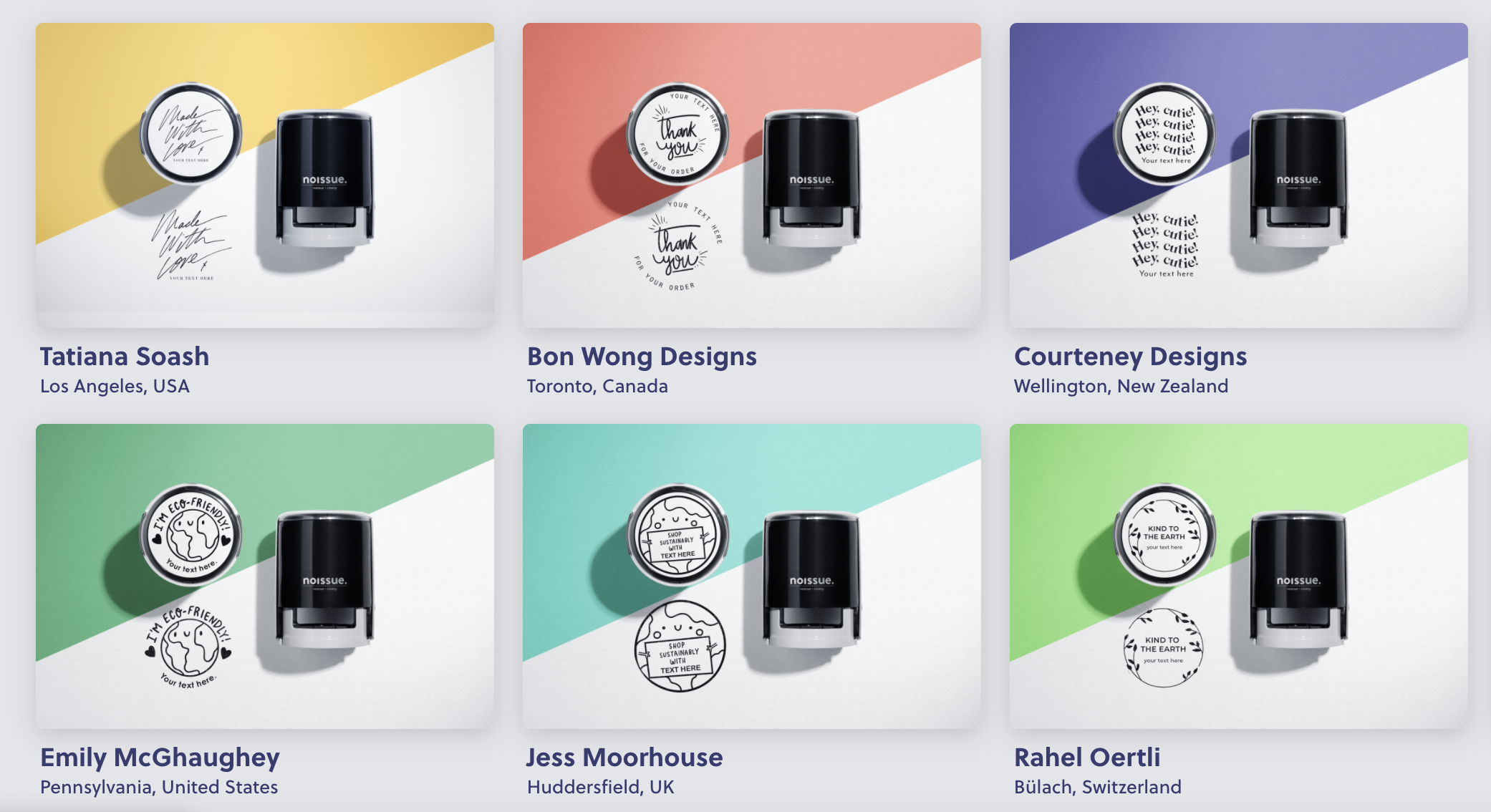 We believe that sustainability doesn't have to be boring – so noissue and the members of our Creative Community are here to help, by providing design assistance through an easy-to-use online design feature.
Community Design features custom templates designed by members of our amazing Creative Community! As a business, you're also able to customize these templates by incorporating your brand elements.  
For this program, we've carefully identified creatives from around the world to design templates that can be applied to a range of noissue products.
We want to help you get your packaging dreams across the finish line 🙌

We know that many small businesses might not have the resources to create custom designs, or the time to dedicate to designing their packaging. Community Design is an awesome option for anyone who may not have pre-developed designs, require more support through the ideation process, or just want to switch things up with a little help from fellow creatives.
We've built this feature to be a one-stop solution, where design templates are readily available and customizable to your brand.
There is a wide variety of styles and use cases in our Community Design range that are designed by creatives and noissue's very own design team. You can choose a template to customize with your brand's custom text, and create the perfect stamp design for your brand. Simple as that!
We're also looking forward to expanding our use cases for Community Design, so stay tuned for more to come from us and our current roster of products. 👀
Get the stamp of approval ✨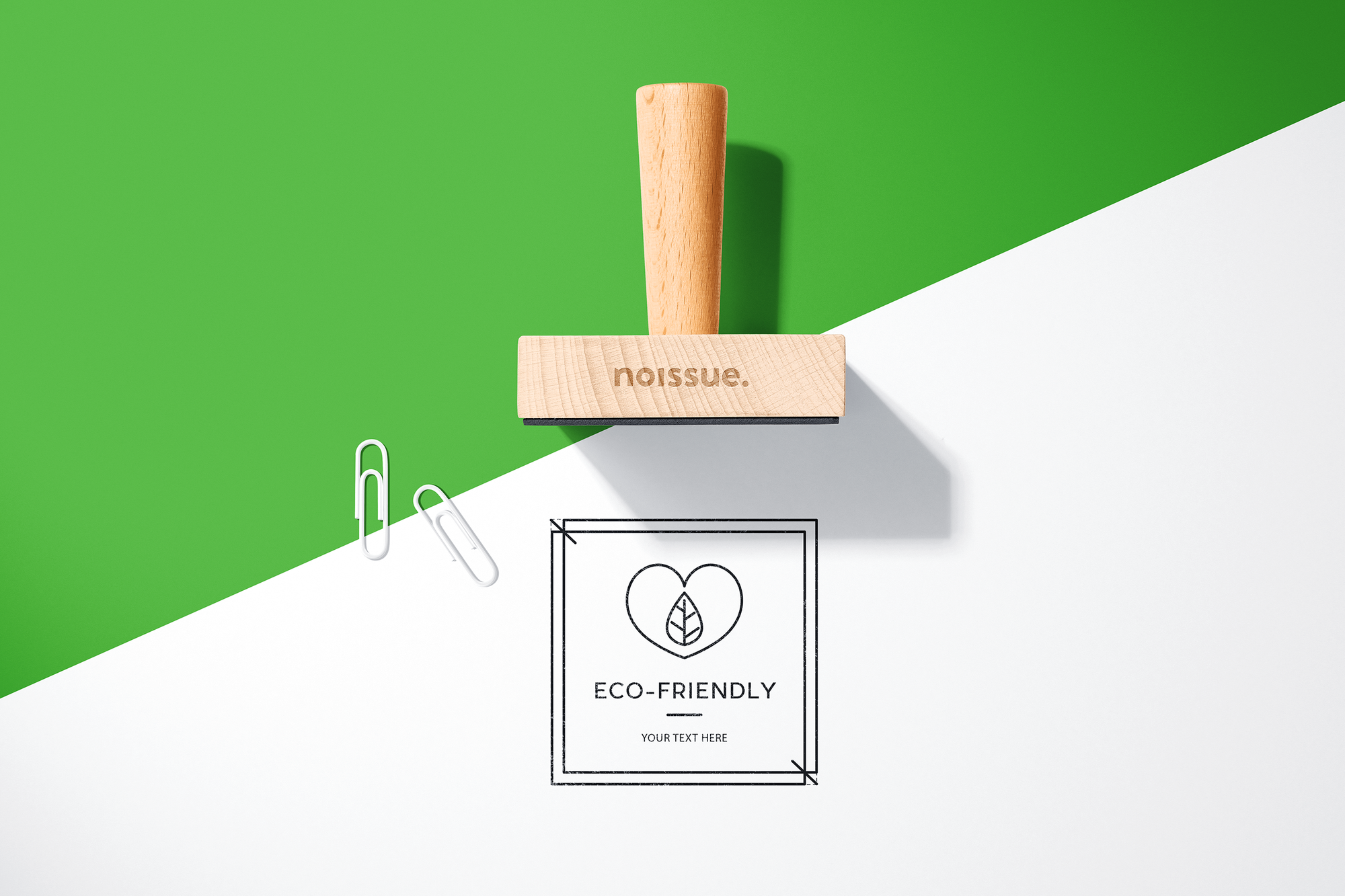 Adding a custom stamp can be a great way to personalize and brand your packaging even more, and make your packaging stand out to your customers.
Our stamps are eco-friendly and reusable for over 10,000 impressions, and are available in multiple sizes and 4 ink colors (red, green, blue and black).
There are 2 types of stamps that you can choose and customize that can add some flair and a fun, finishing touch to your packaging – without sacrificing sustainability!
The first type of stamp that we offer is a custom self-inking version, made from over 65% post-consumer plastics, which gives plastic materials that were already in circulation a second life and purpose. The self-inking stamp comes with a soy-based ink cartridge, so you're ready to get stamping away as soon as it arrives.
We also offer a manual wooden stamp that you can use with an included soy-based ink pad. Trust us when we say that it's super satisfying to hand-stamp packaging with our manual stamp – it will be hard to put it down!
All of our stamps are made from quality materials, so they will have a longer lasting lifetime. Want to get started with your custom stamp, but don't have a design in mind? We've got just the thing: customizable Community Design templates for our Stamps.
How to get your stamp design ready with Community Design 🎨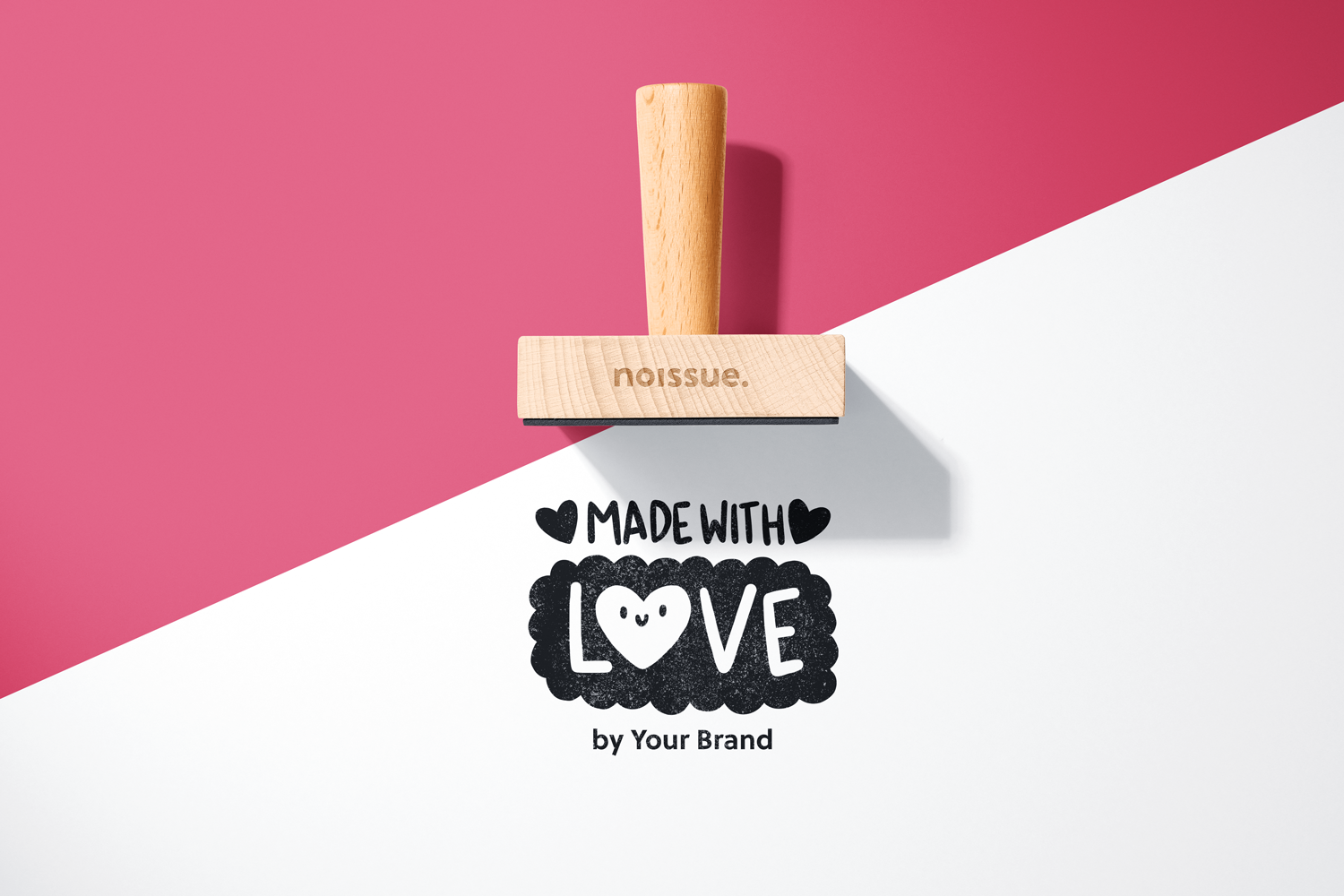 To access the Community Design stamp templates and start creating your noissue custom stamp, follow these steps below:
Head to noissue Stamps and click Design now.
Select Brief Us and you will be directed to the Community Design page.
Browse different template designs, which are applicable to various uses. You can also filter templates by designer, style and use case on the left hand side. If you're interested in learning more about the designer behind the template, you can click on their name.
Once you've chosen a template, you will then be able to choose your size, ink color and how many stamps you would like.
The last step is to customize it by adding your brand's name or custom text.
Within 24 hours, you will receive your custom design to review!
Curious about what template designs are ready to use? We've got you covered.
👋 Meet 10 creatives behind our Community Designs for stamps!

Community Design wouldn't be possible without participating designers, studios and creative agencies.
Members of the Creative Community  from across the globe – including Trinidad and Tobago, Portugal, Germany, the United States and more – have poured their styles and souls into incredible stamp design templates for our community to use.  
Get to know the artists and designers behind some of the available stamp design templates!
Tatiana Soash

Tatiana Soash is a hand letterer, visual and graphic designer, and artist based in sunny Los Angeles, California. A few words that can describe her style are effortlessly chic, elevated, whimsical, and with a naturally luxurious touch. Her stamp designs all feature her signature hand lettering, which feels like a welcome hug and a warm hello!
Eva Couto

Eva Couto hails from Porto, Portugal, and is a graphic designer and letterer that helps creative businesses showcase their brand's personality through bold colors and type. Eva is a lively and bright personality, and she instills this into her work that's full of eye-catching shapes and palettes, refreshing combinations of type and textures, and splashes of playful images. The design templates that Eva has created for stamps have her quirkiness imbued for every impression, which is sure to bring out a smile from anyone.
Jess Moorhouse

If you're in need of a style that's cute and charming, look no further than the designs that Jess Moorhouse creates! As a multidisciplinary designer and illustrator, Jess aims to remind us to not take life too seriously, and to allow your imagination to run free. Jess lives in West Yorkshire, England where she draws inspiration from people-watching and fauna, and artists like Salvador Dali. She's created stamp designs that will sweeten up your packaging!
Martina Stock

Based in Würzburg, Bavaria, Germany, Martina Stock of Hello Matze Design is an illustrator and surface pattern designer that makes art inspired by nature, animals and childlike wonder. If you'd like to add happiness, color and creatures to your packaging design, Martina can take care of that for you! Her stamp design templates are ones that we're obsessed with – they all feature adorable dog illustrations that we can't get enough of.  
Bennie Studio

Elegance and minimalism take shape in the gorgeous designs that Bennie Studio produces. Benne Studio is a boutique brand hailing from Halifax, Nova Scotia, Canada, and is the result of the endless passion that founder Samantha Rose has for great design. A few words that can describe Bennie Studio's style are simplistic, timeless, airy and luxe. See Bennie Studio's stamp design templates that check all the boxes and then some, that can add that sophisticated detail to your packaging.
Rahel Oertii

Rahel Oertii is the founder and creative director of Grafikdesign für Dich, a boutique graphics design studio in Switzerland that you'll want to follow along for more of her work, which can be expressed as refined and thoughtful. Rahel's design philosophy is centered around her passion for harmony in concepts, colors, type and images, resulting in calming designs that can complete your packaging. The template designs that Rahel has created for our stamps are the definition of aesthetically pleasing, yet pack a gracious touch.
Emily McGaughey

Representing Pittsburgh, Pennsylvania is Emily McGaughey, who is a screen printer, illustrator and artist with a style full of spirit and spunk. She creates colorful, imaginative and eccentric illustrations that are bound to put you in a happy mood instantly. View her design templates for stamps that'll leave a little spark of joy on every one of your packages!
Ayrid by Design

Ayrid by Design is the brainchild of Ayrid Chandler, a graphic designer hailing from Trinidad & Tobago. Ayrid's bread and butter is her knack for branding, which serves as the backbone of her polished, inventive and compelling designs. We're completely infatuated with the stamp designs she's created for your noissue stamp, which are all easily customizable.
Sunday Morning Studio

Courteney Moore is the founder of Sunday Morning Studio, and has made her longtime love of illustration and designing as her lifelong passion and profession. Based in Wellington, New Zealand, Courteney loves helping businesses create their brand identities and brings their vision to life, crafting personalized and purposeful designs that truly pop. Her stamp design templates are excellent ways to greet your customer with a delightful note from your brand!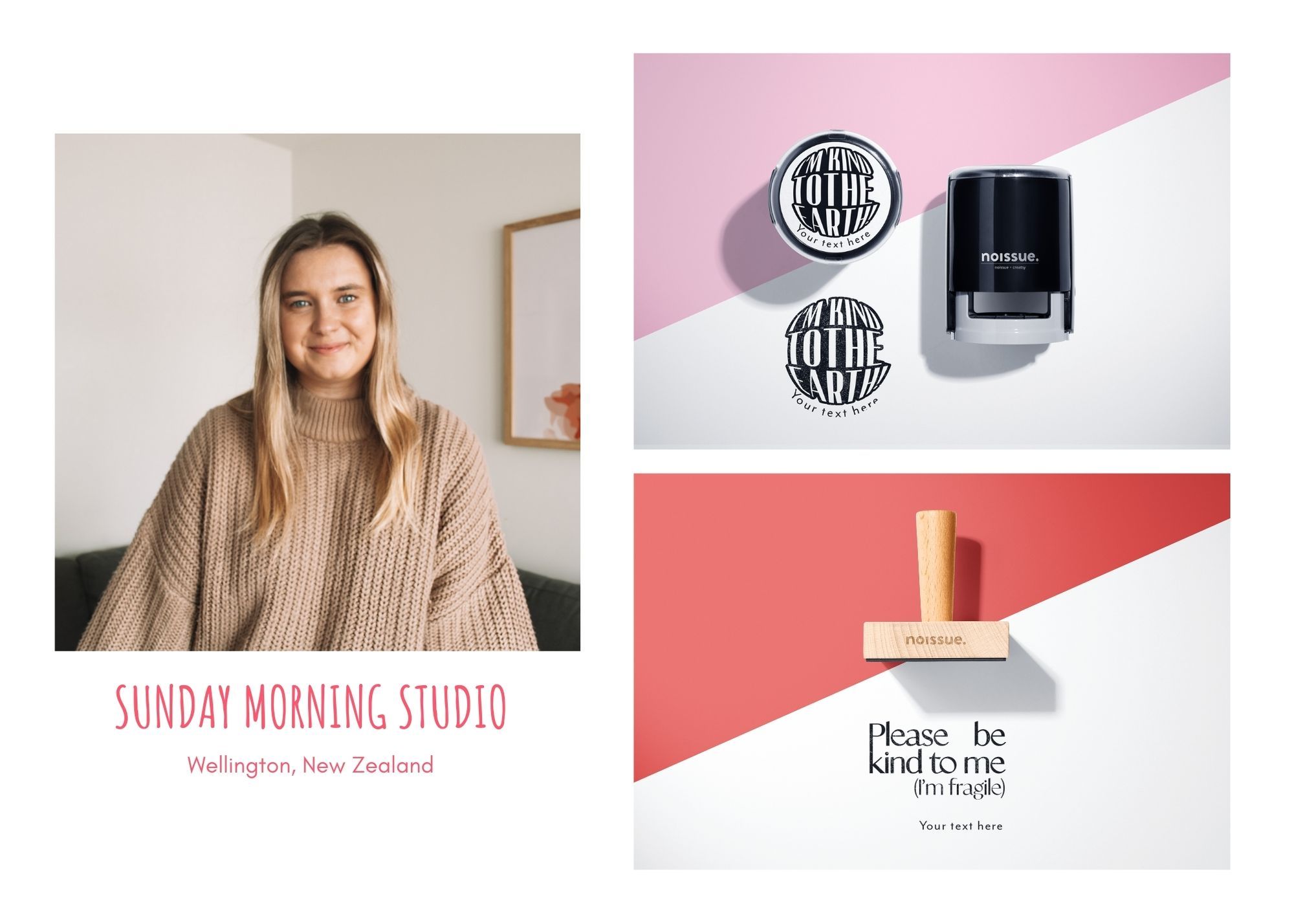 Bon Wong Designs

Bon Wong Designs was founded in Toronto, Ontario, Canada by designer Bonnie Wong. Bonnie is an experienced designer that specializes in branding, packaging and events design, and her design philosophy marries her expertise into beautifully executed designs that draw inspiration from fauna and flora, light colors and coziness. Bonnie has created design templates for stamps that will shine and show your brand's appreciation from the moment it arrives to your customer.

A huge thanks goes out to our creatives for their hard work and drive to create these amazing custom stamp design templates! Head to Community Design for Stamps to see more, and start customizing your noissue Stamp. We can't wait to see your packaging hit it out of the park with Community Design!